17 Most Stylish Haircuts for Toddler Boys – Fresh Styles for 2023
Cute Crew Cut Hairstyle

@bayberber
17 Most Stylish Haircuts for Toddler Boys – Fresh Styles for 2023
How can a haircut for little boys be both adorable and dapper-looking? This cute crew cut for a toddler boy is sure to catch attention and receive so much love. It looks smart and neat, but to top it off, two shaved sides on one side will make him look edgy.
Mini Pomp Fade for a Little Boy

@frank.guedes_oficiall
This mini pomp fade for a little boy appears delightful on dark, thick hair. It proves that at a young age, he can flaunt a sharp and nifty style.
Faux Hawk

@ohbarbeirobarbershop
The shaved line on one side is the star of this faux hawk haircut for boys. A skin fade suits wavy hair that's textured with black hair on top for contrast.
Cool Quiff

@leodourado_27
Here's a cool quiff for the little guy of yours. If he has dark blonde and straight hair, pulling off this style will be easy. It's also a plus if partnered with faded sides that display a smooth gradient effect.
👉 See more cool haircuts for little boys.
Stylish Afro

@traceethebarber
A stylish afro allows a young boy to show off his natural curl texture in a dapper way. With long black strands at the top and faded sides, he'll love his hair transformation, for sure!
👉 See more haircuts and hairstyles for young black boys.
Modern Cut Ideal for Straight Hair

@rick.anthony.hair
Looking back at the 70s trends, this modern one offers a middle part style that's ideal for straight hair. Let your little gentleman enjoy growing his dark blonde hair long to achieve this look. Ask your stylist or barber to only use scissors and/or shears when cutting his hair.
Classic Taper Fade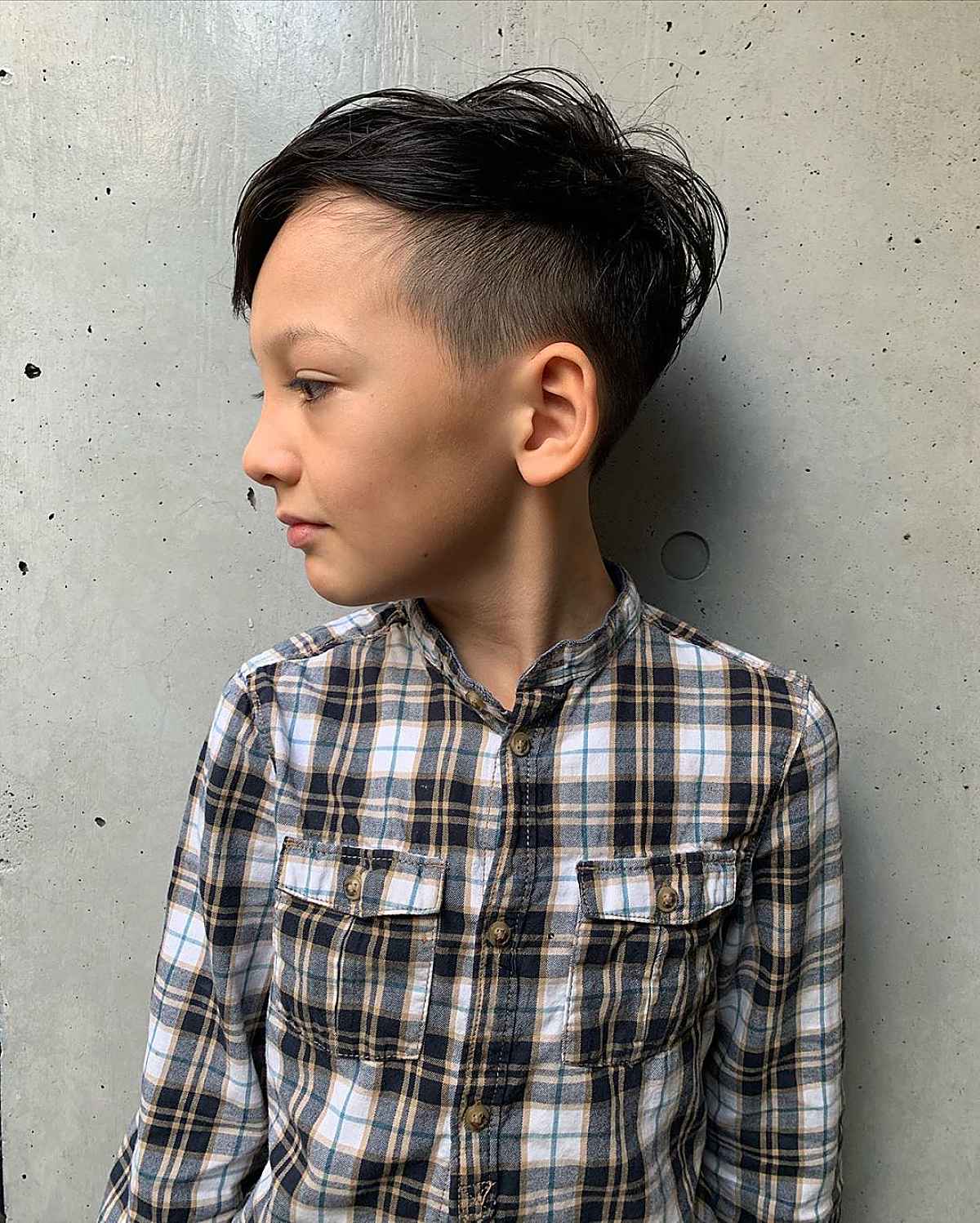 @kent27k
The classic taper fade has never been this astonishing. Leave long hair at the top, add a few waves, and let your kid enjoy the way his black hair looks now.
Mini Mohawk Fade

@tayfades
Consider this mini mohawk fade if you want an eccentric cut for your little guy. With shaved sides and textured brown hair on top, this look creates a bold contrast.
Related: See more mohawk hairstyle ideas for kids.
Layered and Long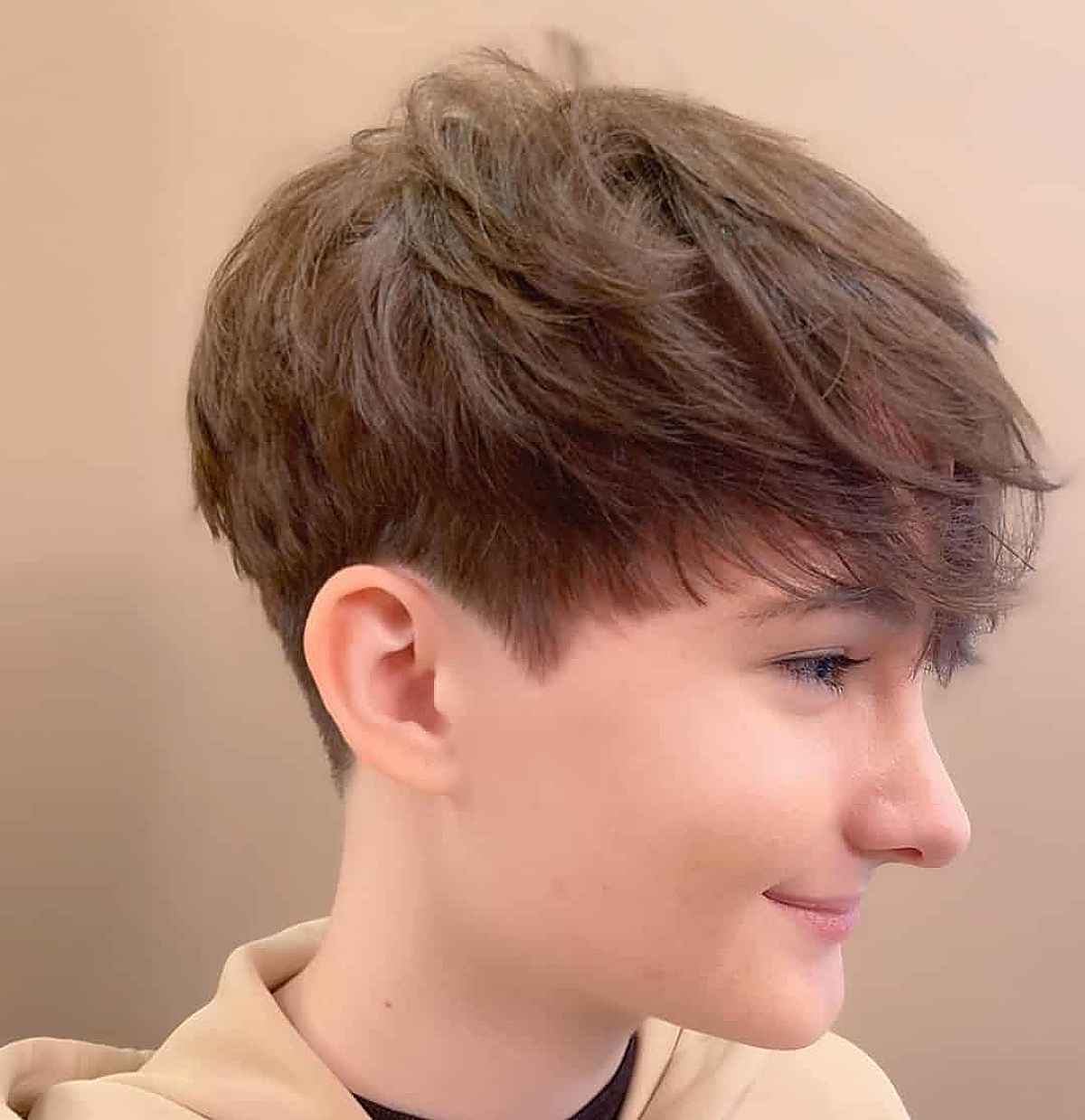 @artak_majaryan
It takes a minimal amount of texture, and he'll be good to go with this shaggy look! Ideal for your boy's dark brown hair, this layered and long chop will make him the ultimate crush in his school.
Dapper Hard Side Part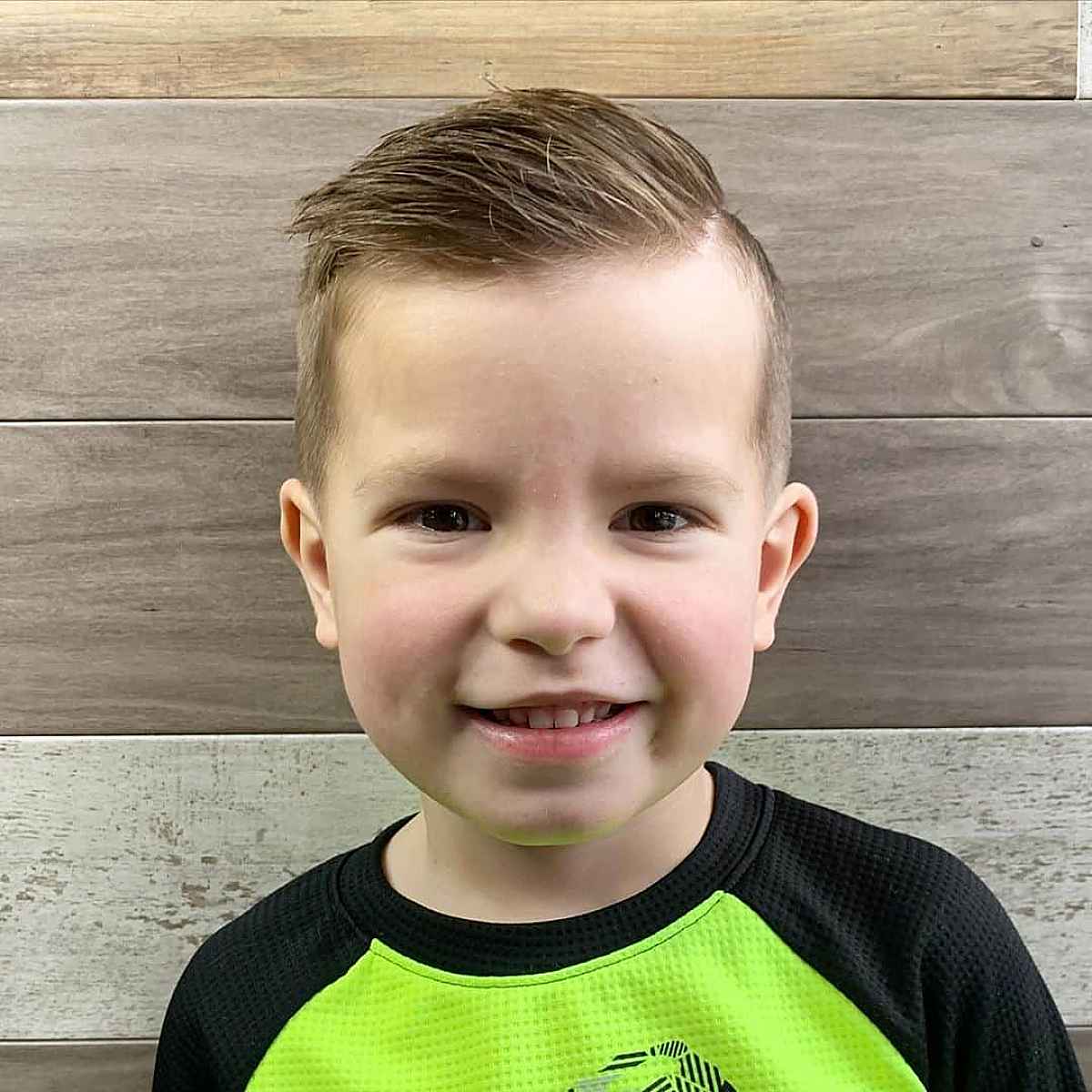 @beccathemensstylist
A neat haircut always looks good on a kindhearted, innocent boy. This dapper hard side part is so stylish; it'll complement his perfect little smile. The flat kids' hairstyle may not fascinate him, so brushing his brown hair upward a bit will do the trick.
Naturally Curly Toddler Cut

@moniquelewishairmakeup
The toddler's haircut and style are as adorable as your young one! Let him have a long chop with a side part to flaunt his naturally curly texture. His medium-length defined curls and waves will look softer with rich brown hair color.
The Disconnected Cut

@firas.barber
Teach your kid how to rock the disconnected cut! Shaved lines on both sides that follow the cut of his off-balance bangs are so unique. If he's blessed with chocolate brown hair color, soft spikes on top are sure to suit the shade.
Textured Short Hair

@ali_heydari_org
Some boys are inventive, so if yours is one of them, this textured short hair is best for him! Give the guy not only neat sides but also a layered temp fade and short bangs with two longer sections of strands. Pops of a green hue at the top of his natural dark hair tie the whole look together.
Spiky Hair Fade

@victorkanavarrooficial
Fixing one's own hair is vital and is one of the things that your little gentleman should be learning. This spiky hair fade offers neat sides and nape, matching longer hair on top for styling.
High Bald Fade

@mr.foreverochocerocinco
Make your little guy appreciate a clean buzz cut by giving him a high bald fade. It's classic stylishness is for all ages. California-based barber and stylist Gilbert Escobedo provides some pointers to achieve the look.
"Begin with a hard part and comb over the length of your hair to one side," he says. "If you have a cowlick, you can tame it by smoothing the rogue hair in the direction it naturally follows."
Messy Side Swept Fringe

@maccmobilebarber
Here's a stylish trend to reward your boy! Featuring a messy side-swept fringe, this is how he flaunts a neat chop to jazz up his dark hair.
According to barber Robert Davids of Macclesfield, CH, it's a textured top with short back and sides and neck taper. "The best thing about this cut is versatility. The length left at the front gives you the option to style it down, sweep it to one side, or even use some product to get some real volume and spike it up," he explains.
This cut works for a variety of face shapes, but Davids always advises talking with your stylist to tailor the cut specifically for your little guy. He notes, "This really is a low-maintenance style that can be left natural with minimal styling, or worn with the product every day to keep everything perfectly in place."
Trendy Low Skin Fade

@alsmillions
Opt for the preppy look with a clean, hard part and combed-over hair with faded sides starting with a #1.5 at the bottom to a #3 at the crown; just like this cut by barber Al Reid of Greenville, SC. "Shear cut on top to remove bulk and to even it out. Finish off with a water-based pomade and styled with a styling comb," he explains.
Reid continues, "This is a clean-cut look. I used the Suavecito hair pomade to complete the look, and it has a clean, fresh scent that enhances the little boy's hairstyle. To restyle the low skin fade haircut, simply dampen the child's hair lightly and restyle without adding more product."