25 Trendiest Short Bob Haircuts for Ladies Over 60 Who Want a Youthful Style
Younger-Looking Pixie Bob
@xpression_the_salon
A younger-looking pixie bob is sleek and timeless. Don't forget to make appointments every 4 weeks to maintain a pixie. Keep in mind hair texture, density, and neckline when considering a pixie cut.
Chic Bob Hairstyle
@signedbybex
Timeless yet modern, a chic bob hairstyle is an age-defying haircut for anyone that wants elegance and ease in their daily styling routine. The cheekbone-grazing length and full fringe, paired with a splash of high contrast color, make this modish bob haircut stand out among the crowd. Easily customizable to suit every face shape and hair density, bobs are the perfect style for the woman looking for something fashionable and low-maintenance.
Salt-and-Pepper Bob for Coarse Hair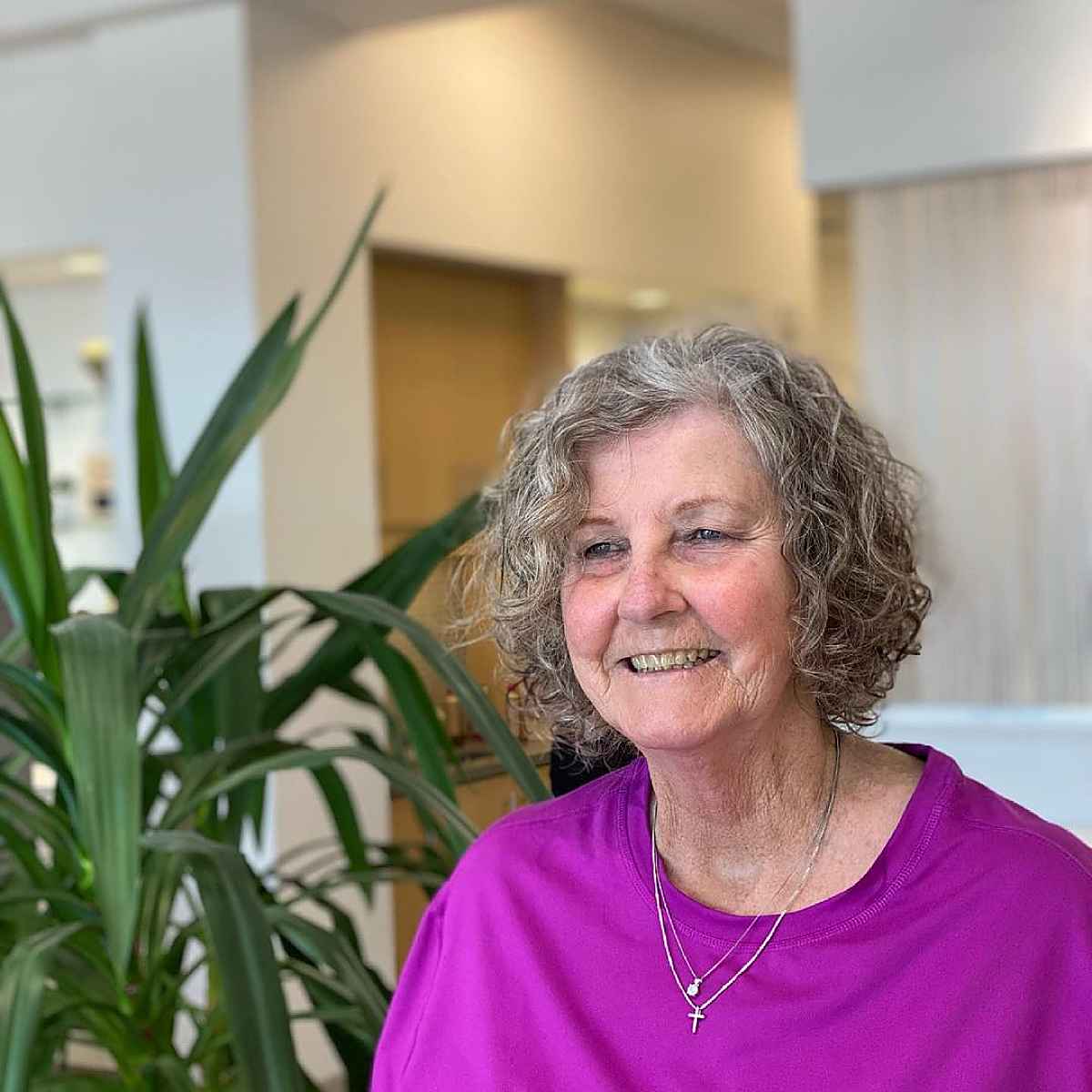 @hair_by_rain
A salt-and-pepper bob for coarse hair is best when kept slightly longer, between chin and shoulder-length. A bob cut for sixty-year-olds is simple and low-maintenance. With naturally curly hair, a curl cream is essential to create a simple and easy style.
Feathered Bob with Wispy Bangs
@mattharrisonhair
A feathered bob with wispy bangs gives tons of movement in volume to a regular bob. Bob cuts are an excellent choice for a woman in her 60s, as it creates youthfulness and the bob is always a timeless cut.
Edgy Asymmetrical Bob
@dustybluehairdesigns
An edgy asymmetrical bob is extra sassy for a woman 60 and over. Depending on the texture of hair, some short styles require styling daily to create the right style. Keep this in mind when deciding on which type of short haircut works best for you and your lifestyle.
See more stylish asymmetrical bobs
Extra Short French Bob with Glasses
@0uzelous
An extra short French bob with glasses works best for longer and oval shapes faces. When wearing glasses with a short haircut, avoid cutting the bangs to where they hit right at the glasses. Keep the cut slightly above or below the frames of the glasses to avoid interference with the hair.
Classic Bob with Fringe
@dawn__black
A classic short bob with a fringe is the perfect short hairstyle for older women. A sleek, rounded short hairstyle with soft stacking and facial fringe creates the absolute classic bob. Maintenance for a short style is every 5 weeks.
Check out more short bobs with bangs for women over 60
Shaggy Bob with Choppy Layers
@rossana_tijeras81
A shaggy bob with choppy layers works wonders for women with larger foreheads as the fringe helps to cover it. Short bob hairstyles, especially a shag, works well for women with naturally textured hair as they can do minimal styling to create the look.
View more short shaggy bobs
Rounded Bob
@jakchristensenhair
A short rounded bob that sits right at the chin is a great length to look 10 years younger. Rounding a bob out rather than having a more blunt cut, creates a softness within the cut and gives off nice movement.
Short Bob Crop
@noomelie
A short bob crop works great for women with extra thick hair. A bob hairstyle with tons of stacking in the back makes for lots of volume at the crown of the head. Keeping an angle in the hair still keeps the illusion of longer hair in the front, while still keeping the hair off the nape of the neck.
Face-Framing Layered Bob Cut
@rae.ofsunshines
A face-framing layered short bob cut is the perfect way to portray youthfulness in a cut. Adding soft layers and allowing the hair to fall toward the face helps to slenderize a wider, more rounded facial shape.
See more layered bobs for ladies in their sixties
Very Short Pixie Bob
@hairdesignbysonya
A very short pixie bob is a smart and classic style choice. The longer layers keep your hair look thicker and make for a fairly mistake-proof finish. Simply blow dry straight with a medium round brush and don't forget to add a product for volume to your wet hair. Bob hairstyles need to be shaped about every 4-6 weeks depending on how fast your hair grows.
Short Angled Bob Haircut
@bishops.eastmillplain
Try a short angled bob haircut and enjoy a modern new shape. Ask your stylist to stack up the back and you'll add an interesting dimension to your bob. Short cuts are easy to blow dry with a round brush and give you a sharper image. A woman in her sixties with a round face shape can rock this cut. An angled bob needs to be trimmed about every 5-6 weeks.
Curly Bob for Thick Hair
@kellyskurlsdfw
Consider a curly bob for thick hair and perk up your ringlets. Longer hair can drag down your waves. Why not bring up the length and add a bit of layer for a more complementary shape, and a younger-looking you. Make sure you add some curl amplifier to keep your hair looking healthy and combat frizz. Bob haircuts on curly hair are a fabulous choice for all face shapes.
A-Line Bob Cut
@mirlinda.bermondsey
A short A-line bob cut is like a normal bob on steroids. The short to long shape makes the cut look trendy. A-lines also make the neck appear longer and graceful. This one-length style looks best on rounder face shapes unless your hair is curly and adds width to your cut. A bob style is fairly low-maintenance and should be shaped about every 6 weeks.
Short Layered Bob
@belousm_hairguru
A short layered bob is a super versatile hairstyle. Ladies with narrow face shapes will want to sweep the hair away from your face, and women with round face shapes can bring the hair more forward. This shape can be blow-dried and left straight or curled with an iron. Update your style and make your 60-years-old self look younger. Don't hesitate this style looks great on everyone.
Bob with Side-Swept Bangs
@richardmurray_hair
A bob with side-swept bangs creates a sexy look with the draping front pushed off to the side. Consider adding shaggy layers to achieve a wispy look and a more tousled finish. If you have a bit of body in your hair this style can be air-dried for a simple finish. Don't worry, straight-haired ladies can add messy curls with an iron. With short haircuts, I recommend creating a not-too-perfect curl for a quick and stylish finish.
Grey Bob for Fine Hair
@matt4freddies
A grey bob for fine hair is an excellent choice for women who want a sleek and stylish hairstyle. Ask your stylist to leave your hair one length, and you'll have a wash-and-go shape. A bit of graduation in the nape area is a great idea to add dimension. Grey-haired ladies can also benefit from an anti-yellowing shampoo to keep their hair looking beautiful.
Voluminous Bob for Thinning Hair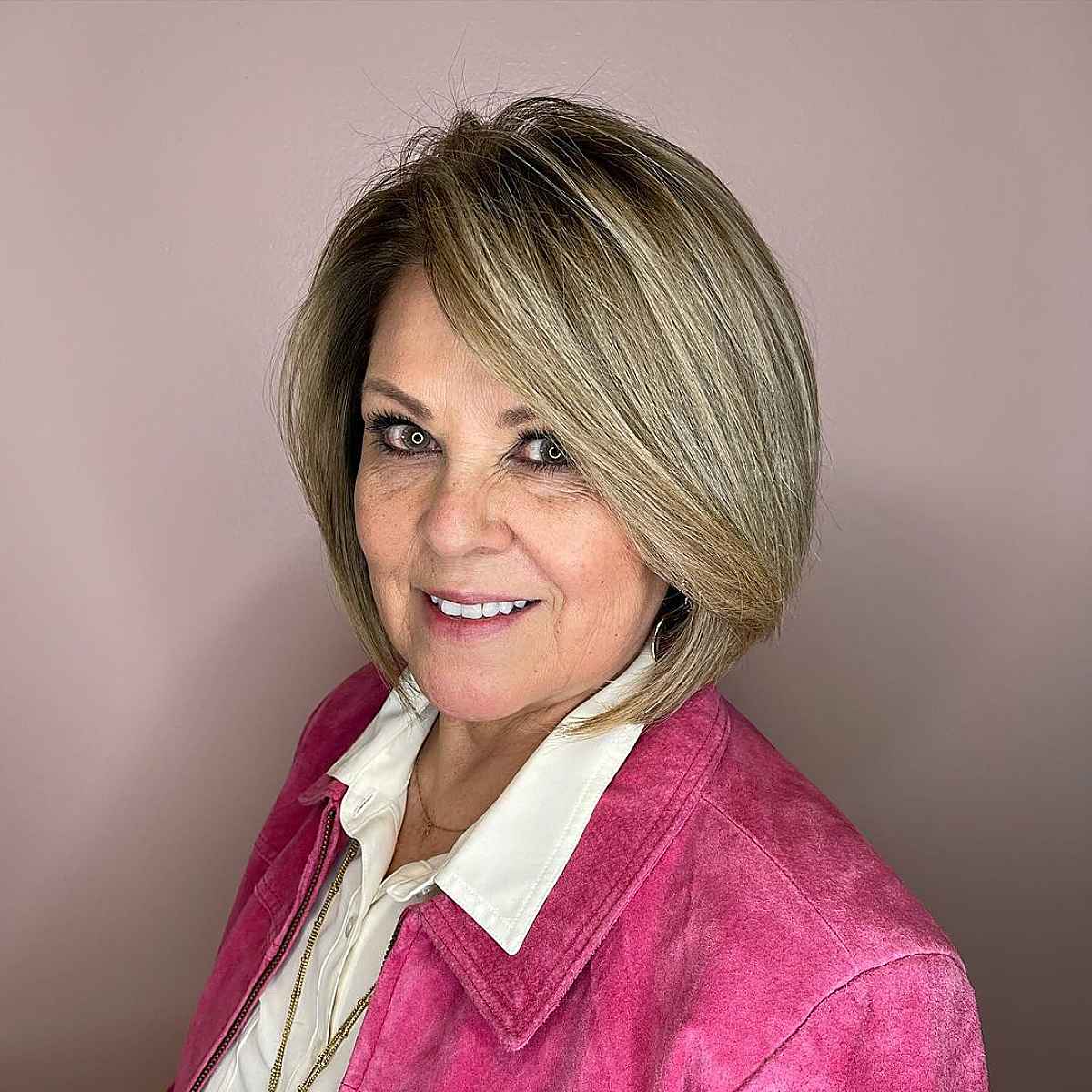 @hair_by_pedro
Consider a voluminous bob for thinning hair and plump it up. Longer layers and a sweeping fringe can hide weak areas especially around the hairline, where most women have hair loss as they age. Volumizing products such as the Volume Injection line from Redken can really help give you the illusion of thicker hair. A bit of highlights are also recommended for 60-year-olds, who would like to hide grey and create more body.
Youthful Inverted Bob
@kyndallkopphair
A youthful inverted bob is just the cut you need to reinvent yourself. Bob styles are sleek and blunt and create a shape that is a real head-turner. For best results blow-dry the ends straight not turned under. To achieve this, an extra-large round brush is the tool to use, giving you the edgy shape you'll want. If you fumble with the brush, a flat iron can be used as well. Women in their sixties should try this style and you'll feel fabulous about it.
Short Bob for Thin Hair
@wellahairuki
Choose a short bob for thin hair for its classic and simplistic shape. Shorter hairstyles definitely make thinning hair appear thicker, and are easier to style. If you have thinning hair around the hairline play around with the part. Moving the part to the opposite side can really help hide hairline imperfections. Blow-dry with a round brush in sections working upward to achieve the most volume.
Short Stacked Bob
@alphahair_studio
A short stacked bob is a great choice if you would like to elongate your neck or would like to appear taller. Ask your stylist to graduate your nape and leave the layers longer for a perfect shape. Thick hair ladies definitely will want to apply a smoothing serum to wet hair and blow-dry straight. Thinner hair will require a volume enhancer, and try a volume shampoo as well. Short bob haircuts are a stylish shape and will perk up your image.
Wash-and-Wear Bob with Bangs
@fabulousmsfrizz
Choose a wash-and-wear bob with bangs and you'll be ready to go in minutes. Short hairstyles are easier to style than long hair and add some layering for a lived-in finish, that is effortless to achieve. Straight hair or curly a layered bob will work on you. The layers create a perfectly imperfect messy style, and you don't have to be a pro to recreate. Blow-dry with your hands and some gel, tousling your hair as you go.
Bobbed Hair with Feathery Layers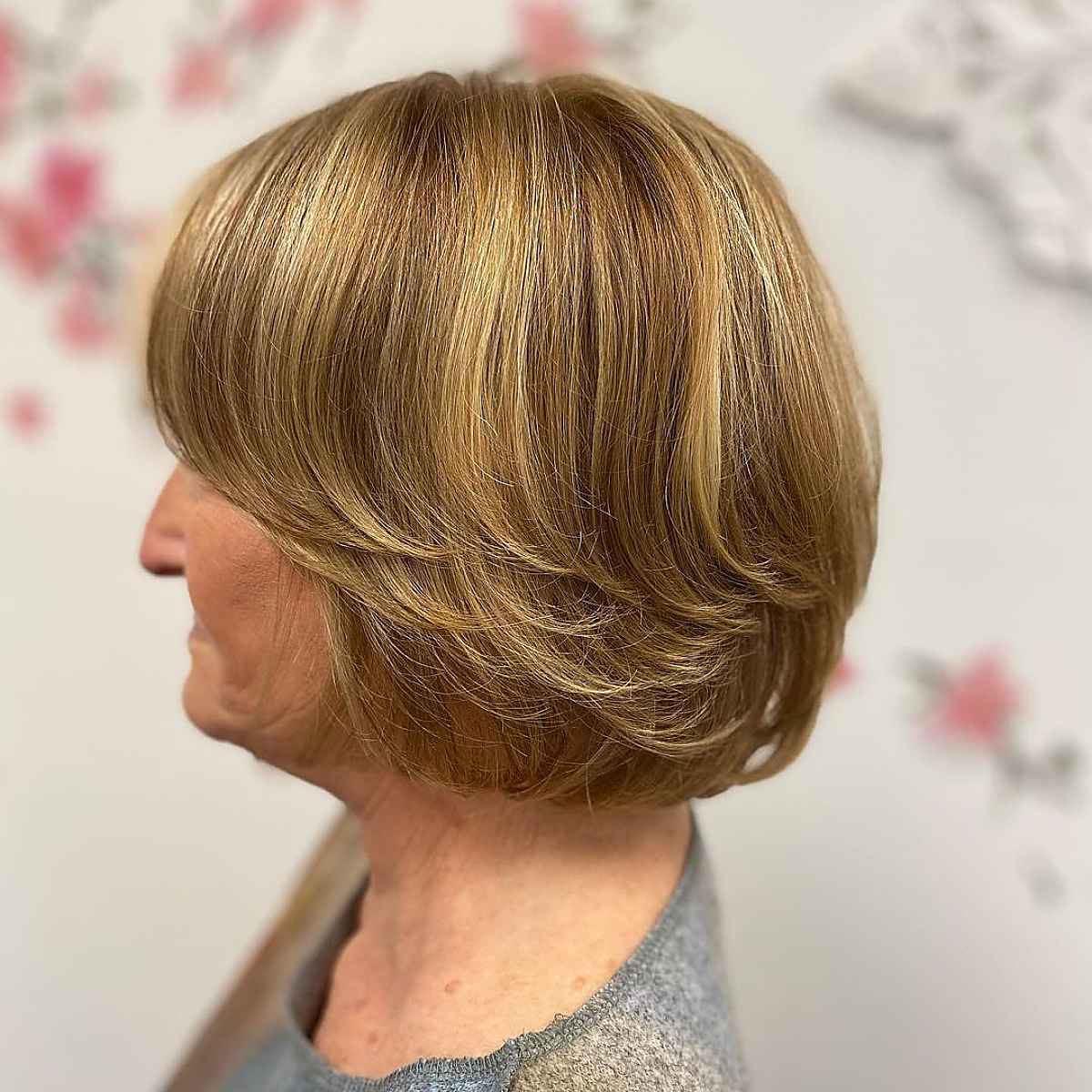 @tamar.nijisalon
You'll want to try bobbed hair with feathery layers, as your new soft style. Long layers brushed backward give this shape its beautiful silhouette. To recreate, blow-dry everything under except for the top layer. Blow-dry the top layer with a medium metal barrel round brush backwards. Short bobs work well on most hair textures and are a great style choice.
Low-Maintenance Wavy Bob
@babydollhair
Try a low-maintenance wavy bob and you'll be glad you did. Ask your stylist to lob off that length anywhere from the chin to shoulder and your hair will look thicker and healthier. You'll want to make sure the length isn't any longer than the shoulder or it will flip out instead of going under. This easy-care short haircut can be air-dried or blown out, but the finish doesn't have to be perfect. A little messiness adds interest and texture to a trending shape. As an added benefit a bob only needs to be trimmed about every 6-7 weeks.