26 Ways to Pair Wavy Hair with Bangs for a Super-Flattering Look
Wavy Hairstyle with Blunt Bangs
@kat_chase_
Try a wavy hairstyle with blunt bangs if you have fine to medium hair. Bangs for wavy haircuts work well when trying to give the illusion of more hair, especially if you have thinner hair up front. Use a heat protectant before curling hair for soft waves and finish with a dry texture spray.
Wavy Hair with Bangs for Women Over 40
@hayleypullynhmua
Try wavy hair with bangs for women over 40. As we age, and our hair changes, it's important to talk with your stylist about options that are best for your type of hair. Switching up your style can be as easy as adding some bouncy waves, or spicing up your color. Check out the super textured piecey bangs for a fun change.
Wavy Asymmetrical Cut with Wispy Bangs
@giuliasteiger
Try a wavy asymmetrical cut with wispy bangs if you're looking to rock a completely new and unique short 'do for your wavy hair. This short to long cut should have lots of piecey texture, so make sure to communicate this to your stylist. Wispy bangs for wavy hairstyles are very versatile and can be worn with texture or straight. For a straight look, try Olaplex No. 6 Bond Smoother, blow-drying the fringe to the round of the head to smooth and give body.
Wavy Cut with Bangs for Women Over 70 with Glasses
@carins_hair_studio
When you're ready for change, think about a wavy cut with bangs for women over 70 with glasses. Bangs cut and styled right above the eyeglasses bring attention to the hairstyle, but also draw the eye to great frames. For naturally wavy hair, apply a curl defining cream and gently diffuse about 50% dry. Air-dry the rest and finish with hair spray for hold.
Wavy Short Hair with Fringe for Older Women
@christahairnmakeup
Wavy short hair with fringe for older women compliments many different types of hair. A wavy style with bangs can give a fresh, updated look if you haven't changed your hairstyle in a while. If your hair is naturally straight, using hot rollers is another option to using a curling iron. Finish with a light hairspray for a gentle hold.
Wavy Pixie Cut with Long Bangs for Women Over 60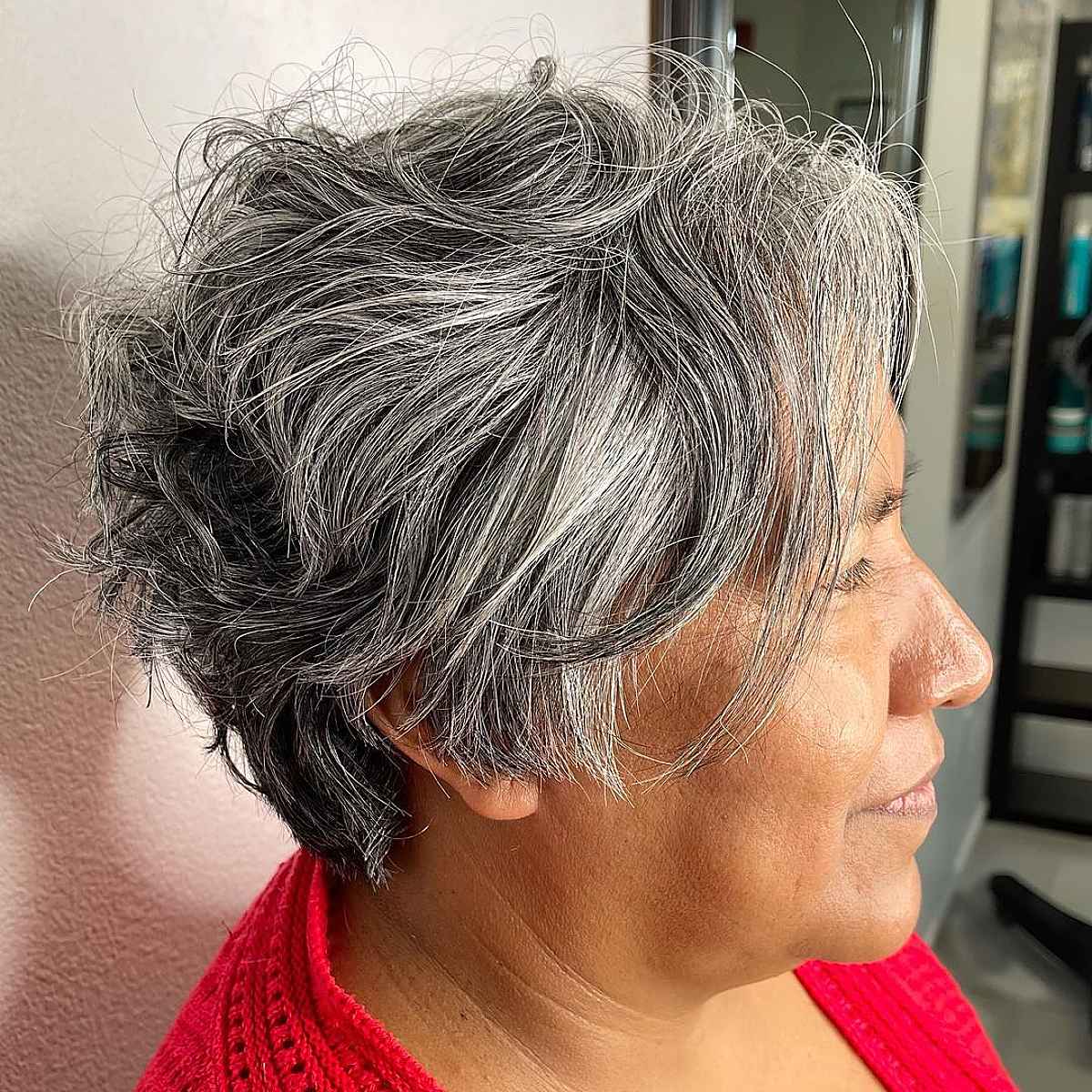 @salon_castillo_ranchomirage
Check out this wavy pixie cut with long bangs for women over 60! If you've been hanging on to your hair, now's the time to consider a chop. Long grey hair can weigh you down but updating the style with something shorter can make you look 10 years younger. Talk to your stylist about options depending on your hair thickness.
Shaggy Cut with Wavy Fringe for Women Over 50
@andy_doesyourhair
A shaggy cut with wavy fringe for women over 50 is something to think about if your hair is fine. Thinning hair can be made to look more full when pulled forward from the crown. Notice the curls look bouncy and full in front. Diffuse hair after using a curl cream and then finish with a light paste to place curls where you want them.
Red Chin-Length Cut with Fringe for Women Over 30
@carmenshairdos
For thick, naturally wavy hair, try a chin-length cut with fringe for women over 30. A shaggy bob is a great way to show off the fun texture and pattern of curly hair. If you have thick hair, ask your stylist to texturize the ends of the hair so curls can go a bit piecey around the perimeter. Style with curl-defining cream and let it get wild.
Wavy Shag with Middle-Part Bangs
@hair_by_paula_k_l
Nothing says the 70s like a wavy shag haircut with middle-part bangs. Cutting lots of face-framing layers starting below the eye makes for great feathering. Bangs for wavy cuts can be worn all different lengths and can be blended into the layers. Curl the hair with a large barrel curling iron making sure to curl away from the face.
Finger Waves with Bangs for Black Women
@b_andrew_hair
Finger waves with bangs for black women are such a sophisticated style. Wavy styles with bangs can be worn with super short hair. The platinum color sets these finger waves apart as you can see all the detail. Finger wave styles scream for a night on the town!
Edgy Pixie Bob with Fringe and Waves
@katiepdxhair
An edgy pixie bob with fringe and waves will really turn some heads! Lots of layers and a perimeter cut about an inch or so from the hairline gives wavy hair and bangs a fresh look and brings focus to facial features. Keep enough length in the back to show off naturally curly hair.
Low-Maintenance Tousled Haircut with Bangs
@hairbyhinote
On the go and easy is key to a low-maintenance tousled haircut with bangs. Bangs and wavy hair go hand in hand with a cute curly pixie. Style by lightly diffusing to bring out the natural curl and use a pomade to keep the curls in place. 5 minutes of work and you're out the door!
Long Bob with Waves and Bangs
@prismhaircreative
Consider a long bob with waves and bangs for thicker hair. Notice there is plenty of texture with layers around the head. Bangs on wavy hair can be styled straight for the look of a heavier fringe or wavy to blend in with the cut. Blow hair forward from the crown and curl with a large barrel iron.
Wavy Shag with Feathered Bangs
@highponys
A wavy shag with feathered bangs is a great on-the-go style for women with a natural curl. Longer styles with bangs and wavy hair are pretty low-maintenance when using a good curl cream and a touch of sea salt spray for a lived-in, beachy vibe. After applying the curl product, diffuse gently until about 50% dry and let the rest air dry for the natural curl pattern.
Wavy Shoulder-Length Shaggy Hair with Swoop Bangs
@hair.cules
Wavy shoulder-length shaggy hair with swoop bangs is the cutest! Bangs for wavy styles are feminine and delicate and have an amazing effect on one's face shape. Try this airy, messy look if you want to turn heads. Apply a quarter-sized dollop of Redken Aerate all over damp hair before blowdrying for touchable volume.
Long Wavy Hair with Bangs
@tegs_shaghair
Try long wavy hair with bangs if you have thicker hair. Keeping the perimeter more blunt shows off the length while maintaining its fullness. If you're thinking of switching to a wavy haircut with bangs, remember you can start with light wispy bangs to see if they're right for you. Be sure to use a heat protectant when blowing out and curling long hair to maintain healthy ends.
Related: See more hairstyles for long, wavy hair.
Wavy Curtain Bangs
@hollygirldoeshair
Wavy curtain bangs are a great way to try out a fun fringe without the commitment of short, blunt bangs. There are tons of options for a wavy cut with bangs, as you can experiment with different lengths. This cut and style work for all hair types, in particular hair with a natural wave. Remember that bangs need to be styled daily to keep them in their peak shape.
Medium-Length Wavy Hair with Bangs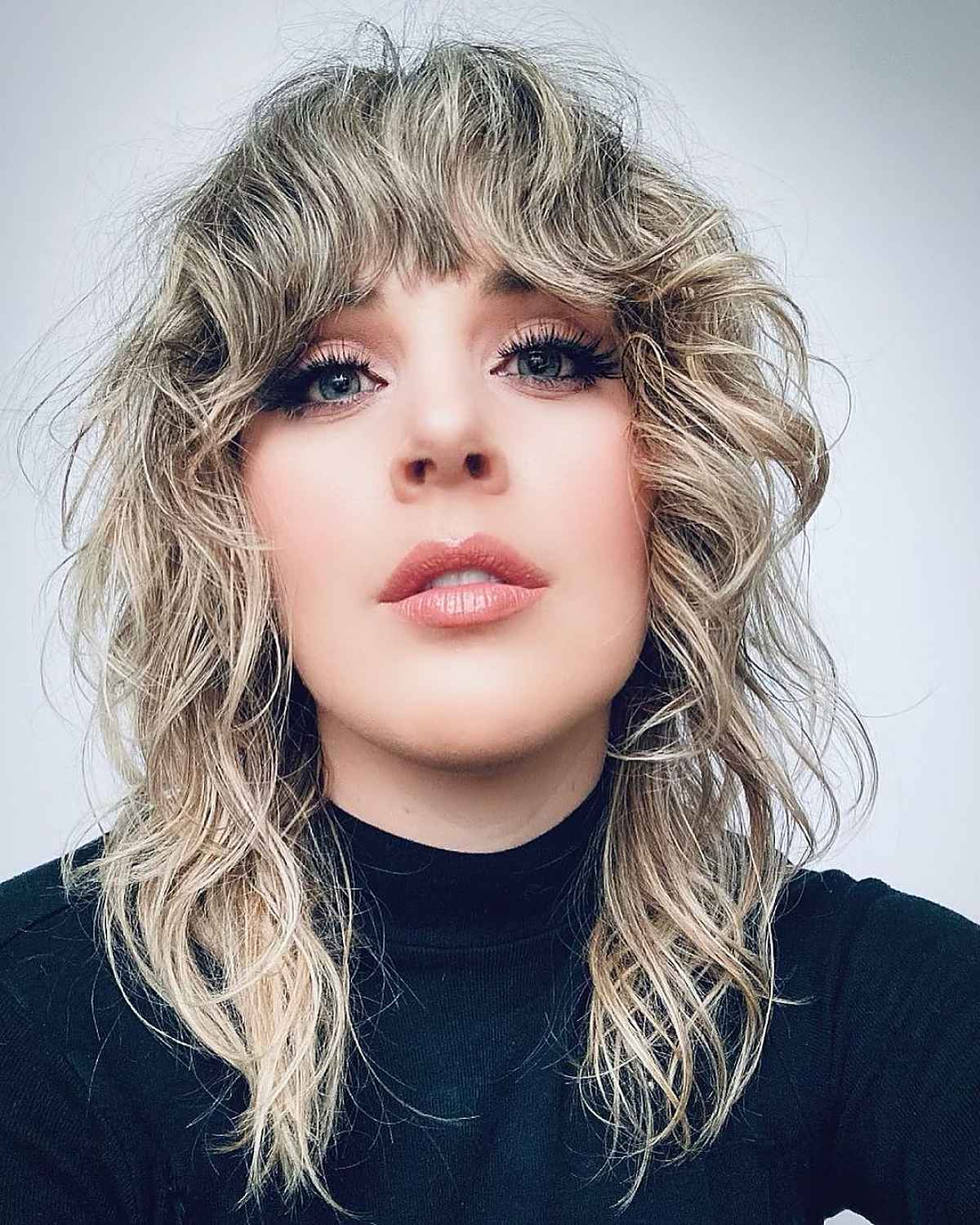 @erin_lifeandcolour
Consider a medium-length wavy hair with bangs if you are confident throwing it back to a 70's-inspired shag. A wavy hairstyle with bangs is easy to style if you're a woman on the go. Blow-dry the hair forward from the crown and loosely curl large sections. Separate with a soft pomade for a lived-in finish.
Related: See more medium-length hairstyles for wavy hair.
Mid-Length Hair with Naturally Wavy Bangs
@catsnsass
Curly girls can't go wrong with mid-length hair with naturally wavy bangs. No matter your hair thickness, waves and bangs will work for women ready to rock their natural hair. For extra thick hair, ask your stylist to remove some of the weight with thinning shears. Style this haircut with a curl cream and an anti-frizz spray to keep the flyaways under control.
Short Wavy Hair with Bangs
@vanitybeauty_aly
Short wavy hair with bangs suits most face shapes and can make fine hair look fuller. Wavy haircuts with bangs accentuate the eyes and frame the face with softness. Style this haircut with a large barrel curling iron, curling away from the face and alternating the direction of the curls around the head. Use a texturizing spray for light hold.
Wavy Long Curtain Bangs
@lulurichardss
Wavy long curtain bangs are reminiscent of a 70's shag when blended into face-framing layers. If you want hair that's wavy with bangs, talk to your stylist about diffusing the natural curl to keep your styling routine simple. Using a curl potion and drying to about 75% will keep the frizzy hair away. When drying curly hair, don't overhandle as that can cause flyaways.
Wavy Lob with Bangs for Thick Hair
@conexionsaversa
Ask for a wavy lob with bangs for thick hair for an easy, on-the-go style. Wavy cuts with bangs can be low-maintenance, as you can go a few days between washes with a bit of dry shampoo. A long fringe below the brow is easily styled by taking a large round brush, blow-drying the center forward with the sides away from the face.
Wavy Bob with Tousled Bangs
@ellienorski
A wavy bob with tousled bangs is calling out all women with thick tresses. Talk to your stylist about carving out layers to emphasize natural waves. Wavy hairstyles with bangs complement a multitude of hair types. Style your hair forward from the crown and piece out the shorter curtain bangs using a molding paste for light hold.
Wavy Bob with Straight Bangs
@joycemariehair
A wavy bob with straight bangs kicks the classic french bob up a notch! Notice how the ends of the bob are blunt, yet the fringe at the browline is textured and playful. Bangs with wavy hair adds softness around the face as the straight lines are broken up. Be sure to schedule regular trims to keep this style fresh.
Related: See more bob with bangs hairstyle ideas.
Wavy Hair with Side-Swept Bangs
@ashleenormanhair
Wavy hair with side-swept bangs is a detour from the classic middle partition. Bangs and waves can be styled in several ways, so don't feel like you have to look like everyone else. Experiment by blow-drying the bangs over to the side and keeping the layers choppy. Don't hesitate to wear this style a little more on the wild side, especially if you have a round face!
Wavy Blonde Shag with Curtain Bangs
@byedyebye
Try a wavy blonde shag with curtain bangs if you want a stylish transformation. Bangs for wavy hair add instant volume and texture. Look like a rockstar with your new look! Finish your hair off with a dry texturizing spray for that messy tousled look.