15 Short, Stacked Pixie Bob Haircuts for a Cute and Sassy Look
Stacked and Angled Pixie Bob for Thin Hair
@lavrenova_olya
A stacked pixie bob with an angle is perfect for thin hair that needs a major lift. Ask your stylist for stacked layers that begin between the occipital bone and the crown, with an inverted angle that will begin at the baseline of the layers in the back. With short cuts for thin hair, an angle gives a lot of shape and helps to keep some length for those who still want some versatility when styling. The stacked layers add a huge amount of lift and volume at the crown.
Stacked Asymmetrical Pixie Bob
@hairpin_me_down85
Shorter layers in a stacked asymmetrical pixie bob create height and volume in the crown. Keeping those short layers light and textured gives short-stacked pixie bob styles that classic feminine look.
Short Pixie Bob with Stacked Layers
@dudkazhenya
A mature and sophisticated haircut is a short pixie bob with stacked layers. This style is timeless and perfect for any hair texture or age. Adding short layers gives height while a long bang frames the face. Short stacked pixie bob haircuts are customizable to compliment your hair texture, face shape, and even hair color.
Pixie Bob Haircut with Stacked Layers
@b.smith273
A short style that shows off dimensional color, artificial or natural, is a pixie bob haircut with stacked layers. The difference of length and weight in the crown of a stacked hairstyle accentuates highlights and lowlights.
Androgynous Pixie Bob That's Stacked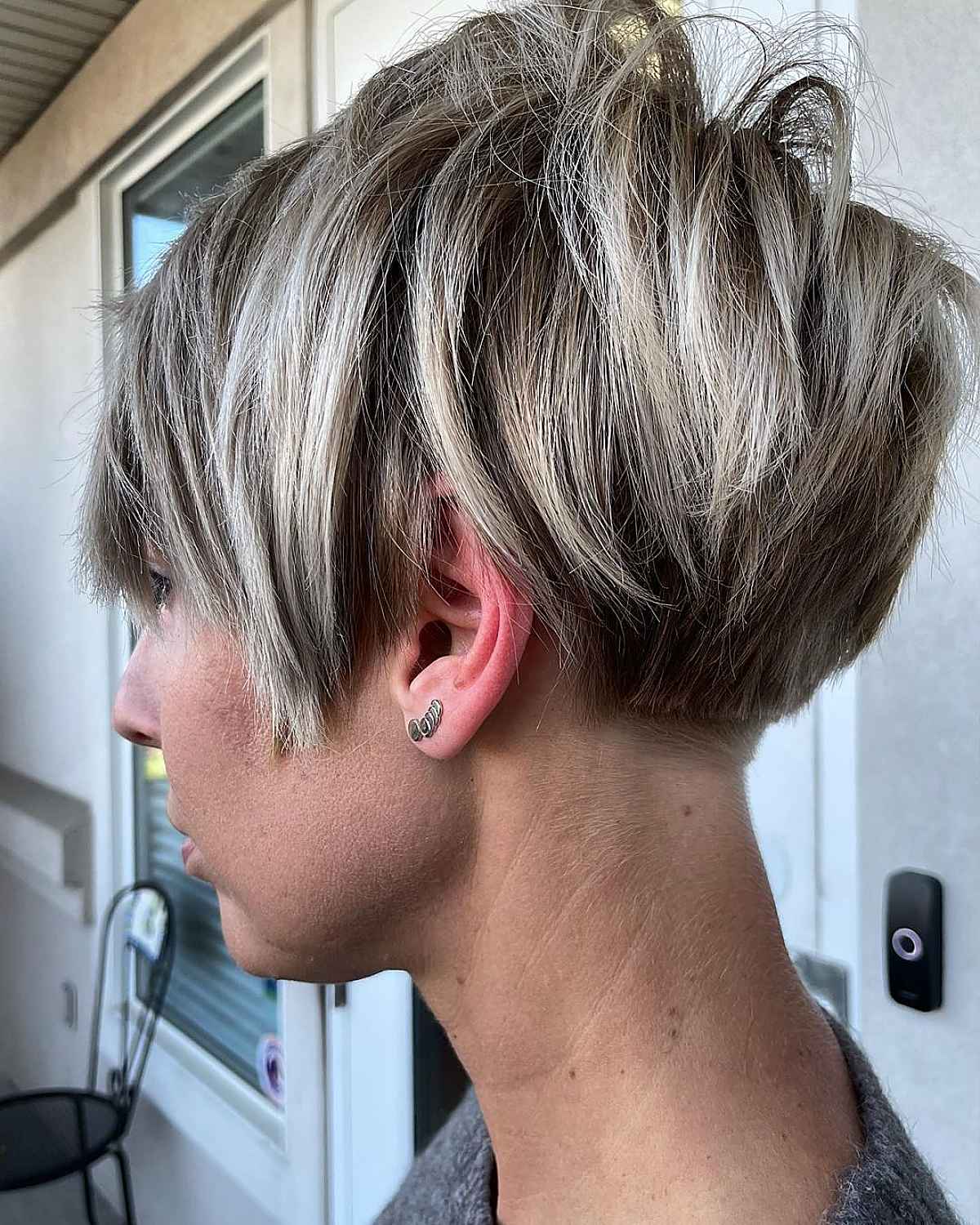 @boisebalayagegirl
The neckline of short hairstyles can make a huge difference in the overall appearance of the haircut. With an androgynous pixie bob that's stacked, a sharper and heavier weight line at the nape can give a more "masculine" look rather than a softer line that is associated with a feminine cut.
Stacked Pixie Bobbed Hair
@educadorjonysouza
The longer version of stacked pixie bobbed hair keeps the same classic shape but the difference is in the layering. Longer layers all around will leave more length in the crown and nape. This haircut also has a less dramatic stacked style.
Pixie + Short Stacked Bob
@yusufgunawanirwanteam
An extreme diagonal angle with a sharp weight line makes for a dramatic pixie + short stacked bob. Such a precision cut makes for a high fashion style while maintaining the classic short stacked pixie bobs vibe.
Stacked Shaggy Pixie Bob
@hairbyjordanpursel
A haircut that is great for fine hair is a stacked shaggy pixie bob. Short stacked pixie bob cuts are, in general, great for finer hair textures, but adding in the additional shagginess and heavy texture gives the movement and height needed to complete this look.
Short Edgy Pixie Bob
@antoninahairstudio
An easy and low-maintenance way to add texture to your short edgy pixie bob is by adding a wave with a small curling iron or flat iron. Use heat protection to keep your hair healthy and help lock in your style. A texture hairspray will add the messy edge and ensure a stronghold that lasts all day.
See more edgy pixie cuts
Very Short Stacked Pixie Bob
@envyhairco.bali
Having a very short stacked pixie bob with a faded perimeter will help make salon visits less frequent. The neckline of the haircut is very important, fading or tapering will make the grow out so much easier. With all short haircuts, the back always seems to grow faster and can because of an unwanted mullet or "ducktail" look, adding this detail will help with that.
Stacked and Inverted Pixie Bob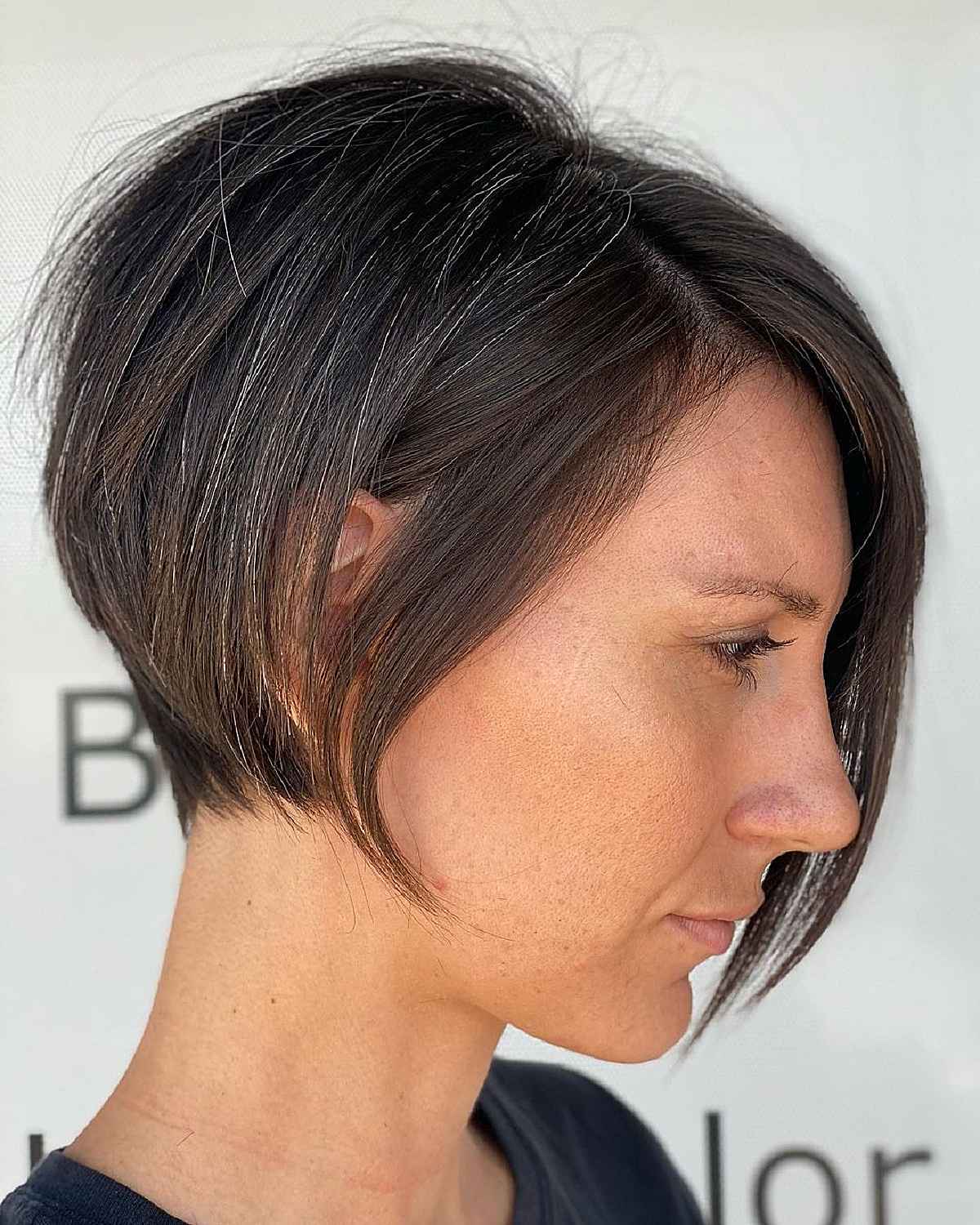 @hairpin_me_down85
A stacked and inverted pixie bob is a soft a-line pixie cut. To get this hairstyle, ask your hair stylist for an asymmetrical short style.
Stacked Pixie Bob for Short Hair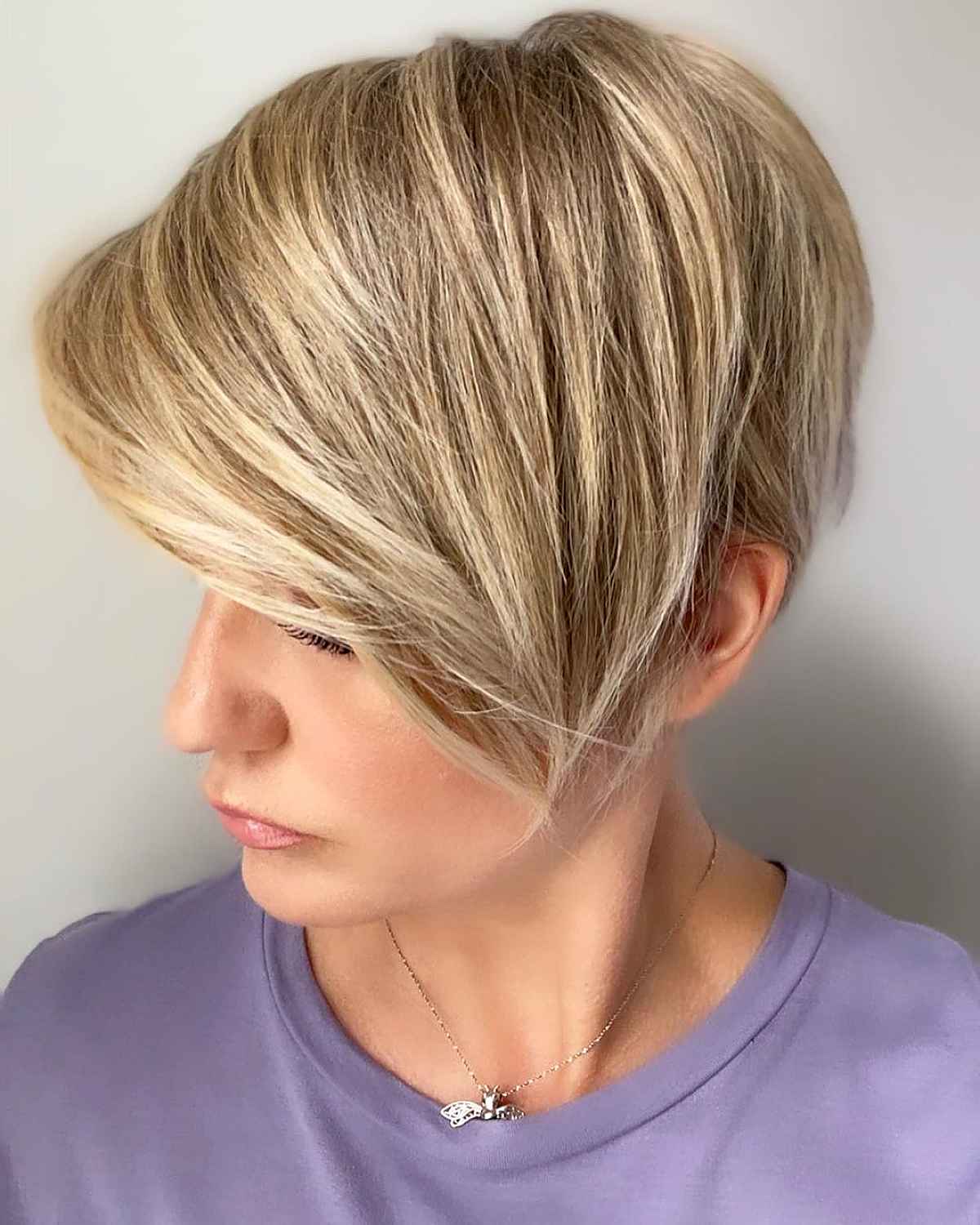 @therealdanitza
A stacked pixie bob for short hair gives a feminine finish to this short hairstyle. To get this haircut, ask your hairstylist for a pixie with a heavy side fringe.
Short Stacked Bob + Pixie Hairstyle
@boisebalayagegirl
A short stacked bob + pixie hairstyle is the perfect layered pixie. Stacked cuts create softness and texture in the layers.
Extra Short Pixie Bob with Bangs
@accomando
An extra short pixie bob with bangs is a great short haircut if you want to try a pixie. Short stacked pixie bob hairstyles give a soft and stylish finish.
Stacked Layered Pixie Bob Cut
@new_rock_star
A stacked layered pixie bob cut works great for women who have straight hair. Stacked haircuts give texture and movement to the style. To get this hairstyle, ask your hair stylist for short asymmetrical pixie cut.