27 Low-Maintenance Short Haircuts for a Trendy, Yet Time-Saving Look
Younger-Looking Bob for Women Over 60
A younger-looking bob for women over 60 is sure to be a head turner. This haircut is always in, and since it's a low-maintenance short hairstyle, it will fit right in with your busy schedule.
Short Bob Cut with Shaved Sides
@hair2bedifferent
A short bob cut with shaved sides can mean an easier getting-ready process. This low-maintenance short haircut can make it a breeze to simply wash and go.
Long Blonde Pixie Bob with an Undercut
@stylistcolorist_krg
Time to give a long blonde pixie bob with an undercut a try. Shaving a section of your hair can give you a drastically new look and less hair means less maintenance.
Short Lob for Women with Glasses
@hairsprayer
A short lob for women with glasses is a great haircut to enhance frames. Wearing eyewear can be the focal point and looks best on fine and short hair.
Low-Maintenance Brown to Blonde Ombre
@domdomhair
Try a low-maintenance brown to blonde ombre to embrace a short, textured cut. Low-maintenance cuts for short hair are easily styled with little effort but show off soft tousled ombre hair.
Tousled Beach Waves for Women with Wavy Hair
@nevilleromanzammit
Try tousled beach waves for women with wavy hair to enhance a layered haircut. Giving effortless body, a low maintenance short cut is great for naturally wavy hair or heat-styled waves.
Simple Undercut for Women with Thicker Hair
@autumnhartt
A simple undercut for women with thicker hair is an easy low-maintenance haircut for short hair. Ask your stylist to show you how to style for soft volume on top.
Edgy Pixie Bob with Shaved Undercut
@kristinakatsabina
Try an edgy pixie bob with shaved undercut for a soft and easy style. Best suited for fine or medium hair, low-maintenance hairstyles for short hair are great for a quick blow-dry and go routine.
Very Short Pixie with Long Bangs
@haircut_artist_shohre
A very short pixie with long bangs is perfect for women who want to keep length around the forehead, and shorter around the neck. Asking for a close cut around ears and back of the head but keeping length on top, will give you a low-maintenance style for short hair.
Low-Maintenance Pixie Bob for Women Over 40
@haarstudiofreestyle
Try a low-maintenance pixie bob for women over 40 for a youthful and effortless cut. Great for fine or thick hair, short low-maintenance styles require little styling time.
Short Shag with Curtain Bangs
@lcs.hairdesign
A short shag with curtain bangs is a beautiful layered haircut to add softness and fullness. Low-maintenance haircuts for short hair are perfect for women who want volume but don't want to spend a lot of time styling.
Low-Maintenance Short Buzz Cut for African-American Natural Hair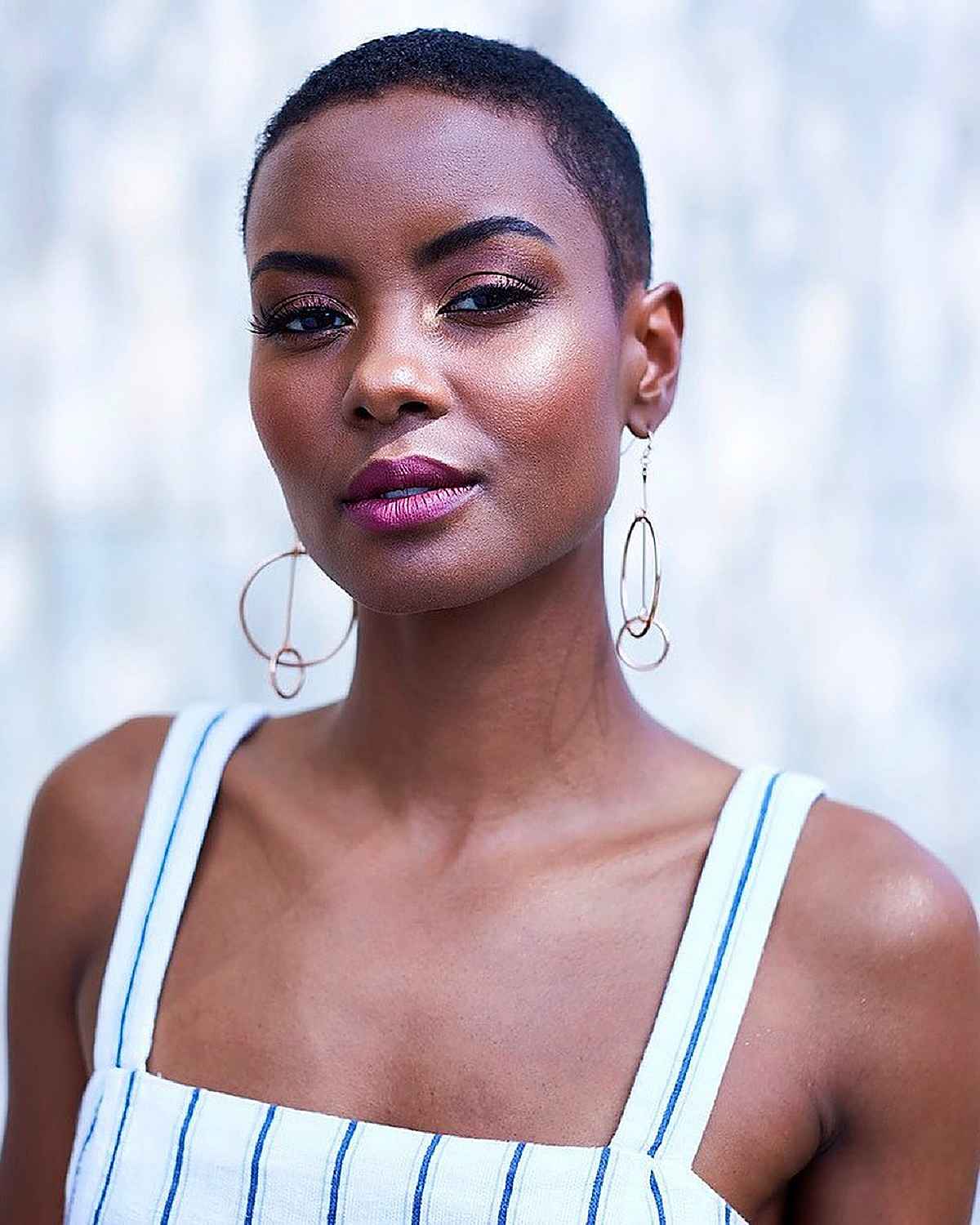 @andreabordeaux
Try a low-maintenance short buzz cut for African-American natural hair. A shorter haircut enhances facial features and has little to no styling time. Ask your stylist for the shortest guard on clippers for an edgy close-to-the-skin cut.
Low-Maintenance Short Cut with Balayage
@hairbymari_gomez
Try a low-maintenance short cut with balayage to get a soft contrast without the length. Balayage is great for any hair type and adds to the low-maintenance hairstyle for short hair.
Jaw-Length Short Bob Hairstyle
@hairbyjessicaheather
Try a jaw-length short bob hairstyle for a more defined look. Perfect for fine hair, low-maintenance short cuts can have precision and sleekness. Minimal products may be needed, as well as a hot tool, so ask your stylist for their advice.
Razored Shag for Women Over 30 with Thick Hair
@hairpinsandmargaritas
A razored shag for women over 30 with thick hair, can enhance and frame the face. Adding a lot of texture to hair, a short low-maintenance style is best suited for thicker hair types who want to embrace facial features but still leave a little length.
Youthful Pixie Cut for Women Over 50
@hellenmaraoliveira
Try a youthful pixie cut for women over 50 for a new fresh-faced look. Low-maintenance short haircuts add a lot of life to hair by adding texture, volume, and fullness.
Stylish Low-Maintenance Pixie for Older Women
@baldmothertucker
A stylish low-maintenance pixie for older women adds a lot of fullness and texture to any hair type. Short low-maintenance cuts are flattering for a trendy woman who wants a fun style in minimal time.
Low-Maintenance Short Pixie
@tinietashaa
Try a low-maintenance very short pixie for a chic style that can be soft and feminine. A short low-maintenance hairstyle can be styled with a texture product and looks great on fine hair or thinned-out hair textures.
Low-Maintenance Pixie Cut with Bangs
@teresa_witt_
A low-maintenance pixie cut with bangs is a fun, tousled, and easy to manage style. Perfect for fine or thick hair, short low-maintenance haircuts really enhance the eyes and are not difficult to style. Pair it with a platinum hair color to really make it pop!
Low-Maintenance Short Haircut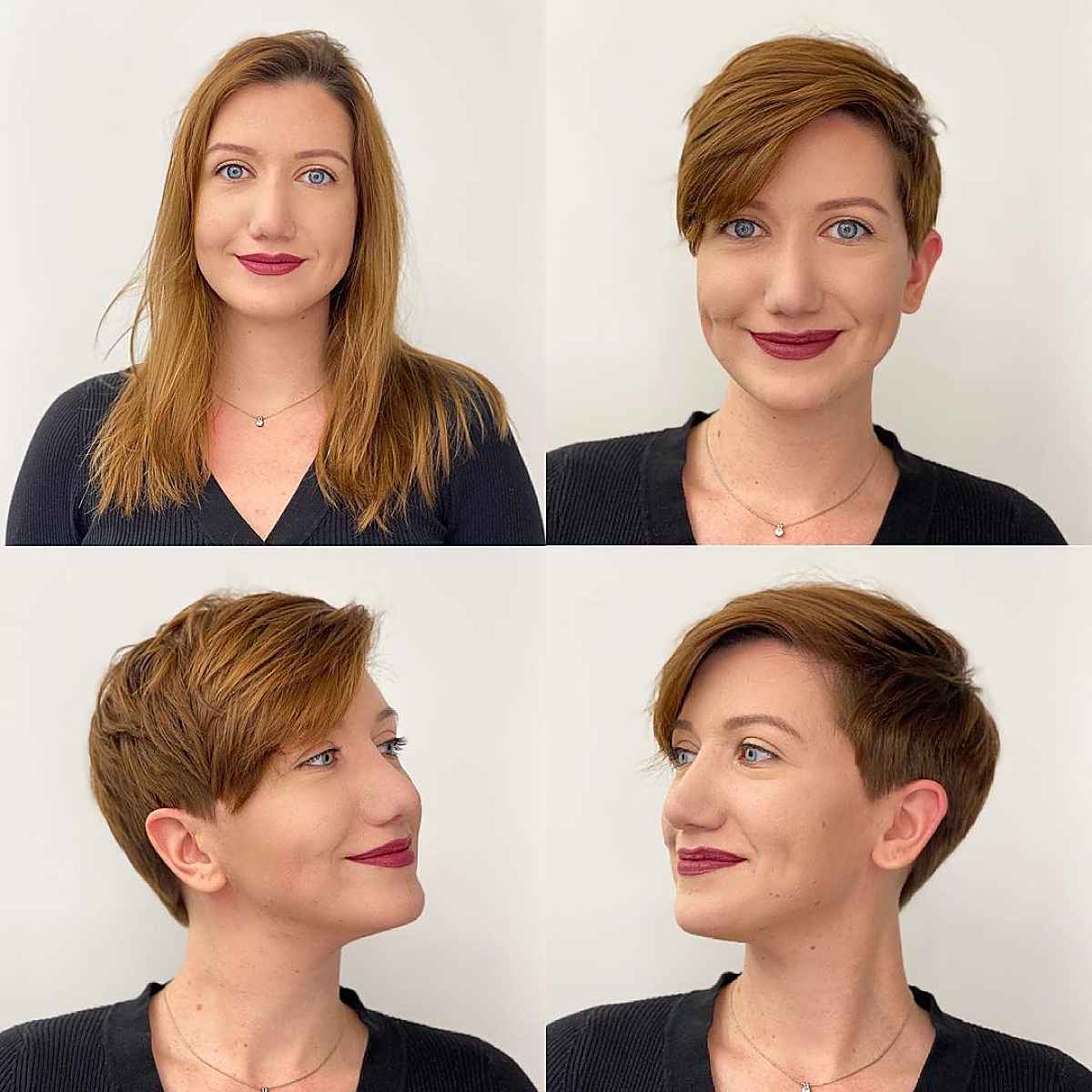 @kristinakatsabina
Try a low-maintenance short haircut to enhance facial features on round or oval face shapes. A short low-maintenance haircut is so easy to style and may require regular trims to keep the shape.
Low-Maintenance Shaggy Cut for Short Hair
@palaceflophousesalon
A low-maintenance shaggy cut with bangs for short hair is trendy and full of texture. Great for thick and medium hair, low-maintenance styles for short hair are appealing to the eye and cannot be over-styled.
Short and Sleek Angled Bob for Straight Hair
@demetriusschool
A short and sleek angled bob for straight hair is a well-put-together hair style. Excellent for straight hair or those who want to style straight, this low-maintenance cut for short hair is stylish and easy to style.
Ear-Length Asymmetrical Pixie
@nikitenko_elen_
Try an ear-length asymmetrical pixie for a dramatic cut that is sure to turn heads. With thick texture, and a strong bang, a short low-maintenance cut is great for fine, dense hair for ultimate volume.
Short and Low-Maintenance Long Pixie
@ucal_muradli
A short and low-maintenance long pixie is stylish and spunky. A very textured haircut with long wispy bangs, low-maintenance short styles are easy to wash, style, and go and is great for fine to medium hair.
Low-Maintenance Cut for Women Over 70 with Thin Hair
@hairheaven_by_jessica
A low-maintenance cut for women over 70 is perfect for thin hair. Low-maintenance short hairstyles are easy to wear, so ask your stylist for a lot of texture for a spiky look.
Related: See more hairstyles for women over 70.
Easy Shag Cut for Low-Maintenance Women
@randa.rivera
Try an easy shag cut for low-maintenance women. A low-maintenance short style is a fun, textured cut for ladies who want to throw in hair product, and go!
Chin-Length Bob Hairstyle
@demetriusschool_eng
A chin-length bob hairstyle is stylish and flattering. Great for enhancing the neck or jawline, short bobs are low-maintenance hairstyles for fine or thin hair.