25+ Chic Short Layered Bob with Bangs for an Eye-Catching Crop
Layered Stacked Bob with Bangs
@simahaircut
A layered stacked bob with bangs is versatile for most hair textures and densities thick to fine, curly to straight. Short layered bobs with fringe allow for a range of styles like curled, blown out, or smoothed, while long layered bobs give a classic and chic style. Save this image to show your stylist the front and back view of this cut.
Edgy Bob Cut with Layers for Women Over 60
@chrismaddox_hair
Consider an edgy bob cut with layers for women over 60. Short, layered bobs with bangs breathe life into aging hair by adding volume and lifting the face. This style can work at different lengths, so consult with your stylist about the right fit for you. Style with a round brush and a volumizing spray or mousse, and finish with a medium hold hair spray.
Related: See more bob with bangs hairstyle ideas for women over 60.
Inverted Short Bob with Fringe
@chanelperfeito
For an edgy update on the classic bob shape, try an inverted short bob with a fringe. Short, layered hairstyles are low-maintenance but require more frequent trips to your stylist to maintain their shape. Style this cut with a big round brush or a flat iron for an easy, polished finish.
Choppy Bob with Fringe
@ruteboazhair
Look like you are on the streets of Paris when wearing a choppy bob with a fringe. This cheekbone-length bob with fringe and layers is perfect for a variety of hair textures and face shapes. Ask your stylist for a razor cut if your hair is thick to add lightness and movement to your new hairdo. Air-dry or diffuse with a texturizing cream, and you're good to go!
Layered Long Bob with Bangs for Women Over 40
@hairbylaurenaugustine
Try a layered, long bob with bangs for women over 40. This layered, short haircut can be kept a little longer than the classic bob, allowing for more versatility in styling. A cheekbone-grazing fringe accentuates the eyes and keeps the look youthful and effortless. Blow-dry smooth or create texture with a curling wand or flat iron.
Blunt Bob with Blunt Bangs and Layers
@hairbykysa
If you are considering something new, try a blunt bob with blunt bangs and layers. This short layered haircut is a good choice for a variety of face shapes and hair textures. With fringe and short-length cuts, more salon maintenance is required. Trimmings are needed every 6-8 weeks.
Ear-Length Layered Bob with an Undercut
@de.ja.hue
For a bolder look, try an ear-length bob with an undercut. It's suitable for women with thick hair. It's perfect for women that want to wear a shorter style but need to remove bulk. The undercut can be as extreme as you are willing to go. Pair a single-sided undercut with a deep side part for a sexy, asymmetrical style.
Jaw-Length Feathered Bob with Bangs for Older Women
@nellcarmo
A jaw-length feathered bob with bangs for older women is a chic choice. Layered short haircuts add volume and lift facial features. They are perfect for mature women whose grey hair is beginning to fall flat. Blow-dry with a round brush and a root lifting spray, or use hot rollers on the top for extra volume.
Choppy Bob with Bangs Hairstyle
@emilytownsend_stylist
A choppy bob with bangs hairstyle is the quintessential easy-breezy style. A short, layered bob with bangs cut is perfect for the girl on the go. Air-dry and then heat style the top layer with a big barrel curling iron or a flat iron. Add in a little texturizing spray, and you're good to go!
Angled Short Bob with Fringe
Have you considered an angled short bob with fringe? Short, layered angled bob with bang cuts are always on trend and are customizable to a woman's hair texture and facial features. The angle can be extreme or subtle, the graduation can be substantial or minimal, and the wispy bangs can be of any length. Talk with your stylist about the best combination for you.
Classic Graduated Bob
@style_me_stacey
A classic graduated bob works on everyone. The shape is timeless and versatile. Short, layered haircuts are ideal for women with dense hair but can be worn by women with fine hair as well. Consult with your stylist for a customized version that works for your texture. Style with a texturizing cream for a lived-in finish.
Textured Lob with Bangs
@timm.morrison
Consider a textured lob with bangs for a fresh twist on the classic short bobs. Keeping the style a little longer, and adding minimal layering, makes this look modern and keeps it versatile. Ask your stylist to angle the perimeter in a slight A-line to give it an edge.
Shorter Multi-Layered Bob with Bangs
@yukistylist
For a French girl vibe, try a shorter multi-layered bob with bangs. The cheekbone length, combined with an eyebrow-grazing fringe, frames the face and accentuates the eyes. This style would require more salon visits to keep it looking its best, so consider that when deciding whether it is right for you.
Very Short Bob with Layers
@rcgimenes
A very short bob with layers is perfect for dense hair. Short, layered bob with bangs hairstyles are a perfect way for women with thick hair to ensure that the look is not too bulky. Graduation in the back and layering throughout the interior create a round, soft shape that feels retro and chic. Ask your stylist to personalize your fringe to your face shape for the most flattering outcome.
Related: See more short bob with bangs hairstyles.
Short Curly Bob with Layers
@mouseybrowne
Try a short curly bob with layers to upgrade your look in an instant! Ask your stylist to do a dry cut to ensure your curls do not shrink too much once the length is removed. Cutting dry for curly hair ensures a personalized cut for each woman's individual face shape and texture.
Related: See more curly bob with bangs haircuts.
Blonde Bob with Layers and Bangs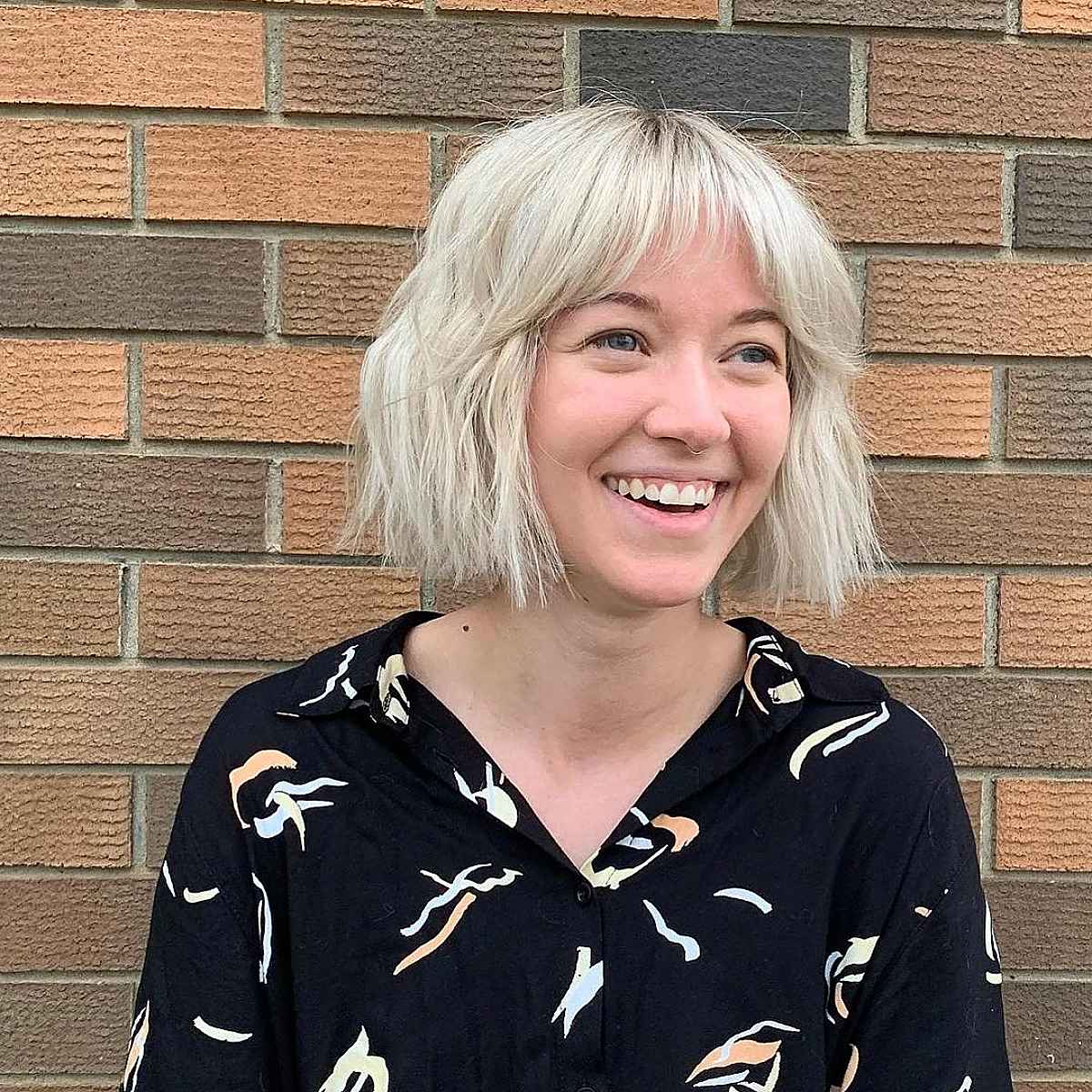 @hairbyswartz
Consider a blonde bob with layers and bangs with platinum hair. Short, layered hairstyles are perfect for heavily lightened hair. Bleaching can be damaging, so wearing a shorter length helps maintain the health of your hair. Visit your stylist every 6 to 8 weeks to keep both the hue and cut looking their best.
Trendy Layered Bob with Bangs for Women Over 30
@meeraroses
Consider a trendy layered bob with bangs for women over 30. A layered, short hairstyle promotes wave and movement. Embrace your natural texture for a soft, feminine look that is trendy. Go for a longer fringe, if you want to avoid looking too angular. Always ask your stylist what is best suited for your face shape.
Very Short Bob with Choppy Layers
@lovesalonpdx
Try a very short bob with choppy layers. Ear-grazing short layered cuts give off the ultimate French girl vibe. Have your stylist graduate the back to avoid a boxy shape. Style with a beach spray or texture paste for the perfect lived-in look.
Neck-Length Layered Lob with Bangs
@katiecofferonhair
Try a neck-length layered lob with bangs for a short layered style. This cut is versatile and can be worn sleek and polished or tousled and beachy. It works on most textures, so ask your stylist for a version that would work best for you.
Short Layered Bob with Bangs
@rodrigues_ricardo
A short layered bob with bangs looks good on any woman. The length can be anywhere between chin and shoulder, depending on the face shape and lifestyle of the wearer. Short layered bob with bangs hairstyles are trendy, polished, and very versatile.
Wavy Bob with Bangs and Layers
@andy_doesyourhair
To promote your curl, try a wavy bob with bangs and layers. Short layered bob with bangs haircut lightens dense hair, promoting movement and encouraging wave. Ask your stylist to use a razor to get maximum blending and an airy texture.
Layered Bob with Bangs
@ladyandwolf
A layered bob hairstyle with bangs instantly delivers an oomph factor to your look. Short layered bob with bangs haircuts are always in style and make you look pulled-together and chic. Minimal styling is typically required, especially now that the lived-in look is trending. Use a salt spray for an instant texture and a beachy finish.
Short Shaggy Bob for Women Over 50
@eclecticbeautyhairsalon
A short shaggy bob for women over 50 is a perfect option for women with thick hair. Layered short hairstyles have lots of movement and texture. The layers keep the style from looking too boxy or bulky and are perfect for adding height to the crown.
Related: See more shaggy bob with bangs hairstyles.
Low-Maintenance Bob for Women Over 70
@surgery_hairdressing
A low-maintenance bob for women over 70 is a youthful, stylish option for various hair textures. Short layered styles create the appearance of volume and density on fine and thinning hair. Instruct your stylist to keep the layers within the interior of the cut and to leave a strong perimeter.
Razor-Cut Bob with Bangs
@erikahawkins_
A razor-cut bob with bangs is a modern twist on the classic bob. The razor softens the lines of the cut, offering a lived-in, piecey texture that is perfect for a multitude of hair types. A bob with bangs and layers is a good option for women looking for a chic style with minimal maintenance and maximum wearability.
Short Bob with Side-Swept Bangs
@olyakuzochkina
A short bob with side-swept bangs flatters all face shapes. Side-swept bangs highlight your eyes and cheekbones while concealing any signs of harsh lines and angles. Consider a short layered cut if you want to achieve a youthful-looking, edgy finish.