26 Messy Pixie Cuts for a Tousled, Chic Look
Pixie Cut for Messy, Curly Hair
@allthingsneena
A pixie cut for messy, curly hair is a low-maintenance haircut that only requires a curl cream and a diffuser when styling it. Messy pixie haircuts are popular as they offer an effortless, lived-in finish.
Asymmetrical Messy Pixie Cut
@diegomarcsant
An asymmetrical messy pixie cut suits women who desire an alluring yet cool long pixie cut. This cut is a versatile piece that requires little to no styling. Use a styling paste to achieve this messy pixie hairstyle.
Messy Pixie Bob Cut
@arsentovmasyan_
A messy pixie bob cut  has the fun of a pixie haircut and the sleekness of a bob haircut. You can get the best of both worlds with this adorable style. Messy styles are easier to manage and create a soft look to help you look feminine and edgy at the same time.
Short Messy Pixie Cut for Round Faces
@glotovaira
A short messy pixie cut for round faces could be what you need to make your face appear thinner! The softness of this style is flattering. Pixies are messy, making them easy to style. Enjoy more time in the morning with this gorgeous cut.
Androgynous Pixie with Textured Ends
@chroma.moscow
An androgynous pixie with textured ends is a stunning cut that will make you the center of attention. This messy cut creates an edgy, lived-in look that requires little to no styling. Ask your stylist if this style will suit you.
Textured Pixie Cut for Messy, Wavy Hair
@leticiacosta.__
A textured pixie cut for messy, wavy hair is stunning. Messy cuts require little to no styling but give you an edgy and sophisticated finish. After styling, use a couple of drops of Olaplex's No. 7 Bonding oil for extra shine.
Edgy Pixie with Messy, Feathered Ends
@shura_wow_hair
An edgy pixie cut with messy, feathered ends is the perfect option for women that prefers a low-maintenance yet edgy haircut. Messy haircuts are easy to style since they aren't supposed to look perfect. Use a dime-sized amount of Redken's Aerate all over your hair before you blow-dry for added volume and texture.
Funky Pixie Cut for Women Over 40
@urbanchichairsalon
A funky, tapered pixie cut for women over 40 is a perfect choice for women that wants to stand out from the crowd! Pixie haircuts are messy and edgy, creating a lived-in, modern look. This hairstyle will make you feel feminine and funky at the same time!
Grey Pixie Haircut for Women Over 60
@bellamente_salonaz
A grey pixie haircut for women over 60 might be the perfect style for you. Messy hairstyles are flexible and soft, accentuating your femininity even more. Ask your stylist if they think a messy, textured cut will work for you!
Short Messy Pixie Haircut
@hannahd.m
A short, messy pixie cut is a perfect option for women who do not like to spend much time styling their hair in the morning. Messy pixies need trimming to maintain their shape, but styling comes easy. If you wake up with a bad case of bedhead, spritz your tresses with water, and blow-dry, then you're good to go!
Very Short Pixie for Women Over 70
@michellemillerhair
This very short pixie cut for women over 70 offers a youthful radiance! Pixie hairstyles are messy, which makes them very forgiving and flattering. This short hairstyle can soften your features and make you feel like a timeless, feminine queen. Try a spritz of Kenra's Silkening Mist for added shine.
Messy Short Pixie for Older Women with Glasses
@orriginalhairstudio
A messy short pixie for older women with glasses is a perfect choice for women who want to stand out from the crowd. This cut highlights your best features and accommodates your spectacles seamlessly into the look. In styling this cut, use a pinch of Moroccan Oil's Molding Cream on your ends to give your straight hair some added texture and shine.
Edgy Pixie for Women Over 50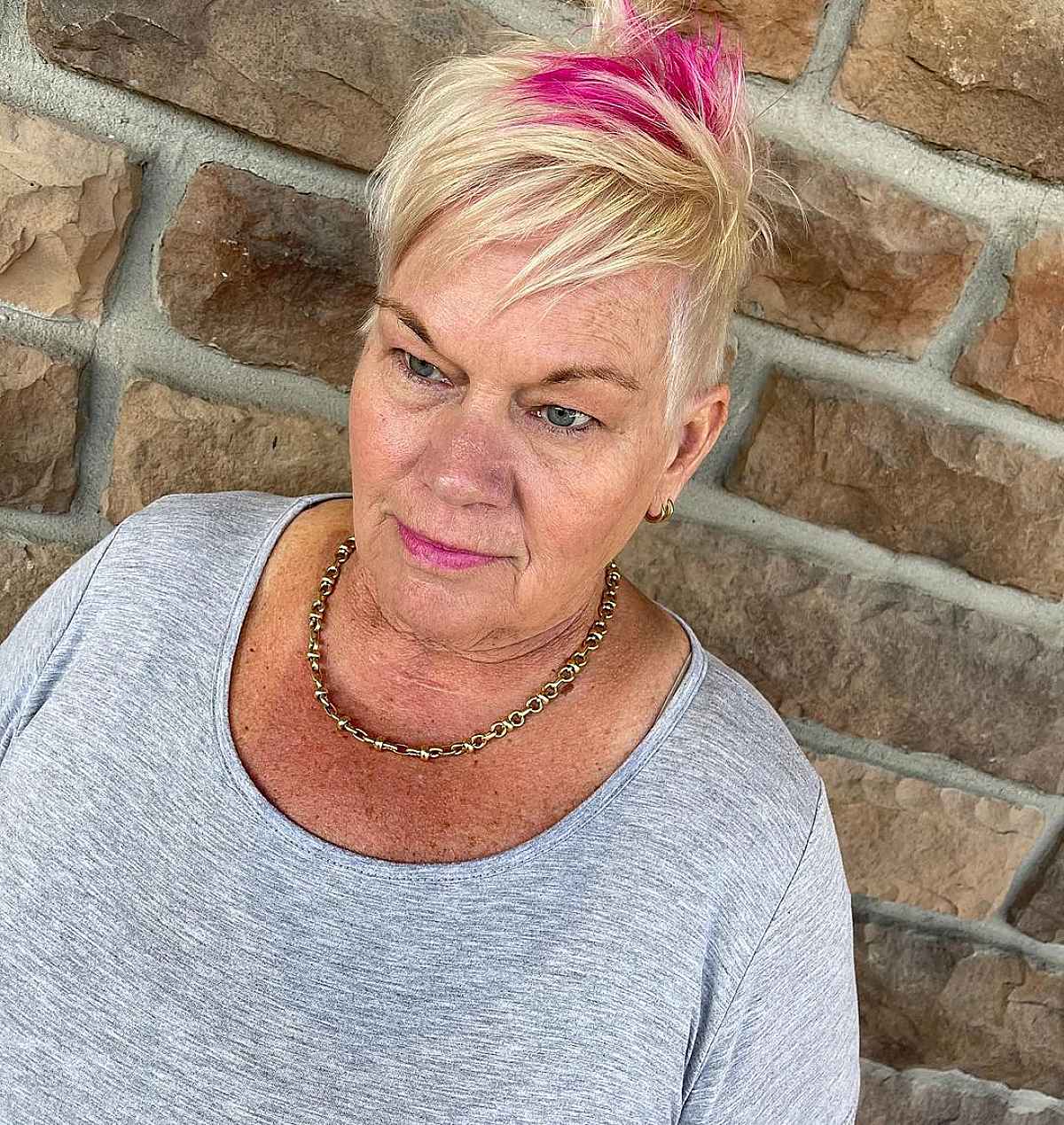 @bellacapellisanctuario
If you love to show your fun character through your blonde hair, ask your stylist for an edgy pixie for women over 50. This messy hairstyle will make you feel like you are in your 20's again but will not give the impression of trying too hard. The softness around the perimeter of his cut is flattering and feminine.
Short Messy Pixie for Older Women
@roshan_hairlove
A short, messy pixie for older women is modern and flattering. Asking your stylist for this messy haircut is a good option if you're looking for a hairstyle that is soft yet edgy. Shorter styles need trimming more often, but styling comes easy. Before you blow-dry, spray some Redken's Guts 10 onto your root area and rub it in for extra volume.
Brown Messy Pixie
@hair_at_karens
A brown, messy pixie is a perfect option for women who love to wear their hair short. The good thing about this style is it's one of the messiest out there, so it never has to be perfect! The less perfect, the better. Use a dime-sized dollop of Osis Thrill by Schwarzkopf to get this piecey texture.
Razored Short Pixie Cut
@shearpulp
Razored short pixie cut is perfect for creating texture and bend to locks. The style helps open up the face while softly framing it. A pixie haircut that's messy works best for hair textures that are straight to slightly wavy. In styling, apply a small amount of styling cream or texturizing mousse and blow-dry with a diffuser placing it in the hair to separate the hair. Styling should take 10 to 15 minutes.
Low-Maintenance Messy Pixie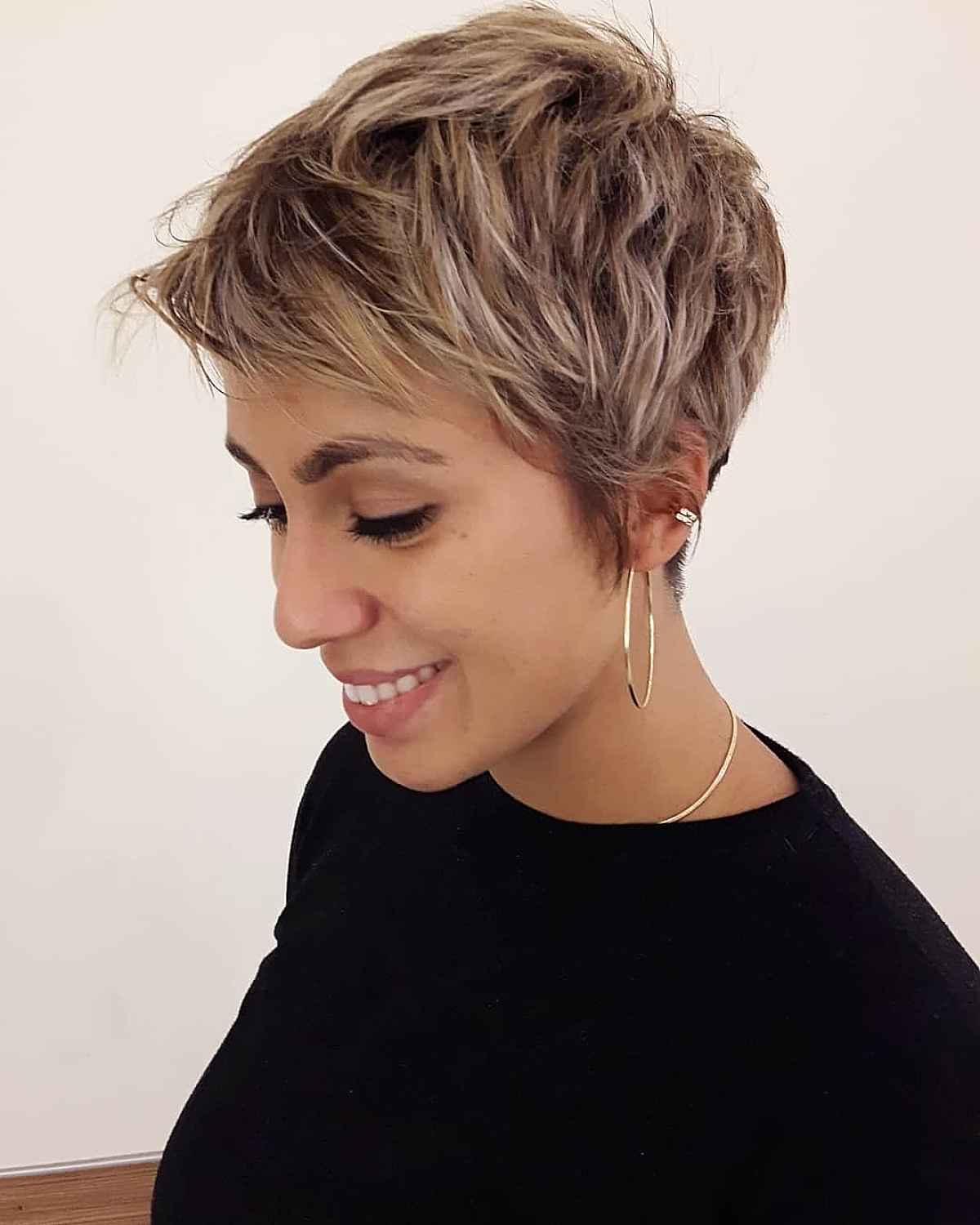 @katpat_0408
A low-maintenance messy pixie is for women needing a quick morning routine but wanting to achieve some style on their tresses. This pixie is a mess with short and choppy layers. Adding dimensional honey and caramel highlights accentuate this haircut even more.
Messy Pixie for Fine Hair
@velatozdamar
A chic messy pixie haircut for fine hair lightens the weight of hair by removing some length. It's a good option for women who prefer to stop chemically coloring their hair and decide to go naturally gray. This messy pixie haircut is age-appropriate and alluring.
Shaggy Pixie Hairstyle
@nickyquackhair
A shaggy pixie hairstyleis a perfect way to modernize the trendy shag that is extremely popular right now. The vertical lines are a beautiful way to showcase cheekbones, eyes, and sass-up round and heart-shaped faces. Razoring and heavy texturizing are vital to achieving messy pixie hairstyles. When styling the fringe area, use no crease metal hair clips to set the hair encourages the bangs to flip to the sides in a middle-split shag fringe without over flipping.
Choppy Pixie Cut
@marianarey.hair
A choppy pixie cut with a modern shag flair is all the rage. Creating razored pieces gently shaping your facial features adds an edgy and soft silhouette on round face shapes. Each piece adds a shadow to give the illusion of a cheek hollow. This hollow is an elongation of the face and neck with the diminishing of the forehead. Messy pixie cuts exude a youthful, free-spirited vibe that is easy to style for day-to-day living but will need trimming every 4-5 weeks.
Messy Pixie with Bangs Hairstyle
@healthyplatekate
When wanting to shake things up, a cute messy pixie with bangs hairstyle is the perfect way to go! Pixies haircuts are great for showing off your hair texture without having to spend hours styling. They are an excellent way to add volume to fine hair textures and frame your features without overwhelming the face. Don't forget to keep hair volume to a minimum for an oblong and diamond-shaped face. If you're wearing glasses, avoid long side-swept fringe or styling your long bangs forward as it will irritate your eyes.
Blonde Pixie for Messy, Thin Hair
@brittenelle
A blonde pixie for messy, thin hair adds interest and volume to the tresses. To create a piecey look, apply a spray wax or texturizing spray to damp hair, then blow-dry roughly using the fingers to move the hair and add lift. Once dry, use a curling iron or flat iron to flip sections of the hair out and below. Add some hair clay or wax to your fingertips, then lightly pull sections of the hair to create a "hair is a mess" look.
Related: See more pixie cuts for thin hair.
Messy Pixie for Women Over 30
@roshan_hairlove
A messy pixie for women over 30 is a cute way to update your current haircut. A pixie hairstyle that's messy adds extra volume and symmetry to round face shapes. Be sure to choose styles with extra piecey and spike volume in the crown, which narrows the front section of the face. Styling a longer top or front section gives some height, narrowing down the sides of the face. Ask your stylist for a balayage to enhance your cut even more!
Messy Pixie Cut with Bangs
@rodrigocintra
A messy pixie cut with bangs is a fun way to balance heart and oblong face shapes. The fringe makes the eyes stand out, softens harsh lines, and brings symmetry to the face shape. Messy texture adds light volume and enhances natural wave patterns. To easily encourage wavy textures, lightly spritz some sea salt spray and blow-dry with a diffuser.
Layered Pixie for Thick Hair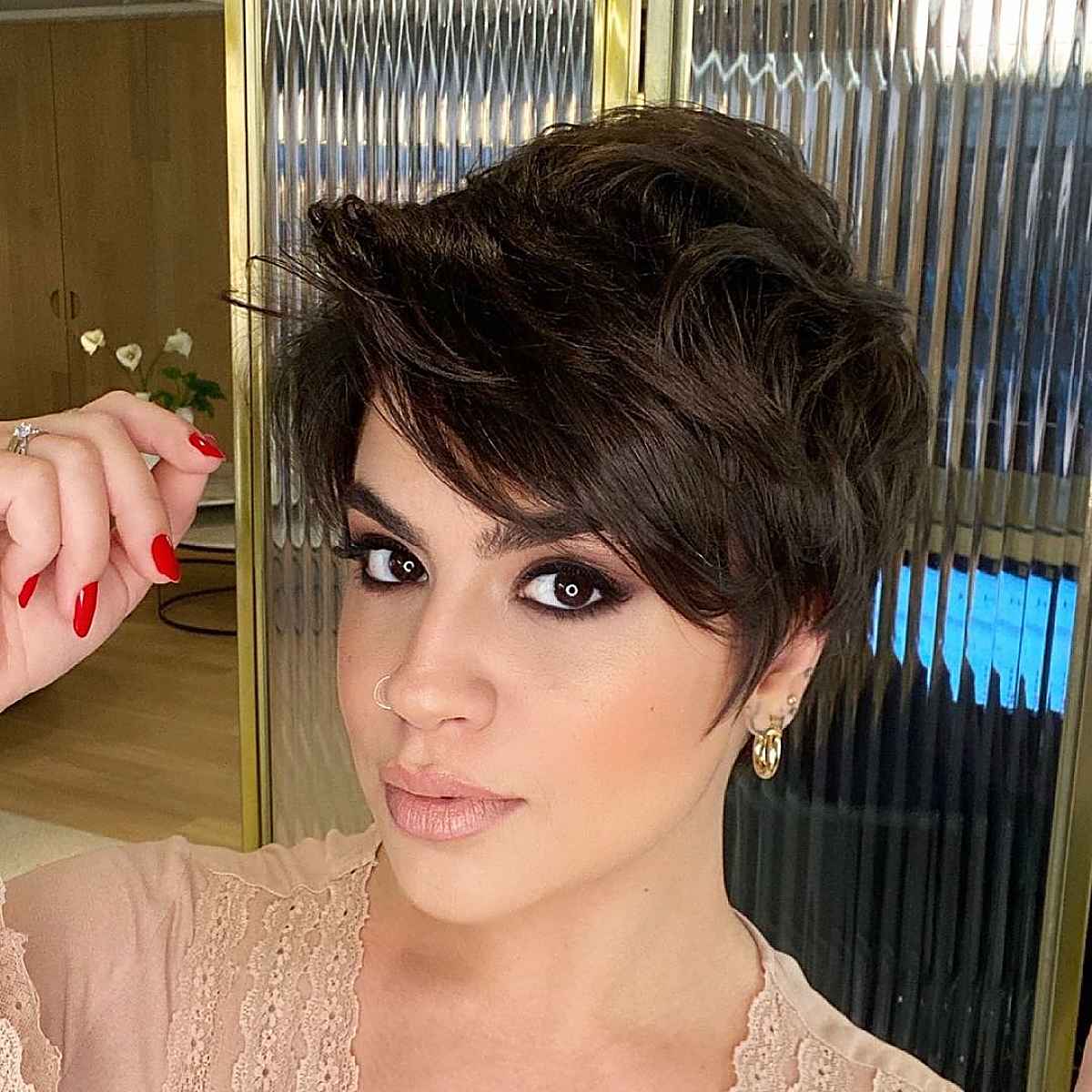 @rodrigocintra
A layered pixie for dark, thick hair brings lovely balance to round, heart, and oval face shapes. Messier layers create a fuller look. This haircut is perfect for women of all ages who aspire to achieve effortless style on their tresses.
Undercut Edgy Messy Pixie Cut
@maciej_kasica
An undercut edgy messy pixie cut is an androgynous and boyish fashion statement that suits women of all ages. An undercut pixie frames your face highlighting your features in the best light. Use a styling paste to achieve this lived-in, messy style.