26 Stylish Long Pixie Bob Haircuts for a Unique Length and Style
Layered Long Pixie Bob
@mila_kryshchykhina
A layered long pixie bob works wonders for women with thick tresses wanting extra movement and shape. Ask for long layers on your long pixie bobs. The layers help create volume for a natural bounce.
Long Pixie Bob for Women Over 50
@stylishmurmurs
A long pixie bob for women over 50 is flattering for women of any age. It's a haircut that is playful yet minimal, requiring less maintenance and styling. It gives hair a soft, sleek, yet bouncy style. It offers an instant youthful-looking radiance to women who choose to sport this style.
Related: See more pixies for women over 50.
Back View of a Long Pixie Bob Cut
@lara_stelmashuk
A stacked back view of a long pixie cut bob is what hair dreams are made of. Long pixie bob styles tend to require more upkeep but who cares when your hair looks like this! Make sure your stylist is comfortable with this kind of long pixie haircut before asking for it.
Long Pixie Bob for Short Hair
@andressa__luiz
Try a long pixie bob for short hair if your short style just isn't cutting it anymore. Still considered a short haircut, long pixie bobs are soft and complimentary to all face shapes and will make you feel fresh and renewed. Apply a few drops of Olaplex No. 7 Bonding Oil onto your fingertips and run through your hair for extra shine. Ask your stylist for wispy bangs to conceal a larger forehead.
Long Inverted Pixie Bob Haircut
@alisonallvess
A brown long inverted pixie bob haircut is a classic look that will never go out of style. Long pixie bob cuts are a bit high maintenance depending on your wave pattern and texture, but totally worth it if you want to have a current and gorgeous cut. Seek out a stylist who specializes in these cuts to ensure you get a good one.
Edgy Pixie Bob with Long Bangs
@nikitenko_elen_
A long pixie bob is a great option to try for something current and cute. An edgy pixie bob with long bangs can work for almost any face shape and hair texture. If you have wavy or coarse hair make sure to ask your stylist for tips on how to style this cut.
Related: See more pixies with bangs.
Lixie Bob Hairstyle
@_palomaabessa
Try a lixie bob hairstyle for a classic but current look. Lixie bobs are in between a pixie and a bob, two of the most flattering and popular styles. This cut works for almost all hair types and can make fine hair appear thicker.
Long Wavy Pixie Bob
@_palomaabessa
A long wavy pixie bob is a fresh and youthful cut that suits women of all ages. The longest pixie bob is a perfect cut for women with fine, wavy hair. When styling, you may opt to blow-dry or enhance the waves even more with a diffuser.
Long Undercut Pixie Bob for Thick Hair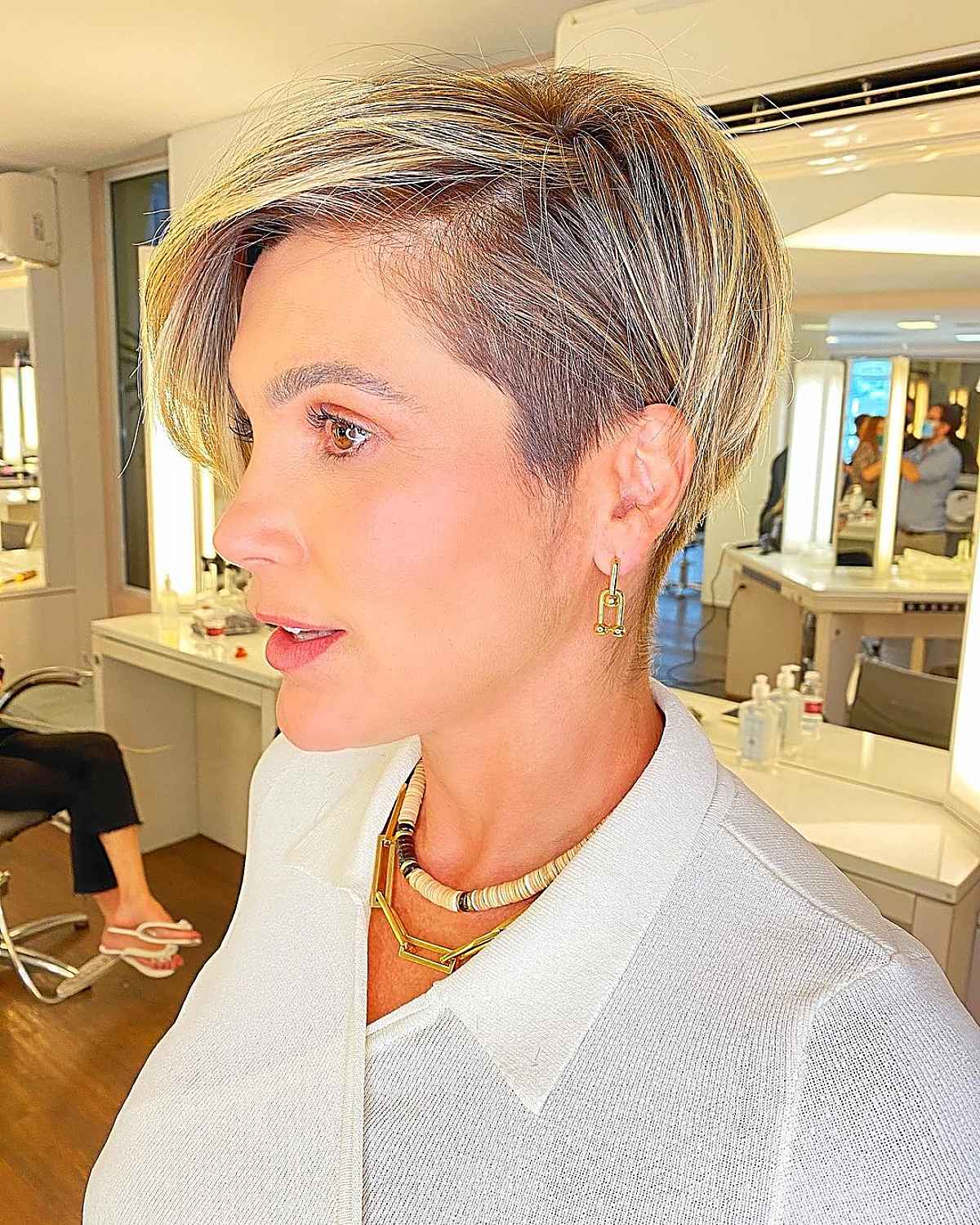 @flaviaalessandra
A long undercut pixie bob for thick hair is a bold, edgy cut perfect for getting rid of bulk and weight. A long pixie bob cut offers less hair to style and promotes a slow grow out. Styling comes quick and easy with several arrays of options.
Long Choppy Pixie Bob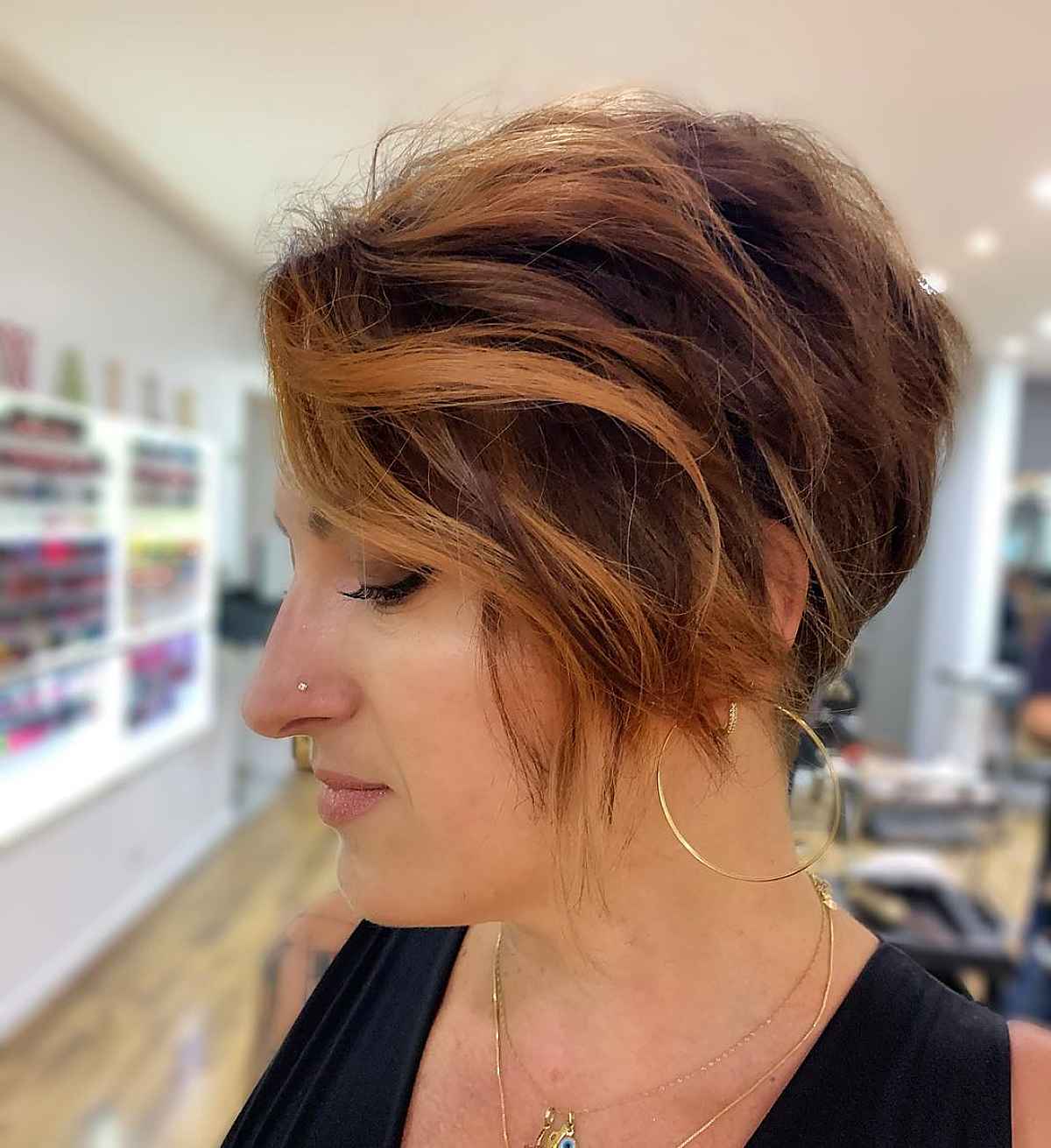 @rcgimenes
A long choppy pixie bob gives a bold, edgy yet feminine finish. The choppy layers add texture and volume to hair that tends to fall flat. It's a cut that suits women with pin-straight, fine tresses. Ask your stylist for some disconnected layers to create a choppy finish.
Messy Pixie Bob
@i._hair_issei
A messy pixie bob can be styled in several ways. You may opt to wear it forward and messy to create an effortless, lived-in finish. It's a cut that suits women of all ages and all hair types. Long pixie bob haircuts are a trendy, timeless piece.
Long Rounded Pixie Bob
@rhandy_art
A long rounded pixie bob works wonders on women with heart or square-shaped faces. The feathery effect helps soften any harsh lines around the face. This cut is perfect for all hair textures and gives a youthful look with tons of bounce.
Long Textured Pixie Bob Hairstyle
@galina_totorina
A long textured pixie bob hairstyle gives an instant facelift, creating a youthful-looking radiance. It's a haircut that is universally flattering on all face shapes. Use a sea salt spray to create texture, definition, movement, and volume.
Chin-Length Longer Blonde Pixie Bob
@mila_kryshchykhina
A chin-length longer blonde pixie bob is perfect for women who want a longer version of the classic pixie haircut. It gives a lot of volume to fine, pin-straight hair. Blow-dry with a round brush to give more lift and bounce. Longer pixie bobs draw instant attention, especially with a blonde hair color.
Long Shaggy Pixie Bob
@adriennecicale_hair
A long shaggy pixie bob has made a comeback. Women of any age can rock this modern twist of the classic shag! It's a low-maintenance cut that doesn't require daily hair washing and styling. Be bold and consider long pixie bob hairstyles to upgrade your look in an instant!
Jaw-Length Longer Pixie Bob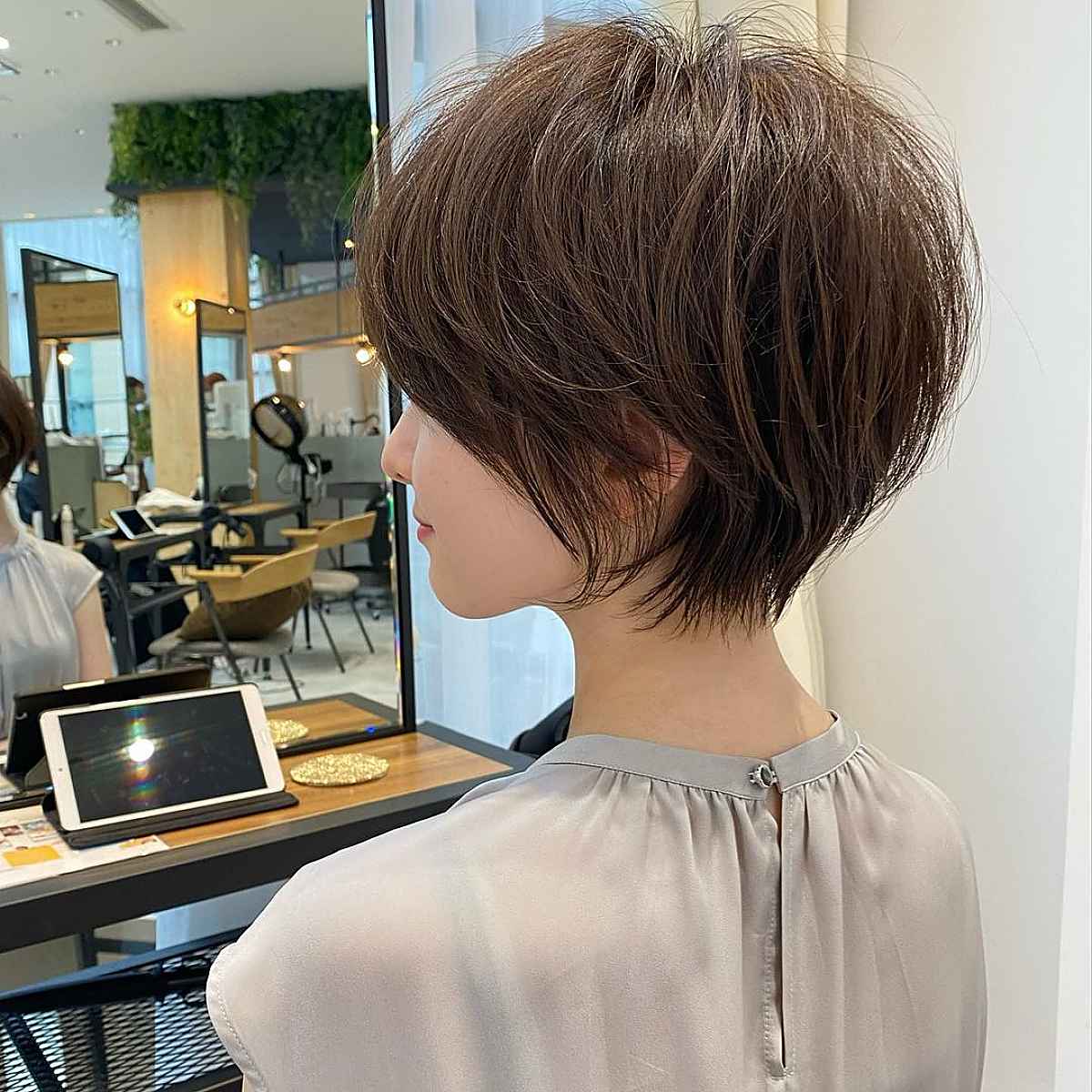 @i._hair_issei
A jaw-length longer pixie bob is perfect for women who have small face features. It's a cut that accentuates the eyes. A jaw-length haircut falls softly towards the face giving enough length to style. Ask your stylist to razor cut a long pixie bob haircut to recreate this look.
Longer Pixie Bob for Curly Hair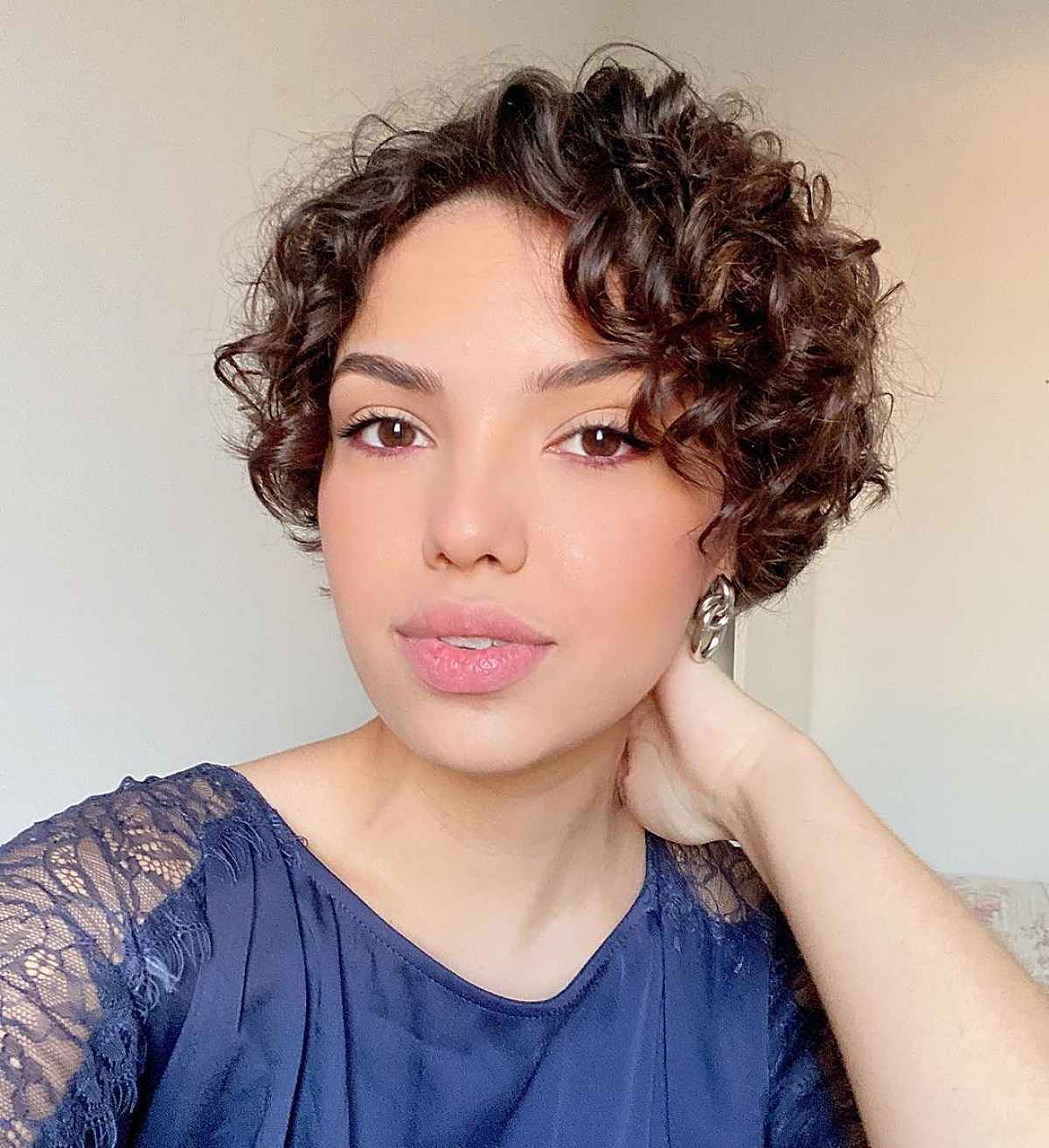 @_palomaabessa
A longer pixie bob for curly hair works best on women with medium to coarse hair textures to enhance and lift the curls. It gives instant shape to your tresses. When styling, use a curl cream for added moisture and separation. Ask your stylist to keep the length longer towards the front.
Long Pixie Bob with Bangs
@zinoveva_elena
A long pixie bob with bangs gives instant attention to the eyes. Bangs conceal the forehead, which suits women who want to hide any signs of wrinkles. It's a playful cut that works on any hair texture. A long pixie bob style can be grown out or maintained by scheduled trims.
Ear-Length Long Pixie Bob Cut
@zinoveva_elena
An ear-length long pixie bob cut is perfect for women who want to keep their ears somewhat concealed. Hair lays softly around the ear and face giving it a feminine look. For women with heart-shaped faces, ask your stylist for a longer pixie bob.
Long Layered Pixie Bob Cut
@kristinakatsabina
A long layered pixie bob cut is a versatile cut that can be styled in several ways. Long layers give hair shape and bounce. It's a cut that works best for women with medium to thick hair textures. It's quick and easy to style and maintain. Ask your stylist for long layers on top for added volume.
Low-Maintenance Long Pixie Bob
@kristinakatsabina
A low-maintenance long pixie bob is perfect for women with long tresses who are ready for a chop but still want a low-maintenance haircut. It accentuates the cheekbones while giving an instant volume on fine, straight hair. It's a wash-and-wear hairstyle creating an effortless, lived-in finish.
Pixie Lob Haircut
@angelicagrechkina
A pixie lob haircut is perfect for women that want a lot of volume, movement, and texture on their tresses. Any woman can rock pixie lobs by using a matte paste when styling for added lift.
Asymmetrical Long Pixie Bob Hairstyle
@wellleite_hairstudio
An asymmetrical long pixie bob hairstyle works well on thick hair to create shape and remove bulk. It can be grown out to a full bob in no time. Consider a tapered asymmetrical cut to soften your facial features. A long pixie hairstyle can be worn straight or wavy.
Related: See more short asymmetrical pixie cuts.
Short-Long Pixie Bob Cut
@boisebalayagegirl
A short-long pixie bob cut is perfect for women who want an effortless haircut for easy styling and upkeep. Short to long length adds fullness and volume to the top sections of the hair, which works wonders on women with fine/ medium hair texture. Ask your stylist to create texture at the top for added volume, texture, and definition.
Long Pixie Short Bob
@lollipopchainsawhair
A long pixie short bob is perfect for women who still want some length in the front section to style. This style can be easily grown into a full bob cut for added length. It's a cut that's versatile and easy for your lifestyle! It works well with any hair texture.
Related: See more pixie bob hairstyles ideas.
Pixie Bob for Older Women with Fine Hair
@maryattexturehairstudio
Consider a pixie bob for older women with fine hair. A short pixie shape is perfect for ladies with thin hair. The style creates volume and definition in a texture that needs a structured shape. This cut requires minimal maintenance but does require more frequent visits to the salon to keep it looking sharp.