23 Trendiest Salt and Pepper Hair Color Ideas for Women
Natural Salt and Pepper Hair

@beautiful_by_natalie
Consider natural salt and pepper hair, women, if you want your hair to be natural-looking. Adding platinum highlights and deep rich lowlights to your hair color will add brightness instantly! This hue is perfect for women wanting to blend in their natural grays.
Salt and Pepper Color Melt

@anna.arms.hair
Ask for a salt and pepper color melt if you want a lived-in color that compliments your natural hair color. This is more of maintenance than a full session, color melting helps to preserve your previous treatment (balayage, foiling, etc.) while embracing the true color of your hair.
Brunettes with Salt and Pepper Highlights

@pat_ricciuti
Brunettes with salt and pepper highlights add sparkle and shine to solid brown hair. Rich brown hair with natural silver streaks is a subtle way to embrace grey while remaining a brunette. You can check the shades of your salt and pepper hair by pulling your hair back away from your face and looking in the mirror to reflect how the lighter colors suit your skin tone.
Salted and Peppered Hair for Women Over 60

@pat_ricciuti
Salted and peppered hair color for women over 60 can be done in a funky and modern way. 60-year-old women should consider trying a fun, edgy pixie cut by embracing their natural hair color. It allows you to be youthful-looking while sporting a trendy, low-maintenance haircut at the same time.
Grey Hair Color with Dark Streaks

@jens_going_gray.zy
Grey hair color with dark streaks will make your hair stand out from the crowd. Bold salt and pepper hues are super funky and bring individuality and contrast to your hair color. Bring white and silver streaks around the face to help accentuate the face and soften dark brown or black hair hues.
Dark Salt and Pepper Hair

@hue_and_snip
Dark salt and pepper hair is full of dimension and looks great on all skin tones. Darker hair tends to take on deeper silver and brown tones than white tones when going grey, which helps suit women with dark skin complexion.
Salt and Pepper Reverse Ombre

@silver_me_at_63
Salt and pepper reverse ombre is a statement hair color that is very popular. When embracing grey and growing out, it's best to allow your hair to do so naturally to avoid bleaching and damaging your hair. Be vigilant about getting regular haircuts for salt and pepper hair in order to keep mane looking and feeling its best. Blue or purple shampoos are needed to combat brassy tones.
Low-Maintenance Salt and Pepper Hair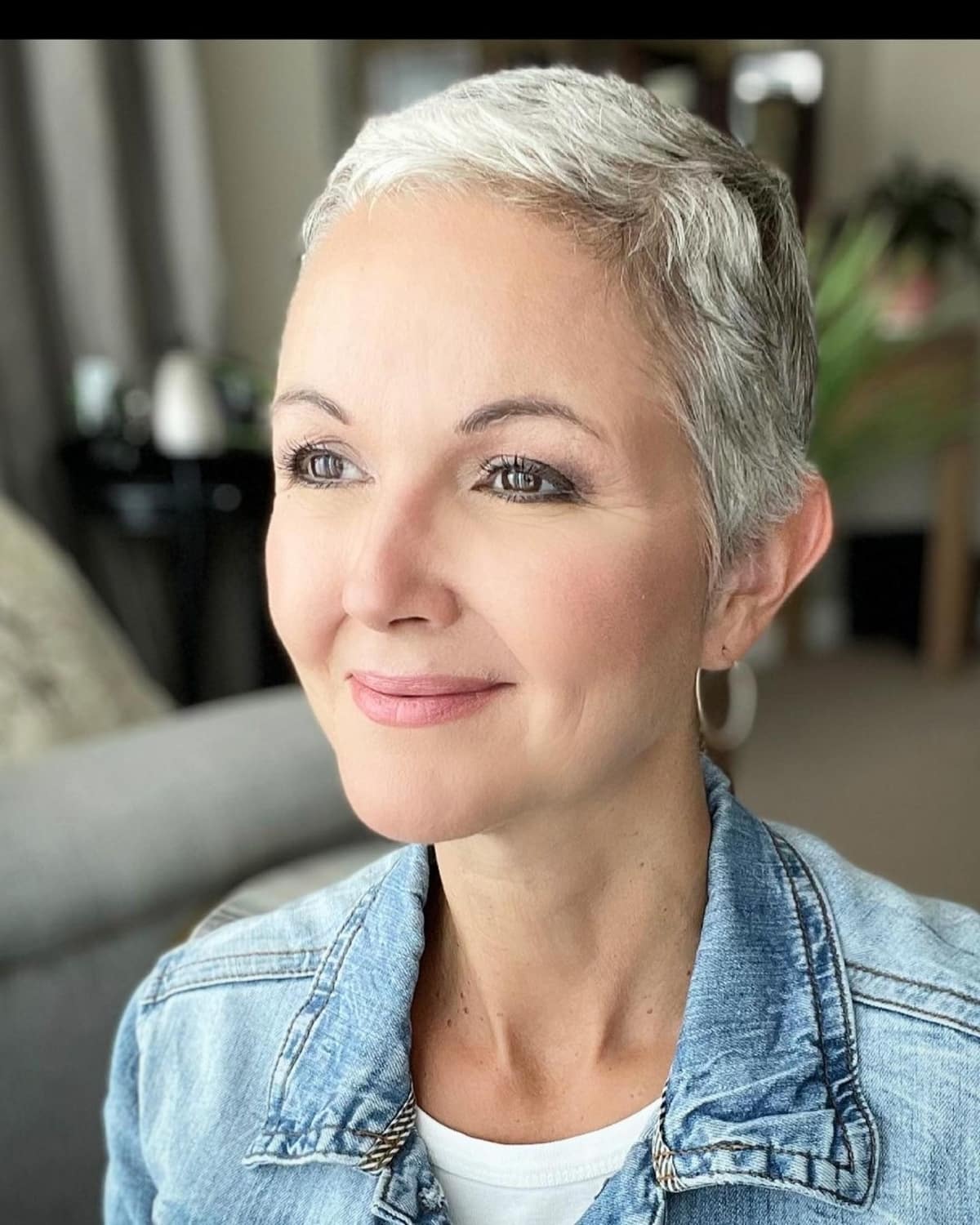 @silver_is_sexy
Low-maintenance salt and pepper hair gives you a breath of fresh air. The best way to speed up the process of growing colored hair to reveal your all-natural grey is by doing the "big chop" and sporting a super sexy shorter haircut, like a pixie cut. Rocking your natural salt n pepper hair color will give you a boost of confidence and free you from monthly root touch-up appointments.
Dimensional Salt and Pepper Hair

@elizasanta15
Dimensional salt and pepper hair complements all skin tones with its cool, salt grey undertones. Your hairstylist will use a type of hair dye called a toner. It will help you get cool-toned hues while keeping your hair from looking brassy. The toning service is done every 2-4 months to keep the vibrance of your salt pepper hair.
Salt and Pepper with Black Undertones

@kelly.o.doherty
Salt and pepper with black undertones give gorgeous contrast and depth to your hair color. Ask your stylist to create a "money piece" in your hair by lightening and toning the face-framing layers while leaving depth. Embracing your salt and pepper strands is liberating and freeing.
Brown Hair with Silver Strands

@dianemguy
Brown hair with silver strands adds brightness and life to all over brown-colored tresses. Low-maintenance and natural hair colors are all the rage, so embrace your grays and let them shine through your long hair. When considering hairstyles for salt and pepper hair, opt for a longer-length cut with several face-framing layers to accentuate your grey hues.
Silver Hair Color for Medium-Length Hair

@graytfullyme_2021
Silver hair color for medium-length hair is right on trend and extremely low-maintenance. Salt and pepper hair has grey streaks that sparkle with a deep, dark strip that pops. A shoulder-length haircut with lots of layers makes styling easy and allows for a "wash and go" hairstyle.
Pepper and Salt Color for Short Hair

@cathieshooter
Pepper and salt color for short hair creates a fun way of incorporating gray hair with a textured style. Salt and pepper hair color ideas coupled with dimensional salt and pepper haircuts are a great combination to explore. The piecey pepper and salt colors paired with the several layers complement the overall style.
Salt and Pepper Hair Color

@gratefulandgray
Salt and pepper hair color is a natural way of blending in your gray hair. Salt and pepper gray hair naturally grows out in small pieces and typically will have different levels of gray throughout your tresses. Having both salt and pepper colors in the hair repeats this natural pattern creating a seamless, natural finish. Avoid chlorinated water as it leaves a green residue on the hair.
Light Salt and Pepper Hair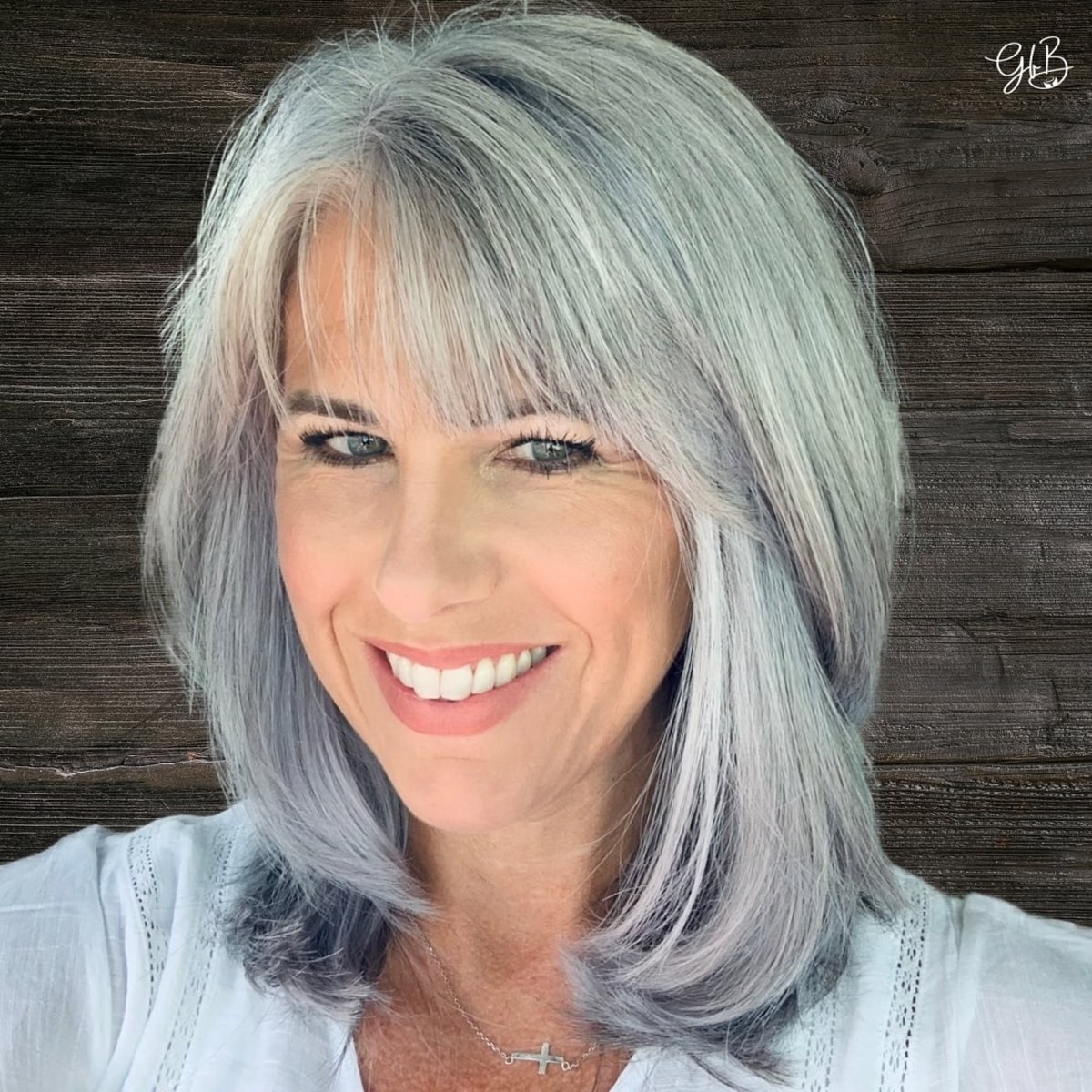 @erikamarie72
Light salt and pepper hair is perfect for women with light-colored eyes and lighter skin tones. It will brighten the overall look. Using a purple shampoo is more effective on light hair hues.
Salt and Pepper Ombre

@mypathtosilver
Salt and pepper ombre is a great way to add contrasting colors into gray hair without worrying about high upkeep. Having the natural hair color as the base and the statement color blended at the ends will give the root regrowth a seamless grow-out. Keep in mind that a layered haircut may affect the color placement and that a one-length cut would probably work better with this hue.
See more shades of silver ombre.
Very Light Salt and Pepper Color for Women Over 70

@annekewesterbos
Having a very light salt and pepper hair color for women over 70 is flattering. It offers a youthful-looking glow for the elderly. The bright hue will not wash the skin out, and the darker tone will give some movement to the hair. It's an easy way to give the appearance of fuller-looking hair since the multiple colors give added volume and depth to your tresses.
Salt and Pepper Hair with Lowlights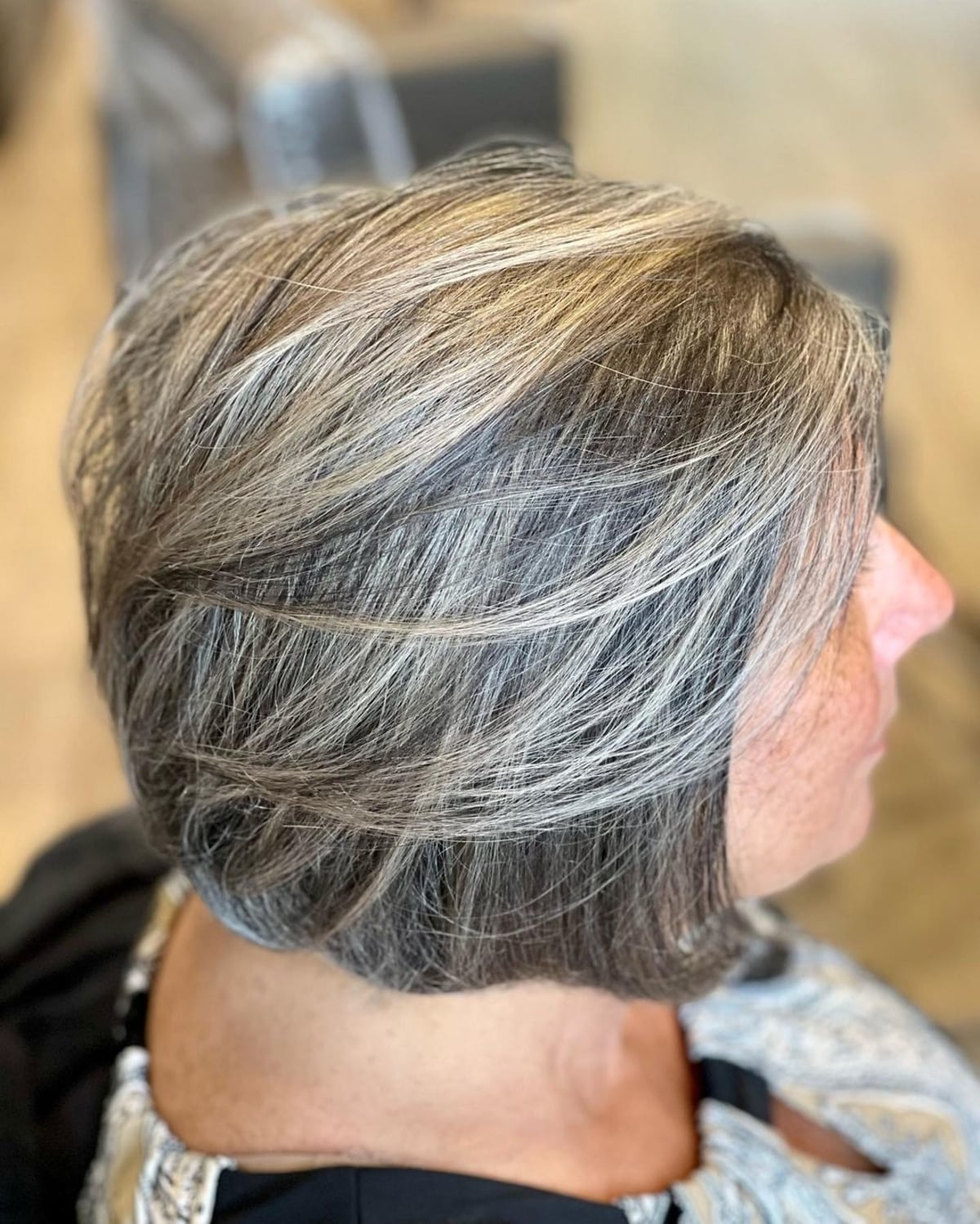 @hair.by.mariaelena
Salt and pepper hair with lowlights is a great hue for adding depth back into graying hair. The darker grays will make the brighter pieces pop. Consider a subtle lowlight underneath to have a softer root grow-out.
Gray Hair Color with Light Streaks

@orriginalhairstudio
Gray hair color with light streaks is a beautiful way to add natural brightness and movement. The salt and pepper tones complement each other and can create a more textured style. To achieve this color, be sure to tell your stylist that you want the highlights to look natural with the gray and have a similar tone to blonde highlights.
Salt and Pepper Color for Women Over 30

@girl_goes_sparkle
Salt and pepper color for women over 30 is a great color choice to cool down skin tones and create a natural yet bold look. Keep in mind that if your hair isn't naturally light or already graying, it can take more than one color appointment to achieve this look.
Women in their 30s benefit from this color as it will blend in the new grays as they poke out. It could also require frequent upkeep depending on how dark or light your hair was prior. Lighter hair will require less maintenance.
Naturally Salt and Pepper Hair for Women Over 50

@kmello86
Naturally salt and pepper hair for women over 50 offers a youthful touch to your tresses. Just as hair color changes, skin tone does as well. The cooler tones in the grays can brighten up the skin's complexion on fifty-year-old women. You will need a purple shampoo to protect your hair from sun exposure, mineral or product buildup, and even hard water when dealing with salt and pepper-colored hair.
Not sure if you want salt and pepper hair? Check out these hair color ideas for women over 50.
Salt and Pepper Highlights on Darker Hair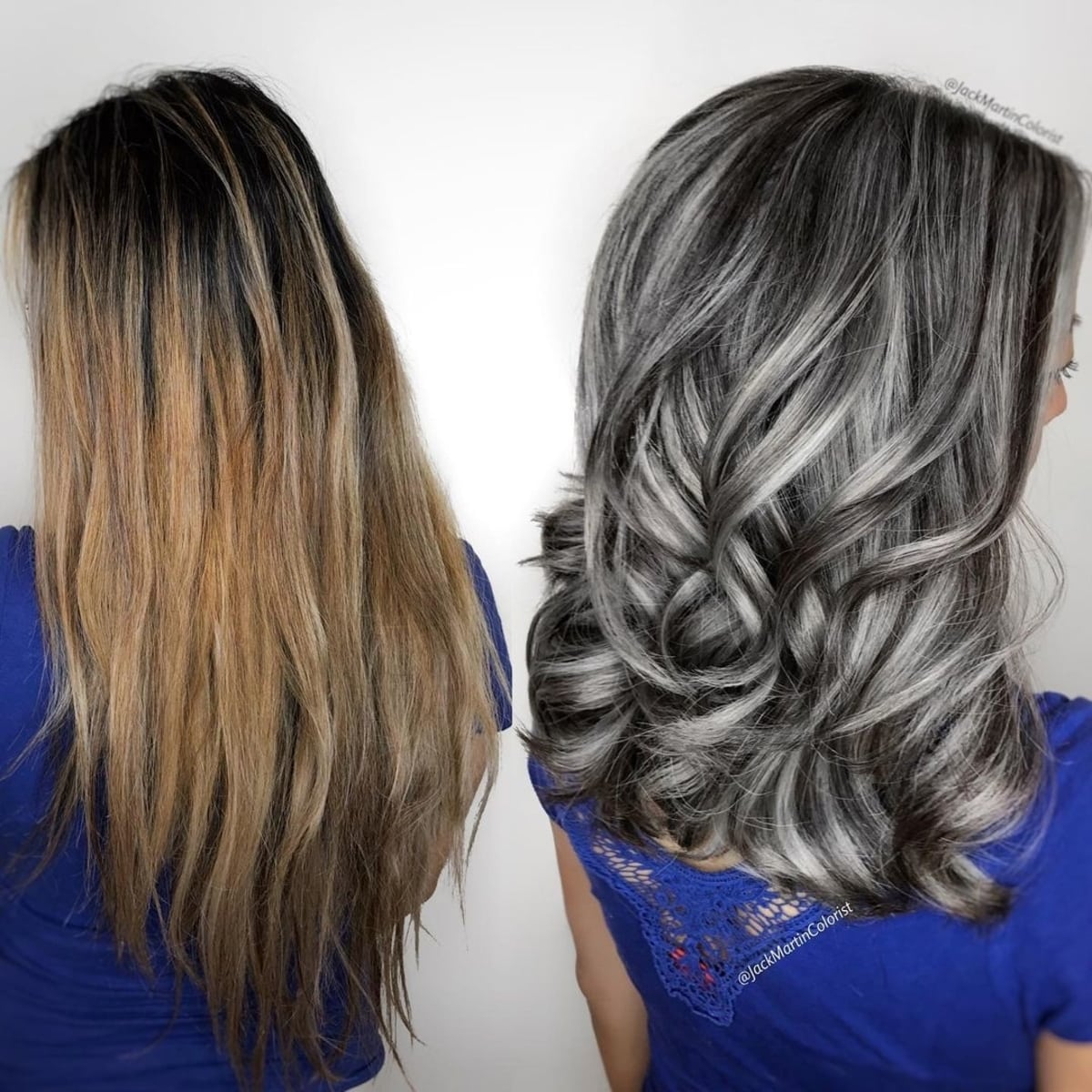 @jackmartincolorist
Consider salt and pepper highlights on darker hair if you have grey hair in your regrowth that you want to blend out. To help you decide if this look would work for you, ask your stylist for a piece of advice! The mixture of salt & pepper will add depth and dimension to your hair.
Salt and Pepper for Women Over 40

@greytransitionproject
Salt and pepper for women over 40 are trending huge at the moment. Women in their 40s are embracing their silver locks, and it's stunning! It's time to learn to love your natural locks instead of fighting them, so opt for salt and pepper hairstyles right now!