33 Photos of Rainbow Hair Ideas to Consider for 2023
Rainbow Hues on Edgy Short Hair

@taranicolestylez
What's more daring than an edgy short hairdo with bold, rainbow streaks? Be a certified head-turner with this rainbow trend that certainly favors the bravest souls.
Unique Rainbow Roots
@boho.blonde.perth
Unique rainbow roots are a fun way for a blonde to have even more fun. Since hair grows from the root, expect to see your stylist every 4 weeks, minimum, to keep the natural color from being exposed, and to keep the rainbow roots looking tip-top shape.
Holographic Rainbow Hair

@guy_tang
Holographic rainbow hair is unique, exciting, and could brighten up any head in the room. With the very exact application process to create holographic colored hair, expect to spend several hours, if not multiple sessions, with your stylist to perfect the holographic look.
Dip-Dye Rainbow

@misfithairco
Dip-dye rainbow hair is an easy way for a blonde to switch up her look. Multiple colors placed throughout the bottom of the hair are super eye catching, and can also easily be hidden, if need be, with a bun or ponytail. Applying color just to the ends of the hair is probably the best way to keep the integrity of the hair.
Fun Crimped Underlayer Rainbow Colors on Dark Hair

@harebyrabbit
Striking crimped rainbow colors is exactly what ash black hair needs. Dyed rainbow hair like this is always exciting!
Vivid Rainbow Shades

@jennifer_schropp
Bold, vivid rainbow hues that make all the work in the salon chair worth it.
Bright Rainbow for Shoulder-Length Hair

@ziabyrd
The harmony of colors in these rainbow locks gently reminds you that unicorns actually exist! This short hair with brighter rainbow tones is—no doubt—pretty and cute!
Cute Colorful Rainbow Peekaboo

@michelle.zapanta
This rainbow peekaboo was created by salon owner and hairstylist Michelle Zapanta of Cypress, CA.
"If you're at a workplace that frowns upon vibrant colors then having this rainbow look will help you hide it with the natural color on the top part of your hair," says Zapanta. "Afterward, when you're ready to show it off, you can tie it into a ponytail to show a two-tone vibe."
"Lastly, you can curl your hair to give a swirl of color effect," she adds. "This is also great for vibrant hair beginners because it matches all hair types and face shapes, and you can always go bolder down the line. It's also easier maintenance since it's only underneath your hair."
Moonstone Rainbow Hair Color
Kayla Boyer / Instagram
This beautiful rainbow moonstone color was created by stylist Kayla Boyer of Minneapolis, MN. "It appears to be white, but when you move the stone in different directions, the color appears and reflects. I brought this to life on my client with a silver look that features underlights of beautiful rainbow assortments," says Boyer.
The products Boyer recommends are a color protectant shampoo and a conditioner that is free of sulfates and parabens. A heat protectant will also increase the longevity of this color.
"I believe if you have the confidence, you can pull off any color. Just know that it is easier for people with lighter hair naturally to get the best results," she adds.
Always see your stylist at least four weeks after your appointment to ensure the best care for your color. Upkeep is important for you, but most important for your stylist to give you the best-looking hair color.
Tropical Sunset with Curly Rainbow Tips

@wanttogetcut
"I would describe this look as a tropical rainbow sunset," says junior stylist Danae DesJardins of Winnipeg, Canada.
"My best tips for recreating this look is to take your time and separate each section so none of the bottom colors touch each other, and to wash in the coldest water your client can handle," explains DesJardins. "With vivids, it's super important to saturate, so you're better off to use more product and oversaturate than under. Use low temperatures while styling, as well as a heat protectant."
She goes on to say, "in order to maintain this color, wash in the coldest possible water and explain to your clients you get a total of seven washes. It's up to you if you want to use them all up in one week or over the next seven weeks!"
When styling, give the rainbow tips some curls to emphasize all the hues.
Deep Violet Shadow Root with Rainbow Streaks

@hairbycorinacorinaa
"This is a deep violet shadow root with rainbow colors alternated throughout. My favorite thing about this look is the contrast of all the different colors and the way they reflect as the hair falls," says hairstylist Corina Dempsey of Austin, TX.
"This rainbow hairstyle is great for the woman who is ready to rock such a bold color," she adds. "My favorite way to style this is in fun beach waves. It adds body to the hair and allows all the colors to pop!"
Candied Rainbow Hologram with a Hidden Undercut

@elijah.cordova
"This short rainbow hair was inspired by the tones of candy and the movement of holograms," says stylist Elijah Cordova of Fort Collins, CO. "The fusion of natural and rainbow colors, along with their placement, makes this hair look different every way it is pulled. Some of my favorite extra details about this party color are that it conceals a multi-colored undercut and it absolutely glows under a black light," he explains.
For color, Cordova used Kenra Neons, Pravana Neons, and Joico's confetti collection.
"You can change the ratio of warm and cool tones used or leave out some blonde highlights," says Cordova. "I took extra time to create a smooth, cool-toned balayage and color melt before direct dye was applied to this color. The maintenance of this color is all about your aftercare. Wash your hair minimally in the coldest water you can with quality products!"
Bright, Earthy Stones of the Rainbow Color

@rainbowrage
The rainbow hair dye combo was created by color master Savannah Harris of Bend, OR.
Harris recommends a no-lather or light-lather shampoo. "My favorites are DevaCurl, Framesi Color Lover No Suds, and Kenra's new Color Charge shampoo, conditioner, and spray serum. I also recommend a dry shampoo between washes. TIGI Bed Head Rockaholic Dirty Secret is my favorite," she notes.
"I personally think that anyone with the confidence to rock bright colors can pull this off. It's all about how you rock it! Don't be afraid to try a color you fear might not go with your skin tone," she adds. "Wash your hair as little as possible and use cool water to keep the colors from fading and running together. Dry shampoo is your best friend!"
The Hidden Rainbow Unicorn

@MichaelaAdeleArtistry
"This hidden rainbow unicorn hair is the perfect look for women who want to play with vivid colors, but can't go all out because of their job or other reasons," says stylist Michaela Adele of Providence, RI.
"Unless your client is platinum blonde, you're going to need to lighten them to achieve any vibrant colors like these. This is especially important when using blue. If the client lifts to a yellow blonde, the blue will mix and create a teal/green instead of the desired color," explains Adele.
She goes onto state, "keep in mind that using Olaplex means your developer will drop, so if you're using 40 vol. it will actually work like 30 vol. with Olaplex in the mix. I always use foils to separate each color and rinse them individually with cool water to keep them from bleeding into each other. "
Washing this hidden rainbow hair in cool water helps keep the color locked in, while hot water actually opens the cuticle, allowing more color to bleed out with every wash. What you wash your hair with is also super important. No drugstore shampoos! Try Keratin Complex Timeless Color Fade Defy Shampoo and Conditioner.
"I cannot stress enough the importance of purchasing shampoo and conditioner from the salon. Amazon, drug stores, and Ulta stores cannot guarantee your product," she adds. "I always give my clients a realistic idea of how long their color will last and make sure they know it needs to be maintained every three to four weeks versus the 4-6 week touch-up for a regular color."
Eye Candy Rainbow Hair

@amylynnhairdesign
"My favorite thing about this long hair is that it is all different colors, it has all-over rainbow hues, but still flows nicely! Chop a few strands around the face, and you'll have a rainbow fringe, too," says salon owner and stylist Amy Lynn of Lodi, CA.
Walk with confidence and you can pull this look off easily. The trick to fantasy colors like this is placement. Make sure the complementary tones are closest to the face.
"Listen to your stylist and the tips and tricks they give. Use a color-safe shampoo and make sure to wash with cool water," she adds.
Bright Color Melt Rainbow Hair

@hairbyohheyheather
This bright rainbow color melt was created by stylist Heather Wilmoth of Charlotte, NC.
Wilmoth used Zombie Snott for the pink and Blood Orchid and Ballistic Blue for the blue. For the green she used Pravana and the teal is Kenra.
"I start with a darker base color all over that I think suits my client's skin tone the best, then I alternate my colors melting them down. It's very free-form hair painting," she explains.
To maintain this style, Wilmoth recommends only shampooing when needed (usually once or twice a week) with a professional color safe/sulfate-free shampoo and conditioner.
Peacock Rainbow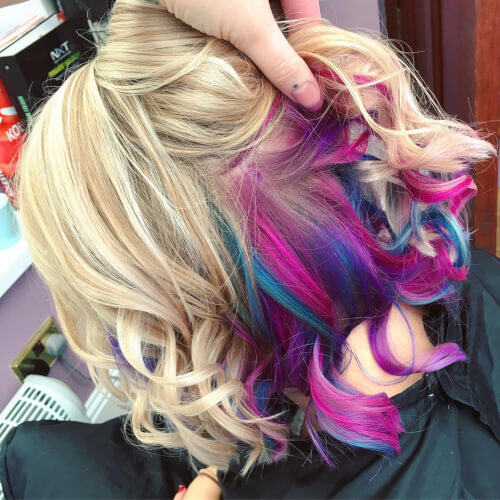 @rebellion.haircraft/
"These hidden rainbow tones feature pink peacock colors with a mix of heavy foils and slices through the top that is toned with a vanilla blonde," explains stylist Hayley Garratt of the UK.
To create these colors, Garratt used Unique 10 Argan Oil, Color Freeze by Schwarzkopf, Blinding Shine Definer by Osmo, and Indola Shine Spray.
"With the hidden rainbow, most skin types would be fine as the natural tones on top suit most skin tones," she adds. "Porcelain, olive, and darker tones all wear this look especially well. If your complexion is very rosy, however, you might avoid this particular combination as the pink hues may be too warm next to pink skin tones."
Rainbow Oil Slick on Black Hair
@hairwaytokale
"I describe this dark rainbow hair like an oil slick because it was inspired by the colors in oil when the sun hits it," explains hairstylist Caitlin S. Strickland.
For the upkeep, Strickland recommends a cleansing conditioner such as Pureology Cleansing Conditioners in Hydrate, Smooth, or Strength Cure. "The gentleness of the formulas helps make the color last and keeps the hair healthy," she notes.
"My biggest tip for extending the life of this color and style is to use a heat protectant! The heat from a flat iron or curling iron will fade color rapidly, so a good heat protectant like Paul Mitchell's Hot Off The Press is a must," she adds.
Electric Rainbow Hair
@itsnicholehair
This electric rainbow shade was created by hairstylist Nichole Cosentino.
"When creating this look, I started by doing the roots first then melted the colors down one by one," says Cosentino. "Make sure you wipe your hands in between applying colors so you're not transferring them onto the next."
Maintenance is so important with these colors because they are just direct dyes. Cosentino recommends using a color-safe shampoo and conditioner and rinsing in cold water.
Rose and Lilac Pastel Rainbow Tones
@camouflageandbalayage
"This is a soft pastel rainbow hair color that was created by using Joico Intensity Titanium, Rose, and Lilac painted on top of balayage highlights," explains hairstylist and colorist Amy McManus of Fitchburg, MA.
McManus suggests you use dry shampoo in between regular shampooing to avoid fading from over washing. "Stay away from heat as it fades pastel colors even faster. Most pastel colors will completely wash out of the hair in less than six shampoos, so even though they are fun, they aren't always economical," she adds.
Cooler skin tones will look best in this pastel hair.
She goes onto explain, "you'll need to see your hairdresser once a month to have this color refreshed. Most women wash their hair once a week to help keep this color from washing out quickly in order to get the longevity of a full month out of it."
Perfectly Painted Rainbow

@bescene
This long rainbow hair color looks amazing when paired with a modern shag with curtain bangs.
Use a gentle color-safe shampoo and Pravana's Silk Degrees Shine Serum to offer protection and radiant shine to show off those vivid colors!
For maintenance, invest in good products and heat protection! If you're an every-day-washer try to only wash twice a week and turn down the heat on styling tools. It also helps when shampooing to scrub the scalp and let the shampoo simply rinse through the rest of the hair.
Creatively Rainbow-Colored Hair
@hairartistlaurajoy
This rainbow-colored hair was created by stylist Laura Joy Naugle of Centennial, CO.
"The one downside to many fashion colors/rainbow hair is that the hair must be lightened to a pale blonde," notes Naugle. "However, this specific type of fashion color only needs to be lifted to a dark blonde. This allows my clients with naturally darker color hair to enjoy fashion colors without all the damage of over-processed lightened hair."
For recreating this look, Naugle explains, "I take the section of hair around the client's part and keep it a dark, cool brown or their natural color. Leaving the part a more natural color allows the new growth to not be as distinguishable. I section out smaller triangle partings of the pre-lightened hair and alternate between all three colors. I blend the color closest to the scalp with another color halfway down the hair shaft. This allows the colors to melt together and create different colors in each triangular section of hair."
Medium-Length Metallic Rainbow Hair
@marythomaston
This is a metallic rainbow hair color on medium-length tresses. It was created by private hairstylist Mary Thomaston.
"The colors are very muted with a silvery finish," notes Thomaston. "I used the Joico Intensity collection's Metallic Muse for this look."
Half Pastel, Half Rainbow
@elissawolfe
This pastel half and half rainbow was created by hairstylist Elissa Wolfe of Vancouver, BC.
Wolfe chose a pastel warm yellow and cool mint here because the model has very pale skin with a touch of pink. "Yellow isn't easy to wear as it can clash with any skin tones with yellow undertones! The mint, however, can go with most skin tones as it's cool-toned. Again, lighter hair works for this as it needs to be very light first to get this half and half look," she explains.
To recreate this look, Wolfe recommends you pre-lighten the hair to palest yellow. "Tone out the yellow, then apply direct dyes in your colors of choice," she adds.
Rainbow Braids
@elyserox00
"These rainbow braids were a specific rainbow color request," says salon owner and stylist Elyse Rox of Schaumburg, IL. "She wanted green purple and orange. I did something a little different and went with alternating colors on the scalp where I will usually root shadow someone."
"First I pre-lightened her hair to a level 10 and followed with an Olaplex treatment. I used all Pulp Riot for this color," explains Rox. "I mixed the orange and also used jam, aquatic, and velvet for this look. I blurred the color toward the ends with clear on some bits. I always add Olaplex #2 to all my fashion colors. It helps relink the bonds so the color attaches better."
Rainbow Unicorn Hair
@hair_by_rebekahf
"This look is called unicorn hair" or "mermaid hair and it is my favorite new rainbow hair trend," says hairstylist and colorist Rebekah Fiechtner of Turlock, CA.
The ideal hair for these types of colors is light brown to blonde hair. The hair has to be pre-lightened to pale blonde before the pastels are applied. Naturally light-haired women pull this color off best. Darker-haired women may need more than one session to get light enough for pastel colors.
The best way to preserve and not to get rid of rainbow hair color is to always wash with cold water and a sulfate-free shampoo. Avoid washing your hair every day if possible. Vivid colors fade quicker than natural colors, so Fiechtner recommends a four to six week appointment with your stylist to keep the colors fresh.
Colorful Rainbow Mermaid Hair

@jessysilvahair
Dive deep underwater and arise wearing the rainbow colors of the ocean, aka mermaid hair. Match it with beach waves and you'll be mistaken for a mermaid on land!
Hidden Neon Rainbow Underneath
@taylorrae_hair
"I call this look Hidden Rainbow. It's a soft rainbow of colors underneath a veil of vibrant coral," says hairstylist Taylor Rae of Denver, CO.
Rae's favorite thing about this color is that you can get different color combinations. "Wear it down and straight for a softer vivid look, or put it in a top knot to show off the beautiful neon rainbow hair color," she notes.
"To create this look, I would lighten the hair to a level 10, then section the top of the hair with a star pattern around the part," explains Rae. "The underneath sections are taken vertically, starting in front of the ear and creating six sections. Make sure to keep the colors separate so they don't bleed together."
Vivid Rainbow Underlights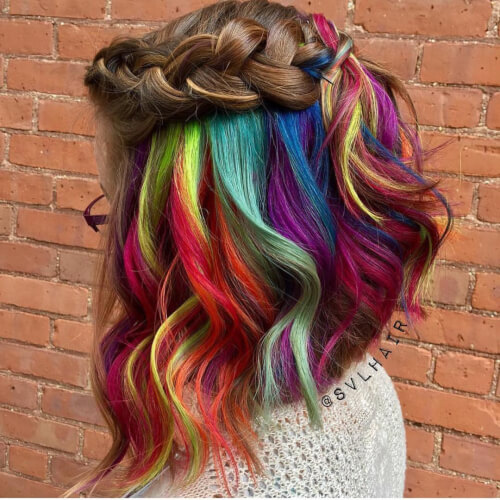 @svlhair
These rainbow underlights were created by master stylist Sara Larose of Southbridge, MA.
"It's a great way for women to introduce vivid colors into their lives without a huge commitment," says Larose. "You can go subtle or bolder. Leaving the natural hair color on top covers the regrowth and fading that happens with vivid color."
There are endless possibilities that your stylist can create by mixing different colors together to customize a look just for you. It's best if you have natural hair or a light hair color when doing vivid colors. The hair has to be lightened first to a pale blonde in order to achieve these types of colors.
Pretty Rainbow Ombre on Long Hair

@mandaharsche
How lucky are you to get all the colors of the sunset in your hair? Colorist Amanda did an amazing job with creating this rainbow ombre hair!
Opalescent Rainbow Tones
@rebelsandroguesparlour
"The yummy opalescent tones will fade to a cool platinum in one month. The shadow root I gave her will enable her to grow her natural roots in for the next four months," explains salon owner and hairstylist Elizabeth Pederson of British Columbia.
Pederson says the products used for this look were Kenra translucent lightener, Matrix bond protector. Kenra Guy Tang 7VM to shadow root, and Pravana and Joico pastel/vivid tones (lavender, neon yellow, mint, rose, apricot, blue).
If you already have existing color in your hair, you would treat this process as a color correction before you proceed with applying the pastel tones. For pastel tones, you ideally want to have a bit of an olive undertone to the skin, otherwise, the paleness in tonality can wash out a person's complexion.
She adds, "to maintain a color like this, you want to make sure you wash your hair only once a week with a color protecting shampoo and conditioner and cool water. Keep all hot tools below 300 degrees as well, otherwise, you can oxidize the direct dye right out of the hair."
Gorgeous Rainbow Highlights

@meganniccollshair
Muted down rainbow colors work as well as any other hair color. Wear that pride anywhere you go!
Black Hair with Rainbow Ombre Balayage

@hairbyduhsavannah