34 Peekaboo Highlights For Fun, Edgy Women (Photo Ideas)
Peekaboo highlights are colored locks hidden under the top layer of hair. While wearing the hair down, these hair highlights typically cannot be seen, especially when the hair has no movement. With peekaboo hair, this highlighting technique is ideal for women who are professional, yet want to be bold.
The rules of traditional hair coloring have been breaking down over the last few years. We're seeing a lot more creative interpretations, from bright and vivid shades to soft pastel colors all over, and from dip-dyed ends to the latest color trend.
Before your next hair appointment, check out these photo ideas of peekaboo highlights this year!
Layered Hair with Blonde Highlights and Blue Peekaboo Highlights

@ejacq_hair
A mid-length haircut with layers of blonde highlights and a few strands of pop-in blue peekaboo highlights like this is a must-try! That hints of blue work better on natural light hair.
Burgundy Peekaboo Highlights

@manemadebyzen
Try burgundy peekaboo highlights if you're looking to change up your current brunette hair. The burgundy color will add instant shine and dimension to your tresses! Add some shine spray to leave a luxe effect.
Orange Peekaboo Highlights

@khay_farmer
Try orange under highlights with your platinum hair to make a strong impact. This color is perfect for the summer and you'll leave people obsessed with your orange-toned tresses! The orange highlights will pop against the blonde. Finish your hair by adding some waves to showcase this hue.
Peacock Peekaboo Hair

@steph.p.hair
Peacock peekaboo hair is so versatile! This color is melted to perfection with magenta, violet, and blue tones. You can style your hair straight or add some waves for the bright tones to peek through. Opting for a half-up, half-down style to showcase this hue is a great option to try.
Yellow Peekaboo Highlights

@hairby_laine
Yellow peekaboo highlights are so easy to show off in the front or tuck away. Perfect for anyone who likes a little flare but could not fully commit to it. It's like a secret you have full control of. You can show it off with curls or a braid. For this highlight, you'll need to bleach out your hair if it is naturally dark or be a level 8+ to make the yellow pop even more.
Golden Peekaboo Highlights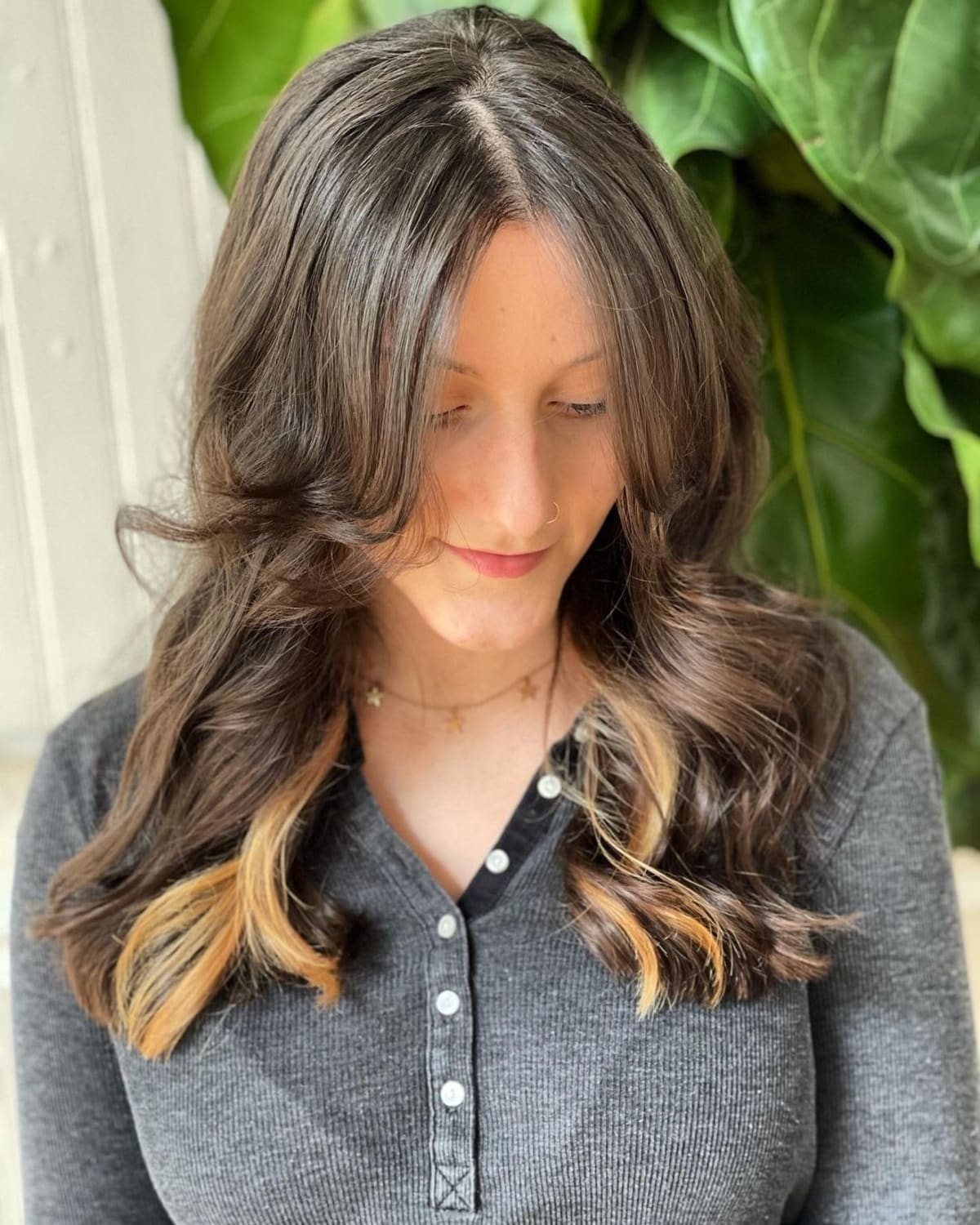 @elizabethclairesalon
Golden peekaboo highlights are great for women who want pops of color without too much maintenance. To get this color, ask your colorist for some chunky, golden streaks underneath your natural hair hue.
Mermaid-Inspired Peekaboo Hair

@betsystyles
Mermaid-inspired peekaboo hair is great for women who want just a hint of rainbow hair. To get this color, ask your colorist for some underlights that have rainbow jewel tones in them.
Pink and Blue Peekaboo Highlights

@beauty.by.mariah.g
Pink and blue peekaboo highlights are such a bright summer vibe! To help the color last longer, try rinsing it with cool water.
Rainbow Peekaboo Highlights

@steph.p.hair
Rainbow peekaboo highlights show a creative approach to play with vivid hues and flaunt your unique side of personality. They'll hide when the hair is down, and they'll show off if curled or worn up on a bun or ponytail.
Color specialist Stephanie Powell used the AirTouch highlights technique to achieve this look. "It creates an all-over bright blonde that blends into the natural roots," she states.
Now, for the rainbow peekaboo? The Utah-based colorist says, "I took vertical sections from the occipital bone and colored them with a semi-permanent dye."
Blonde Peekaboo Highlights on Brown Hair

@hairbymegan87
These are blonde peekaboo highlights on brown hair. "I love blonde peek-a-boos this season because they are a subtle way of accomplishing that sun-kissed look everyone is after," says style creator Megan Anthony of Cochrane, AB.
She adds, "this look mimics the dimensional color of the ever so popular balayage without the high price point, making it a great choice for ladies on a budget. I cut in some long layers and styled with a casual curl that will loosen up throughout the day."
Anthony recommends blonde peekaboo hair to anyone looking to add some subtle dimension and playfulness to their look. Due to the hidden root (hence the name peek-a-boo), it's an extremely low-maintenance service for those ladies that don't visit the salon on a regular basis.
Chunky Copper Peekaboo Highlights

@cassandra_joy_06
The color is a violet red with a mixture of copper peekaboos, which are the chunky highlights. Made by hairstylist Cassandra Jimenez of California, she says "I love the boldness that the copper peekaboos have against the deep caramel red hair color."
Jimenez 's top advice is to be ready to maintain such red peekaboo hair. Reds and coppers fade fast, so the proper home care and salon maintenance are needed to keep this look bold and beautiful. Using professional color safe shampoo and conditioner will help prolong the tone's vibrancy.
She goes on, "a great tip to help maintain and boost the bold copper tones between salon visits is to use a copper shampoo. Salon visits should be every 4-6 weeks."
Natural Black Hair Color with Grey Peekaboo Highlights

@get_nesty
This black hair with grey peekaboo highlights was created by hairstylist Rachel Reyna of Minnesota.
This look is really attractive on many different women and different hair types. It's relatively easy to style. Reyna states, "We curled it with a 1.25″ curling iron and used Kevin Murphy's bedroom hair to add texture, kind of a second-day hair feel. It's a way of enhancing your natural beauty and being fun and hip without looking like you're trying too hard."
Orchid Peekaboo Highlights

@kaitlynthehairfairy
This is a dark rich chocolate brown with a bold pop of color orchid violet peekaboo highlights underneath. This is one of the hair ideas by stylist Kaitlyn Bretnitz of Ohio. "These colors are perfect for fading as well as starting darker and vivid allows time for the color to fade to pastel and give you a whole new look," she points out.
Bretnitz's advice when wanting peekaboos of color is to always remember that it's a change for your shower routine, too. She explains, "color water is a must! It's also a perfect introduction to having a vivid shade in your hair. The underlying layer of vivids allowing this color to only be visible when wanting it to be visible."
Pastel Lavender Peekaboo Highlights on Loose Curly Style

@kellisiessbeauty
Adding pastel lavender peekaboo highlights on blonde hair is a great way to try funky colors without too much commitment! This is such a stunning curly hair idea by licensed cosmetologist Kelli Siess of Hatboro, PA.
Siess mentions, "it's perfect for women who have never colored their hair before and are a little bit nervous. These pastel peekaboo highlights are a great option for the girl who wants to stand apart from others and make their hair an attention grabber!"
When it comes to peekaboo highlights curly hair styles, Siess recommends voluminous curls and waves to show off the hidden highlights.
"My advice for a woman looking to get this look who has never gotten them before would be to do it! Highlights like these are so cute and they aren't a lifetime commitment either," Siess stresses. Anyone can try it knowing that the funky color will fade out in just a couple of weeks.
Plum Peekaboo Hair

@istyle_4_life
This peekaboo hair color is a different take on the usual balayage. It was created by stylist Mallorie Hanchar of Indiana. "My favorite thing about this color is the pop of mahogany and plum accents. This is a great fall look for those wanting to change up their blonde hair without having to eliminate the blonde entirely," Hanchar states.
Hanchar recommends using a great color-conserving shampoo and conditioner for maintenance. "I suggest Keune Care Tinta shampoo and conditioner to prevent fading after washes. This is a beautiful color for women with an olive or warmer skin tone," Hanchar advises.
Purple Peekaboo Highlights

@mrsmoore4466
This shoulder-length purple peekaboo hair was created by hairstylist Shannon Moore. "Such purple peekaboo highlights are ideal for women with darker shades of hair that want something a little different than your normal go-to highlights," she notes.
The Arkansas-based stylist says it's very versatile. She continues, "it's bright and fun for a little while, but the more you shampoo, the more the color fades to lighter more pastel shades, then eventually fades back to the blonde balayage I applied to create this seamless look. Even though the color will fade away, your hair still looks awesome!"
Moore suggests having a balayage application versus a blunt chunk. This will grow out better because it's a softer look. Next, you have to use a shampoo and conditioner that supports the color in your hair. "I always prescribe my girls the Pravana Vivids Shampoo and Conditioner because they ensure the longevity of the color. A heat protectant is also a must. I use Sexy Hair products," she adds.
You can create this look with a bunch of different color options. The color line used has guidelines that the hair has to be lifted to before you can apply. That being said, keep the integrity of your hair in mind. If your hair is already damaged or super porous, it's probably better to do some conditioning treatments before getting peekaboos.
Hidden Teal Peekaboo Highlights on Short Hair

@sandrad_hair
This look features teal peekaboo highlights on blonde, short hair, and Canada-based style creator Sandra Djokic describes this as a contemporary classic.
"The color and its placement is the final step to cohesively making this peekaboo highlights + short hair suitable," says Djokic. "Color choice should be suited to your lifestyle. Placement of the color should also be complementary to your face shape and help highlight a section of the hair."
Purple & Pink Peekaboo Highlights

@hairbykristieg
This peekaboo style is edgy, modern, and unique, but subtle and professional when needed. It was created by stylist Kris Geerts of Palatine, IL.
Geerts says, "my favorite thing about these bold pink and purple peekaboo highlights is that with every hairstyle, you can transform the color into something completely different. Curling enhances the color and braiding makes it pop. When you're looking for a quick cover-up, wearing it straight will subdue the color."
If you want to change your look without much maintenance, this is the style that Geerts recommends. There are virtually no further steps you have to take once leaving the salon to maximize your investment in this hair color. It's easy and simple to maintain (only every few months) and will always be on-trend.
No matter what your hair type or length is, the mix of colors in this trend can be the perfect touch to match any personality and lifestyle!
Teal and Magenta Peekaboo Highlights

@hairbyrachelmae
This is a peekaboo balayage by Rachel Menchken, a stylist from Easton, PA. "I love that this can be a subtle look when the hair is worn down, but also gives some pops of teal and magenta hair colors! I also love when the colors mix together after a few washes. It really adds to the "oil-slick" look," she notes.
Peekaboo highlights on brown hair are great for anyone that doesn't want to commit to a whole head of fantasy colors. They're hidden by the top layer of the hair and revealed when the hair is pulled up.
Although the brand of fantasy colors used lasts a long time, these colors are definitely high-maintenance. Menchken states, "Using a good sulfate-free shampoo and limiting hair washing to only twice a week can help the colors last longer."
Dark Red Peekaboo Highlights on Dark Hair

@bbhairartist
Peekaboo highlights on dark hair are a subtle yet fun way to have that extra pop of color, but still be able to keep the color you've always had. Just look at this dark red hair color made by hair artist Brenna Bartholf of Florida.
"My favorite thing is how you can add dimension to a brunette as shown here, or you can add pastel pink highlights in a bright blonde color for a fun, fresh look. It's a very versatile color technique and the possibilities for color choices are endless," Bartholf explains.
This color is a very manageable, low-maintenance style because the peekaboo pieces are hidden throughout the hair. Peekaboo highlights can really be done on any hair color, length, or face shape.
Silver Peekaboo Highlights on Blonde Locks

@missmanehairjd
This moonstone silver peek-a-boo hairstyle was created by placing sliced foils below the crown using Joico Color Intensity in the color Moonstone. The placement of the foils makes it appear as though the color is "peeking" out. Jen Dubois of Auburn, ME is the stylist behind the sectioning for peekaboo highlights.
"My favorite part of this peekaboo highlights + blonde hair style is how it's a unique way to show off a pop of color without the commitment of an all-over color," Dubois describes.
This color technique is great because it can be customized to each woman. Moonstone peek-a-boo highlights look great with light or dark hair.
Dark Purple Peekaboo Highlights on Medium Brown Hair

@colourbyswan
These peekaboo highlights on medium brown hair were created by stylist Catherine Swanson from Canada.
"It's so universal, and a great way for women to test out fashion shades or to have the fun color they've always wanted without feeling over the top. It's a great way to enhance our best features and diminish some of those things we'd like to hide," Swanson notes.
The placement of these highlights can vary with each woman, but generally, a few slices in the interior of the hair will create the perfect look!
Bright Pink Hair Highlights Underneath Light Brown Hair

@ashley_von_creations
Peek-a-boo on light brown hair was created by stylist and colorist Ashley Mulldorfer of California. "My favorite thing about this color is its versatility. Depending on the way you style it, more or less of the fun color shows," Mulldorfer explains.
If you want a fun color, but also need to be able to hide it when you're at work, this hair color is a great choice. Fashion colors are becoming more and more popular and peek-a-boo panels are a great way for ladies to test the waters.
"When a woman asks me for pink peekaboo highlights, there are three questions I always ask:
1. Does your job allow you to have fashion colors in your hair?
2. How often do you wash your hair?
3. Will you be able to keep up the maintenance of your hair?
I always ask if fashion colors are allowed at a her job because there is no point in putting time and money into a hair service that has to be reversed," says Mulldorfer.
Keep in mind that fashion colors don't last very long and they need to be done every four to eight weeks to keep them looking vibrant.
Light Red Peekaboo Highlights on Light Blonde Hair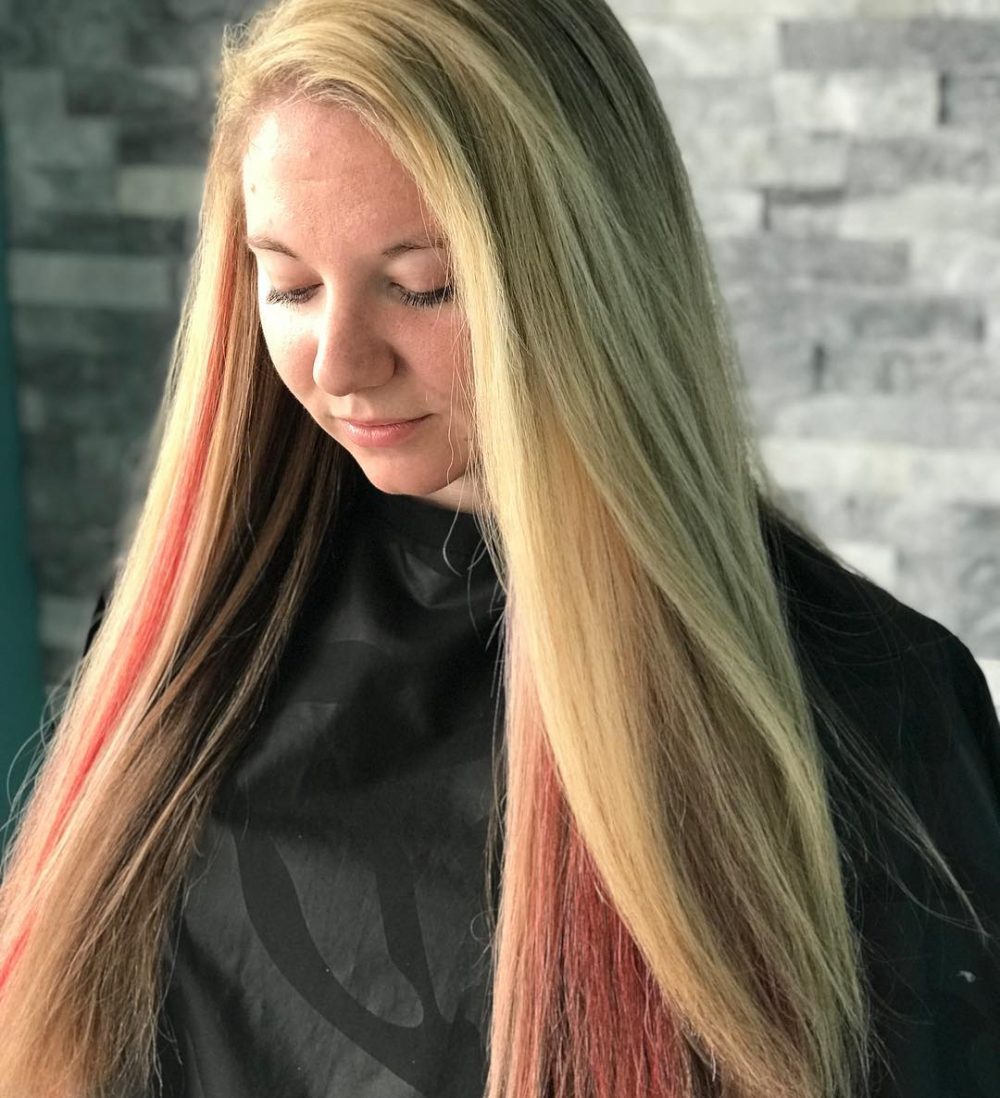 @emmaschair
Rocking these light red peekaboo highlights on long hair is an easy way to boost an everyday look. You can easily add a pop of color throughout the bottom to create dimension and add a little fun to an average color!
For this particular look, style creator Emma Markwardt of Pewaukee, WI suggests this color for ladies who are bored with their average blonde highlights. "I would advise using a semi-permanent color so that it does fade out faster than a permanent color (about one to two months longevity). No need to fully commit to the color long term," Markwardt explains.
She adds, "I definitely suggest using a salon-quality shampoo and conditioner to make the color last and stay fresh. I recommend this look to any gal who is looking for a little fun in their hair, but without the commitment of permanent hair color. This color is easy to hide in times you're feeling tamer, and easy to show off when you want to rock the fun color!"
Black Hair with Grey Peekaboo Highlights

@stylesbyericab
These peekaboo highlights on naturally dark hair are low-maintenance. "You don't have to touch them up every time you're in to get your hair done because the roots are hidden. Then you can choose whatever color you want to showcase," Canada-based style creator Erica Blair states.
She adds, "We chose grey for this look. The best thing about grey is you can either choose to maintain it or let it fade out. It fades out to a nice ashy blonde, which is also another gorgeous look."
There is this amazing color conditioner line called Fabuloso that Blair loves. She says, "Everyone wants the grey look and wants to maintain it. However, grey tends to fade very quickly. Approximately one to four shampoos, depending on your hair washing regime, and can be gone. A custom-made Fabuloso conditioner is one of the best routes to keep the color."
"This look is best for our medium browns to blonde-haired ladies," says Blair. Depending on how dark your hair is will depend on how many steps and appointments it will take to get you to platinum blonde. This is the color that's under the grey color. The darker your hair is, the more applications/appointments will be needed to achieve this look.
Tropical Bird Peekaboo Highlights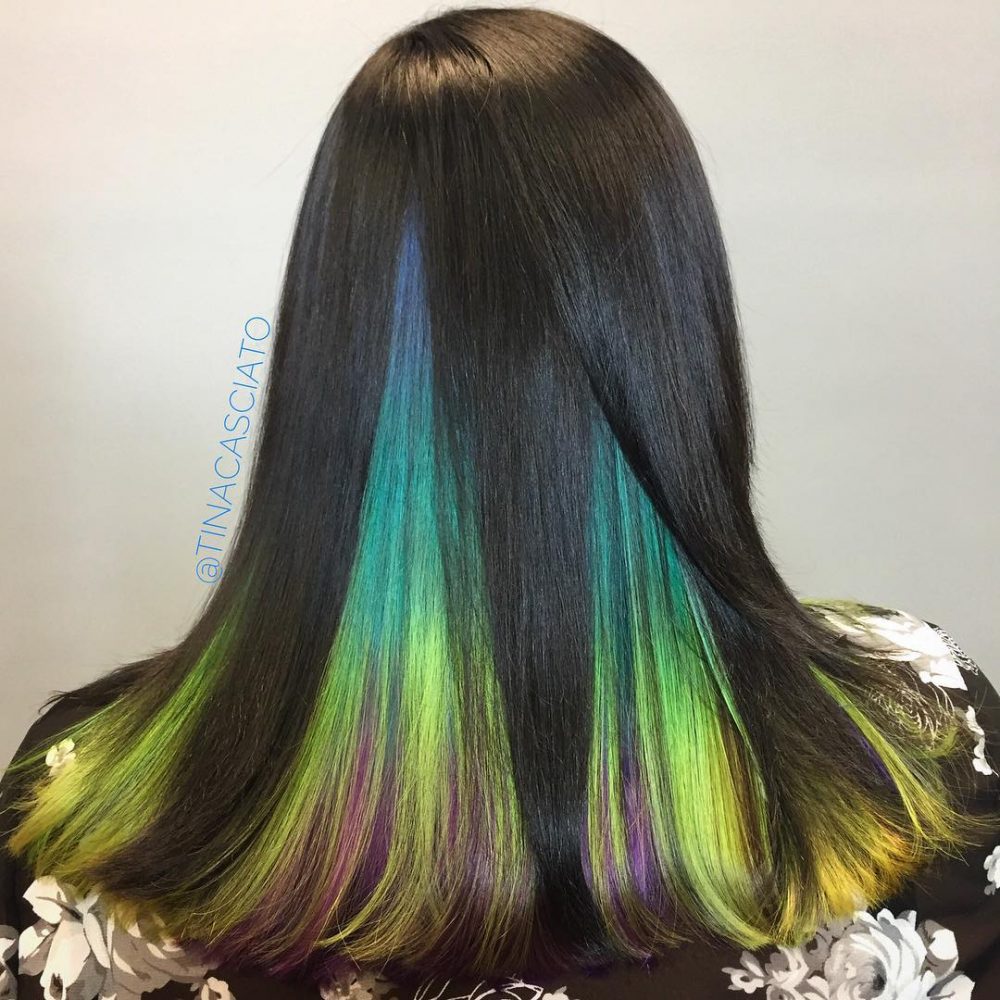 @tinacasciato
This is a tropical bird peekaboo, designed by colorist Tina Casciato of St. Catharines, ON with a combination of blue, teal, green, and purple tones. "I love the contrast of these vibrant colors against the black base. My favorite thing about this technique is that it is so versatile," says Casciato.
This color was created using Elumen by Goldwell, which has incredible longevity. Casciato recommends using Elumen Wash and Care (leave-in spray) to maintain the best possible conditions for this color to last for months.
"I think peekaboo hair color techniques can be customized to suit anyone and any style. Even working professionals can have a little taste of vivid hair while maintaining a professional look based on the placement of these colors," Casciato suggests.
Subtle Rose Gold Peekaboo Highlights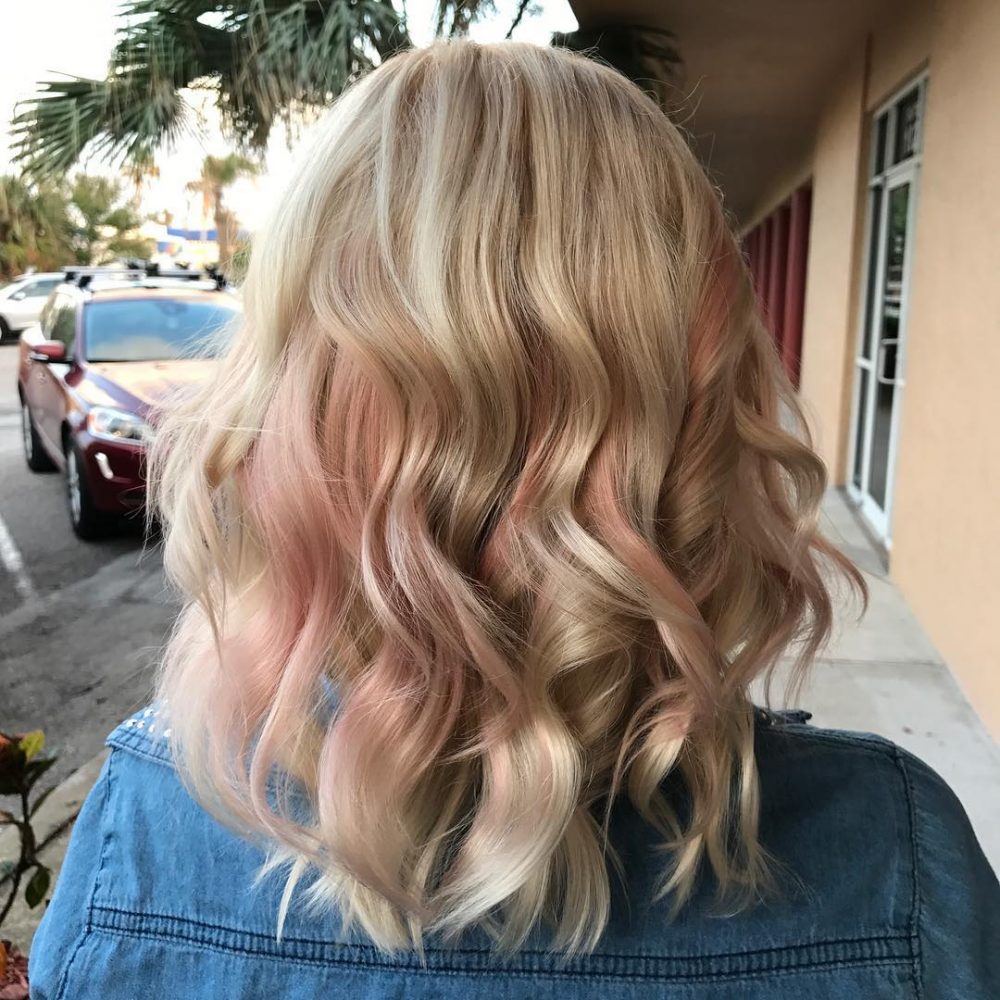 @elizajoy85
Rose gold peekaboo highlights make a fun look for any blonde that likes to change up her natural hair color without being too extreme. This hair trend is created by stylist Eliza Tariche of Florida. "We can change up her peekaboo colors with every appointment about every eight weeks," she adds.
For the style, Eliza Tariche used Unique One by Revlon while the hair was wet. She created the beachy waves, followed by Paul Mitchell's Worked Up.
"This look is beautiful for fine or coarse hair. The fact that we use the rose gold hair color as a balayaged peekaboo makes it easy to hide if you have an office job, or you can curl it to show off the fun colors," Tariche suggests.
Brown Peekaboo Highlights on Blonde Hair
Add that Adele-inspired sultry vibe to your look with these peekaboo lowlights. The golden brown streaks is sure to adorn your blonde bouffant hair dreams!
The interplay of warm and cool/blonde and brunette tones suits any complexion. Naturally light brown, fine hair (level 6) works well with this hue.
When styling your brown-blonde hair, Create massive volume and channel your inner songstress with a little backcombing.
Blonde Peekaboo Highlights on Dark Brown Hair

@lurodbeauty
Make the most of your natural dark tresses as you hide some pops of blonde peekaboo accents in them. These blonde peekaboo highlights on dark brown hair suit your collarbone-length cut. A wispy fringe will be such a great addition to flatter your round face shape.
Pixie with Lavender Peekaboo Highlights
Lavender highlights really go a long way. Splash it right on that fringe and pair it with a statement cut to stand out amongst the masses.
The light golden tone of this blonde plays nicely against the smokey lavender peekaboo fringe and suits a slightly golden/peachy complexion. Medium to light brunette hair (level 5 – 7) works best with this color scheme.
Aqua Blue and Green Peekaboo Highlights on an A-Line Bob
Peekaboo aqua blue-green streaks dance in the sea of this sandy blonde A-line bob cut!
The interplay of sandy blonde and cool blue/green tones best suit a yellow/peachy complexion. Light golden hair (level 7) works best with this look.
Black Weave with Hidden Orchid Purple Highlights
Purple highlights maintain the highest popularity since they flatter every skin tone and are easy on the eyes. The interplay of cool brunette and warm red/violet tones best suit any complexion. Dark to medium brunette hair (level 4 – 7) wears this color well.
Wanting DIY peekaboo highlights? This hair inspiration isn't overdramatic, it should be easy to achieve. Just be sure to show your colorist peekaboo highlights on dark hair pictures when you visit the salon.
Black Hair with Copper Peekaboo Highlights
In this gorgeous peekaboo hairstyle, radiant copper tone highlights add fun and flair before cascading into a full ombre with the dip-dye appeal.
The deep brunette and rich copper tones of this combo best suit a deep golden complexion. Dark to medium brunette hair (level 4 – 7) wears this color well.
Jet Black Hair with Rainbow Peekaboo Strands

@bluedoorsalonspa
Jet black hair with rainbow peekaboo strands is perfect when you want to add some colorful dimension underneath. Medium to thick hair would really show off the dimension and give separation to the hair. Style straight to conceal the color or wavy to make it stand out! Use a sulfate-free shampoo to keep the color bright.