15 Best Ash Blonde Balayage Hair Colors for Every Skin Tone
Medium Ash Blonde

@mossandmoonsalon
Here's a trend that doesn't only provide cool-toned hair, but also offers a cool-girl vibe! Achieve this chic dimension of a medium ash blonde shade by going through a balayage. Keep a shoulder-grazing chop to maintain the fullness of your thick, wavy tresses.
Ash Dark Blonde Balayage

@say_yestojess
A gorgeous long, wavy hairstyle plus a trendy ash dark blonde balayage? Sure, the payoff is outstanding! Keep your locks' color healthy and fresh-looking by using a sulfate-free shampoo.
Light Ash Blonde

@adrianperjovschi
An integration of such gorgeous naturals, beige, and blondes go together in this wavy light ash blonde balayage masterpiece.
Ash Grey Blonde

@toan.d.mai
These smoky ash grey blonde balayage waves mimic icy locks with its inconspicuous blue tinges. It's terrific for first-timers in coloring since the roots are untouched.
Ash Blonde Ombre

@hairbybrittanyowen
Wavy hair seems to fall effortlessly like waterfalls! Much like your hair, rich brown roots transition without effort to become a concoction of brunette to ash blonde balayage, all thanks to this gorgeous technique!
Dark Ash Blonde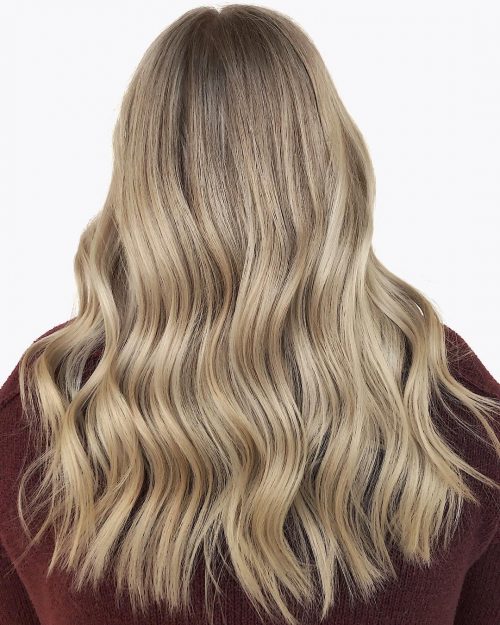 @_hairbykatherine_
Dark roots growing out to be beautifully beige is undeniably a must-try. Waves flow down to complement a dark ash blonde balayage and complete the look.
Brunette to Ash Blonde

@thecoloristsalon
The latest brown trend is a lovely balayage brunette to ash blonde ombre! After balayage coloring, heat the curling iron to get the best look out of this fantastic dye job.
Ash Platinum

@hairby.ashleypac
The multiple gray, blonde, and brown colors brought about by the balayage makes this platinum ash long inverted blonde bob even more sophisticated! What a chic look indeed!
Cool Ash Blonde

@littlehairwitch
Light balayage of caramel and blonde colors recreates a cool ash blonde using the balayage technique. The lob looks phenomenal while maintaining a variety, with a brunette and blonde colors on display.
Black and Ash Blonde

@hairtalkbymigo
For a flawless melted effect, a fusion of black and ash blonde will do great on your long hair! Beach waves can bring out more body and volume if you're not a fan of the sleek and straight style. A loose knot may not be a big of a deal, but it won't even hurt the look, too.
Q&A with style creator, Migo Yoon
Hairstylist @ Hairtalk by Andy in Ellicott City, MD
How would you describe this look?
The client actually had virgin hair, and it was her first time trying blonde. She wanted something natural yet blonder enough. I suggested dimension blonde and color melt which is low maintenance. Also, because we kept her roots as dark as her natural hair color, it looks very natural.
There are so many different tones of blonde, but if a client wants something natural, I go with a natural tone (not too ashy not too warm). I gave long layers haircut for her. That way, it's not so heavy looking, and it gives some hair movement.
Any advice for someone considering it?
My favorite thing about balayage is low maintenance. Everyone wants to try blonde but if you are too scared to then go with balayage. After a balayage service, a client definitely needs some home care like proper shampoo and treatment. Shampoo is the most important thing for bleached hair (I recommend no sulfate, no paraben, and no silicon). People often ask why their hair becomes really dry and why the toner fades fast. Most of the time, they use the wrong shampoo. If you are using a shampoo that contains sulfate/paraben/silicon, no matter how much you do treatment and put oil, your hair won't take it because the hair is already filled with bad ingredients. Also, I don't recommend bleaching for super curly hair types because, after bleaching, the hair becomes extremely dry unless you know how to take of it!
Brown to Ash Blonde Ombre

@bri_claire_hair
Made by balayage, this is a stunning brown to ash blonde ombre for an idea on your next salon visit. The color melt appears smooth as it complements soft waves on your locks. The mid-length chop will be perfect to keep your dense hair look fuller while taking away some weight.
Q&A with style creator, Bri Claire
Stylist @ Bobbi Pins Salon in Glendora, CA
---
How would you describe this look?
This look is a neutral ash color melt/ombré. What I like about it is that it is low maintenance enough to not leave much of a line of demarcation as it grows.
Any advice for someone considering it?
Any time the hair is ash-toned, it's automatically going to be more high maintenance than a neutral or warm color. We left some neutrality to this ash so that it would balance out gracefully with every shampoo. Color depositing or toning shampoo is a good way to prevent color from becoming too warm between salon visits.
Ash Blonde On Dark Brown Hair

@jesscernahair
Q&A with style creator, Jessica Cerna
Hair Stylist and Colorist @ East of Bali Salon & Spa in Carlsbad, CA
---
How would you describe this look?
This look is a lived-in beach blonde. I love how the ash blonde balayage is so natural and blended.
Any advice for someone considering it?
This color makes for the perfect low maintenance color. Someone who only comes into the salon 2-3 times a year would be a great candidate. Also, this works for all different hair types.
Ash Blonde to Light Blonde

@hairby_valrose
Q&A with style creator, Valerie Mendez
Hair Stylist / Colorist @ Hair By ValRose in Scottsdale, AZ
---
How would you describe this look?
This balayage color is a dimensional ash blonde with cool and neutral tones. My client was growing out traditional foil highlights and wanted something less uniform and more natural-looking. I went with a lived-in look for her cut, which is a long bob with loose beach waves for easy styling.
What I love most about this look is that my client doesn't have to come back every three weeks for maintenance because she has a root shadow to blend with the grow out.
Any advice for someone considering it?
Do your research on your natural hair color and know what to expect after your first appointment. Not all clients will get this blonde, but it is achievable with patience and proper home care products for your hair. A good home regimen will prolong your color and keep it healthy.
Ash Brown and Blonde

@hairtalkbymigo
Q&A with style creator, Migo Yoon
Hairstylist @ Hairtalk by Andy in Ellicott City, MD
---
How would you describe this look?
I did teasy lights with a color melt on the hair using Redken EQ Shade 3nb for root, 6na, and 7v for middle, and 9t/9v/9gi for ends. She wanted ash blonde that is not too grey, so I decided to create a natural beige blonde. My favorite thing about this hair is that I was able to melt colors to give more dimensions and still see the blonde part. If the hair is too short, you don't see a lot of the blonde in color melts.
She has tons of hair, so I gave her layers – that way, the hair doesn't sit flat. Also, cutting the face frame short gives a more open look, and when she ties hair up, some pieces come out to make her look cute!
Any advice for someone considering it?
I think the beige color is good for pale or dark skin tone because it's not too warm and not too cool. Also, it's good for people who want something natural or if it's their first time trying blonde hair color.
It's very subtle compared to other blonde tones. A lot of ash tones wash you out when you don't wear heavy makeup, but with this beige tone, you can wear any kind of makeup or no makeup at all!
Layers are good for someone who has long hair but wants some volume. Front layers will create volume and make your face smaller. I don't recommend too many layers for curly hair because it might make the hair too big (unless you blow-dry every day) or for people who don't have much hair. If you add too many layers, it will make your hair look thin.
Smokey Silver Ash Blonde Ice

@fhdbyrhonda
Q&A with style creator, Rhonda Lopez
Master Stylist/ Balayage Specialist @ Fashion Hair Design Salon in Saginaw, TX
---
How would you describe this look?
My favorite part about this balayage ash blonde color would have to be the contrast between the light ends and the dark roots. The natural contrast of this model's dark roots helps to enhance her ends and allow them to stand out more than they would against a lighter base color.
I love to style balayage with a loose wave to bring out some of the texture from the color, especially if the client has a blunt cut like in this look.
I would describe the color as smokey ice. Keeping some depth with a smokey grey tone and also allowing the icy blonde to brighten up the style, especially since ashy tones can sometimes seem dull when they don't have anything to contrast against.
Any advice for someone considering it?
I would advise them on how high maintenance this color is to maintain since it is a semi-permanent tone. I would suggest using a Blue Cool tone shampoo and conditioner to wash their hair.
Schedule toning services every 3-4 weeks to keep any unwanted golden tones from returning.
When styling, using low heat is a must to avoid color fading. Heat protectants and conditioning treatments are a must to keep the hair hydrated. Once your hair is this blonde, it is more prone to drying out, and if not properly moisturized, it can become very dry and brittle and easily broken.
If you are a smoker, I wouldn't suggest this color because smoke residue builds up and will turn the hair golden a lot faster then normal.
I always get a detailed list of hair processes the client has been through in the last three years. The client in this look came in with her natural virgin hair and has been a client of mine for over five years, which plays a very important role in lifting to this desired color. If the client has a dark dye or box dye, I would advise accomplishing this look in sessions. Although it might be possible to obtain the color in one long session, it would not be possible to maintain the integrity of the hair in one session.
Lastly, you should know that it will take time to achieve this look. Be prepared for a full day's work. I've learned that the easiest way to achieve this color is with patience and a lot of time.