23 Ways to Get Brown Highlights on Black Hair for Stunning Dimension
Dark Chestnut Brown Highlights

@brushedbyaraven
Look stunning as you wear added streaks of a chestnut brown shade on your lengthy black hair. The brunette balayage creates a natural warm tone that you can display with beachy waves. Definitely ideal for stirring up movement and lively feel to amp up your thin locks.
Partial Brown Highlights on Black Hair

@brushedbyaraven
Partial brown highlights on black hair create an effortless dimension and are a beautiful way to change up monotone dark hair. Brown highlights are the perfect tone for darker hair, acting as an effortless natural tonal highlight. Consider partial brown highlights if you want a subtle change that takes minimal maintenance.
Brown Burgundy Highlights on Black Hair

@lisacaveneehair
Brown burgundy highlights on black hair are a beautiful, fresh way to spice up dark hair. Brown burgundy shines brightly when the sun hits it but can also have a more toned-down look with natural lighting. Warmer hues work best for women who already have a warmer skin tone, as it complements them. Consider brown burgundy highlights if you want a subtle fun change for your dark tresses.
Very Dark Hair with Copper Highlights

@anadoes.beauty
Very dark hair with copper highlights will give women an authentic sunkissed look while instantly emphasizing its long layers for a more polished appearance. For maintenance, glossing the tresses every 4-6 weeks will help maintain unwanted brassy tones and shine.
Black Hair with Subtle Highlights

@miranda.whitecar.hair
Black hair with subtle highlights is a great low-maintenance hair hue! This natural-looking color will add subtle dimension and a soft sun-kissed glow to your tresses. You will be in awe of how seamless the grow-out will be.
Mahogany Brown Highlights on Long Hair

@sarahmerritthair
These mahogany brown highlights on black hair will add a sense of fiery vibe to your look. Match the color of your long hair with layers for a more fashionable edge.
Bronde Highlights for an African-American Woman

@destiny__danna
Feel the confidence if you pull off some accentuating shades to put on your dark hair. These are the optimum bronde highlights for an African-American woman like you. Straightening your innate long curls may take hours, but its outcome is all worth it.
Natural Black with Mocha Brown Highlights

@salon.93
You deserve it, so go for it! Dare to rock natural black hair with mocha brown highlights plus long voluminous waves now. The balayage is subtle yet rich to result in a sun-kissed payoff.
Light Brown Highlights on Straight Hair

@kendalljshair
It looks sensational and is low maintenance. What more could you ask for? Light brown highlights on straight hair are stylish with a subtle edge for an easy growing out process. The balayage shows depth and dimension even without the added waves to your long tresses.
Copper Brown Highlights

@haarkunst_trier
Featuring copper brown highlights to bring out the vibrancy into your black mane! Warm balayage and voluminous waves work as a team to make your long hair appear its finest!
Mushroom Brown Highlights on Short Hair

@ivydoeshair
Turn your black, shoulder-length bob into your most glamorous asset. Nothing beats these mushroom brown highlights on short hair. The dimension in this balayage gives a calming vibe, which also goes well with soft waves.
Dark Brunette Highlights

@jess_stanski_hair
Another subtle touch to jazz up your mid-length locks. Thanks to foilayage, dark brunette highlights will lighten your black tresses. Finish the style off with waves and texture for overall aesthetic beauty.
Golden Brown Highlights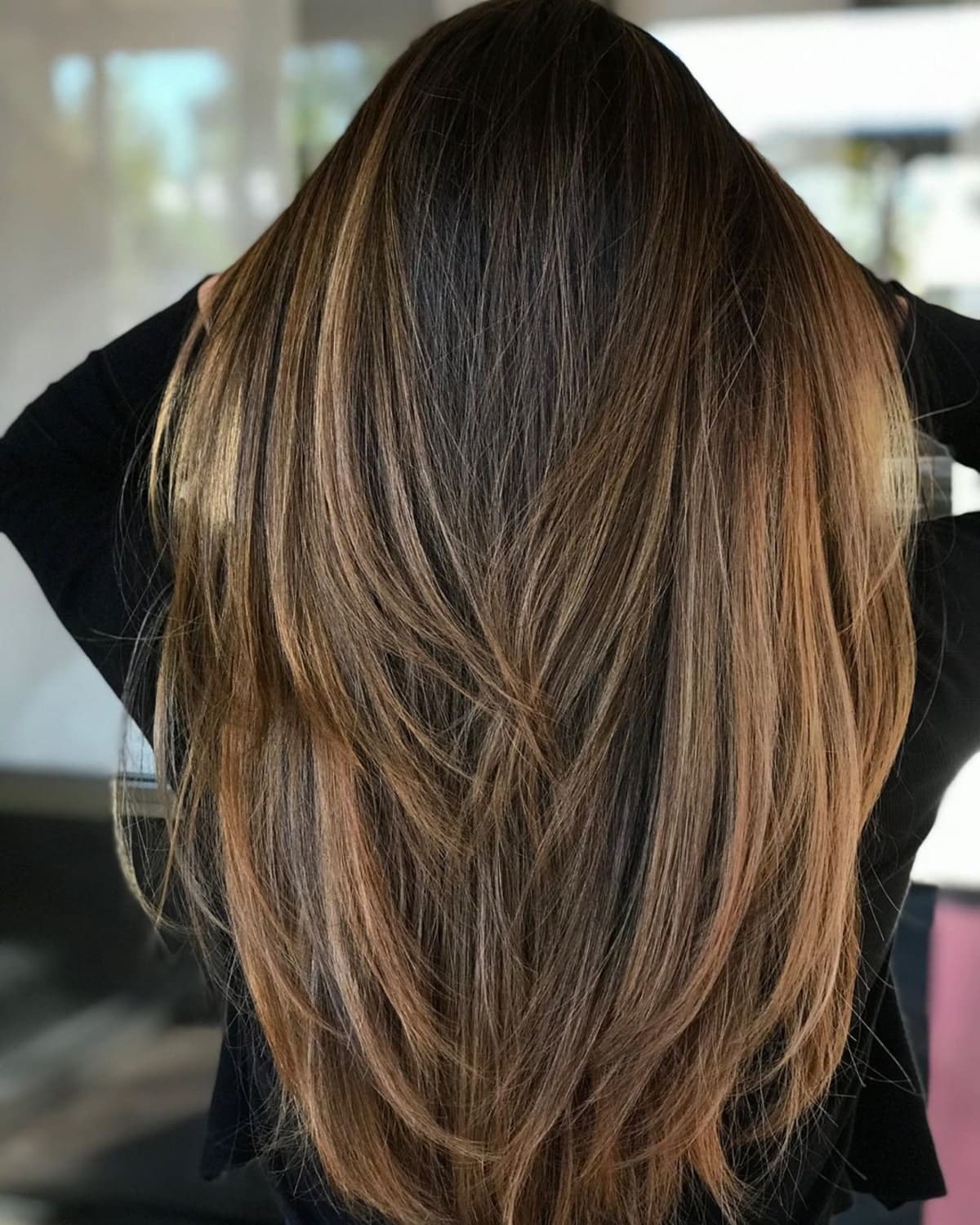 @duda_doeshair
Golden brown highlights will emphasize the layers on your haircut. If you have long and fine tresses, you can rock this style in no time.
Honey Brown

@jessicayoung.hair
A warm tone of honey brown to go perfectly with soft waves! This is how you class up your long, layered hair.
Dark Brown and Blonde Ombre Highlights

@defactosalon
One thing's for sure—there's a gorgeous gradient effect happening here. Let your wavy locks experience a color melt, achieving these foxy dark black and blonde ombre highlights. Try it on a thick, shoulder-grazing lob for added depth.
Espresso Brown Balayage

@jellydoeshair
Time to go from drab to fab! Delicate waves on your long, lighter black hair will highlight the espresso brown balayage. If you're a huge fan of anything fabulous, try adding these dimensional highlights to your dark locks.
Chocolate Brown Highlights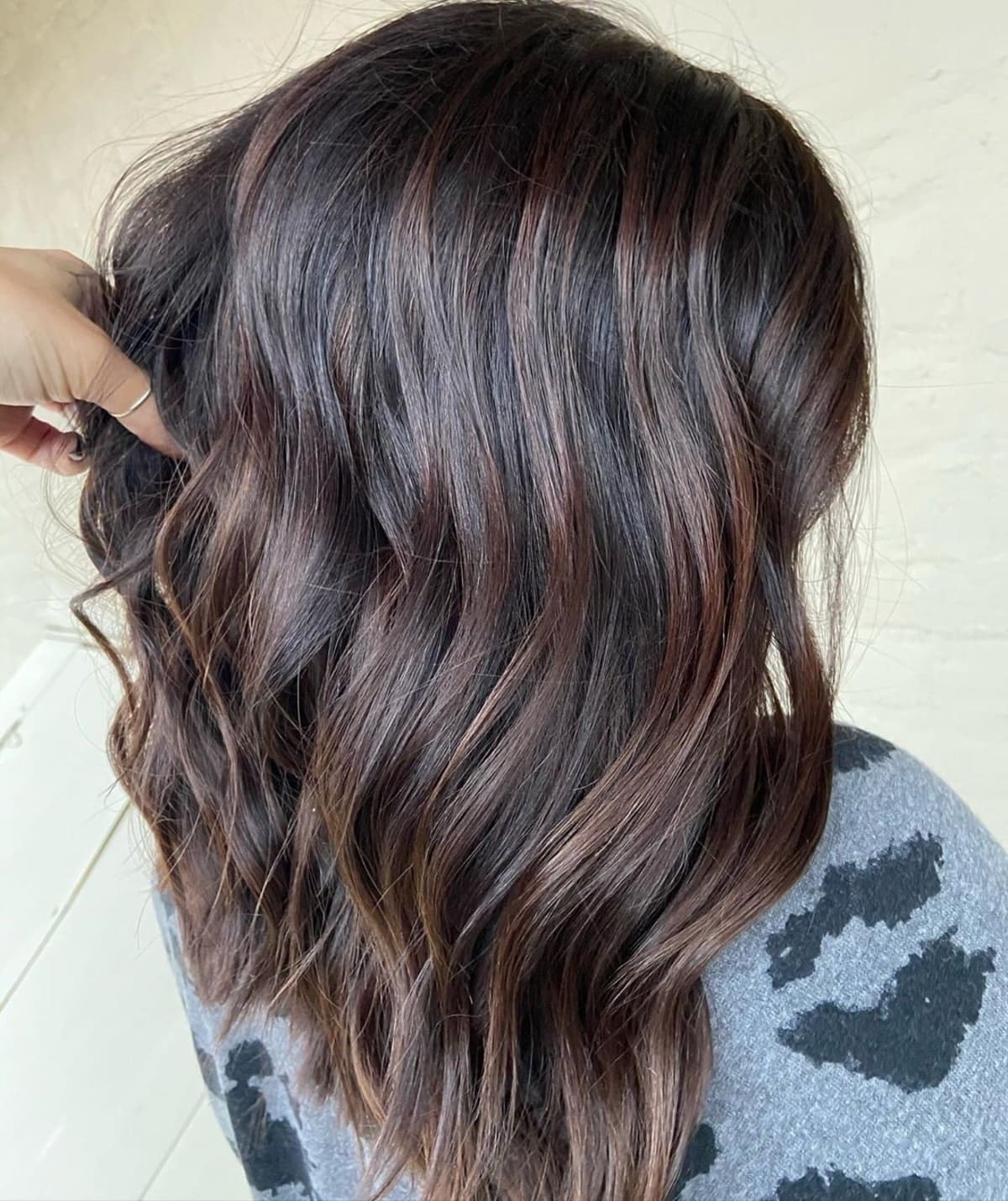 @desireecolorcreations
The chocolate brown is an excellent addition to carry out dimension and a cooler tone to your mid-length hair. Style it with waves, and a glossier look for extra depth.
Caramel Brown Highlights

@sarah_princetonsalon
It has a classic beauty and is sure to add a dimensional illusion to your long hair! These streaks of caramel brown highlights will make you the total babe, especially if you have a tan skin tone.
Reddish Brown Balayage Highlights

@musesalonvancouver
Here are the reddish-brown balayage highlights to alter your fine, black tresses.
Wavy Hair with Auburn Brown Highlights

@califormulas
This wavy hair with auburn brown highlights in black hair is everything! The movement boosts dimension, which also gives the appearance of more texture in black hair. Pair your medium-length chop with this balayage for an ultra-natural glow.
Light Ash Brown Highlights

@jenny_im12
Say no to dull, black hair and choose to bring brightness with light ash brown highlights! You won't be sorry about going for a light ash brown foilayage to add highlights to your long tresses. Waves on your hair will outline the added color, looking so much better under the sun.
Full Curly Hair with Mousy Brown Highlights

@adihikri2
What's more gorgeous than this full curly hair with mousy brown highlights? The accentuating color adds brightness to dark tresses. When going for this look, focus on the definition and volume of your locks. These two vital factors will give your long, black hair a fuller outcome.
Warm Brown Highlights on Naturally Black Hair

@getyourlondonlook
Don't be scared to try out a new color to add to your black locks. Why not take this black girl's warm brown highlights as inspiration? Choose the brown or lighter shade that matches best with your eyes. Wear a sew-in wig for instant longer hair, and the highlights won't damage your natural curls. Style it with waves for extra movement, too!