23 Dark Purple Hair Color Ideas for Women Trending in 2021
Red to Dark Purple Ombre

@kimberlytayhair
Pull off red to dark purple ombre hair and display a unique color melt. To achieve such beauty, the roots must be darker. That way, both mid-lengths and ends get a brighter result.
Fashionable hair color like this is best when paired with a long haircut. This purple hair with dark roots would look great with waves for a seamless effect of tones.
Blonde Hair with Deep Purple Streaks

@elyserox00
Blonde Hair with deep purple streaks creates an interesting shadow and dimension next to a contrasting blonde. A deep purple looks great with golden and platinum icy blondes. Ask your stylist to add Olaplex to the direct dye for better-staying power.
Saturated Purple Tone on Dark Tresses

@michelle.zapanta
Saturated purple tone on dark tresses looks subtle when indoors but gives the hair a pop of color under the sun. This is great for women who want a fun shade that isn't too vibrant.
California-based stylist Michelle Zapanta mentions that touch-ups are required every 6-8 weeks. Meanwhile, "Use cold water when washing as it's important to keep the color lasting. You can also buy color deposit shampoo or conditioner to keep the color refreshed," Zapanta suggests.
Purple-Merlot Wine with Dark Roots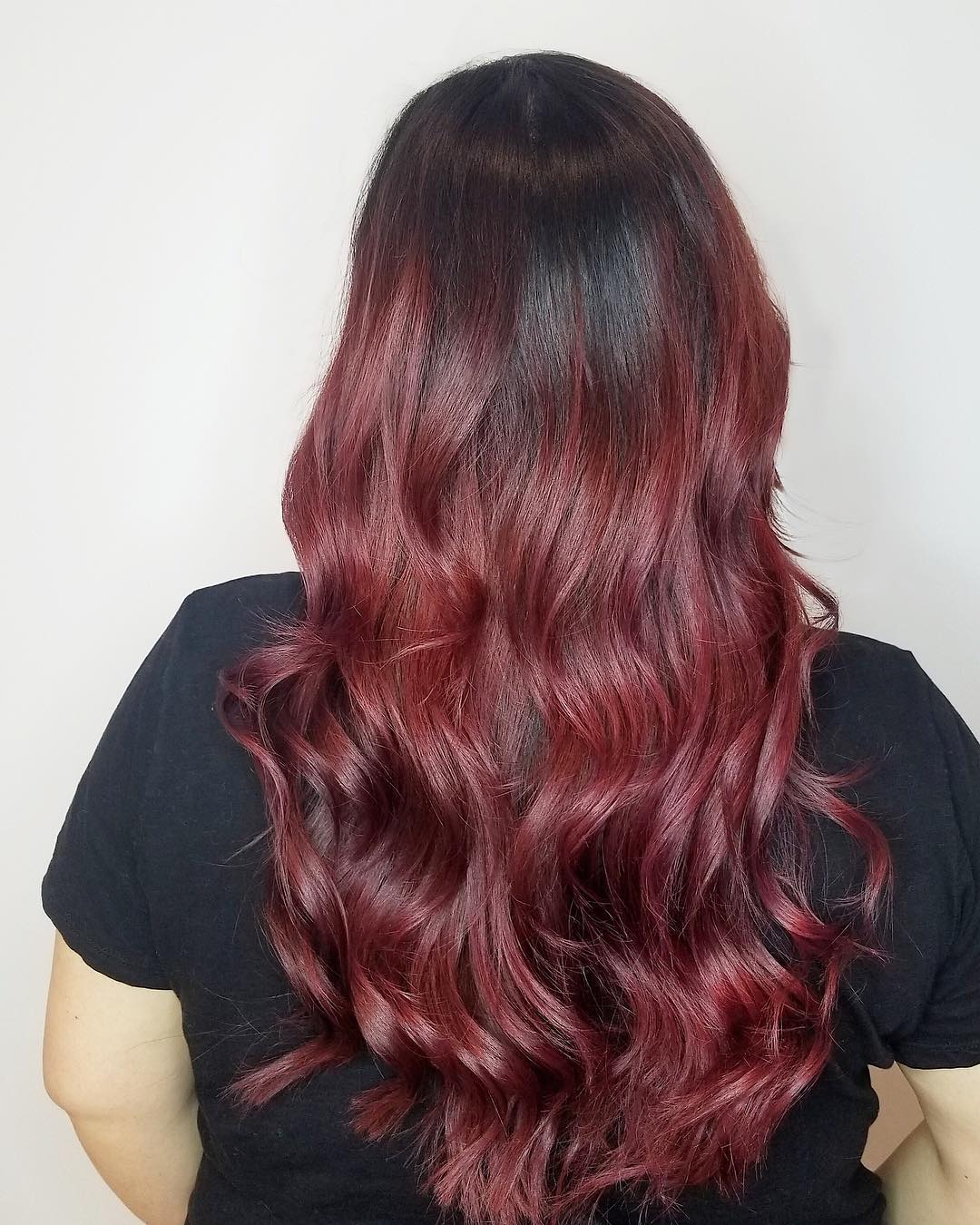 @punkyprofessionalhair
Enjoy the goodness of purple-merlot wine with dark roots now! If you think that it's time to go red, here's a chic hair inspiration for you. Those dark roots are what make this trend low-maintenance. Such a hair color is best when polished and vibrant, so make use of a shine spray or oil.
This Merlot wine with dark roots hair color was achieved using Aveda products, made by stylist Kayla Harrison of Texas.
"Aveda is vegan, reparative, and semi-permanent, and works great on previously lightened hair. By leaving the natural color at the roots, the color will be able to grow out softly and need less maintenance," says Harrison.
This purple-red hair shade tends to look best on women with olive skin tones. It helps bring out the color in the lips and cheeks, which gives a natural glow. Harrison suggests AVEDA's Color Conserve Shampoo and Conditioner for maintenance.
Curly Hair with Yummy Raisin Purple Balayage

@maymary.beauty
This purple curly hair isn't possible without such a gorgeous and yummy raisin balayage by stylist Maymary Moua of Minnesota. The touch of purple makes an excellent addition to dark tresses. And what's best about it? It can pair with dark roots so that maintenance won't be too demanding.
This yummy raisin balayage is a high plum balayage with tints of purple and red tones. "Ask for the highlights higher without touching the roots. This way, when your hair grows out, it still looks nice," Moua explains.
This plum purple color is a fun color that all women can pull off. It's a fun color that isn't too dramatic. Moua suggests, "Use color-treated shampoo & conditioner to maintain the color. Also, avoid washing your hair every day, and use styling products and heat protection."
Red to Dark Purple Hair with Ombre
Photo Credit: Instagram @cindyzuleyma
Embody a mystical feel with a magenta to purple-violet transition that's terrific on lengthy hair! A bright burgundy would be a great hue to match the dark purple streaks, too. Wear these enchanting colors that can be easily paired with messy waves and milkman braids, and you're sure to look your most fabulous!
Long Hair with Purple Eggplant Balayage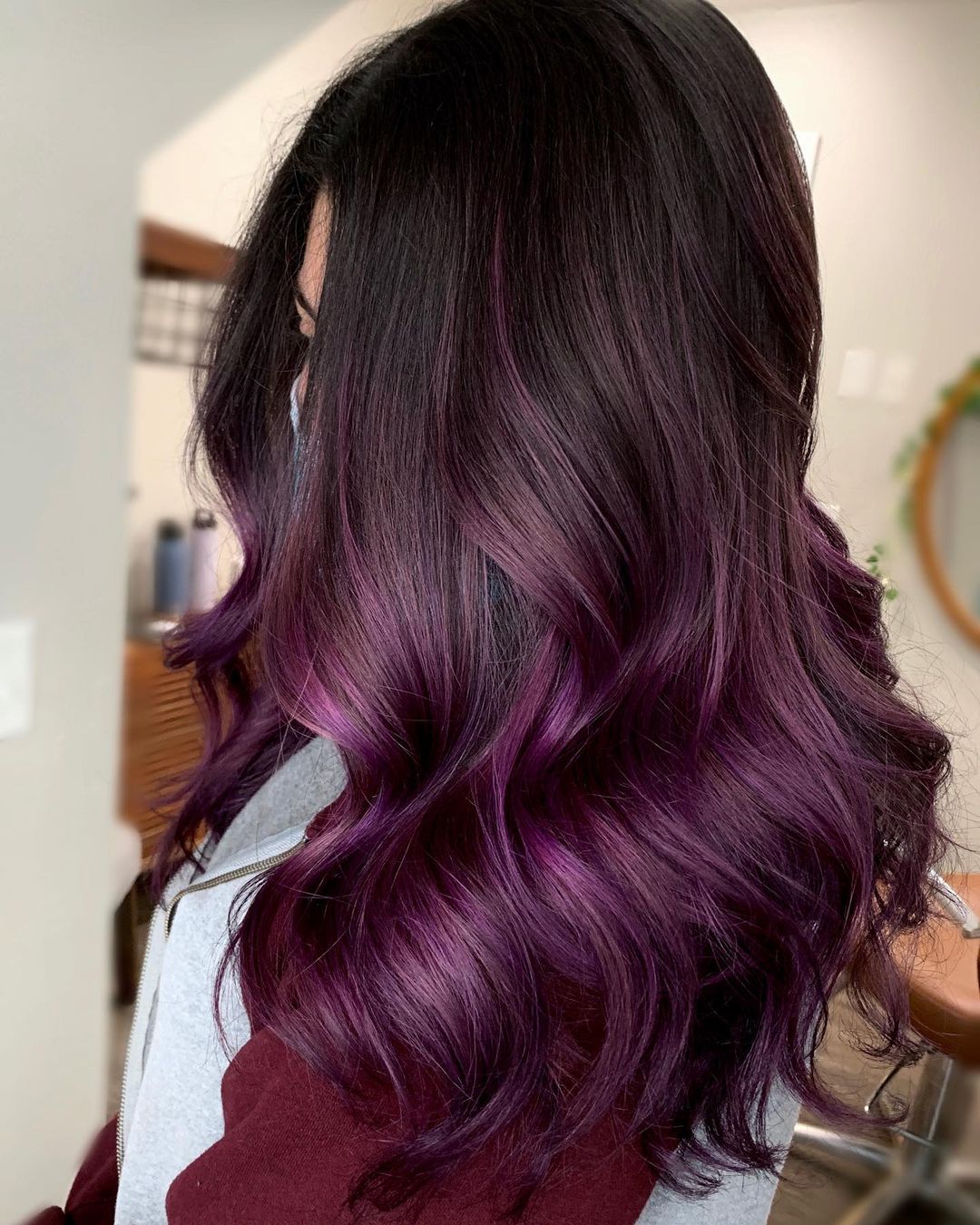 @nkc_hair
This is a rich eggplant purple balayage, designed by color specialist Nicole Cournoyer of Hudson, MA. "The vibrancy complements the natural dark brown hair. With the soft waves added, it helps show off the blend between the natural and violet balayage/ombré style," she explains.
If you are considering this dark purple hair, Cournoyer wants you to think about how often you want to come for a color refresh. With more fashion colors, they fade faster. However, out of all the fashion colors dark violet lasts a little longer than some others.
Dark to Light Purple Subtle Ombre
Photo Credit: Instagram @serahdoeshairahh
An impeccable monochrome transition from deep to pastel purple-violet ombre that's fantastic for fair to medium skin! You can choose to style this deep purple hair up or let it down with a few face-framing waves and fringes.
Bold Purple with Hints of Blue
Photo Credit: Instagram @elissawolfe
Inspired by mermaid hair, these cute purple swirls of color are an eye-catching work of art that fits fairer skin with pink undertones. These cool colors mix excellently to give natural hair color a beautiful dimension and improve density.
Dark Purple Highlights on Black Hair

@ellyselim_
These dark purple highlights on black hair are a game-changer! They spice up medium-length wavy hair, yet they don't result in a drastic change. Since it's a balayage, the roots can still keep their depth, making it low-maintenance. This black and purple hair is definitely a gem that's worth trying!
Merlot Wine with Dark Purple Roots
Photo Credit: Instagram @priscillahairart
When it comes to purple hair styles, you can never go wrong with this rich crimson hue. The flawless transition from black to red-violet is a no-brainer and perfectly pairs up with any texture.
Shoulder-Length Hair with Purple Dip Dye

@styled_by_carolynn
Dark roots that shift to a deep purple hair dye towards the end create an ethereal finish to a simple lob.
Darker Purple Plum Bob

@pophairart
A darker purple plum bob has a color that complements fair and pale skin tones. The richness of the dark purple shade makes the skin look flawless, though the streaks are very subtle. They add more texture to the hair color, and they accentuate layers on a short haircut.
This darker purple plum tint on a bob cut is trendy and edgy as described by Texas-based stylist Trista Walker Hughes. This bob is amazing with medium to thick hair with a natural texture. It's asymmetrical and perfect for a round face shape.
Dark Violet Purple Hair

@hairby_jessiealb
To pull off dark violet purple hair, having a thicker density is vital. The hair is sure to appear shinier and fuller without letting it look bulky. This deep purple color trend is perfect for any lady with natural dark tresses. It makes a low-maintenance option to brighten the hair a bit.
Dark Purple Hair with Lavender Highlights

@letsgohairsalon
Try this dark purple hair with lavender highlights—it's loud, bold, and fun! Those hints of various light purple hair tones at the ends complement the movement of a wavy style. Add extra pop to the lavender shade by ensuring the roots are dark enough.
Dark Purple Hair Color

@_karleighdawn
This deep purple balayage could be called Purple Reign, according to the style creator Karleigh Dawn. "It's a fun dark vivid with minimal maintenance. It's dark and regal, but also a loud color," says Dawn.
Purple fades the prettiest of all the fashion colors. This cooler deep purple shade suits just about all women. Joico's color intensity line was used in a few different shades to create this deep luxe purple. Maintenance on something like this would be a refresher every 6-8 weeks. Dawn suggests using cool water when washing, and always make sure you're using a heat protectant when styling.
Rich Blackberry Purple Hair
Photo Credit: Instagram @graffiti_studio
This is a blackberry color balayage with a dark color at the roots and bright purple hair tones from mid-lengths to ends. Made by stylist Willow Box of North Carolina, she says, " it has a brown base with Jack Winn Pro Color melted into a custom mix of Pulp Riot deep purple tones over pre-lightened hair. This purple-black hair features a V-shaped haircut with long layers for the haircut."
To women considering this color, these types of colors do require specific care. Box remarks, "A sulfate and paraben-free shampoo is needed for longevity. Dry shampoo is also great to assist with keeping these types of colors bright because you don't need to shampoo as often when you're using dry shampoo. With this type of color, your hair will also need to be lightened to achieve the brightness of the purple, so they typically take around 4-5 hours for the first service."
Dark Blue Shade on Purple Hair

@iggyte
Dark ash purple hair like this can justify what the word "stunning" means. It has soft tones that complement soft waves. The dark shade of purple is placed on the roots and crown area to form a color melt effect. This trend is a must-try for bombshells with thick hair.
Dark Purple Red Tone

@noogiethai
Say yes to a dark purple-red tone and say goodbye to your old hair color. This one has a deep shade of violet with subtle touches of red. The purple and red shades combine together well, creating an attractive finish. It's an absolute eye-catcher on straight, thick locks.
Deep Lilac Purple Hair
Photo Credit: Instagram @waveshairandbody
There's a distinguished blend between the root and end color within this deep lilac purple hair. All of these are combined into this edgy, different, and vibrant color.
"When choosing purple or violet, you should take your skin tone into account," says look creator Jaimee Rhone of Australia. "If you have darker skin tones, any shade of purple will suit. For olive skin tones, opt for blue-toned shades like a darker violet or purple, and paler tones can rock the warm and cooler purples," Rhone explains.
Vivid Dark Purple Hair Weave

@818hair
This features a vivid dark purple hair weave. Such a hair color fits those stunners with a warmer skin undertone. With this dark violet hair color, the roots must have a deeper tone, so the depth keeps the color shinier.
Short Hair with Dark Brown Purple Highlights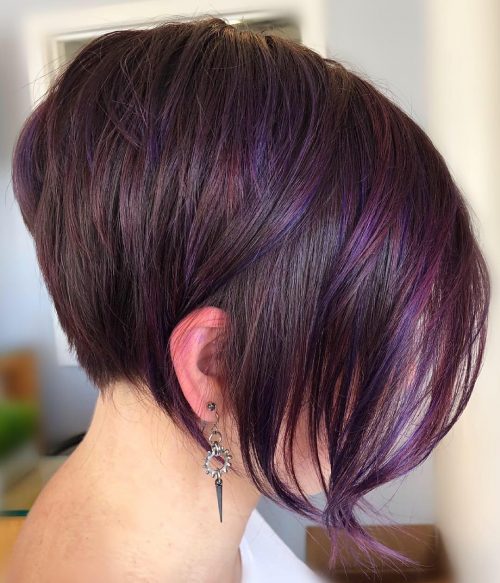 Photo Credit: Instagram @katiegct
This is short dark hair with purple highlights on an asymmetrical pixie bob cut by stylist Kate Gallagher of Old Saybrook, CT.
The purple and red tones appear brighter on the highlighted sections but softer on the natural medium-brown color. The color can appear softer in indoor lighting but brighter outside in direct sunlight which makes this hair perfect for women who want a bright fashion color, but still wants to be work appropriate.
This particular short purple hair by Gallagher has a direct dye color that will always fade more rapidly than permanent hair color, so at-home maintenance is key. "Wash your hair as infrequently as can be based on hair texture and body chemistry. When you do wash, use a color-safe, sulfate-free shampoo and cold to lukewarm water. This kind of color will gradually lose vibrancy and will need touching up every 4 to 6 weeks – could be longer depending on how often they wash their hair," she recommends.
Dark Lavender Purple Hair
Photo Credit: Instagram @andejene_stylist
The color line used to achieve this dark lavender purple hair was Matrix ColorSync Watercolors. This is according to look creator Phyllis Anderson of Greenwood, IN. "It was applied to the hair, which was pre-lightened to a pale blond. It's seriously the perfect smokey lavender/mauve," Anderson adds.
Anderson suggests to not be afraid to try a bright color like this deep purple tone. These are in and it's all a matter of personal taste. If you have purple hair ideas, then that's all that matters!