How to Get Pink Ombré Hair – 21 Cute Ideas for 2021
Strawberry and Pink Ombré

@daisyhairaffair
A more saturated champagne pink ombré for long hair is a thing to die for!
Baby Pink Ombre

@dashofglamour.studio
A baby pink ombré gives a lived-in look with a contrast in color. A softer pink is more flattering for all skin tones and ages. Whereas a brighter pink may appear too harsh.
Pink Ombre Highlights

@vividandbalayaged
Pink ombre highlights are a great way to show off your fashion-forward style. Pink is definitely a hair color that is here to stay so why not try something bold and fun without all the maintenance. The ombre highlights are a great way to try something new without the commitment of all-over color. Just be sure to ask your stylist to create a custom conditioner by Evo's Fab Pro line to prevent fading at home.
Mermaid Pink Ombre

@georgeeblancoo
Mermaid pink ombre hair definitely makes a statement. If you're a young woman in your 20's and want to show off your creative flair, choosing this amazingly bold color is the perfect way to go. It's definitely not a low-maintenance color, however, as you will need to keep up with those roots. Curling your hair with a 1" barrel curling iron adds a bit more pop to this already dimensional color.
Pink Rose Gold Ombre

@kristinesneps
Pink rose gold ombre is a gorgeous color to try if you want to opt for something less traditional than a blonde or brunette ombre. It adds a bit of sass and the ombre style ensures a beautiful and seamless grow out. For some added flair, curl those long locks to show off that color dimension and finish with Un.Done by Amika to create those beachy waves.
Dark to Light Pink Ombré

@evemiskala
Plum-peach colors in a glossy take is what a girl needs these days, don't you think? See more light pink hair colors here.
Pink and Peach Ombré

@aleynahcolorist
What a bubbly combo! These cotton candy colors are to die for!
Blue and Pink Ombré

@crystalann.styles
What a divine creation! As if the gods have not blessed you enough with beauty, pulling off this blue and pink ombré combo is the next thing to heaven there is.
Dark to Flamingo Pink Ombré

@youarebeauty22
Now that's a grand entrance right there! A flamingo pink ombré style?! You'll be setting a trend with this hairstyle for sure.
Dark to Light Rose Pink Ombré

@emilyboulinhair
Using a particular technique to create variations for one color is truly a skill to obtain. A glossy pink ombré hairstyle this gorgeous is a rare find.
Dark to Pastel Pink Ombré

@lestatty_
Working with one color can create numerous effects, like this one. Dark tones and light, pastel pink colors infuse to give you this marvelous ombré creation.
Pink and Orange Ombré

@hairbykaseyoh
If you're thinking of trying two colors at once, give this peachy colors a go. It's a no-brainer that goes from straightforward to stunning.
Dark to Light Rose Petal Pink Ombré

@lisa.loves.hair
Q&A with style creator, Lisa Wagner
Stylist @ Bang Salon in Chicago, IL
How would you describe this look?
She had previously bleached out hair from past color services with about a 3-4 inches of new growth. She is naturally very light, so to avoid bleaching, we altered the silver to dark charcoal using a demi-permanent color by Keune.
The pink is Blush by Pulp Riot. The way I would describe this look would be charcoal going into a candy pink ombré. For styling, we just did a nice round brush blowout with some loose curling iron waves. My favorite thing about this look is the grown out grunge look. It gives some edge to the pretty pink!
Any advice for someone considering it?
These unnatural colors are more high maintenance. You need to understand that it will take more work on your part to upkeep these vivid tones as well as keeping your hair healthy. Vivid tones almost always require lightening services, and, depending on how many levels of lightness a stylist needs to lift them, the hair can take a toll on the bleaching process. Therefore, it is important to have a moisturizing/repairing and color-safe shampoo and conditioner.
At my salon, we also sell treatments to do weekly that keep the hair healthy (Olaplex step 3 or B3 repairing conditioner). I suggest my clients do one of these treatments once a week and sleep in the treatment overnight.
Also with vivid colors, it is so important to not wash or rinse your hair with hot water. I try to explain to my clients that the hair cuticles on a hair strand that holds color in, open and close similar to the pores of your skin. When you take a hot shower, the hot water opens your pores or hair cuticles. Cooler water will keep that hair cuticle tight holding in the color.
For any vivid colors, they will fade with time. The lighter they are, the less they last. Regular salon toning for these colors can range anywhere from every 2-6 weeks to keep the colors as vivid as they are.
Pink and White Ombré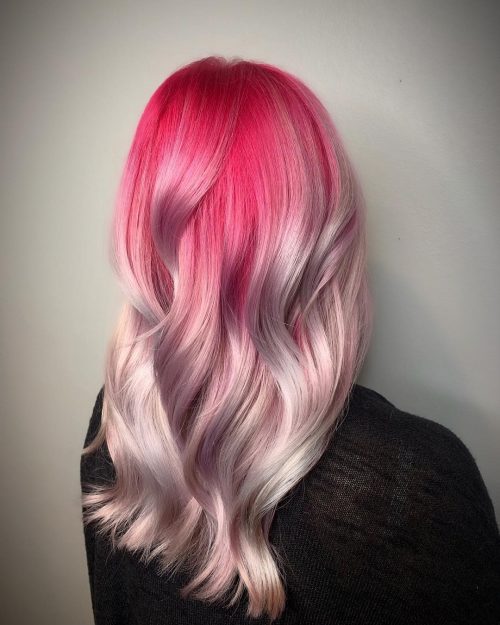 @jacobsdesign1
Q&A with style creator, Saige Jacobs
Color Specialist @ Winslow Salon in Kirkland, WA
---
How would you describe this look?
This pink ombré hue is nothing less than a showstopper. The melt from the hottest pink into the silver platinum without a transitional color is one of my favorite color effects. When done correctly, it tricks the eye to think, "is this balayage? foil? ombré?"
The real answer is bleach and tone with a root smudge. Not in the traditional way of shadowing a lightning service, but taking it to a new level and testing the limits of the "norm" with a natural shadow at the scalp – we decided to push to the other side of the spectrum with hot pink!
Any advice for someone considering it?
This specific color is not for the faint of heart. We first had to get this client to a seamless platinum blonde which can take up to if not more than a year to achieve on some people depending on their starting color, color history, and integrity. From there we toned all the remaining warmth out with a silver/violet platinum. The last step is to dry and then color melt the pink down off her scalp.
Maintenance and at-home care is high. As your blonde is lifted to the lightest level of blonde, weekly treatments are recommended to mend and maintain the integrity of the ends.
Also, be mindful of the pink! How do you maintain the pink? A direct dye is used for this fashion color. This color molecule mainly sits just inside the cuticle. What this means is staying away from heat will be in your favor! Use cool water when shampooing (with a professional color safe shampoo or cleansing conditioner) and stay away from mechanical tools for styling. Of course, this isn't realistic for most of us – minimal heating styling would be my recommendation with a great heat protectant of course. My favorite is the glow dry diamond oil from Redken!
Fashion colors fade easily, and bleach and tones grow out quickly. Your visit to the salon should be every 4 weeks, no longer than every 6 weeks, for maintenance.
The haircut complements this style adding movement, body, and luster to the finished piece. The foundation of the cut should be done prior to the color, as the color is molded around the haircut. This will avoid unwanted drop-offs of pink making a blended haircut appear "choppy". I do the haircut prior to many of my highlighting services for this reason.
Dark to Hot Pink Ombré

@demilu_
Q&A with style creator, Demi Lunam
Color Specialist / TIGI Educator @ Studio Cento in Scottsdale, AZ
---
How would you describe this look?
We added depth at the root with a level 4 double calibrated ash and refreshed her balayage with lightener and 20 volume activator. Then, we toned her mid-lengths and ends with a poppy punch of pink. I added yellow to my pink formula to give a highlighter finish. We softened up her layers and curled with a flat iron in opposite directions to give a lived-in feel. I finished with texture spray to add volume and with oil to add shine and define her ends.
Any advice for someone considering it?
A rooty balayage is a great low maintenance option for a low key client. I love looks like this because it initially packs a punch but the fade out is just as fun! But If you want to keep the pink poppin', I suggest scheduling a toner and treatment maintenance with your stylist every 3 weeks.
This style is all about enhancing the natural texture and adding a bit of drama to let my client feel like the most badass version of herself, regardless if she spends 5 or 45+ minutes on her hair.
This look does require a lightener to achieve, so your hair will benefit from adding treatments to your regime to keep hair soft, shiny, and healthy. I love the TIGI Copyright Care Boosters in repair – shine and smooth once a week for 5 mins!
Dark to Cotton Candy Pink Ombré

@morganwiththegoodhair
Q&A with style creator, Caitie Morgan
Hairdresser @ KLS Studios in Reston, VA
---
How would you describe this look?
This was a super fun project for me. I told her I wanted to give her a hair color that would turn heads and make people stop and comment "OMG, I love your hair!" This was her first time experimenting with vivid color and she was pretty nervous, to say the least. I took her previously lightened pretty blonde hair and revamped it with a mixture of cool-toned purples and pinks.
I used a blend of different Pulp Riot colors from their Raven collection to give her vivid color some dimension and depth. I used a flat iron to style her curls which isn't my go-to for curling, but I love the soft wave I created with it. What I loved most about her look is the instant confidence boost my client got when she saw her new color. Her attitude and sass came right out, and I think the after-photos I took with her really show that off.
Any advice for someone considering it?
Any client considering this ombré pink color has to first know that the longevity on lighter vivid colors is not long. You could be looking at 3+ hours in the salon for color that is fading by the 4th wash. That is the nature of vivid color – the lighter the color, the less longevity. What I always recommend to my vivid clients is the color deposit Viral Shampoo to use at home. These shampoos are a quick and easy way to keep your color fresh in between touch-ups.
While having hair like a unicorn is a dream come true, many don't realize getting there can be a journey. For instance, if you have long hair full of black box dye and want to have pastel pink hair in one day without losing any length, it's just not realistic.
To keep your hair healthy, I recommend lightening in sessions and using Olaplex treatments at home to strengthen your hair. Olaplex is a game-changer for the hair industry that has helped bring many a hair back from the brink of extinction by repairing the damage from within.
Short Blonde to Pink Ombré

@paigeteresahair
Q&A with style creator, Paige Vanevenhoven
Stylist @ Studio 622 Salon in Yuba City, CA
---
How would you describe this look?
I love this shade of pink ombré because of its contrast. It's for that girl who is sweet but has a sassy side. It is hard yet soft. The soft beige blonde at the top isn't something you typically see when pairing a bright vibrant color like magenta. I think the color really draws your eye to the shape of the cut and the way it's styled.
Any advice for someone considering it?
Have fun with it! This wouldn't be a hairstyle for my reserved, subdued client. This is for the bold! Besides personality, I think the length and style are universal for the most part. I think a lot of people could pull off this style and color as long as they have the confidence to rock it! It fades lovely into a soft pink as long as it's not overwashed and maintained with a color-safe shampoo and conditioner.
Black and Pink Ombré

@katkolors
Q&A with style creator, Kat Collett
Salon Owner @ With Love Salon in Kansas City, MO
---
How would you describe this look?
This work is a natural dark root into a neon pink ombré. Some of my favorite things about it are the vibrancy and richness, and the blend I was able to create using Pulp Riot color. I paired it with a customized cut and a tousled style to really bring it the dimension and highlight the neon pieces.
Any advice for someone considering it?
Be prepared for cold hair washing, as this is going to be the best way to extend the life of fashion colors. The most important thing is to embrace the fade. Every time you wash your hair it will turn more and more into a pastel tone of this color. You don't want to wash your hair every day to prolong the amount of time you'll have color in your hair. Dry shampoo is King. Using Pulp Riot hair color I have found to have the most beautiful fade out and true to tone.
Pink and Purple Ombré

@adlydesign
Q&A with style creator, Amber Yancey
Cosmetologist / Master Stylist @ Salon 104 in Hendersonville, NC
---
How would you describe this look?
This look is a modernized pink ombré tones. It still has the classic feel of an ombré but more blended around the frame of the face. Also, I utilized the way the layers are in the hair to place the blend higher up, so the color placement flows. This type of color will pop more if the hair is curled or has a light texture.
Any advice for someone considering it?
Any type of creative color is more high maintenance than natural hair color. You have to have a sulfate-free color-safe shampoo and conditioner for washing. Wash your hair every 3-7 days. The less it's shampooed, the longer the color will last. Dry shampoo will be your new best friend. This type of color is best for someone who can go a few days without shampooing. Any hair texture can have this color if the canvas is lifted to a nice butter blonde beforehand.
Brown to Pink Ombré

@delaney.dip
Q&A with style creator, Delaney FitzGerald
Hairstylist @ DumBlonde Smart Hair in Fort Worth, TX
---
How would you describe this look?
This is a bright, blended summer pink balayage! The color is faded into the natural hair without any blotches or discoloration.
Any advice for someone considering it?
If someone is contemplating getting a pink ombré, my first thought is, "heck yes!"
Trying out fashion colors can be so fun! The only thing is it is damaging to the hair in the long-term if it is not conditioned regularly. This look is for people who enjoy standing out and aren't too concerned about looking "professional." The lighter the natural hair, the easier it is to bleach and color. If someone has darker hair naturally, it may take a few processes before the desired look is reached. It all depends on the amount of dedication someone is willing to have to create this look and maintain it in a healthy manner.
Red and Pink

@samanthaahernstyles
Q&A with style creator, Samantha Ashley Ahern
Stylist @ Lavish Salon in Derry, NH
---
How would you describe this look?
I did a red to pink ombré hair dye where I used a darker red base blended into the light pink at the ends! I used ID hair color for the red base, lightened the midshaft and ends to a level 9, and used Pulp Riot for the pink on the ends. My favorite thing about this color is how lively and fun it is!
Any advice for someone considering it?
This color definitely has some versatility. It isn't your typical red or natural hair color but it's also not too wild. My client works on cars for a living, so having pink hair let her personality come out! She says she hasn't stopped getting compliments even up until the time when she was due for a touch-up.
What's important to know about this color is that it will fade. In order to keep it looking fresh and nice, she has to get it re-colored every 6 weeks. Taking the proper aftercare steps is key in making the color last.
For someone who wants something a little different, wants to stand out in the crowd and is willing to commit to keeping it up, this is a really great color! It can be customized as well. If someone wanted it brighter pink or more rose gold, there is plenty of ways to modify it!