Found: 33 Prettiest Ways to Have Dark Hair with Blonde Highlights
Dark Short Hair with Strawberry Blonde Highlights

@jesshunt.hair
Time to brighten up your dark short hair with strawberry blonde highlights! The result that the combo achieves has an ultra-chic and feminine vibe. The roots are darker which allows the blonde hue to pop even brighter, giving the hair more edge and dimension.
Deep Chestnut Hair with Blonde Accents

@hairbyaline
Deep chestnut hair with blonde accents is the perfect hue if you're desiring to add an extra layer of warmth to your overall look. The ribbons of blonde against the rich chestnut base will make a bold statement. It's perfect for any skin tone.
Curly Medium Brown Hair with Blonde Highlights

@nicollelovescurls
Curly medium brown hair with blonde highlights enhances the look of your curl pattern and can add fullness to finer curls. The blonde highlights create a shadowing effect with the medium brown hues, enhancing the look of the curl pattern, giving endless volume to the tresses.
Beige Highlights on Dark Hair

@yukihairstylist
Beige highlights on dark hair work best with levels 3-6 by creating a soft blend in blonde tones that won't look too light or grey. Great for busy professionals and busy moms who desire an easy in the budget hair hue. Low-maintenance hair color is achieved by only needing a root touch-up every after 6 months.
Brunette-to-Blonde Hair Ombre

@beautystylistjalva
A brunette-to-blonde hair ombre is a safer way to try blonde by using the proper techniques. Ask your stylist for brighter blonde pieces on the ends while leaving dimension on top. To combat brassiness, try Oligo pro-Blue or purple shampoo in between salon visits.
Dark Golden Brown Hair with Caramel Highlights

@hairmeroar
Dark golden brown hair with caramel highlights is a fab choice. Staying with a few levels of color with the base and the highlights creates a beautiful soft loo that looks more natural. A simple balayage or foilyage will create a seamless blend. Make sure the hair does over lift, you need some warmth to create a beautiful caramel and it saves the hair some stress too. Great for hair color levels 3-6.
Dark Brown Hair with Natural Face-Framing Highlights

@romeufelipe
Dark brown hair with natural face-framing highlights like this is for goddesses. The warm blonde front pieces offer brightness and if matched with waves, they add softness to the face's structure. Opt for this hair color if you want a subtle way to accentuate your haircut.
Blonde Balayage Highlights on Darker Hair

@nataliarok
Splashes of beach blonde balayage highlights on darker hair bring out a glorious dimension. To emphasize the light blonde streaks, big curls on a long hair length are a great option. A gorgeous balayage like this can go with any outfit—no doubt!
Long Dark Bronde Hair

@coloredbycaitlin
Long dark bronde hair will almost always appear sophisticated. This dark-rooted hair has a fine dimension that works out well with soft yet fuller-looking waves. With combined blonde and brown hair hues like this, the grow-out process won't be a concern. And, don't forget about its length, which gives it versatility.
Dark Short Brown Hair with Blonde Highlights

@hairbyladysadie
Dark short brown hair with blonde highlights gives hair a warm and graceful dimension. It's a pixie cut with layers to give thin brown locks extra volume and lift at the roots. It also has an undercut to lessen the weight of thick tresses. All in all, this medium brown-blonde hair has a style that suits women of all ages!
Dark Ash Brown Bob with Blonde Highlights

@hairfairymandy
Get a dark ash brown bob with blonde highlights to gain that stylish, modern edge. Lighter strands are mostly at the front to brighten up your face. This highlighted ash brown hair features dark roots for easy-to-manage grow outs. Considering this stunning cut with a chic dimension? You might want to add waves to amp it up.
Dark Chocolate Brown Hair Color with Golden Caramel Blonde Highlights

@ashplowman
A dark chocolate brown hair color with blonde streaks really goes well with tanned skin tones, so get your summer skin ready! Golden caramel blonde highlights on brown hair looks sweet and sunny at the same time.
Wavy Black Hair with Cool Blonde Highlights

@its_ashley.h
Black hair with blonde highlights instantly works wonders when combined together. This platinum dye job was done immaculately, looking like the only choice to highlight dark hair with. Loose waves make a chic option to make sure these balayage blonde ends are emphasized.
Blonde Highlights for Dark Hair

@hairstylist.madison
No need to overdo blonde tones when you want a brighter mane. The blonde highlights for dark hair blend very well with lowlights. The outcome? Added glow and flawless dimension! Waves on your long tresses ensure movement and a more textured finish.
Platinum Blonde Highlights on Darker Hair

@alydavishair
Dual contrasting tones of platinum blonde highlights on dark hair mimic depth and make the hair appear more weighted. The waves and length add more dynamics to this design.
Layered Dark Hair with Sun-Kissed Blonde Highlights

@kristen.lumiere
A trip to the salon getting these tanned blonde highlights with dark hair means getting that beach look without the fuss of harsh sunlight!
Dark Brown Hair with Blonde Highlights

@emdoesmyhair
This dark brown hair with golden highlights is dimensional. It was created by hairstylist and master colorist Emily Alderson of Winnipeg, MB. "You can see pops of brightness from the golden blonde hue, but the highlights don't overtake the rich brunette base," she notes.
For a dimensional color, Alderson says to make sure you don't over highlight. "The dimension is created by painting lighter pieces, next to darker pieces. If your hair is already quite light, you may want to add some lowlights as well to bring back some depth."
Trendy Pink and Blonde Highlights on Dark Hair

@hairbykotay
Multi-tones of blonde, pink, purple, lilac, and black surprisingly look like artwork. Add long waves for maximum punk rock vibes.
Dark Hair with Blonde Highlights and Burgundy Streaks

@adyalonzo07
To all brunettes with a mid-length haircut, have fun with these light and dark accents! A reddish dark hue with blonde lights piece up this whole 'do, making it look super trendy.
Dark Brown Base with Red and Copper Blonde Highlights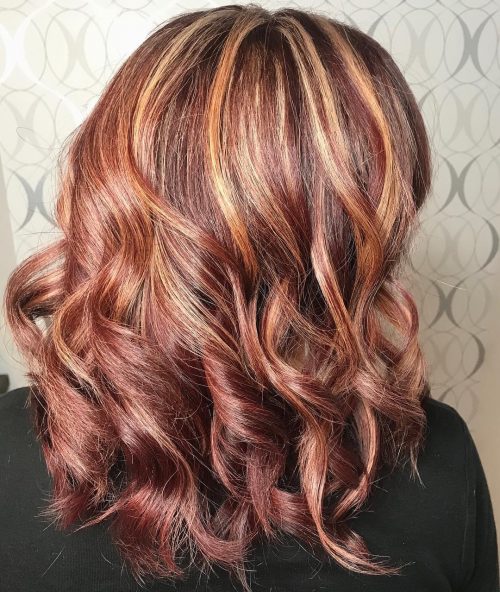 @jessgodlove
Mahogany red and copper blonde highlights create a steamy hairstyle! Make your pinkish undertones pop with these shades.
Subtle Ash Blonde Highlights on Dark Brown Hair

@aimme_hastaelultimodetalle
These subtle ash blonde highlights are bringing out a natural look! They appear as though the sun hit your dusky hair at all the right places!
Blonde and Red Highlights for Brunettes

@ray_of_lightsalon
Make brown hair your main mane while branding two additional blonde and red colors. This dark hair with blonde highlights is pushing fashion to its limits!
Honey Blonde Highlights on Dark Brown Hair

@sadieface
Honey blonde highlights on dark brown hair are ideal for a lady who wants dimensional hair. Ribbons of honey hues with darker hair create a chic bronde hair color.
These honey blonde highlights on dark brown hair show off the contrast of tones. They were created by color specialist Sadie Curtin of Costa Mesa, CA.
"The soft combination of warm browns and bright beige blondes accentuate the cut," notes Curtin.
She adds, "when choosing a hair color, it's best to look for colors that are close to your natural hair color and texture. This will allow much more ease with maintenance down the line. Adding in ribbons of blonde will help brighten your look without too much lightness."
Dark Burgundy Hair with Blonde Highlights

@jlucywoods
It might seem as a lot is happening here but the way the blonde and burgundy mix together is truly captivating.
Silver Blonde Highlights on Very Dark Hair

@ririhair
on very dark hair create a steel balayage color melt. Hairstylist Ria Jade of Canada created this beautiful shade.
"Metallic hair colors are not easily attainable. Especially cooler-toned shades like this steel/grey color," explains Jade. "If a grayish color is medium or dark, you still need to be a very light blonde underneath. This will allow you to achieve this blonde with toner. Cooler base toners absorb more light, don't look as bright, and need to be applied to a brighter canvas."
Jade believes blonde highlights on dark hair aren't for every woman out there. "If your hair has been compromised or if you have a complicated hair history, you may want to avoid this color. Women who have used box dyes or are dealing with breakage should also be wary. These blonde highlights are not for women looking for low-maintenance color," she adds.
See your colorist frequently for a toner to ensure your desired shade is maintained. Ask your colorist/stylist for proper take-home products for aftercare between sessions.
Dark Purple Hair with Blonde Highlights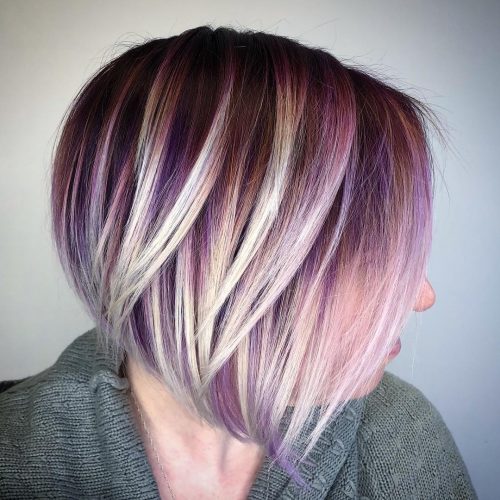 @katiegct
This asymmetrical, undercut bob on dark purple hair with blonde highlights was created by hairstylist Kate Gallagher of Old Saybrook, CT.
"This cute hair idea is deceptively low-maintenance," says Gallagher. "As with any vivid, I would expect the purple to start to fade out after a few weeks but the dark to blonde ombré effect will stay fresh for a while. I usually see this client every 6 to 8 weeks for touch-ups."
Gallagher recommends this look for women with a dark natural hair color, and straight hair texture for optimal results and wearability. "I would also recommend laying in some color protective shampoo like the Moroccanoil Color Complete and for the best color retention shampoo sparingly with cool water," she adds.
Medium-Length Dark Red Hair with Blonde Streaks

@masterpiece_by_meg
This sleek angled bob with bold red hair color and blonde highlights. was created by hairstylist Meeghan Truss of Southington, CT.
"The deep red accentuates the skin while the chunky blonde adds some fun and dimension," explains Truss. "If you have straight or even slightly wavy hair this can be a wash-and-go style with just a little serum."
Dark Brown Hair with Dark Blonde Highlights

@cris_cobucci
Brighten up dark brown hair with dark blonde highlights for a chic, darker dimension. This hair color is low-maintenance. The blonde strands add enough shine and texture to the cut. Style this brown-blonde gradient hair with waves to achieve that perfect contrast of light and dark hues.
Thin Blonde Highlights for Brown Hair

@jaime.laynebeauty
This hair inspiration features thin blonde highlights for brown hair. It was created by cosmetologist Jaime Layne of Keller, TX.
"The loveliest thing about this is the dimension the balayage creates. It created depth to the center of the braid and highlighted the outer braid to appear as a sunflower as opposed to a rose," she explains.
Layne goes onto say, "this color is very versatile and can be worn by all face shapes and hair shades. In addition, a medium-length cut is more aesthetically pleasing to the eye with the size of the flower braid."
Dark Brown Hair with Light Blonde Highlights

@the_colunga
This dark brown hair, spiced up with light blonde highlights, was created by cosmetologist Manuel Colunga of Kansas City, MO. He explains, "I did a "foilayage" with a shadow root so she would have a smoother grow-out period."
"What I really love about this look was that you can see all the different dimensions in the hair with the curls and I left some of her previously highlighted hair out to add even more dimension," he adds. "What I also love about this look is that if you have curly or straight hair you can totally rock it!"
Brown Hair with Caramel Blonde Highlights and Lowlights

@mane_ivy
These caramel blonde highlights and lowlights work wondrous together. They bring out a soft-looking, three-dimensional color, ideal for brunettes. Maintain depth at the base to make the lighter pieces pop. Achieve this bronde hair color by asking for a brunette to warm blonde caramel balayage. Styling it with waves can accentuate the tones better.
Chunky Blonde Highlights for Brunette Hair

@kenzidoesmyhair
Chunky blonde highlights are making a comeback, and they look as incredible as ever! This trend is a great alternative to summer blondes. Reinforce the dimension of the hair color by styling the locks with waves. Use 1.25″ curling iron for easy, effortless-looking waves.
"These chunky blonde highlights are a bold fall color," states salon owner and stylist Kenzi Thompson of Owasso, OK.
She notes, "ask your stylist to utilize back-to-back foil placement to create bold and chunky highlights. A chocolate brown base color, a red-brown low light, with caramel-toned highlights were used."
Darker Blonde Lowlights on Straight Dark Blonde Hair

@hollysalonmatos_
This natural blonde hair, blended with some honey-toned lowlights was created by color specialist Holly Conger of Spring, TX.
She explains, "what I love about this look is I was able to blend her previous color by adding a honey lowlight. It's bright but still natural-looking!"
This look is going to be great for traditional blondes looking for subtle depth and dimension. The cut is long layers with subtle face-framing is great for women who want to maintain length but still have a little finesse and movement!