26 Stunning Money Piece Hair Highlights for a Face-Framing Trend
Long Brown Hair with a Money Piece

@hairkelsiesullivan
Long brown hair with a money piece frames the face beautifully. Ladies with dark hair looking for simple lightening hairstyles should always ask for a bright, money-piece streak that frames their face.
Simple Money Piece for Dark, Wavy Hair

@antoniofelipes
A simple money piece for dark, wavy hair is the perfect look if you want a low-maintenance look! A hairstyle with face-framing foiling is made with a quick appointment to the salon. It's a budget-friendly hue to try, too. For ultimate results, pair this hue with some waves.
Money Piece for the Front Hairline

@polinazhdanovaa
Adding a money piece to the front hairline is the perfect way to add boldness to your usual highlights! A money piece hairstyle can be in any color tone and customizable to match any skin complexion and hair base color. Have some fun with this trendy hairstyle.
Face-Framing Money Piece

@polinazhdanovaa
A face-framing money piece is a great way to make a statement if your current hair is dull-looking. Money pieces are face-framing highlights that add contrast and dimension to your tresses. This hair trend is highly desirable and won't disappoint you.
Blonde Money Piece for a Brunette

@sami.hair
A blonde money piece for a brunette is stylish, trendy, and a fun way to brighten up brown hair. On dark brunette hair, a blonde money piece will require touch-ups every 4-6 weeks.
When adding a blonde money piece, consider asking your stylist for face-framing layers. It will turn out to be one of the most suitable haircuts for money pieces.
Thick Money Piece for Mid-Length Hair

@haircraftbyash
A thick money piece for mid-length black hair is a trendy look for women who want to try blonde but can't commit to lightening their whole head with the blonde hue. To get this color, ask your hairstylist for some blonde-toned money piece that frames your face.
Beach Waves with a Money Piece

@saltedmane
Beach waves with a money piece are a subtle and more natural choice for a money piece. Most women prefer hair with a money piece since the color frames their face. To get this look, ask your hairstylist for a balayage with a money piece.
Edgy Money Piece on Light Brown Hair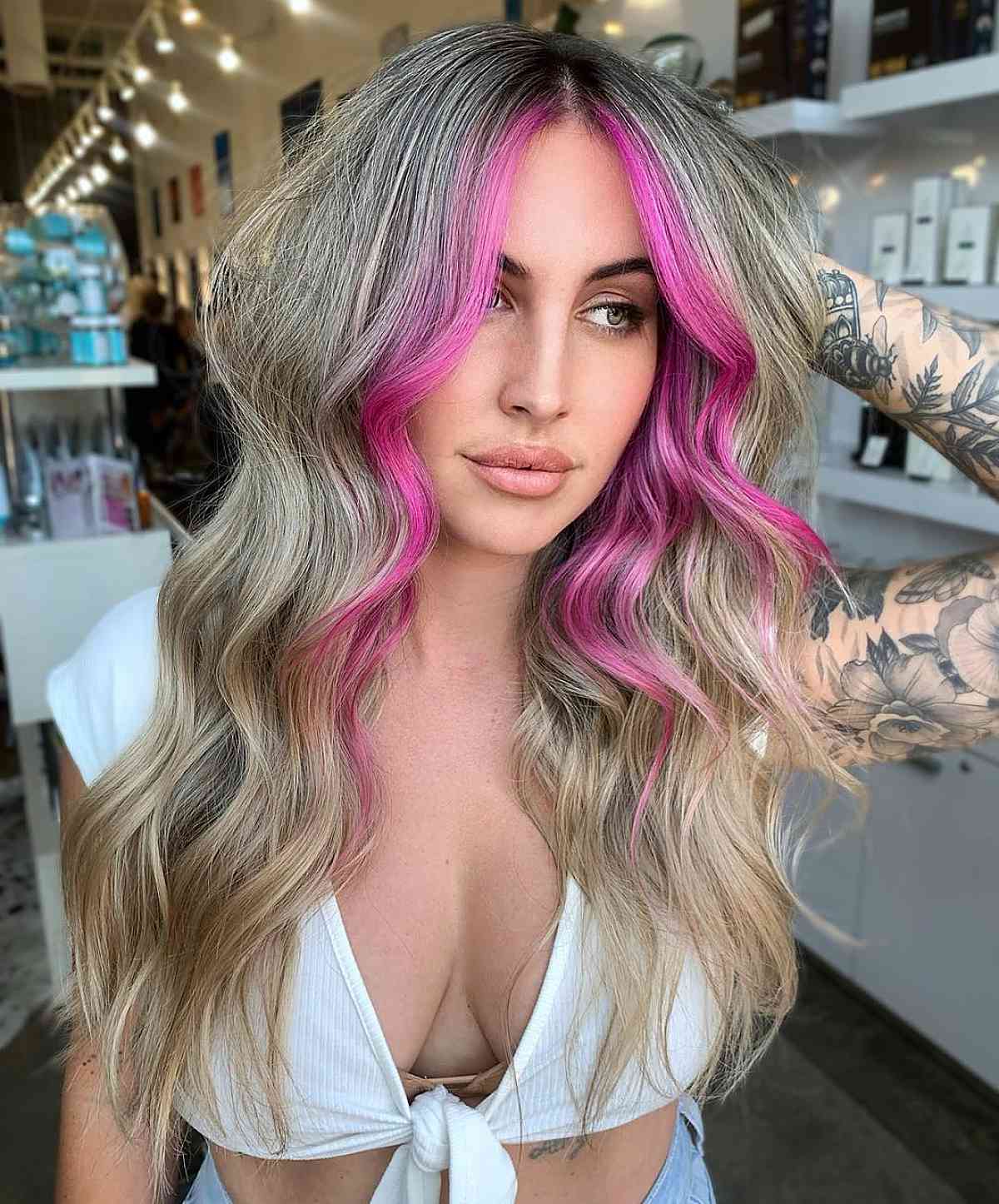 @thecuttingroomatrivo
An edgy money piece on light brown hair is a fun way to add a bold hint of color to your tresses. Hair with money pieces has become super trendy lately! Achieve this color by asking your hair colorist for a chunky pastel pink-toned money piece framing your hairline.
Brown Money Piece for Blonde Hair

@whiteandjonesuk
A brown money piece for blonde hair is a unique and trendy money piece technique. Achieve this color by asking your hairstylist for some chunky brown-toned money pieces with a honey blonde hue in the back.
Low-Maintenance Balayage Money Piece

@soph.hair.styles
Low-maintenance balayage money piece is a soft and natural gold-toned hair hue that compliments a lived-in look. To get this color, ask your hairdresser for natural highlights and a money piece.
Money Piece Face-Frame

@christihair.abq
A money piece face-frame can go with any base color. Hairstyles with a money piece will amp up your current color! Whether cool or warm-toned, these face-framing highlights are a go-to trend by many women.
Money Piece for a Round Face Shape

@tamyhairnbeauty
Consider a money piece for a round face shape if you want a hairstyle that will contour your face! A hairstyle with a money piece in combination with dark base contours your jawline, creating a defined, slimming look.
Extra Light Money Piece for Darker Hair

@parisrosehairartistry
Try an extra light money piece for darker hair if you're looking for contrast in your tresses. Face-framing hairstyles are beautiful and look stunning when paired with waves. Money pieces look good on either short or long hair.
Money Piece Balayage Highlights

@crownedhair_pr
Consider the placement of money piece balayage highlights if you want a seamless blend with a dramatic pop of blonde in the front! A money piece hair color is a rich and glamorous look that is low-maintenance. Finish your look with some waves to show off the different tones of color.
Medium-Length Hair with a Money Piece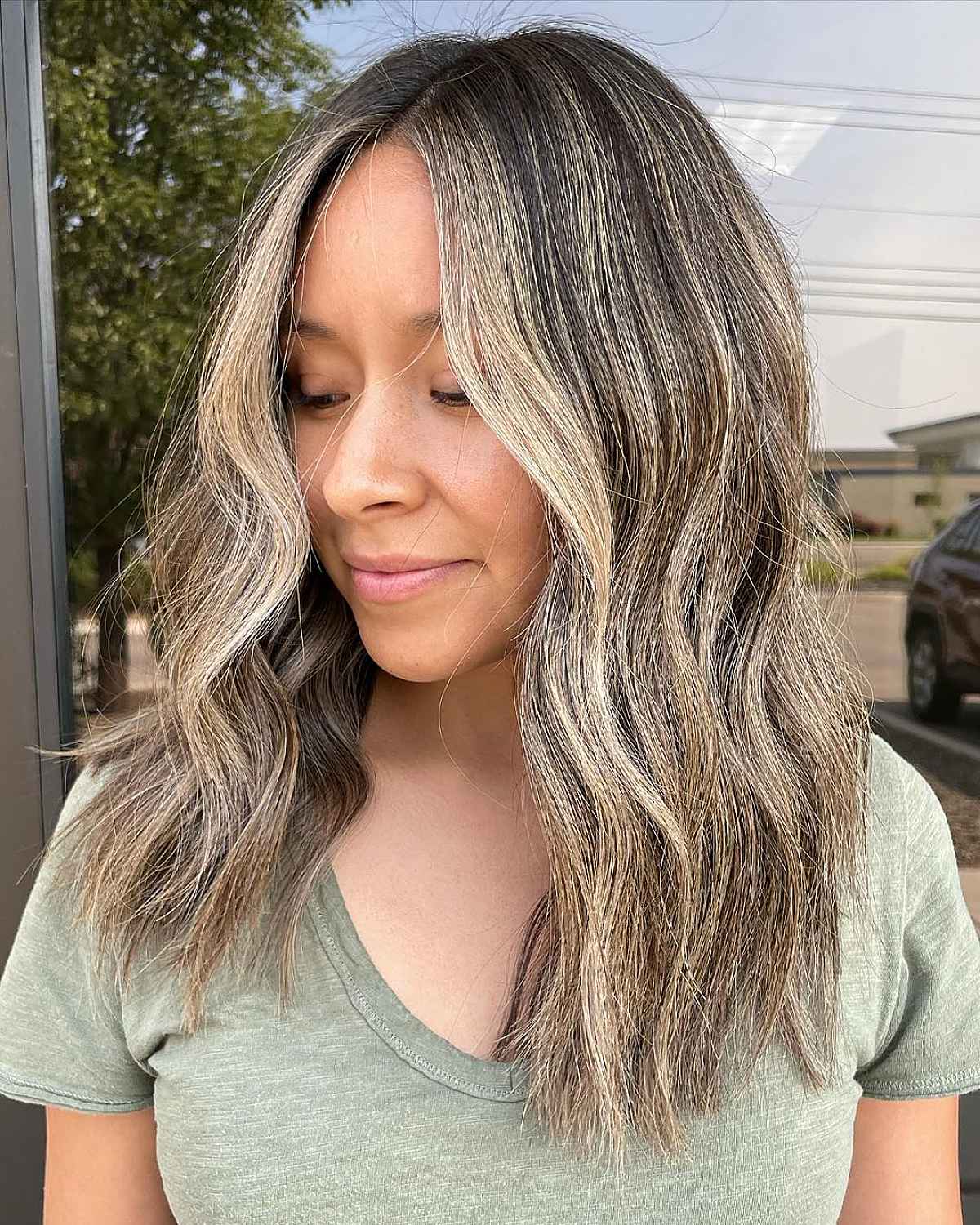 @hairlovebybree
Try medium-length hair with a money piece if you're looking for a trendy new hairstyle. Hairstyles with money pieces are taking the world by storm! Keep your locks looking fresh with highlights that focus on your front hairline for that extra pop of dimension.
Chunky Money Piece

@hairbymesina
Consider chunky money piece highlights if you want to be blonde but still want to keep it low-maintenance! This lightening hairstyle is highly desirable by many women. Keeping that natural base color will ensure the grow-out to be seamless.
Blonde Money Piece for Dark Hair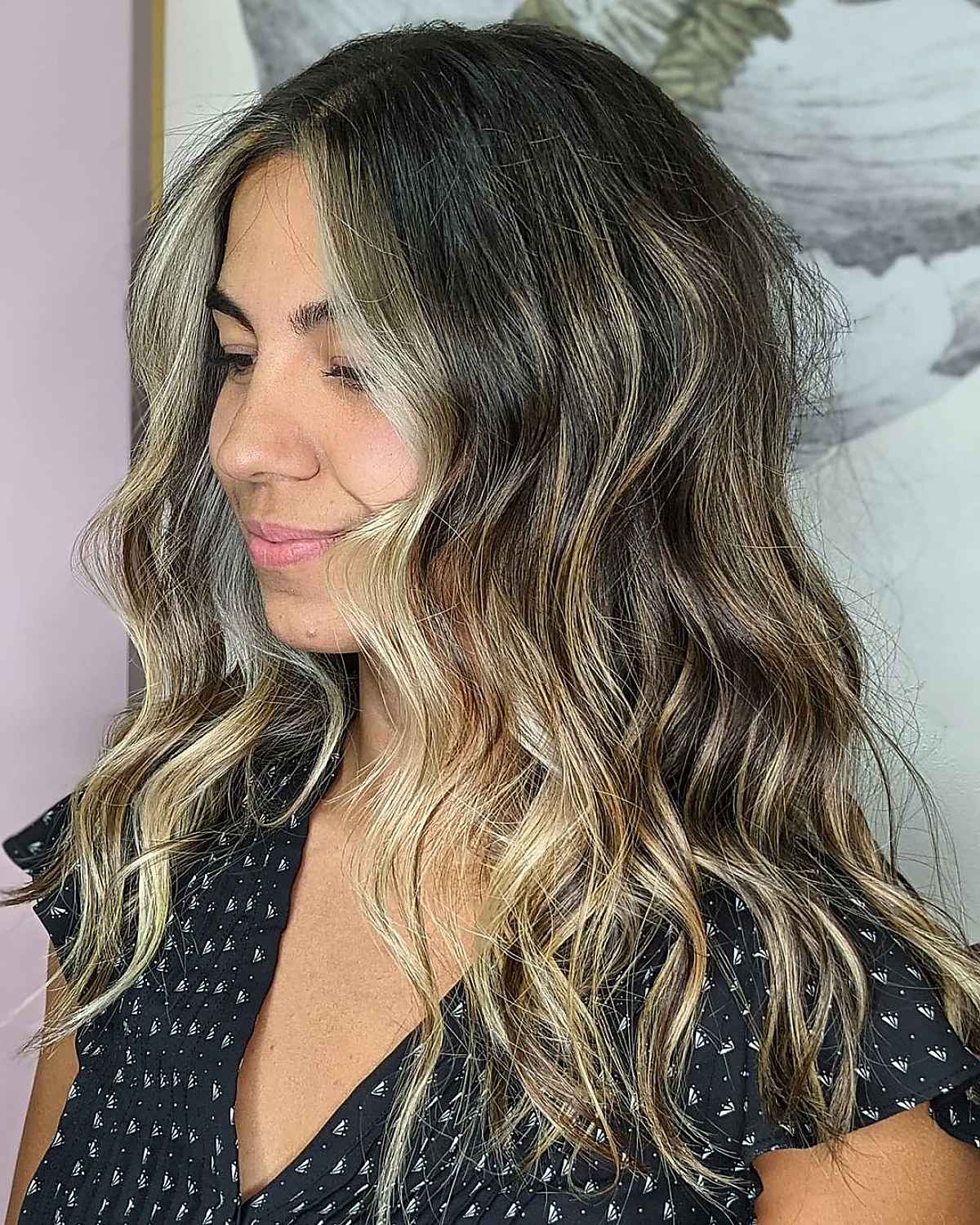 @tamyhairnbeauty
Try a blonde money piece for dark hair if you want a high-contrast look. Money piece hairstyles are currently trending big time! The boldness of the blonde with a dark brunette base is flattering and glamorous. It's a low-maintenance hue that makes styling a breeze.
Money Piece with Chunky Highlights

@paintslikeschmidt
A money piece with chunky highlights will give you 90s grunge vibes. If you want to channel your inner Christina Aguilera or Beyonce, give thick, bold highlights a try.
This technique is customizable. Just talk with your hairstylist about your desired thickness to the color that you want. Make sure to choose a money piece style that works best with your hair color, skin tone, and maintenance routine.
Thin Face-Framing Sections

@toriacurbelo
Thin face-framing sections are beautiful when creating a money piece. A babylight foiling technique can work with a face-framing hairstyle to add thin, blonde highlights in the right places to brighten and soften the face.
When adding a money piece to brunette hair, consider asking your hairstylist what shade or tone of blonde will look best with your complexion and skin tone so that they can give you the blonde color that best complements your brunette hair.
Money Piece for Long Bangs

@thegoodhairwitch
Add a funky money piece with long bangs to create fun on your tresses. If you have long curtain bangs, ask your hairstylist to use some money piece techniques with back-to-back foils to create a chunky, bold money piece.
If you want to add an extra unique touch, ask your hairstylist to create a second money piece situated an inch away from the first one.
Face-Framing Highlights

@salon_fryzjerski_makeup
Face-framing highlights add life and brightness to your hair color. A soft yet bold and bright balayage with money piece trends, transforms your style, giving you a sun-kissed, lived-in blonde hue. To brighten your natural hair hue, add some hand-painted highlights and babylights foil around the face for an effortless, beachy hair hue.
Bold Money Piece

@paige.stuart.hair
A bold money piece on dark hair makes the eyes stand out. Money piece styles are all the rage and won't be going out of style any time soon. Ask your hairstylist for a thicker, chunkier money piece done with a foiling technique for a soft blend.
Money Piece Hair with Bangs

@zoya_hair2
Here is how to rock money piece hair with bangs. This style is bold but allows women with fringe to have fun with their hair color and add a chunky money piece.
A bold color-blocking money piece is achievable with some foiling hairstyles, where foils are placed around the front hairline, creating a fun two-tone look.
Money Piece for Long, Curly Hair

@thetaliasb
Here is an example of a money piece for long, curly hair. A bold streak of blonde around the face on curly-haired women look perfect. If you have darker, textured hair, opt for a warm caramel blonde money piece hair coloring technique to accentuate your curls. It will leave your hair feeling healthy and not compromised.
Balayage Money Piece

@handtiedmanes
A balayage money piece adds a bright blonde around the face while keeping it low-maintenance. A money piece is a foiling hairstyle that can be done at the roots or as a balayage style for less upkeep and a softer grow-out. With a 2-inch curling iron, waves emphasize the money piece for a beachy, tousled style.
Money Piece for Short Hair

@mandiscissorhands
A money piece for short hair is a good choice because it adds brightness and draws attention to the face. A pop of golden blonde adds gorgeous contrast to brunettes. Hairstyles with face-framing foiling are flattering and soften your features.