26 Amazing Examples of Dark Hair with Highlights for Incredible Contrast
Blonde Balayage Highlights

@romeufelipe
Blonde balayage highlights in dark hair are perfect for ladies wanting a trendy style without maintenance. The root area stays a more natural color while the rest is brightened. This allows for further spaced appointments.
Dark Chocolate Brown Ombre Hair

@baxehairstyles
Consider dark chocolate brown ombre hair if you are looking for a high-contrast hair hue! The warm blonde on the mids and ends will pop out with the rich dark chocolate base color. This color is perfect for women with warmer skin tones, desiring a natural-looking finish.
Ombre Highlights for Dark Natural Hair Color

@sarahcapellhairstylist
Try ombre highlights for dark natural hair color if you're bored with your current hair hue! This color combination is a great way to brighten up your tresses while still keeping it natural-looking for a perfect grow-out. This color can be styled with waves or left straight.
Brown Hair with Highlights and Lowlights

@hairshegoes.id
Try brown hair with highlights and lowlights if you're looking to change up your hair. Adding highlights and lowlights will add dimension to your hair hue. Finishing the hair off with some beach waves will show off the different tones of your crown!
Dark Brown Hair with Blonde Highlights

@lashandblow.uk
Dark brown hair with blonde highlights is a great way to add some flair to your brunette. The ribbons of blonde blend perfectly with a rich brunette base especially, when styled with some waves. Nothing is boring about this look!
Silver Highlights

@getnellafyd
Silver highlights are great for women with darker hair. They create a bold contrast against the base compared to lighter bases. When going for an ash tone, hair must reach pale yellow to get its true tone. Use Olaplex No.3 weekly to keep the locks healthy and shiny.
Dark Brown Hair with Highlights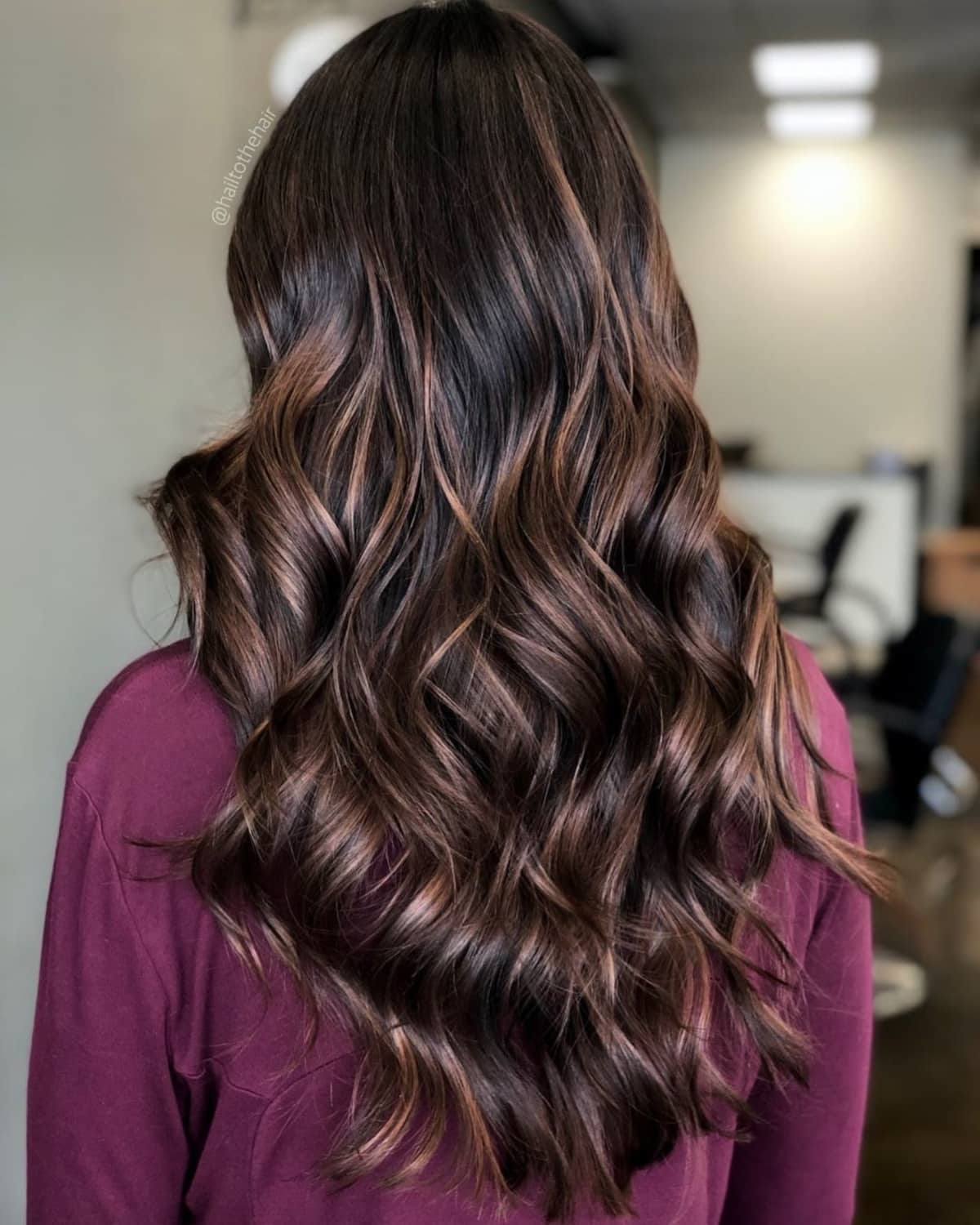 @hailtothehair
The light really shines on dark brown hair with highlights. To add movement and depth in really dark hair, add caramel highlights for contrast. The light will bounce off the highlights and make the hair shine like never before!
Blue Highlights

@el.remedio
Having blue highlights is a beautiful, bold statement. Blue is a tricky color to achieve and maintain. It takes more maintenance than most colors as it can easily fade to green.
It fades quickly, so more appointments are typically required. At home, tinted shampoos can help with the upkeep to maintain the bold and pretty color.
Black Hair with Highlights

@eliaslazarohair
Black hair with highlights is a beautiful option for women who want to add a little bit of contrast. Dark tresses against any color always make a statement. With highlights added to the mix, it gives the locks a dimension and a great variation of colors.
Purple Highlights

@toritdoesmyhair
Purple highlights throughout dark hair are a cute and fun change from a solid dark color. Adding these painted highlights can be a subtle change or a bold move. Purple doesn't always show up great indoors, but it's a great eye-catcher when outside in direct sunlight. It's also one of the easier fashion colors to maintain.
Honey Blonde Highlights for Dark Hair

@stephenjuliansalonftl
Honey blonde highlights are a great way to warm up dark hair. Not everyone wants ash blonde or platinum blonde highlights. Many women still want to keep the warmth of a beautiful, honey blonde that glows in the sunlight.
Blonde Streaks + Caramel Balayage

@hairbybritny
Blonde streaks and a caramel balayage for dark hair color are great for a higher contrast style. Women who want to brighten their hair can easily add balayaged blonde streaks. It helps break up the color and adds interest to the hair.
Burgundy Highlights

@demiraehair
Burgundy highlights are a beautiful way to add some flare to dark hair. Hair must be lightened first and then the burgundy is added for pops of fun color throughout.
This is great for women who really want shine and high contrast to darker hair. Reds, like other fashion colors, can fade quicker than normal, so be sure to talk with a stylist about at-home care.
Highlights for Dark Curly Hair

@urbanbloomcurls
Adding highlights to dark, curly hair makes the curls stand out against each other so well. Highlights literally highlight the curl pattern and make the spirals pop. Women who love their curls will benefit from adding the contrast.
Platinum Highlights

@monterey_hair_by_angie
Platinum highlights are a beautiful way to brighten any head of hair! Going this blonde isn't always easy, but it's always beautiful.
Platinum is the most high-maintenance blonde because it requires more appointments than normal. Plus, you still need intense at-home maintenance. Be sure to ask a stylist about the maintenance before taking the plunge.
Partial Highlights on Medium-Length Hair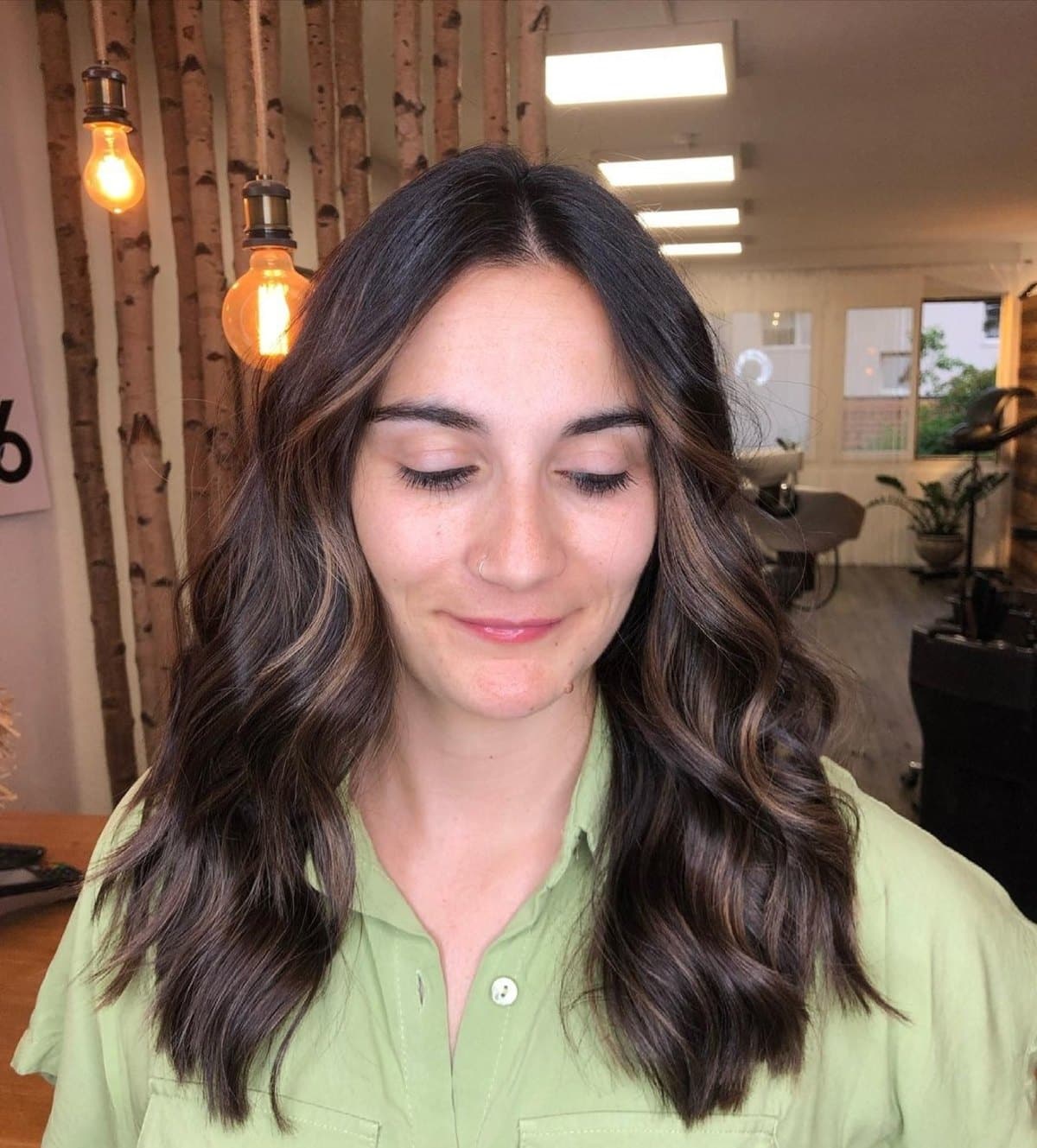 @coiffeur_fantastic
Partial highlights on medium-length hair are perfect for women who need the look of an all-over color sesh. Especially when you don't have the time to spend hours in the chair. Partial highlights give the illusion of a full color while the darker pieces underneath offer depth.
Dark Hair with Light Brown Highlights

@sonder_kelly
Dark brown hair with light brown highlights is perfect for a subtle change. Having a shade or two difference in the base color and highlight color gives enough contrast to the hair. Having subtle, brown highlights is an excellent choice for low-maintenance color.
Blonde Highlights

@sonder_kelly
Wear blonde highlights on dark hair to achieve a bolder style. The color melt allows your natural base to still work with your skin tone. The added blonde offers a brightening effect to not just your hair but also your complexion.
Caramel Highlights on Natural Dark Hair

@nailblaze
Caramel highlights give warmth to natural brunette hair. Lightening hair will always throw off warmer tones. So, these highlights will blend beautifully with your color, keeping a natural dimension.
Ash Blonde Highlights on Dark, Long Hair

@awedeewolff
Ash-blonde highlights with darker have a smokey tone. It has a marbled effect that flatters natural bases, especially ones that haven't been colored before. It enables the correct lift and longevity to your color, too.
Auburn Highlights

@behindamberschair
Auburn highlights are perfect for ladies who love copper tones and who have a brunette base. The combination of tones works perfectly and sets off a rich reflection on medium skin tones. Discuss with your stylist about melting the color from a natural base for a seamless grow-out.
Dark Brunette Hair with Sun-Kissed Highlights

@sadieface
Dark brunette hair with highlights gives a sun-kissed effect. It's a great way to add dimension with golden buttery blondes, which will subtly warm up the skin tone. Discuss with the colorist how much lighter you should go depending on your preference of upkeep.
Highlights on Short Dark Hair
@hailtothehair
Highlights on short dark hair give a lot of dimensional effect and depth. This suits women with fine, thin hair as it provides an illusion of a fuller, thicker density.
Ash Brown Highlights on Dark Hair

@wendyho_artistry
Ash brown highlights on dark hair offer a neutral tone that flatters any skin complexion. For ladies who want to switch things up without going too drastic, here's a color trend to try!
California-based colorist Wendy Ho used babylights to create this low-maintenance shade. "Babylights are micro-highlights with fine, thin weaves that give the hair a seamless blend. They show less dimension and almost a solid look compared to a balayage," she explains.
Grey Highlights
@jacebinder.cosmetologist
Grey highlights give a subtle, color-melting effect that brightens dark tresses. Cosmetologist Jace Binder of Michigan created this hair idea, and it looks so chic with waves!
According to Binder, this is for ladies looking for a fun color that can't wear vivid pink or red shades. She also warns, "If you're uncomfortable with black roots, this color may not be for you."
Red Highlights on Dark Hair
@hair_colorcriminal.xoxo
Red highlights on dark hair create a bold, fiery color that offers an edgy, wavy dimension. Colorist Summer Ramsey of Upstate, SC is the creator of this awesome shade of locks.
"This would be perfect for women who want a pop of color without being overwhelmed. It has a perfect balance, depth, and dimension," says Ramsey.
For the upkeep, she suggests shampooing less and opting for dry shampoo. These keep the color's vibrancy, for sure!