21 Prettiest Pastel Pink Hair Color Ideas Right Now
Pastel Bubblegum Pink

@hairbylindal
Bubbly and sweet, this vivid pastel pink hair coloring is a millennial's dream. The right curls hit the sweet spot of cuteness. This is your sign to get your hair light and switch to brighter colors.
Pink Hair + Dark Roots

@jhair_stylist
Pink hair with dark roots is definitely a vibe. This vivid color accents a medium-length textured bob as it adds a cool, punk rock edge. The dark root allows the pink to grow out without any harsh lines making it a low-maintenance style. To add some beachy texture to this hairstyle, simply blow-dry in some I Want Body Texture Spray by ELEVEN Australia and you're good to go.
Baby Pink Hair Dye

@vainhairglenelg
Baby pink hair dye is a creative way to punch up those baby blonde locks if you're feeling a bit sassy. This fun, youthful color compliments a short textured bob beautifully. Be sure to ask your stylist to create a custom color conditioner for you if you want to keep that baby pink color from fading. Add a bend in your locks with a three-barrel curling iron for that extra punch. Amika carries a fantastic one.
Hints of Rainbow on Pink Hair

@dreadfullocksct
Hints of rainbow on pink hair are perfect for women who want some subtle pops of rainbow against their current bright hair hue. To get this color, ask your colorist for pastel pink hair and rainbow babylights.
Pastel Pink Hair Color with Dark Roots

@colorbyliv
Get this wild pastel pink color on dark hair by using semi-permanent dye at home. Or, if you're feeling pretty brave, go ahead and have a professional do a permanent pink on your hair.
Pastel Pink and Purple

@taranicolestylez
Dare to try this exuberant pastel pink and purple shade? Colorist Tara slayed this unicorn hair from root to tip.
Pastel Pink Highlights on Brown Hair

@laurencolors
Ever thought strawberry pink brunette would be a thing? Stylist Lauren shows you how you can mix and match these highly different colors to create harmonious pastel pink highlights on brown hair.
Faded Pink Tresses

@beeblondor
If you've got a vivid hair color and you want to switch it up, try fading it to get a different pastel pink hue. Champagne strawberry hair looks gorgeous, especially on kinky or medium curly hair.
Silver and Pink Balayage

@lana.mai.hair
Ashy pink looks equally luscious as any bold hair color. Colorist Lana has the hands of a master with this gorgeous pastel pink paint job!
Soft Pink Shade

@laurencosta_hair
This is a stunning pastel pink hair color. Colorist Lauren did the impossible and created a shimmering pastel hair color on a shorter haircut.
Cute Light Pink Hue

@glamtique_taylor
Carnation pink straight out of the garden! You'll look blooming no matter the weather with this beautiful pastel pink hair color.
See more light pink hair colors
Edgy Pastel Pink on Short Hair

@snippydesigns
Popstar Pastel Pink would definitely be proud of this pixie pink style on short hair!
Dusty Pink Hair Color

@salongstilboden
Gorgeous pastel pink-sprinkled hair on blonde and black-streaked hair. Full, blunt bangs on a mid-length cut make the look more excitable.
Dark to Light Pastel Pink Ombre

@lestatty_
Steal that perfect pastel pink ombre balayage with this long and rich colored hair inspiration! Add beautiful beach waves halfway towards the end of your long delectable locks.
Light Cotton Candy

@hairbylindal
Partner the delicate pastel pink color with a bold and chic jaw-length, straight bob. The contrast makes the look even more enticing and interesting.
Petal Pink on a Braided Style

@eileenhairdresser
This stylish pastel petal pink hair is delicate and sweet. "My favorite thing about this is definitely the pale pink color," style creator Eileen Rindal states.
The Norway-based stylist shares a few tips before adopting this hair color.
"The hair needs bleaching to a white-ish color, which could damage the quality of the hair. This shade will not be sustainable in the hair for a long period of time. One would need a color shampoo/conditioner to use at home, so the budget is something to consider, too," Rindal notes.
When it comes to skin tone, the light pink will suit most ladies. It contains both warm and cold pigments. And as long as the roots are a little bit darker, it will not give a flat impression.
Pastel Rose Gold Pink Hair

@goodhairday.byhanna
This is a cute pastel pink color in rose gold shade that doesn't need to be maintained very often. "The best thing about this color is that when the rose gold hues fade from the hair, you can have it blonde for the rest of the time and does not have to worry about growing roots," stylist Hanna Paananen of Finland explains.
Paananen warns that pastel pink hair needs to be maintained frequently, these pastel tones fade very easily. This color isn't the best if you don't want to waste your time in the shower, maintaining the color, or the money that you can easily spend on the hair products.
Due to its short-lasting lifespan, this is good for women who want to try something new but want a more subtle look!
Pastel Blue and Pink

@qynnetessential_styles
A fantastic pastel blue and pastel pink hairstyle is bold while still being very feminine and flirty. The best part about it is how it shines in the light and as it moves, it gives off an iridescent effect.
Colorful hair is becoming more popular and it's common for women to assume that they are easy to achieve and maintain, but in reality, it's more difficult than it appears, and that goes double for pastel pink hair color.
Prepare for multiple sessions and find a stylist that can get you to a healthy platinum blonde before trying out pastels. Also, color depositing treatments such as overtone and Joico color butter will become your best friend to help refresh the color in between appointments.
Pastel Pink Highlights on Light Blonde Hair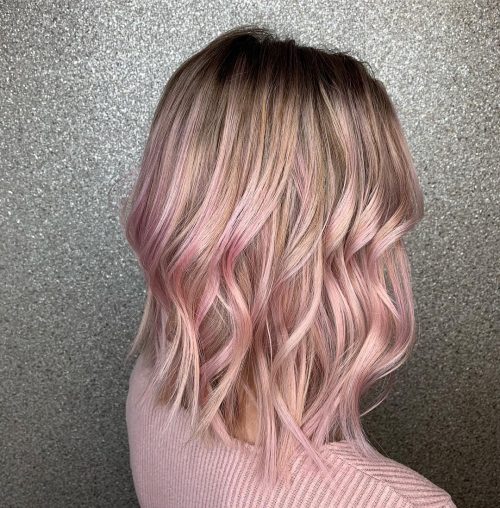 @danonliketheyogurthair
Here's a light-hearted pinky pastel by colorist Danon Christoffers. This is a fantastic spring color on blondes that want a little fun change. Its fade-out will look pretty until it's gone.
The Illinois-based colorist has a few recommendations. "Know that fashion pink pastel colors fade within 25 washes, so tread lightly and gently. Cool water, put money into your color-safe/sulfate-free shampoo, don't shampoo daily. Make dry shampoo your friend," Christoffers points out.
As far as the tone, it's beautiful on most already light blondes! It's just has a kick of fun to it without being too out there and fades really soft & pretty. The shadow root makes the outgrowth easier to manage too.
Smokey Pastel Pink

@hairbygienny
A smokey pastel pink hair color offers the best of both worlds. If you can't decide on which tones would look better, get this color. If you want darker hair but with a twist, this is a must-try!
Made by stylist Gienny Nguyen of Canada, it has a blend of cool tones, which gives it the smokiness, and the warmth to bring in and catch the light. Similar to makeup in the highlight and contouring aspect but for hair! Pastel pink hair really shines because the shade really comes out more.
Her advice? Do lots and lots of research. "Save all the pastel pink hair color photos that catch your eyes and show it to your hairstylist. They should notice a pattern and see the tones you like. Don't wash your hair, do use dry shampoo or go as long as you can, and wash in cool water," Nguyen notes.
Light Pink Metallic Pastel

@hairpaintedwithlove
This is the prettiest pastel metallic pink with a tinge of silver. Hair colors like light pinks will make you shine in a different light!