Top 10 Fall Hair Colors of 2023, According to Colorists this Autumn
1. Crisp Apple Cider

@hair.by.jessv
This long crisp apple cider hair is a gorgeous September color. Beautiful, trendy, and versatile—this could be what most ladies are craving for. Adding waves to long tresses is always a good idea. Waves give the mane a more modern style and accentuate the streaks of the color.
2. Sangria Burgundy Color Melt

@lilzthrilz_of_beauty
Here's a sangria burgundy color melt to take away boring hairstyles. The subtle reddish tone is evident and can catch people's attention. Impeccable burgundy hair like this flatters fair to medium skin complexions.
3. Copper Red Panels with Dark Brown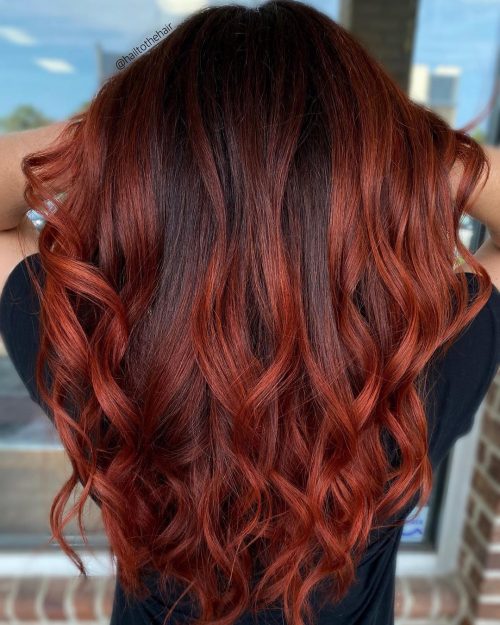 @hailtothehair
Go for copper red panels with a dark brown shade, and enjoy that edgy, ultra-chic hair color! This is ideal if you're a natural brunette who's looking for a fun way to gloss your hair. The copper tones offer flattering fall vibes perfect to match autumn OOTDs.
4. Chocolate and Chestnut Balayage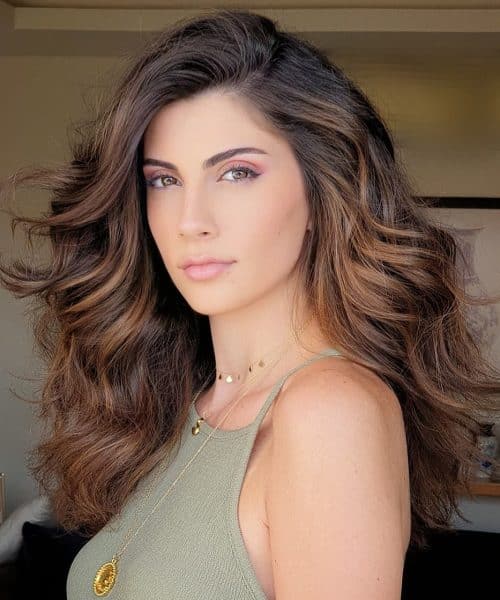 @renzizgheib
This chocolate and chestnut balayage is a great option to add radiance to dark hair. It looks natural and soft. Aside from accentuating the streaks of warm hues, the waves also give tresses more volume. The result is a bomb—no doubt!
5. Warm Blonde Capuccino

@romeufelipe
A warm blonde cappuccino shade plus textured waves result in an aesthetic hairstyle for the autumn season. The dark roots make the tones pop out and create an elegant dimension. This hair color suits stunning women with a golden undertone.
6. Caramel and Mocha

@ca_belos
A combo of caramel and mocha highlights on long, wavy tresses gives a supermodel vibe! These hair colors create a dimensional illusion that enhances the hair's natural texture. What's great about this fall hair trend is that it's low maintenance. The reason behind it? Dark roots.
7. Pumpkin Spice Hues

@hairbymay_k
A fusion of pumpkin spice hues create a glossy November hair color, for sure! The warm tone works wonders on a thick, straight texture. Style the hair with big loose waves to add a dramatic movement and volume. For a shinier finish that lasts a day, mist a shine spray all over the strands.
8. Red and Amber Blend

@_styledbykrissy
That red and amber blend looks reflects fall leaves on wavy tresses! There's the dimension that adds extra texture to a mid-length haircut with choppy ends. Both the shade and added bangs create a modern and younger-looking harvest style!
9. Burnt Orange and Auburn Tones

@_styledbykrissy
Burnt orange and auburn tones make a perfect pair for a fall foliage hair color. They combine so naturally, and the result flatters lighter or cooler skin tone the most. The shade even looks bolder on a short, texture hairstyle.
10. Deep Brunette to Oak Brown Ombre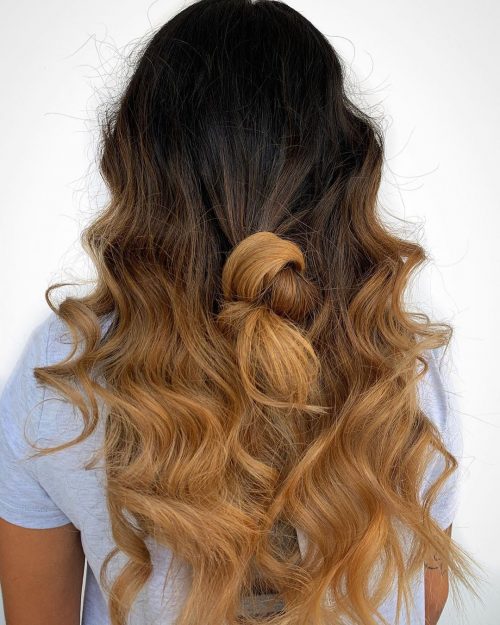 @lilzthrilz_of_beauty
This deep brunette to oak brown ombre is better with long, beachy waves. The tones blend well together, looking effortless and gorgeous. Opt for this shade during the autumn equinox if you have an olive skin tone as this hair color complements such a warm complexion.
Related: See fall hair colors for older women.
Related: See fall hair colors for women over 40.
Related: See more fall hair colors for women over 50.
Related: See more fall hairstyles for women over 60.
Related: See more fall hair colors for women over 70.