19 Best Champagne Blonde Hair Color Ideas for Every Skin Tone
Dimensional Champagne Blonde

@jennaleecorteshair
Dimensional champagne blonde shades are ideal for dense hair. The combo of tones, the depth, and the dimension break up the thickness and keep the hair from looking flat. For an edgier finish, style the locks with soft curls.
Bright Champagne Blonde Color

@elixierph
Bright champagne blonde color is the perfect color for fall. It is a neutral tone that is not too warm nor too ashy. With its rosy undertone, it is a brilliant way to brighten up sun-deprived skin and warm up your overall look.
Platinum Champagne Blonde
@hairbystephaniecrane
Platinum champagne blonde is an even combo of bright, icy, and smooth blondes. Platinum blonde tends to look best on cooler complexions. Platinum blonde requires extra maintenance as the growth line will appear rather quickly.
Champagne Blonde Highlights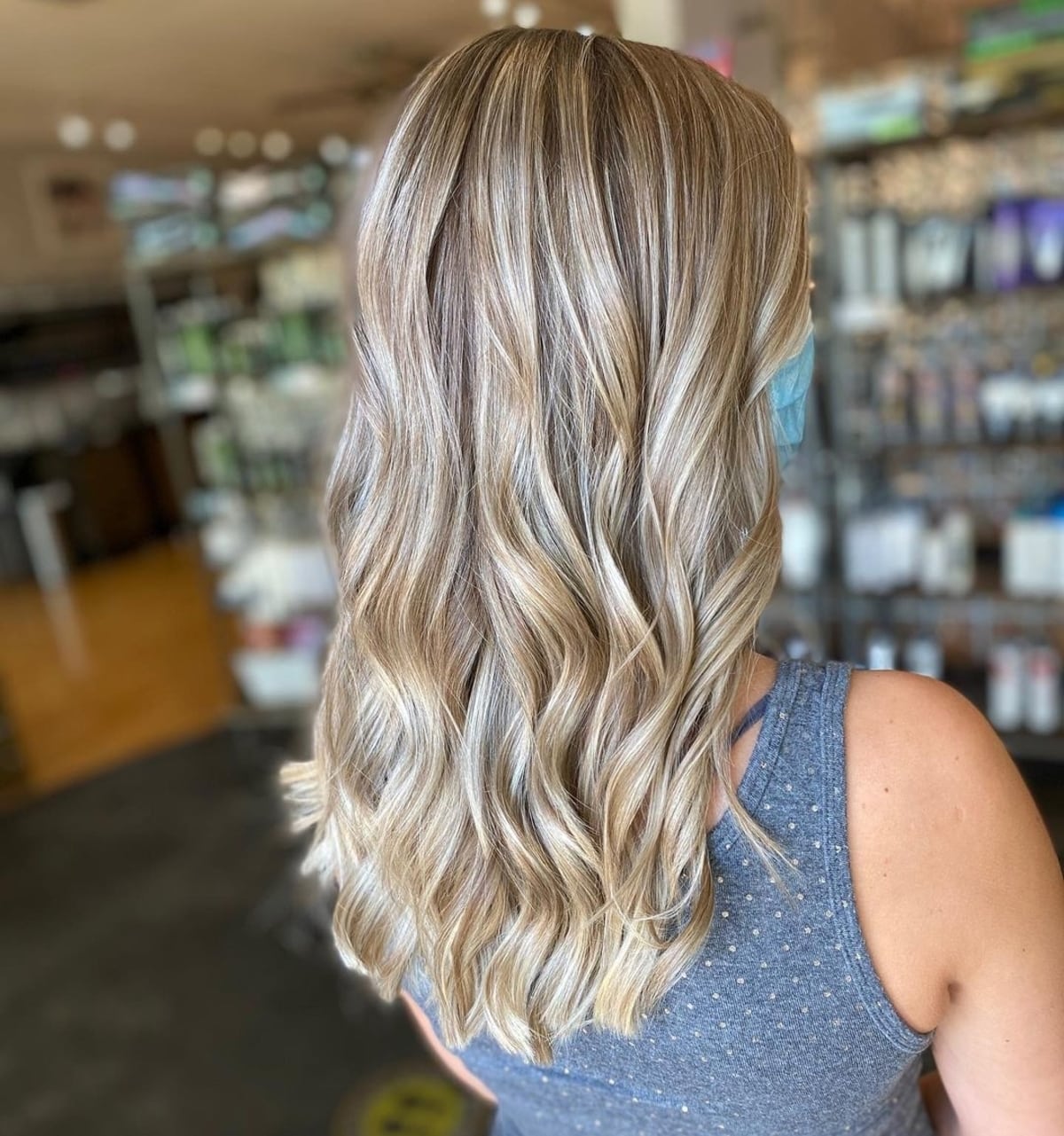 @artbyjoe_
Champagne blonde highlights with a shadow root allow for a natural glow and easy maintenance. Champagne highlights are soft and buttery. If you crave dimension, ask your stylist to add some brighter pieces to add the gorgeous pop you're looking for!
Darker Champagne Blonde
@rebekahstricker
A darker champagne blonde is beautifully blended with a few brighter pieces to create dimension. Champagne blonde is perfect for ladies wanting a subtle, more natural change on their tresses.
Rose Gold Champagne Blonde
@wellanordic
Rose gold champagne blonde is the color for you if you're looking for a new, classy blonde! The warmth in its tone will brighten your tresses, offering a healthy glow. When talking to your stylist about this color, be sure to bring in pictures or request to look at hair color swatches to make sure you and your stylist are on the same page with this hue.
Champagne Blonde with Lowlights

@skultsweden
Ask your stylist for a champagne blonde with lowlights to create a soft, dimensional hair color. It gives the root area a sandy hue, making it low-maintenance. This blonde hair is best for women with straight or wavy hair.
Champagne Blonde on Brown Hair
@chelsalana_beauty
Hints of champagne blonde on brown hair bring out a chic, subtle dimension. The result seems like a natural sun-kissed color. Such a hair color is perfect for women with thick tresses. It's the dimension that helps the hair to look healthier.
Champagne with Shadow Roots

@silasthestylist
Paint a shade of champagne with shadow roots on hair for low-maintenance blonde color. This is how you go light while saving yourself a few salon visits. The shadow roots are also what keeps the radiancy of the champagne blonde hue.
Dark Champagne Blonde

@cyndiegrenier_styliste
A dark champagne blonde has warm and cool tones that offer enough gloss to brighten up brunette hair. Thanks to the dark roots, this beautiful balayage is easy to grow out.
Blush Champagne Blonde

@maryannebech.hair
Try wearing a blush champagne blonde with a long haircut. The pastel pink undertone appears chic on ladies with pale skin tones. This champagne blonde hair dye looks cute with a straight style and glamorous when wavy.
Champagne Blonde on Dark Brown Hair

@un.rooted
Splashes of champagne blonde on dark brown hair are one way to brighten up a brunette's hair. The combination of shades carries out a warm dimension, perfect for ladies with a warm skin tone, too.
Champagne Highlights on Blonde Hair

@beautymarkbylo
Champagne highlights on blonde hair create a subtle dimension. Look at the perfect balance of depth and brightness. It makes the color suitable for most ladies. This blonde hair trend can also make thin, fine hair seem thicker.
Light Champagne Blonde Hair

@crhairdressing
A shade of light champagne blonde gives hair a brighter, cooler tone. It flatters women with a cool complexion and pink undertone. Color like this may fade and turn into a brassy hue. Avoid the brassiness by using purple shampoo.
Pink Champagne Blonde Hair

@hairbyelisajohanna
A pink champagne blonde hair gives off a very girlish vibe. The shade works on straight hair with slight waves. Achieve a romantic look by styling it with a braided half updo.
? See more pink hair color ideas.
Champagne Blonde with Highlights

@morethanhairr
Opting for a champagne blonde with highlights is a chic way to achieve a dimensional color. Wear it with or without waves.
Champagne Blonde Ombre

@channiebrownehair
Match a champagne blonde ombre with long, curly hair to see how the tones combine. This hair color is the best choice for natural brunettes. The strands from the roots to the crown area are darker for an easier grow out. Style the mid-lengths with waves to emphasize the blonde hue.
Champagne Blonde Balayage

@cut_colour_style
Go for a champagne blonde balayage to brighten up your tresses. The hue is vivid, which adds softness to the hair. This idea is a gorgeous way to freshen up an old, grown-out balayage.
Champagne Blond Hair Color

@kristindonkervoort
Champagne blonde hair colors work on both warm and cool skin complexions. To achieve this, lowlights and babylights play an essential role. Ask for shadow roots, so the mid-lengths and ends pop brighter.
Ashy Champagne Blonde

@houseofhintoncf
An ashy champagne blonde adds life to tresses, which also offers a healthier-looking effect. This one in particular was created by colorist Bryley Lougher of Cardiff, UK.
She explains, "This shade of champagne blonde was created using a global lightening service (scalp bleach). The champagne blonde streaks are high-maintenance. The color needs to be done every 4 to 5 weeks with professional homecare treatments and products. Thermal styling needs to be kept to a minimum to ensure the condition of the hair is maintained."
This champagne blonde color is especially suited to fair skin with pink undertones. For more olive skin tone, add a shadow root or opt for babylights.