18 Modern Haircuts for Women Over 70 to Look Younger
Short Pixie Cut for Women Over Seventy
@ anniestirkmodel and @stevieroyphoto
The best haircut for women over 70 is a textured, short pixie cut. A short pixie with texture will help boost volume and is easy to style. It's the perfect go-to hairstyle for women with thin and fine tresses. Wear this kind of pure sassy, white hair, and look impressive with ease.
Layers for Straight Long Hair for Women
@hair_boldly
Sometimes, you really need to shake things up. If you want to pull off a Long and Straight hairstyle, way to go! Flaunting your natural grey hair color will not harm your choice, too. Lowlights and highlights will blend in like magic, and there are no two ways about it.
Edgy Grey Pixie with Long Bangs for Older Women
@chadiashairsalon
Treat your hair with a shade that can make you stand out. Rock a bright grey pixie with long bangs in which styling will be the least of your concern. Just run your fingers through your strands until you create a textured finish, and you're all done.
Textured Short Bob for Over 70
@tz_cutnitup
It's impossible to outshine a stunning textured short bob for older ladies with grey-colored tresses. The movement and body that this razor cut offers are enough justifications to love it. Include some side bangs to finish it off with flair.
Short and Choppy Gray Hair
@chopchopbangbang_official
Here's a trendy older women's short haircut and choppy cut for gray hair. Request for choppy bangs as well and sweep them to a side to balance things out if you have a longer face.
Short Angled Bob with Bangs
A modern angled bob with bangs is a popular hairstyle for over 70. This short white bob works best for women with straight and medium density hair.
Feathered Pixie for Older Women
@studiocapellisalon
Here's a feathered blonde pixie cut to ginger up the thin, straight hair of yours. The fusion of root smudge and texture plus the side-swept bangs create an illusion of a fuller look. Include an undercut because that's way cooler than the usual short cut for 70 and up.
Short Bob with Bangs for Women with Glasses
@blacksheepsalonaz
A face-framing short bob with bangs is an ideal haircut for older women over 70 with glasses. Depending upon your face shape, adding bangs with glasses can bring more focus to your eyes and less focus to unflattering parts, such as double chins, wrinkles, long foreheads, etc.
Chin-Length A-Line Bob for Women in Their 70's
@beautybyjuliek
What a perfect way to show off the dimension on your blonde locks! This inverted, chin-length bob needs only texture to carry out the depth and emphasis in this hairstyle for older women. A little side-swept fringe is guaranteed to let your youthful vibes out, as well!
Short Layered Bob for Older Ladies
@karmahairsalonalliston
One of the more popular short hairstyles for women over 70 is a short layered bob. This hairstyle is a fun and sassy cut that is low maintenance with a lot of styling options. You could add bangs, a few shorter layers, or leave the front a little longer, and it will still have that great shape to it.
If you're considering this jaw-length cut bob, the most important part is that you know how to round brush to get the full textured look.
Hairstyles for 70-year-old women need products! So when it comes to products, use a root boost, spray wax, texture powder, and, as always, thermal spray.
Short Modern Shag for Women
@hairbyannaobx
This is a modern and shaggier short haircut that is achieved through a mix of razoring and point cutting technique, according to Kitty Hawk, NV hairstylist Anna Marroquin.
When it comes to products, Anna advises to give it body and texture by using a styling mousse. "I prefer the Kendra platinum line series or Big Sexy Hair for volume. I also finish with a Frenzy styling paste by Sexy Hair to create a piecey messy finish and to create even more texture and hold," she adds.
"This style is for older ladies over seventy who loves to play with their hair and give it a messier finished look instead of a placed finish," says Anna. "It's for someone who is on the go and wants to have a trendy, modern, younger-looking style."
Layered Long Pixie for Ladies
@oldushkamodels
If you're looking for 70-year-old women hairstyles, try a sleek and polished long pixie that's ageless.
This older age cut is easy to style. A quick, rough blow-dry and minimal round brushing (depending on how much volume you are looking for) should be just enough to get the sassy look it deserves. Less styling is more for that on-trend, timeless look!
Woman with Spiky Pixie Cut
@salon_gaby_82110
This 70+ short cut for women with fine hair is short, spiky, and sassy. This short style for 70 or over is still feminine because of details like angled sideburns.
Short Stacked Bob on Natural Gray Hair for Over 70
@aprilbbeauty
This over 70 hairstyle with glasses is a short stacked bob, and it's edgy. The shape has been exaggerated for visual appeal. By taking the fringe shorter and blunter, it opens up the face and creates more of an impact.
Hairstyles for 70 year old women with glasses like this is a versatile cut. It allows you to either wash and go, or spend some time with your blowdryer to add volume and smoothness.
Short Wedge Cut for Older Women
@oldushkamodels
Choose a short wedge cut if you still have fuller hair, but don't want it too long or too short. With the right products, you can have plenty of volume and movement.
For products, use a blow drying mousse for volume and then fine tune the desired look with a dry texture spray.
Short Cut for Women Over 70 with Fine Hair
@hincapiehair
This short cut is gritty and for old ladies who are always in step with fashion and new trends.
For products, a wax or lacquer manages to create multiple looks – from the most rock and disheveled to the most elegant and refined.
With 70-year-old women haircuts, always be accompanied by a beautiful color. As in this case, where you can add highlights to enhance your natural gray and look like it's always well cared for in detail!
Graduated Lob for Women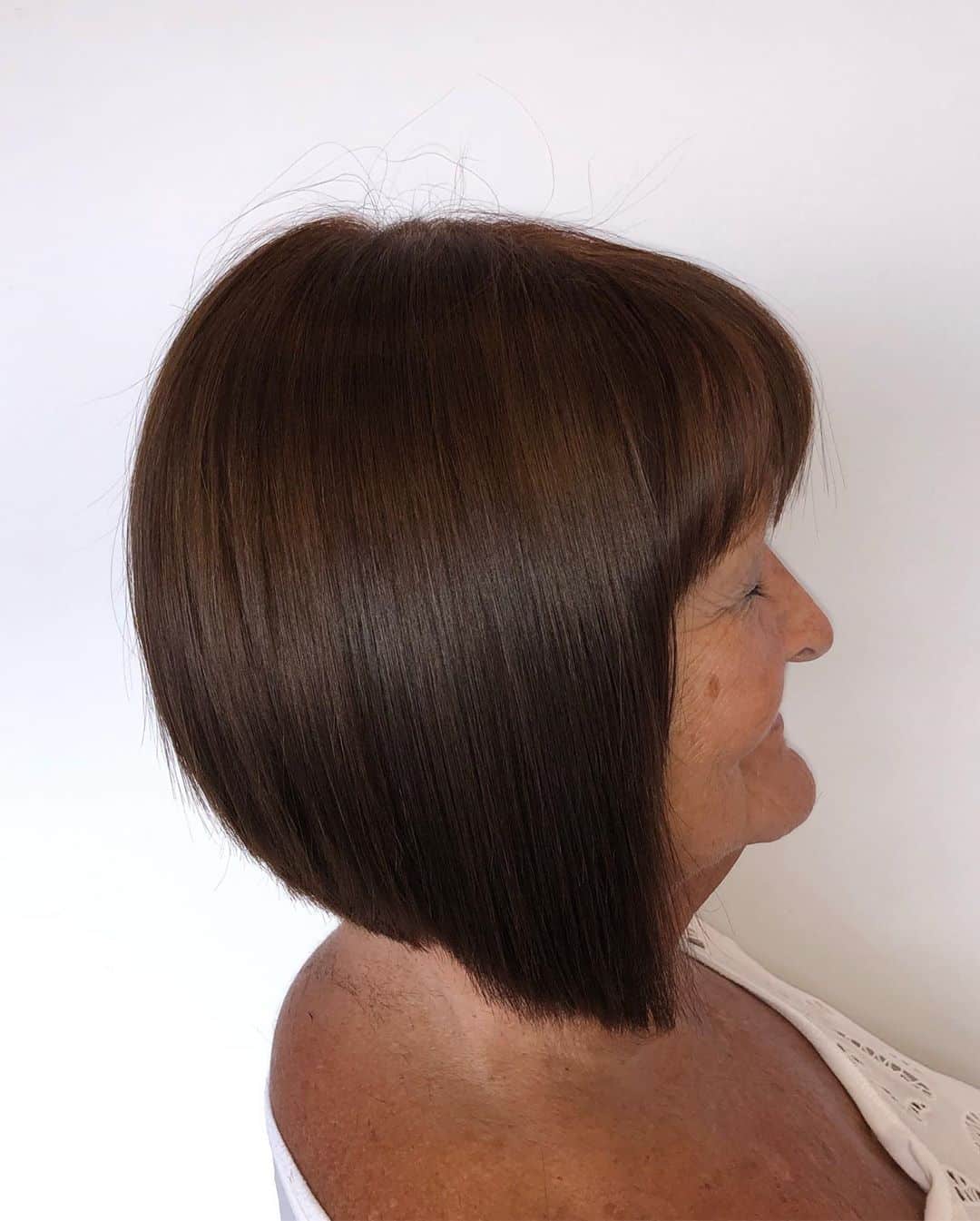 @ssbcosmetology
Sleek and shiny—two words to describe this hairstyle the best! Flaunt a medium-length cut on dark brown hair, and get that ageless beauty. Don't forget the bangs for a youthful final touch.
Wavy Bob for Older Women with Thin Hair
@alivefitandfree
Beauty is ageless, and even if your tresses get finer and finer, you have to wear them with class! Don't fret flaunting a short chop, pairing full highlights on a sandy blonde shade. Feel young as you wear the perfect wavy bob haircut for thin hair.