These 20 Black Ombre Hair Colors are Tending in 2023
Black to Blonde Ombre

@maddhairdesigns
Black ombre hair ideas with coffee-dipped ends are coming your way! Wear this revitalizing black and blonde ombre hue, which is suitable for any occasion!
Ash Blonde Ombre with Black Roots

@hair.byale
Ash blonde ombre with black roots is great for women who have naturally dark hair and want pops of bright blonde. To get this look, ask your colorist for a dimensional balayage with thick ribbons of highlights.
Black to Violet Ombre for Long Hair

@roguehairstudio
Go back to black and purple shades as you rock out super long hair with this color combination! Dark hair ombre like this can be styled sleek or wavy.
Black to Maroon Hair Color

@hairbynikkiwilmoth
Bloody black is back! Interspersed red and black ombre locks look phenomenal on most women with any hair type.
Melted Black to Lavender Ombre

@bb.hair
Lovely lavender ombre works with any previous hair color. With your natural black roots, growing your hair out won't be a problem at all.
Black to Rose Gold Ombre

@demirae_theyoungamerican
Wavy hair that hangs by the shoulder will add character and shape to your dark to red ombre. Rose gold has been a popular addition for black ombre, spicing up natural hair color.
Pastel Pink and Black Ombre Hair

@natalie_ellens
Add this to your top list of to-do hairstyles as colorist Natalie shows you how pastel pink and black ombre hair color is done!
White Blonde Ombre for Black Hair

@aaashleee
Cruella de Ville is in town! Show off that gorgeous monochromatic fade without the villainous aura of this black to white ombre tresses.
The dark roots are what will save you a few salon visits, and will give you the best of both black and blonde hair.
Black to Purple Ombre

@stylist.maddy
Breathtaking black and purple ombre ending in waves never goes out of style. This ombre hairstyle shows enigmatic elegance in a modern variation!
Black to Blue Ombre

@miguel6944
Change your look with a new ombre hair color! This blue-dipped ombre end is a color transition from jet black roots that you don't want to miss.
Gray Ombre for Dark Hair

@hairbyaubreybv
This black and gray ombre is a beauty trend that will last ages! Jet black hair has a cool companion in this ash silvery gray hair.
Green and Black Ombre

@mishane_walles
An unlikely pair of black and green hues that birth a magnificent child of deep ivy locks. Colorist Mishane Capasso of Northcote, VIC outdid herself with this ombre style!
"This mid-length ombre is called dark forest," says Capasso. "I used a combination of 5 different direct colors by Pravana to create this."
She continues, "anyone considering this color would be recommended to have their color retouched on a 5-6 week basis. A personalized color shampoo/conditioner would also be recommended (Pureblends). Also, Olaplex is a must when doing colors like this."
Light Brown to Black Reverse Ombre

@hairbyjessicawoodason
This reverse light brown to black ombre hair color was created by hairstylist Jessica Woodason of Terre Haute, IN.
"I started by giving her babylights through the top to create more contrast and blended down to a level 2N on her ends," she explains.
This shade of black ombre is great for a woman who wants something different from the norm and doesn't want to damage their hair with a lot of bleach. You will want to use a sulfate-free color shampoo and conditioner to keep your color fresh! Woodason recommends a silkening mist or serum, depending on your hair texture, to keep it shiny.
Black to Brown Ombre

@beckped
"I love this ombre look for my darker natural-colored clients with straight hair. It's actually one of my favorite tones to work with," says stylist and colorist Becky Pedersen of South Jordan, UT.
Pedersen wants you to keep in mind that it's a very warm tone. "Make sure that tone fits your skin. I love this black to brown ombre it's very low-maintenance with the root shadow/ombre effect," she adds. "I always recommend a hydrating shampoo/conditioner with any of my Ombre clients to help keep the shine after lightening the hair."
Black to Red Ombre with Highlights

@cheveuxx.x
This black ombre has a red hint in the color with a smooth highlighted fade. It was created by hairstylist Mariam Musaka of Winnipeg, MB.
For women with damaged dark hair, Musaka wouldn't recommend this color because it will have to be lightened to a level 8-10 for the color to be vibrant. "So I wouldn't recommend bleaching/lighting that hair instead do some treatments prior," she explains.
This black to red ombre color would look neat curly or wavy than straight, so most women can pull it off with a bit of layering to show dimensions.
Black and Dark Brown Ombre

@hairdesignbyjessicalynn
"In this look, the color blends from a deep and dark brunette root into a natural ash brunette balayage ombre. I love the subtle dimension in this color and the amount of cool and beige tones that are in it," explains stylist Jessica Rogers of Dawsonville, GA.
Rogers says this dark brown ombre hair color is low-maintenance. "It's great for those dark-haired ladies that do not want to be in the salon every 6-8 weeks. With balayage, you can get away with going 3-6 months without needing it touched up, especially with this color because it is so subtle."
She adds, "I always recommend a color-safe and a sulfate-free shampoo. I love the Amika haircare line because each of their shampoo and conditioners is sulfate and gluten-free. Plus, they smell amazing!"
Teal and Black Ombre Style

@kelsiefae
This black to teal ombre was created by stylist Kelsie Wearmouth of Ames, IA.
Her favorite thing about it is the contrast between the colors, making the teal really pop! "This color looks great curled or straight," she adds.
It's a lot easier than it used to be to upkeep vibrant colors because major hair color companies have started selling permanent fashion colors. For the model in the picture, Wearmouth used permanent mermaid teal by Matrix Socult – it's permanent color so it will last much longer!
Black to Silver Ombre

@thiskittnkills
"I love the high contrast of these black to blonde ombre locks! My client has naturally dark, level 3 hair. This platinum/silver balayage offers lighter ends that really pop against her natural root," explains salon owner and stylist Kristen Kimball of Redwood City, CA.
"Because of her natural color being quite dark, I warn clients with similar hair that it may take a few rounds to achieve this overall black and platinum hair ombre," she adds. "Keeping the health of the hair should be a priority!"
Kimball notes, "what you see here is her decision to quit every 6 weeks root touch-up for a lower-maintenance blended, rooty look. You can expect to come in for a toner & conditioning treatment about every 8 weeks and a highlight about every 12 weeks for this ombre color."
Black and Burgundy Ombre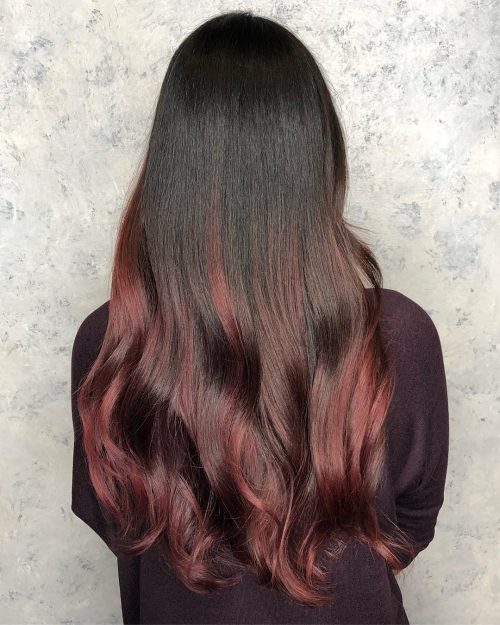 @tmhairdesign
This dark ombre hair is a deep and sultry burgundy ombre balayage! It was created by hairstylist Taylor Mostat of Sherwood Park, AB. "I absolutely love the depth of the color, as it takes on different tones in different lighting," she notes.
If you're considering burgundy ombre for black hair, Mostat says, "as beautiful as the burgundy is, it's a fashion color so it will fade faster than your average color. So upkeep with visiting your stylist to re-tone the burgundy ends every once in a while is essential to keeping the vibrancy!"
She continues, "unless you have natural level 1 or 2 black hair you will have to get root touch-ups every once in a while to keep the look tied together and keeping the black ombre hair dye seamless!"
Black and Dark Blue Ombre

@cassandra_foehr
Since midnight blue is the hottest color of the season, why not try this blue-tipped black ombre? With shiny indigo tones peeking out of your normal black hair, you'll definitely be serving looks with this trend!