24 Best Ways to Get a Sandy Blonde Hair Color for Natural Depth
Sandy Blonde Balayage on Dark Hair

@freshprinceofbayhair
A sandy blonde balayage on dark hair creates a dreamy and velvety look. This balayage and sandy blonde ombre also features a shadow root that allows your natural tresses to grow out effortlessly. If you want a wet finish to style your long mane, add loose and thin waves.
Sandy Blonde Lowlights

@bixiecolour
Sandy blonde lowlights give the perfect amount of dimension, making this blonde look more natural. This color would be great for women who feel too blonde or washed out from their blonde.
Light Sandy Blonde Hair

@styledby.madeline
Light sandy blonde hair is always in style! Adding beachy waves to long blonde hair shows off the dimension and makes the lightest blonde pieces pop. You'll need a purple shampoo to keep the blonde super bright while combating brass. Try accessorizing your tresses with upswept or braided hair to accentuate the highlights.
Sandy Blonde Hair with Sun-Kissed Highlights

@beespokedhair
A sandy blonde hair with sun-kissed highlights is one of the newest trends women ask their stylists for. It has a mix of ashy and warm tones that makes this shade suitable for women with varying complexions. Add loose waves for an effortless beach look.
Sandy Strawberry Blonde for Black Women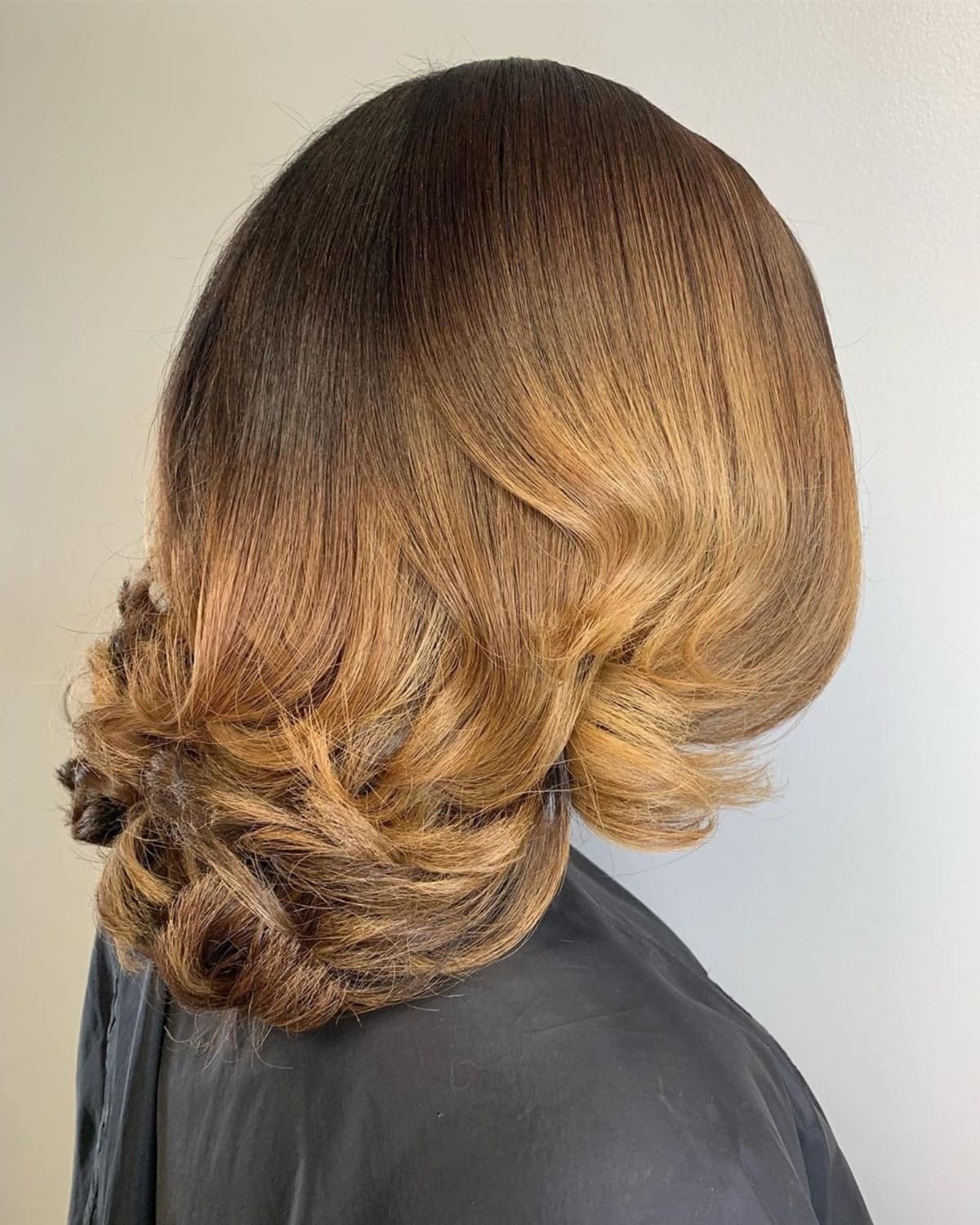 @jeynastylez
A sandy strawberry blonde hair color is a darker version of a shoulder-grazing, blonde hair color for black women! Thick tresses with voluminous curls where the hair ends complete the whole dark sandy blonde hairstyle.
Short Sandy Bright Blonde Hair

@paolam.beauty
A short sandy bright blonde hair color offers an effortless grow-out process for your wavy locks. Ask your colorist for a fusion of foilayage and dark roots. The ashy tone provides warmth to this style, complementing a fair skin tone.
Sandy White Blonde Highlights on Brown Hair

@slayed_by_steff
Sandy white-blonde highlights on brown hair feature a root touch-up done by balayage and toner. These sandy blonde highlights will ginger up your lengthy and wavy locks, giving them dimension.
Dark Sandy Blonde Hair

@jlo_hair_
To enhance your natural beauty, try wearing a dark sandy blonde hair color. Soft waves and highlights work together well, giving your long mane the dimension it needs.
Sandy Silver Blonde

@hairby3rin
Amp up your boring hair with a sandy silver blonde shade for a modernistic edge. If you have thin tresses, waves will make it look fuller than usual.
Sandy Auburn Blonde Hair Color

@grace_hairbeauty
A sandy auburn blonde gives a flattering color combination of copper and gold. This has a warm sandy blonde hue and is packed with chunky highlights for a more defined effect. Finishing it off with beach waves will bring out more dimension.
Sandy Icy Blonde Hair

@newlooksbyleslie
Stand out from the crowd with this dark-rooted sandy icy blonde hair. Its cool sandy blonde tone is sure to freshen up your cut. Style your collarbone-length mane with beach waves to show off the subtle layers.
Sandy Ash Blonde Balayage

@nikki.arthairco
Your long hairstyle deserves nothing but a superb sandy blonde shade to boost its elegance! Here's a sandy ash blonde balayage that fits the bill. It has a smokey-looking finish that's trending while keeping your natural brown base color. Add texture to your wavy tresses for extra movement.
Creamy Sandy Blonde Highlights

@auds.thairapy
It takes a full head of soft highlights to achieve this creamy sandy blonde balayage. The ashy, sandy blonde hues balance out the entire color. The result is astonishing, especially if you add waves to your mid-length tresses.
Sandy Buttery Blonde

@anna.arms.hair
A buttery sandy blonde shade has richness and dimension.
Sandy Copper Blonde

@noogiethai
This sandy copper blonde will satisfy your need for a new hair transformation. You'll look like a natural red-head with this color on straight, long locks.
Sandy Dirty Blonde

@hairbyjoreycakes
Beach waves on your collarbone-grazing hair will accentuate the dimension in this balayage. This gorgeous sandy dirty blonde features a shadow root with a money piece and brighter ends.
Sandy Brown to Cool Blonde Ombre

@macyatsalonoriana
A foilayage blend of sandy blonde hair colors is guaranteed to turn out smooth! Take it from this gorgeous sandy brown to cool blonde ombre hair. Its gentle finish will come out nicely on your long, wavy locks.
Sandy Golden Blonde Highlights on Dark Brown Hair

@executive_hair_
Sandy golden blonde highlights on dark brown hair results in a very chic finish. Its warm tint looks refreshing on long, thin locks.
Sandy Beige Blonde

@_hairbyjojoo
Choose a sandy beige blonde to brighten up your face and flatter your fair skin. Aside from creating a flow, beach waves show how the shadow root and a relaxed tone blend well. The layered mid-length haircut, meanwhile, seals the whole style together.
Warm Sandy Blonde

@hairbykrystalynn
Warm sandy blonde shades let your long, wavy tresses show off a brighter tone and shadow root. Just look at the picture above! The payoff is breathtaking!
Sandy Platinum Blonde

@stacygardner_hair
A sandy platinum blonde hue allows you to have a hairstyle with dimension.
Light Sandy Blonde

@looksbyleash
Go for a light sandy blonde color for a bright and rooted outcome! The shadow root in this mid-length chop is what makes this blonde balayage come together.
Naturally Rich Sandy Blonde

@jamie_bloombeautyco
This naturally rich sandy blonde features a smudge root, making it low-maintenance. Babylights create a soft, glossy effect to jazz up your long and wavy tresses.
"This natural sandy blonde tone is best described as a lived-in natural blonde," says salon owner and stylist Jamie Stubbs of Arizona.
This hair coloring idea is ideal for women who want to go longer between appointments without compromising the beauty of their color. The natural shadow root gives this look a seamless grow-out. Stubbs says many women go anywhere from 12-24 weeks between appointments.
Sandy Honey Blonde Balayage

@saxonhairatx
Use balayage to jazz up your long hair, just like the model in the image above. Despite not getting the lightest one, a sandy honey blonde will make your hair glow. Pops of warmer and radiant sandy blonde tones add subtle dimension and flair, for sure.
"This is a dimensional beach blonde," says hairstylist Rachel Saxon of Austin, TX. She notes, "It was achieved after 2-3 sessions of hand-painted balayage. I love how many shades of sandy blonde you can achieve by slowly building up the lightness over time."
Saxon's biggest tip is to work slowly over time. She explains, "This is not a look that is achieved in one session. We can all be impatient, but splitting up the chemical process over several appointments allows your hair to be as healthy and as strong as possible while still achieving an ideal blonde."
It's also so important that you're using good salon-grade products to nourish your hair in the meantime. Saxon recommends the entire Kevin Murphy repair.me line to strengthen and moisturize in-between appointments.