26 Edgy Pixie Cuts for Women of All Ages and Hair Textures
Tapered Pixie Cut for Women Over 30

@shmoakin_hair
A tapered pixie cut for women over 30 gives a youthful, edgy appearance while maintaining a mature, sophisticated look. Pixies for 30-year-olds consists of sleek, shaved sides paired with an almost faux-hawk top and a platinum blonde hair color.
Edgy Pixie Cut with Bangs

@zinoveva_elena
An edgy pixie cut with bangs is a beautiful hairstyle that suits women with oval face shapes and medium to thick hair density. The fringe can be slightly asymmetrical and textured to blend in with the layered top.
The sides are cut quite short to the low recession line and disconnected to the top, which lays over giving the edgy short hairstyle a beautiful shape. Spray some Paul Mitchell wax to create a pliable texture without weighing the layers down.
Layered Pixie Haircut

@feketetom258
A layered pixie haircut offers several styling options. If you have fine hair and want the added volume, ask your hairstylist for smooth, evenly blended layers. A shaved undercut is a beautiful way to make your cut a little bolder.
Undercut Pixie Hairstyle

@haircrushh
An undercut pixie hairstyle has tons of movement and tons of styling options. Keep in mind, a pixie with shaved sides will require frequent visits to the hair salon, usually every 3-4 weeks to trim up the undercut and keep an edgy pixie style.
Shaggy Pixie Cut for Edgy Women

@bryces_beauty
A shaggy pixie cut for edgy women accentuates the facial features and creates lots of movement. Sharp angles and piecey layers are edgy combinations. A texturizing cream is the ideal styling product to help piece out fringe and spike up the hair throughout, creating a messy, shaggy look.
Textured Pixie Cut for Older Women with Glasses

@amyurbanchic
A textured pixie cut for older women with glasses is a good haircut choice to ensure the hair and spectacles don't get tangled up. When wearing glasses, keep in mind where the hair is hitting, especially around the ears and the fringe area. Styling the hair away from the face and spiked up are perfect examples of styling hair with glasses.
Related: See more edgy hairstyles for older women.
Salt-and-Pepper Pixie Hairstyle for Women Over 60

@sobella_the_salon
Choose a salt-and-pepper pixie hairstyle for women over 60 to bring focus to the eyes. This cut is short around the sides and back, leaving the silver hair longer to frame the cheekbones and eyes. Do a soft point cutting to avoid any heaviness. Consider pixies for 60-year-olds at your next salon appointment!
Related: See more edgy hairstyles for women over 60.
Feminine Short Pixie

@galina_totorina
Feminine short pixies have seamlessly blended layers, side-swept bangs, and the perfect combo of volume and definition. Edgy pixies are fun, unique, and versatile. Ask your hairstylist what shape suits you best.
Chic Lixie for Women Over 40

@dudkazhenya
A chic lixie for women over 40 is longer on one side with few, seamlessly blended layers. Pixies for 40-year-olds are very common, but each one is unique. For ladies with a round or heart-shaped face, having your face-framing fringe end right below your cheekbone is the perfect style to wear.
Low-Maintenance Pixie for Edgy Women

@brianaguilarhair
To achieve a low-maintenance pixie for edgy women, ask your hairstylist for very short, choppy sides, and long face-framing fringe. To avoid the blunt fringe look in your edgy pixie style, you may need extra texture or thinning at the ends. For fine hair, texturizing is an absolute must.
Edgy Pixie Cut for Women with Oval Faces

@tinietashaa
Edgy pixie cuts for women with oval faces have endless possibilities when styling. Women with oval face shapes can pull off the most hairstyles. If you feel extra bold, want a simple yet very stylish cut, then short shaved sides with choppy layers and wispy bangs are the way to go.
Edgy Pixie for Thin Hair

@mariadiasg
Edgy pixies for thin hair consist of several layers and added texture. Fine hair needs extra grit to achieve a fuller look. Edgy pixie cuts are stunning and suitable for all face shapes.
Asymmetrical Pixie Cut for Older Women

@peluqueriakris
An asymmetrical pixie cut for older women has several choppy layers, which helps create the illusion of fuller straight hair while requiring easy maintenance. Edgy old ladies are always fun and constantly seek subtle ways to keep their youth. An edgy pixie is a perfect way to achieve this.
Long Pixie for Curly Hair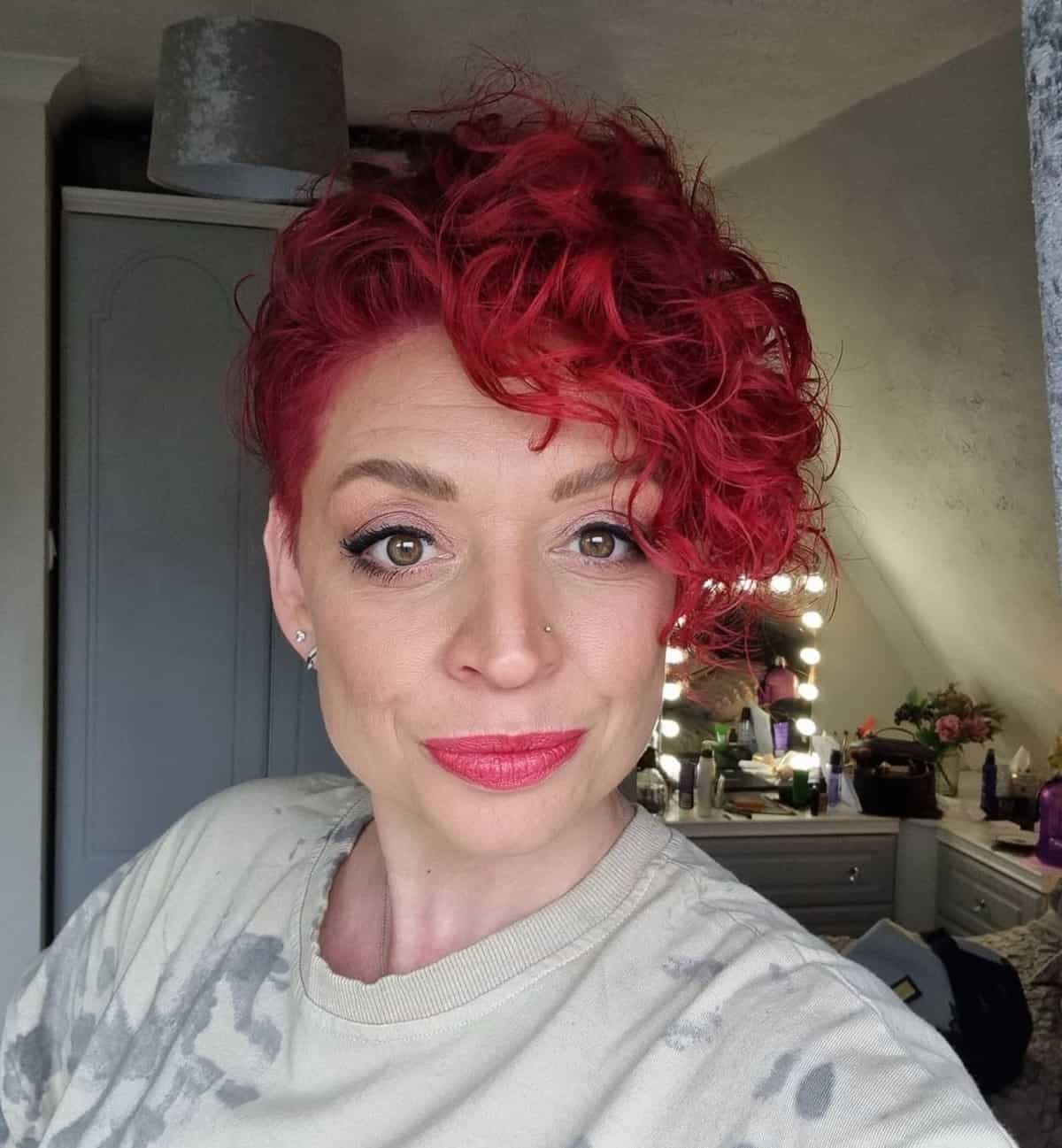 @this_is_carrie_
A long pixie for curly hair has shorter sides with one side longer to allow your beautiful curls to waterfall down. An edgy pixie cut can be modified in many different ways. If you feel extra bold, ask for a design to be incorporated into your undercut.
Edgy Pixie for African-American Women

@lyricrochester
An edgy pixie for African-American women is a variant of a crop generally longer on the top with a shorter back and sides. Edgy pixie hairstyles can be worn straight or curly. For a bold touch, ask your stylist to add a pop of purple color to your dark hair that suits your skin complexion.
Androgynous Pixie

@davidwbullen
Androgynous pixies look beautiful for rocker women as they are very versatile. It features shorter sides evenly cut into beautiful, choppy layers, while the hair gradually gets longer towards your fringe. This style requires easy maintenance and looks good on oval or heart-shaped faces. If you have fine hair, ask your hairstylist for added texture with this cut.
Blonde Pixie Cut for Fine Hair

@larahoneey
A blonde pixie cut for fine hair can be super short or long with added choppy layers. For a super short, edgy pixie hairstyle, ask your hairstylist for shorter sides and a longer top with a slightly longer fringe.
Messy Long Pixie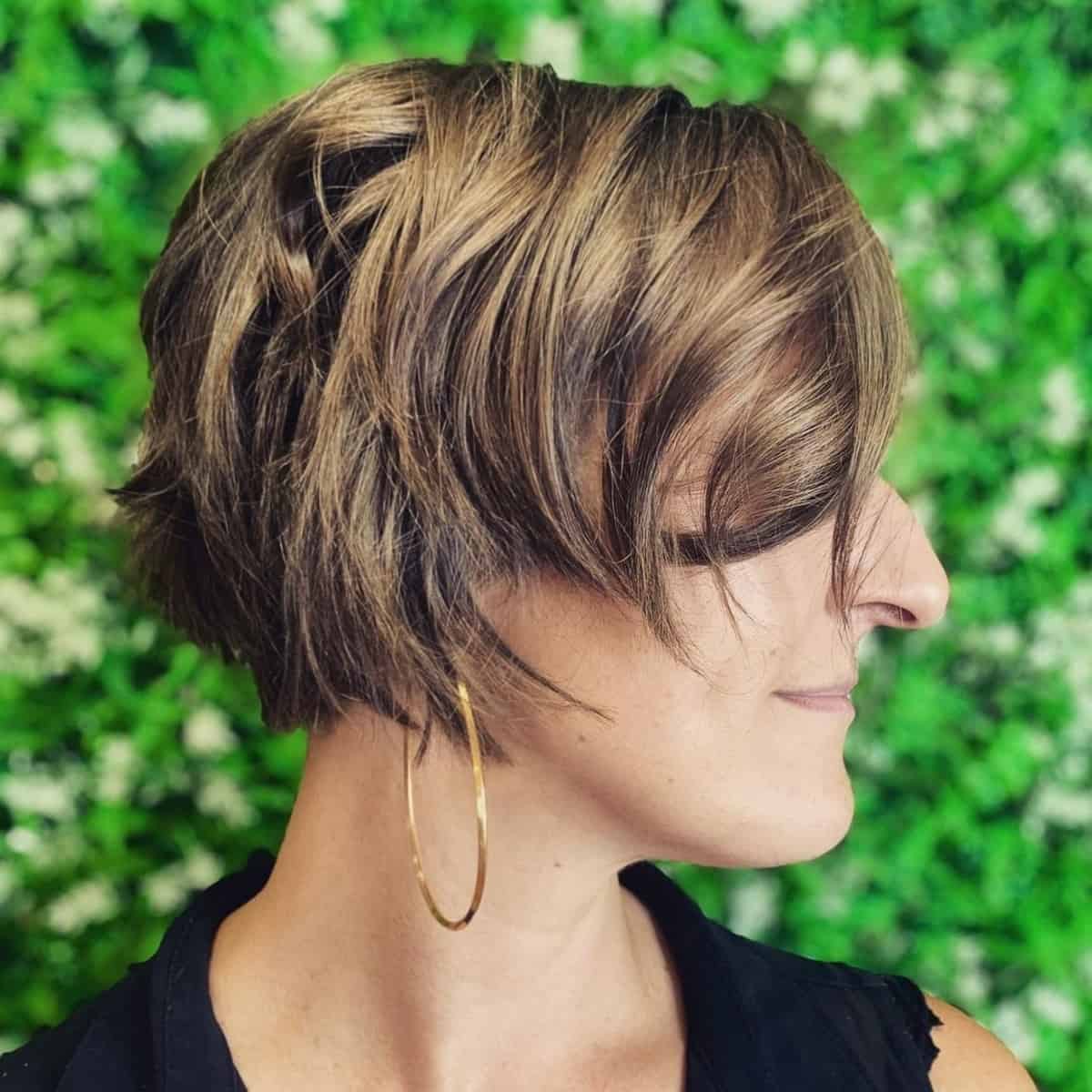 @em.eastman.1175
A messy long pixie is a beautiful cut to look messy yet clean at the same time. This cut offers easy maintenance while allowing you to have a bit of style on your tresses. Edgy pixie haircuts have several options and usually look best on oval-shaped faces.
Short Edgy Pixie Haircut

@shmoakin_hair
A short edgy pixie haircut looks best with choppy layers. Adding choppy layers allows for a fuller look when styled. To achieve the edgiest style possible, ask your hairstylist to add a pop of color, whether it's at the roots or tips of your hair.
Spiky Pixie Cut

@angelicagrechkina
Spiky pixie cuts are edgy pixies on a whole other level. Pixies that are edgy are fun and have endless possibilities for styling. For a unique finish, ask your hairstylist to cut the hair at the nape of your neck at a slight angle on the same side of the longer front fringe.
Choppy Pixie for Thick Hair

@kortri
A choppy pixie cut for thick hair should have several layers to achieve some thinning on the hair. Ladies, this modern cut consists of a shorter shaved back that flows into longer, choppier layers, long fringe, and beautifully tapered sideburns.
Edgy Pixie Bob

@dudkazhenya
An edgy pixie bob looks stunning on ladies with an oval face shape. It consists of smooth, evenly cut layers that taper into one side that's longer than the other. A pixie that's edgy can be styled in many different ways. It's suitable for all hair textures and is overall beautiful.
Edgy Pixie for Women with Round Faces

@nikitenko_elen_
Edgy pixies for women with round faces should add more height than volume, which usually adds width in return. Ask your hairstylist for shorter sides with more height at the top and several layers. The kind of layers depends on the style you want. A beautiful look consists of slightly longer bangs that are side-swept.
Short Pixie for Edgy Women Over 70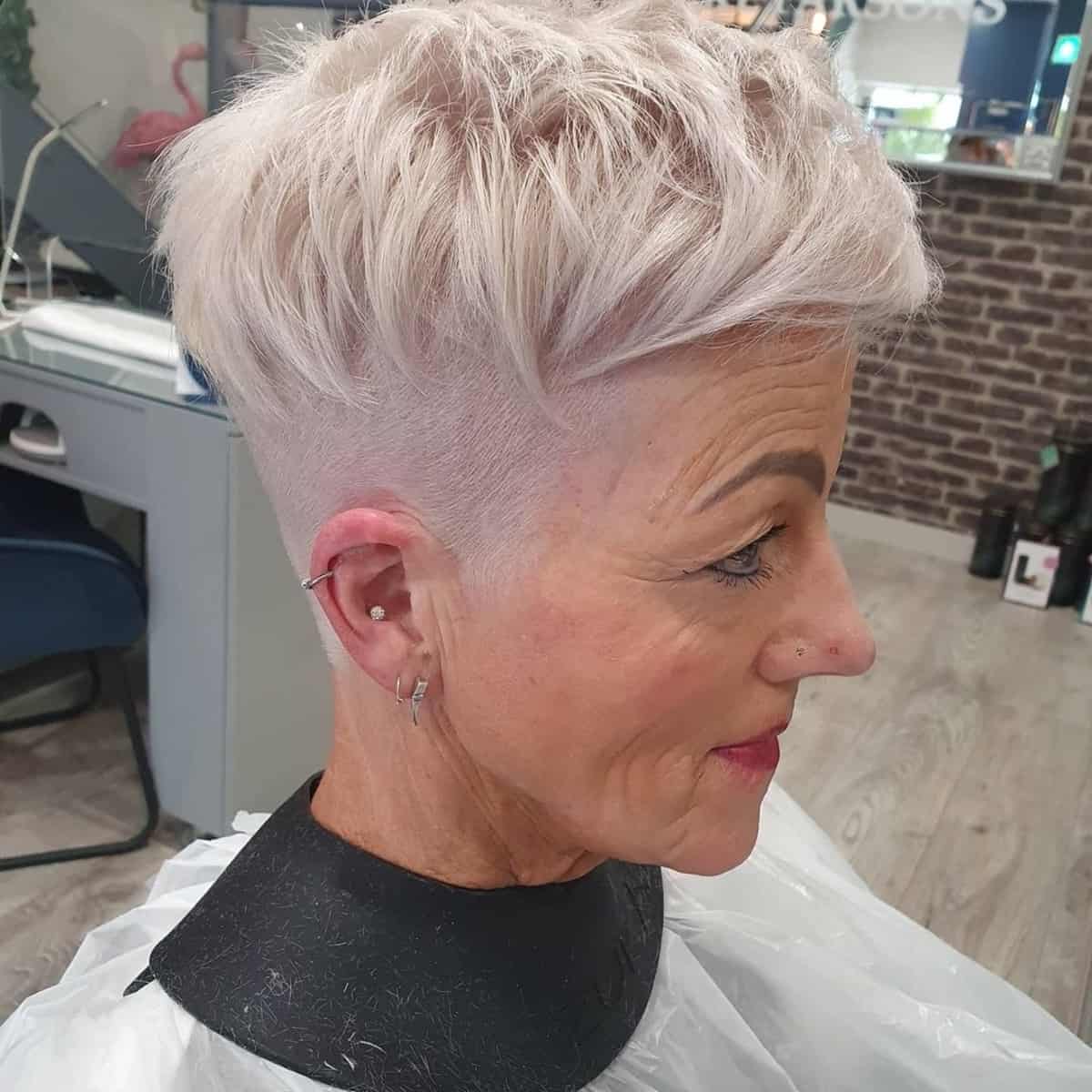 @lukeparsonshairsalon
A short pixie cut for edgy women over 70 consists of shaved sides with beautiful, chunky layers adding body, fullness, and height to the hair. For ladies with thin hair, it's a style to go for as it creates the illusion of fuller-looking hair. Pixies for 70-year-olds are stunning and require easy maintenance, and make you appear 10 years younger.
Gray Pixie Cut for Women Over 50

@palacebarbersafflecks
A gray pixie cut for women over 50 should be bold, youthful, and easy maintenance. Pixies for 50-year-olds with grey hair are very common as revisions are possible to suit and flatter their facial attributes. This cut also makes it possible for women over 50 to style this cut easily.
Edgy Pixie Cut with an Undercut

@euarianeramalho
Edgy pixie cuts with an undercut have cleanly buzzed sides with chunky layers, having one side longer than the other. To make a pixie haircut edgier, ask your hairstylist to shave a design into your undercut. It instantly makes your cut fun and edgy!