21 Classic Taper Haircut Ideas Trending in 2023
Taper Squared Neckline Haircut
@gema_moren
This taper squared neckline haircut is ideal for gentlemen. The faded sides can be achieved using a hair clipper, razor, or shears. Blocked or squared necklines make thin necks look thicker and wider. Visit your barber regularly for a trim, as the hair can grow out faster than the usual faded necklines.
Quiff Taper Fade Haircut
@misterkekebarbershop
A quiff taper fade haircut is for dapper men who enjoy styling their hair every day. A quiff classic taper with fade like this is perfect, as you'll never run out of ideas to style it. Textured, messy, straight, or curly – just make sure you've got the best gel or pomade with you and you'll be good to go.
Medium-Length Hair with Tapered Sides
@barbermacp
This medium-length taper haircut offers you so much versatility and attention. With the contrast the taper fade gives you, you can style your hair any way you want. Choose from a simple pompadour to a man bun, and it will always be legendary.
Fresh Mid Taper Haircut
@l0udabarber
This fresh mid-taper haircut with short tapered sides is a low-maintenance haircut. It features a neat that compliments thick hair and a beard. Overall, a taper haircut can give you an outstanding sharp style.
Wavy Top with Low Taper Haircut
@ckbarber
This wavy crop with classic taper is a must-try! Taper hairstyles are never out of style because it's easy to do and easy to maintain with any type and hair length. With a low taper haircut, leave the length on top so you have many options for styling.
Slicked Back Tapered Haircut
@michaelmartinthebarber
This slicked back tapered haircut has tight, clean tapered sides and neckline. Slick your hair back and add a longer top for a sharp tapered cut. This haircut should be trimmed every month to keep it looking polished. For a more masculine style, grow out some facial hair like this guy in the photo.
Wavy Brush Up Taper
@patty_cuts
Layered wavy tapered hair is a stylish haircut that works on all face shapes. The style is a brush up with taper side, which offers versatility and is great for wavy, or curly hair that has fine to medium density.
High Taper Haircut
@landrokutz
You'll get no rough edges and messy sides with a sharp and clean high taper haircut like this. There's also a ton of variation when it comes to styling the hair with this type of taper fade.
Tapered Ivy League with Side Part
@barbergreg
Side part tapered hair that's professional is for any formal or business event. The striking side part will do all the work. Use your favorite pomade or gel for a lasting hold on this bold Ivy League hairstyle.
Modern Taper Crop Hairstyle
@magali_thebarber
A modern taper hairstyle is super stylish and legendary. This very clean icy hair with tapered sides will look great on any textured haircuts. This taper hairstyle has high upkeep. So if you're dedicated, try this taper haircut for men.
Undercut Taper
@donkeykongbeardsley
This undercut taper has short sides, perfect for men who want their hair on top a little longer but manageable. This medium taper gives you endless styling options while looking neat at all times. It can be styled with a sleek finish or a textured top. This temple taper works best for younger guys with longer hair.
Short Tapered Hair with Beard
@donkeykongbeardsley
This short taper haircut with a beard is cool for everyday guys. Check out the smooth transition from that fresh cut to the beard. Short taper cuts like this are perfect for a guy who has an active lifestyle.
Side-Swept Combover Scissor Cut and Tapered Hair
@barbergreg
This side-swept combover scissor cut is a classic taper cut that's disconnected. It's a modern, on-trend hairstyle. The longer length on top gives the bonus of more styling versatility in this side-swept taper.
Tapered Afro for Black Men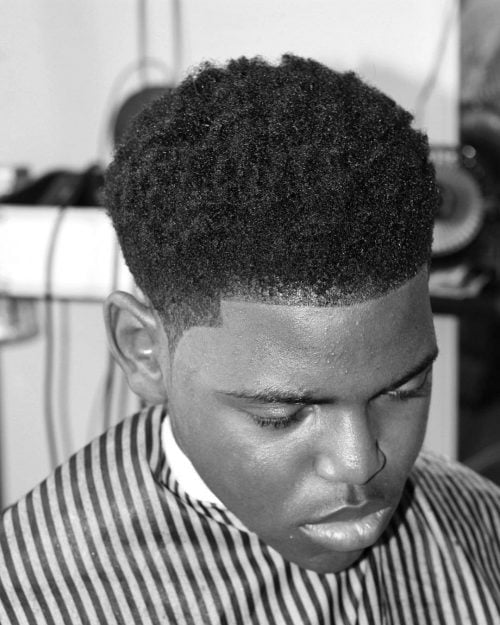 @reggiethabarber
This tapered afro for black men is old school. It's a popular short haircut for men of all ages. The afro taper suits men in the business world as it has that professional, yet sharp feel. You can style it with a neat line up to add some edge.
Long Taper Haircut
@jesspealerhair
This is the best long taper haircut style for men. "The clean-cut perimeter is on the hairline with tapered sides," says style creator Jess Pealer of Holladay, UT.
This layered taper is best on men with an oblong or oval face structure. It also looks great on men with a decent amount of hair or hair that is thicker.
Pealer points out that this style also requires some grooming creme. "Try out Bumble and Bumble texture creme. Then to get the best results, taking a paddle brush and a blow dryer and brushing it back and off to the side. This will give your layered taper the most volume, cleanest cut with shine," Pealer suggests.
Some men let it air dry but the results will look different. So, Pealer recommends finishing it with a tiny bit of Sumotech matte clay pomade. This seals the style in place.
Taper Crew Cut
@joshpaoli_doeshair
This taper crew cut is simple, modern, and timeless, and was created by hairdresser Josh Paoli of California. This cut was buzzed short on the sides and left slightly longer on top. The taper crew cut is a classic men's hairstyle.
"The best part about this hairstyle is being able to roll out of bed, put a little product in your hair, and walk out the door. Doing so makes your taper crew cut so dapper," Paoli describes.
Because of the taper's short length, it will lose its shape quickly. Paoli recommends getting the haircut every 2-3 weeks for maintenance. Also, beware of the sun. You might want to consider using sunscreen to protect your scalp.
The best-suited face shapes for the crew cut are oval, round, and square.
Classic Taper Haircut
@aliltaste
Looking for a classic taper haircut? This is a pretty classic cut with a taper on the sides that can work for a lot of men. This one was created by stylist Kandarah Cuthbert of Regina, SK.
"For men with naturally straight and dense hair, push it back with your fingers and let it air dry," Cuthbert recommends.
A taper medium crop like this can be easy but also difficult to style depending on hair texture and growth direction.
Taper Hairstyle For Thin Hair
@styledbyhastings
This taper hairstyle for thin hair is a low-maintenance taper, designed by stylist Ashley Hastings of Tennessee. Fades and tapers are perfect for men who can't make it to the salon or barbershop every three weeks. Tapers and fades, when done well, can last 4-6 weeks.
Hastings says, "This taper fade is customizable for every head or face shape and texture. This taper needs hair products and styling on top. Try out Evo Crop Strutters, which is a medium hold styling cream."
"You can add it in wet and blow dry it or you can air-dry your hair and add it in later for a more casual style. You can comb it out smooth for a professional style or rough it up for something more playful. Tapers are a very versatile cut for any man," the stylist adds.
Taper Pompadour Scissor Cut
@jon_franklyn_barber
This classic taper and pompadour scissor cut is a brushed up classic taper that's easy to cut and style. This stand-out style has been around for a long time and its popularity always remains. "It has a sleek finish and can be worn by any man wanting a taper haircut," says look creator Jon Franklyn of Battle, Sussex.
A tapered pompadour scissor cut is clean-cut and will suit any face shape and can be modified easily.
Franklyn also describes it as a very clean-cut finish and can suit any personality. It's favored by many walks of life. It does take time to style this in the morning, so if you want to take this on, allow yourself some time in the morning to do it.
Taper Hairstyle For Thick Hair
@hairbymercer
This taper hairstyle for thick hair is a great example of classic taper haircuts. This fun taper fade and cut is in a classic shape that's always in style.
Created by stylist John Mercer from Texas, this looks great on most face shapes and is a perfect fit for the business professional.
"It can be modified for recessions and thinning. Products, such as Living Proof Multi-tasking Styler, work well with most textures. Pomades by Ruezel give a great finish for thick, coarse textures," says Mercer.
Long Taper Comb Over Hairstyle
@apostoloscutz
This long taper hairstyle features a long comb over that's partnered with long-cut tapers. The unique long tapers keep the hair growth to a manageable level. Ask your barber to trim the top of your head if you wish to customize its length. Keep it sleek while having a neat cut!