Top 25 Black Hair with Blonde Highlights Ideas in 2023
Long Black Hair With Blonde Highlights

@samcheevs
Long black hair with caramel highlights is a classic trend that offers a chic, feminine style. A fusion of long waves and contrasting hues is what creates multi-dimensional tones. This one's perfect for women who want to brighten up their dark tresses for a change.
"Long hair that's black with creamy caramel accents can be considered a low-maintenance balayage. It's for dark hair types with a long layered haircut and angles in the front," explains colorist and stylist Samantha Cheevers of Andover, MA.
"Research a stylist who works with dark hair types, and more specifically blonde on black hair," states Cheevers. "Then stick with that stylist for consistent results. It will take more than one appointment to get your desired result of a blonde balayage on dark hair."
She goes on to say, "use a shampoo and conditioner recommended by your stylist. This will keep your color on tone between appointments. You can achieve this color even if you've used box dye or colored your hair yourself. It will just take a little longer."
Black Long Hair with Blonde Money Piece and Highlights

@colorbymarina
Black hair with a blonde money piece and highlights is the best way to achieve maximum dimension. Bold coloring is in right now and if your hair is in good enough shape to handle the black being lightened to any level of blonde, then go for it! A trusted and experienced stylist is a must-have for any lifting from black to blonde. Because the hair is going from one end of the spectrum to the other, at-home care with professional products is paramount. Pair this "statement" color choice with a new lipstick to make all the heads turn.
Short Black Hair with Blonde Tips

@hairbyhannahri
Consider short black hair with blonde tips for something edgy. A dramatic ombré is an eye-catching and low-maintenance style. Remember it may take a few visits to achieve an extreme lightening on the ends of very dark or previously colored hair. Consult with a stylist to see if this color suits your needs and budget.
Mid-Length Hair with Partial Blonde Highlights

@blondebybianca
Try mid-length hair with partial blonde highlights. Even very dark brunette women can add some blonde pieces for a gorgeous sun-kissed effect. Remember to keep the highlighting minimal. Overdoing it will result in the appearance of an overall lighter hair color.
Chin-Length Bob with Full Highlights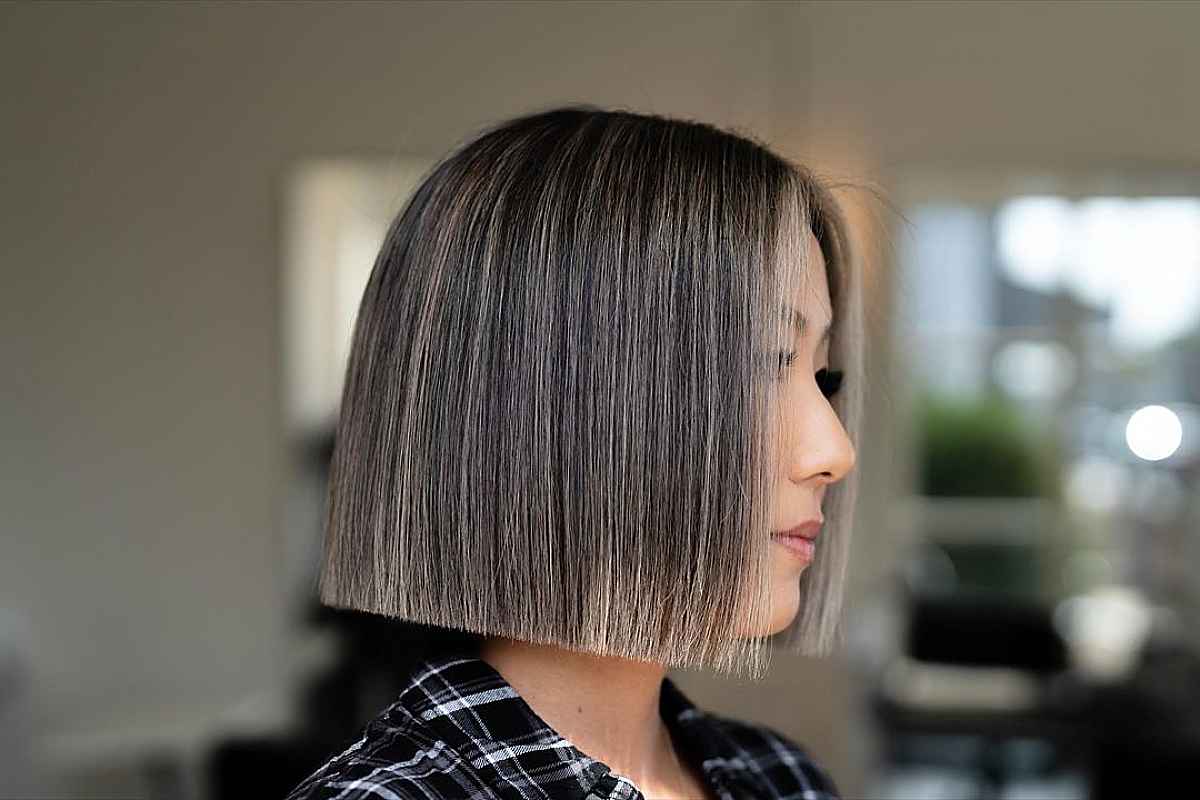 @brianaguilarhair
A chin-length bob with full highlights is a modern twist to the classic and chic french bob. Cut compliments color in this combination yet, can vary on density and color pallete. This is a high maintenance choice that upkeeps appearance but is flexible when color placement is alternated throughout salon visits which can vary from 4 weeks for a cut to 8 weeks for highlight touch up.
Mid-Length Hair with Partial Blonde Highlights

@haircolorbykim
Mid-length hair with partial blonde highlights is a soft style that brings dimension to the base hair color. Variations of the color placement can mimic what the sun could do in thread-like pieces or create high contrast with ribbons of highlights. When asking for this option be sure to have some photos for reference during a consultation.
Black Long Hair with Blonde Money Piece and Highlights

@hairbymickk
Black long hair with a blonde money piece and highlights is a popular choice for a busy woman that is low-maintenance with her routine, yet appreciates quality in beauty. Money pieces have a way of framing the features of the face while adding dimension to any style that she chooses.
Short Black Hair with Blonde Tips

@leventkilic0
Short black hair with blonde tips is a high contrast way to showcase individual style. It has a lived-in feel that allows more time in between long visits at the salon. Ideally the tips begin at mid-length and have a lifetime of half a year.
Blonde-Copper Highlights on Dark Hair

@myangeleyesj
Try blonde-copper highlights on dark hair if you want to add a subtle pop of color to your tresses. To recreate this look, ask your stylist to add more lowlights on the bottom half of the head. You may even consider leaving it in its solid color for greater dimension.
Black Hair with Chunky Blonde Highlights

@suetyrrellstylist
Try black hair with chunky blonde highlights if you want to be a blonde but don't want to be in the salon every 4 weeks for retouches. This color is rooted so you can go farther between blonding appointments. However, you can expect to be buying some purple shampoo to fight brassiness and visiting the salon for toning appointments.
Sun-Kissed Balayage Highlights on Black Hair

@colorbymarina
Sun-kissed balayage highlights on black hair create the perfect dimension and depth in naturally darker hair. When lightening dark hair, a toner may be necessary to counteract any unwanted warm tones. Make sure to set up future toning appointments to maintain the desired tone and keep away warm, red tones.
Black Hair with Auburn Blonde Tones

@matrixinfinitysalon
Black hair with auburn blonde tones is perfect for ladies who are looking to spice up their hair hue. Ladies with pale to neutral complexion will look fabulous with this hair hue.
Full Highlights on Thick Black Tresses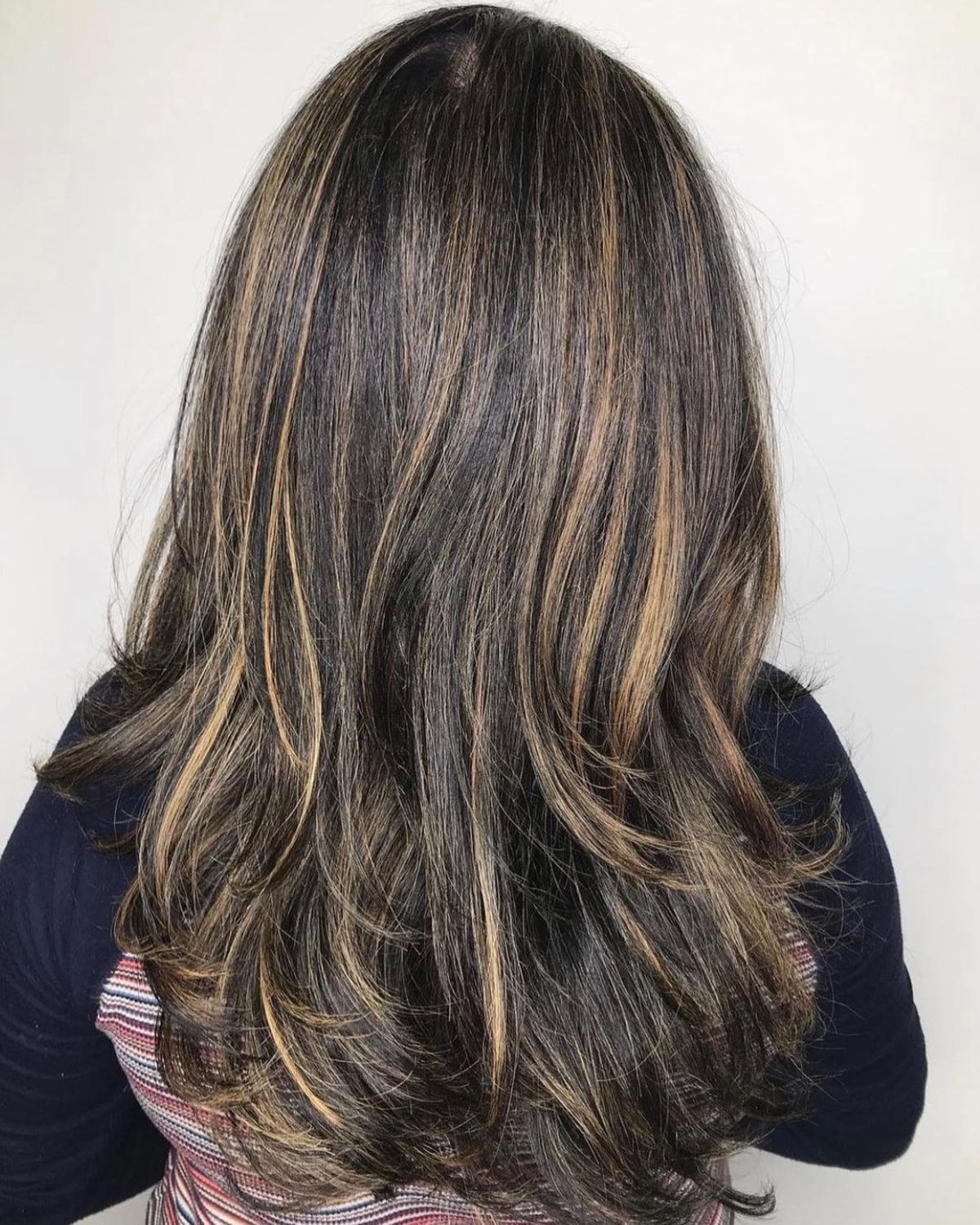 @yani.hairstylist
A full head of highlights on thick black tresses adds needed depth and dimension to dark hair. Fine, weaved highlights on black hair add brightness and movement to all-over solid brunettes. Use a large round brush to blow out thick hair to give a soft, glamorous finish.
Platinum Highlights on Black Hair

@live_love_dohair
Platinum highlights on black hair are high contrast and simply stunning. Cool blonde tones on dark hair take time and dedication to achieve but are well worth the sessions it may take to look so stunning. Using a foilayage technique, ashy blonde hues will blend seamlessly with your dark hair and give a stunning icy platinum result.
Black Hair with Blonde Ombre Highlights

@palomarodrigueshair
Black hair with blonde ombre highlights and brighter, face-framing blonde blends your roots beautifully and brightens your face. Blonde is very versatile, looks stunning on many face shapes, and can be easily customized to suit your skin tone perfectly.
Natural Highlights for Black Hair

@silvananeveshair
Natural highlights for black hair create lightness, fullness, and dimension. With naturally dark hair, highlights tend to pull warmer have a thorough consultation with your stylist to make sure the desired level of blonde can be achieved. Highlights in dark hair are also an excellent way to blend any gray that a woman may have.
Shoulder-Length Hair with Titanium Blonde Highlights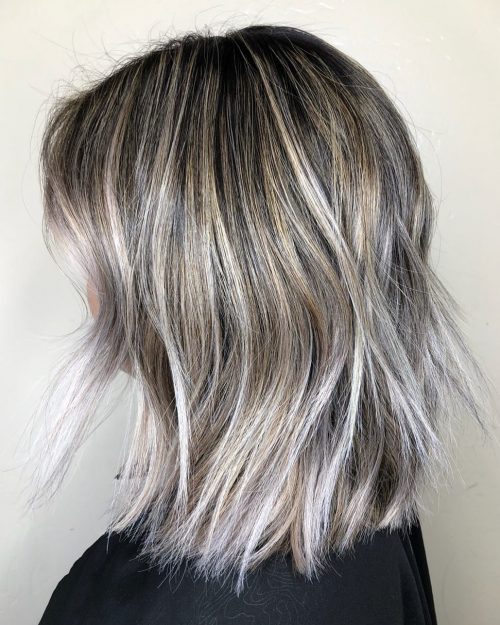 @crystaldquach
This black hair with blonde highlights is at least three-dimensional! Between the natural dark hair at the crown, to the bronze mid-way and sprinkled with titanium highlights as the cool-toned blonde accents, it's a unique color-combo nonetheless.
Dark Curly Hair with Silver Blonde Highlights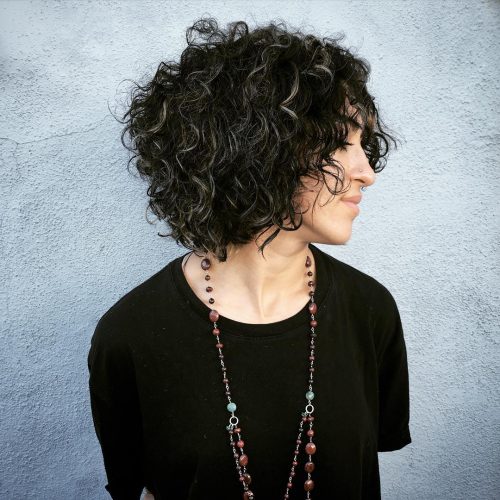 @t.rust.style
This is black hair with subtle highlights, and these soft curls appear stylish when added with grey streaks all over. One of the coolest benefits of silver blonde highlights on black hair is how dimensional and textured it can be from every angle.
Black A-Line Bob with Dirty Blonde Highlights

@hairbykaleo
This black hair with blonde highlights on a short bob cut makes a stunning hairstyle. This hair idea has a short and sweet quality to it that makes it look perfect with this bob cut, adding a soft touch to the look with the smooth waves.
Long Black Hair with Honey Blonde Highlights

@masey.cheveux
The light-catching and deep volume feature of these honey blonde highlights on black tresses look absolutely marvelous from root to tip. It allows you to keep your natural black hair from the roots, so you can enjoy the summery ribbons of blonde even after it grows out.
The partial balayage like this is also a great way to create a brightening effect around the face.
Natural Jet Black Hair with Golden Blonde Streaks

@hairbyedwin
The richness of this super dark straight hair provides the perfect base for warm honey colors and golden highlights. The blond highlights on black hair melt with the angled ends creating a mini ombre that makes the hairstyle so light and edgy.
Black Hair with Ash Blonde Highlights

@glenhew
Jazz up black hair with ash blonde highlights to see a lovely salt-and-pepper effect. The best thing about this long ashy blonde shade is its dimension. It's the icy blonde highlights that contrast with the dark tone of black hair.
"This hair idea is called a foilayage ombre," says hair artist Glen Hew of Malaysia. "It's more contrast and features chunky lights. Blonde ombre highlights have a dimensional effect on straight or wavy hair. Plus, it's suitable on short, medium, or long hair with a dark natural base. This combo of tones is perfect for women who want to keep their natural virgin hair, too," he adds.
If you love your dark natural hair color, Hew recommends you go for this ash blonde hue. "It still looks good while new roots grow out, and the blonde and black hair color will maintain its uniqueness as it fades. Just ask your colorist to pre-lighten your hair."
Black Pixie Cut with Blonde Highlights

@rosemarymonicahair
Here's a black pixie cut with blonde highlights that offers a dashing style! This is a short sassy haircut that looks great when textured. It has subtle layers, so it's easy to style with a piece-y effect. The fusion of black hair underneath, plus the hints of the blonde hue, creates a nice dimension.
Dark Hair with Grey Highlights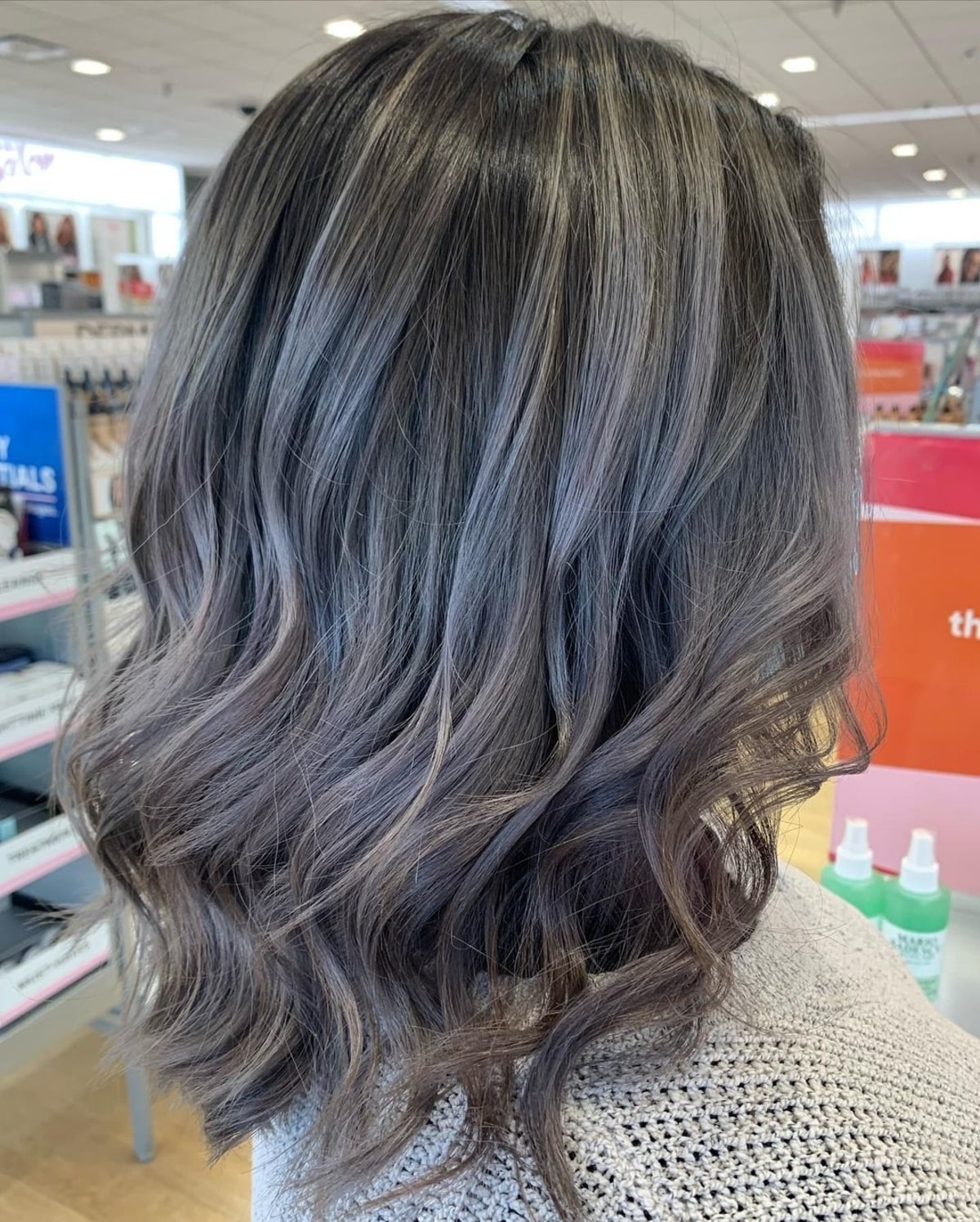 @hairbyjessilynn
Dark hair with grey highlights is a popular yet high-maintenance color. Stylist Jessica Watts of Illinois recommends it for ladies with a lighter shade of locks.
To achieve the dimension, Watts explains, "I began by doing a full-head of babylights. The method brings the highlights closer to the roots. After processing the lightener, I followed up with a few toners."
Light Blonde Highlights on Black Hair

@km_hair_studio
These light blonde highlights on black hair are on a stacked bob. They were created by salon owner and stylist Kacy Bunn of Gulf Shores, AL.
"Women who are very dark naturally can still have healthy, bright highlights for summer, and it accentuates the layers throughout the cut," says Bunn.
Bunn recommends you style your blonde streaks in black hair with a mousse and serum combo, along with a round brush. "This is great for the woman who wants a stylish look, but doesn't want to spend all morning blowdrying her hair."