36 Incredible Purple Hair Color Ideas Trending Right Now
Pretty Periwinkle Purple Hair

@teeartistt
This pretty periwinkle is called a vivid colored from the roots and blended out to a lighter tone with a shadow root. To achieve this look you have to do a full bleach out or lift very close to the scalp. A clean canvas is key.
That way you can create your own color at the root that will blend perfectly with the shades you are going for.  This was done using all Pulp Riot semi-permanent dyes (lilac, velvet, & smoke).
What you should know about doing vivid tones is that more pastel and lighter hue tones will fade the quickest. If you want to keep up the light purple color, you must buy color shampoos and conditioners to keep the color from not fading.
When it comes to the upkeep, showering with ice-cold water is a must. And keeping your hair hydrated is very important. The cost of doing colorful hair is pricey and buying products to maintain should be about the same cost as you getting your hair done.
Blonde Hair with Light Purple Highlights

@_alienfromhair_
Light purple highlights in blonde hair are a great addition to add soft hints of color to all over blonde hair. Have your stylist concentrate the light purple highlights in the underneath sections of your hair, so as your hair moves and sways, hues of purple peek through, revealing beautiful pale purple highlights.
Blue and Purple Hair Color

@fernandasbeautysalon
Blue and purple hair color is so easy to play around with. A more neon shade of purple and blue creates an even more unique color scheme and blends perfectly together. Blue and purple both counteract warmer tones so when the fashion hue inevitably fades, a woman is still left with a pretty underlying tone.
Platinum Purple Hair Idea

@the.knotted.mane
Platinum purple hair is a great idea if you want to upgrade from your current dirty blonde ash-toned hair. Taking hair to a platinum purple takes time and patience. As it takes a lot of time to lift the hair light enough to accept the purple tone, expect to spend most of the day with your stylist.
Light Purple Blonde

@hair_one_tom
A light purple blonde color is the work of a violet toner after the hair has been bleached to level 9+. You can maintain this purple tone with at-home violet shampoos. Make sure you don't overuse the home shampoo daily, because it can become a little dull looking. Use it once a week with other color-free cleansers in between, or dilute the colored shampoo with a plain one to soften the tone if you have a really vibrant one.
Burgundy Red and Purple Hair

@ohyesshair
A burgundy red and purple hair color work beautifully with darker hair and warmer skin tones. You won't need to lift your hair to a level 9 with these tones. A little warmth in the hair works well with retaining color and making the burgundy last longer. You'll want to pre-lift the ends and depending on the beginning level you may need to pre-lift the base a little too. You can blend these two shades into the perfect melt.
Neon Purple Pink Hue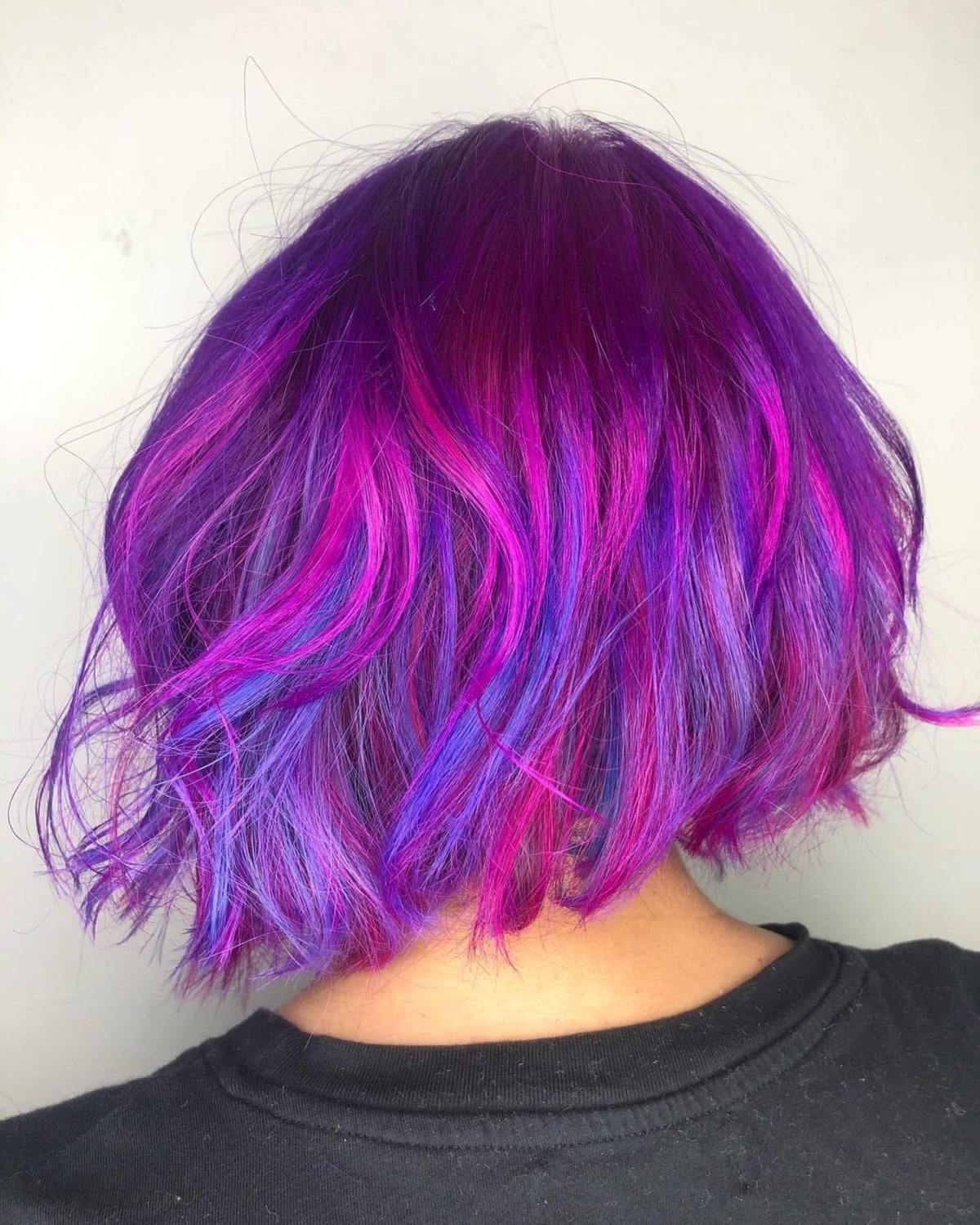 @in_gobernable
A neon purple pink hue might be what you're missing in your life. Shades of purple, pink, and blue blended perfect creating a love affair between cotton candy and galaxies. One must bleach their entire hair to a blonde level 9+ to get the perfect blank pallet, alternating sections of colors and melting together.
Gray Purple Hair

@wellahair
If you're looking to spice up a classic ash gray hair color, ask your stylist to add a tint of purple for a gorgeous, luscious look! Gray hair can be modified to suit your skin tone. While gray hair is gorgeous, it also requires color maintenance.
Ash Purple Hair Inspiration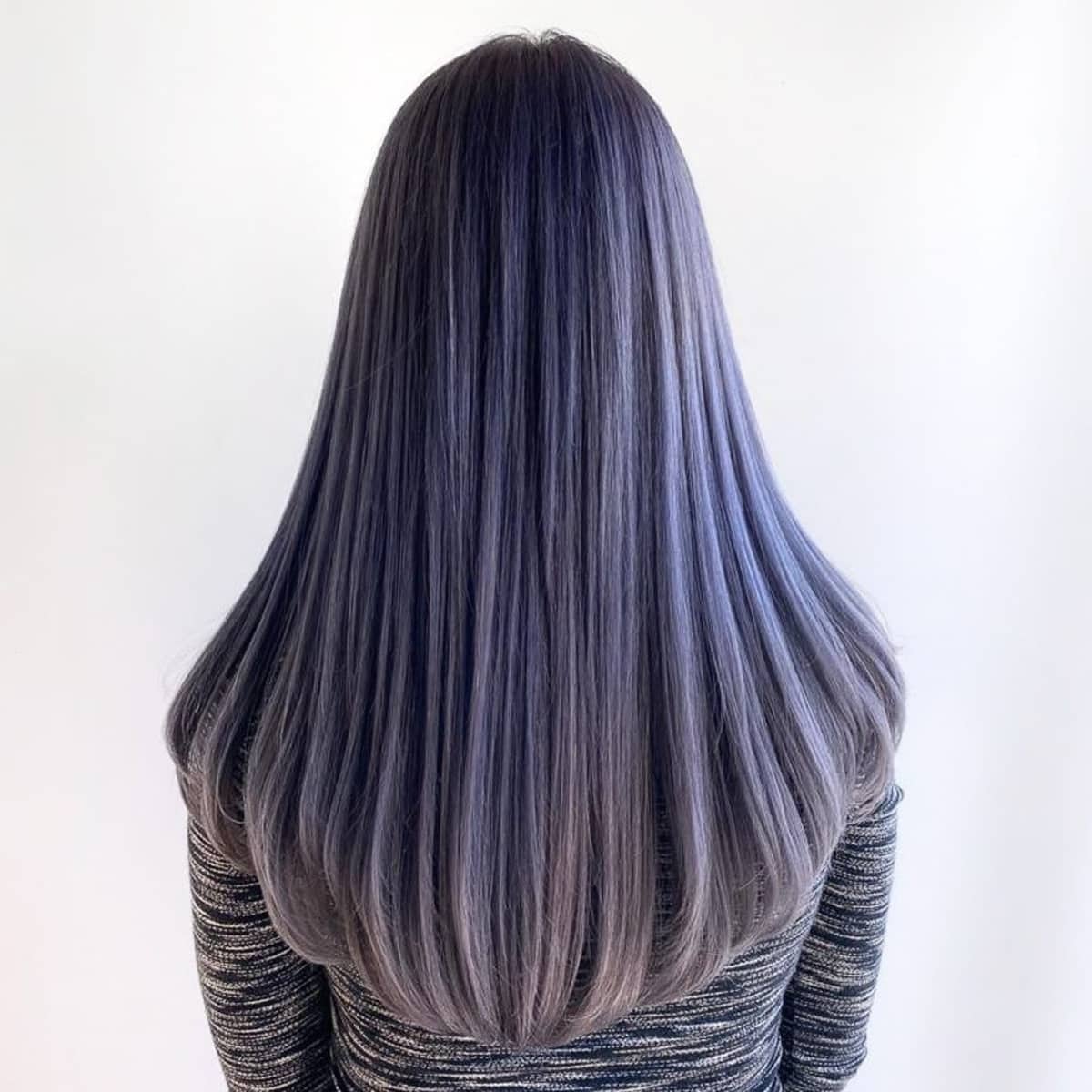 @hair_by.aliceb
Ash purple hair inspiration works on most ladies. It's not too pale nor too light. Hair designer Alice Boon from Malaysia is the stylist behind this color.
"It's a whole head bleaching and root melting application," says Boon, sharing how to mimic the color. Boon also suggests using violet-pigmented shampoo and hair mask to maintain the tones.
Silver Purple Hair

@katerinadogana
Opt for silver purple hair and achieve that unique, modern, and rocking color. Wanna recreate it? Here's hairdresser Katerina Dogana of Greece, giving us pieces of advice on how to achieve it.
"I used the balayage technique. It features babylights and highlights. I created some slice shadow to the roots to look more natural, then I used a denim mauve color," Dogana states. For maintenance, she suggests using a hair mask and silver shampoo once a week.
Bright Plum Purple and Berry

@taylors.hairy.situation
This bright plum purple is great for women looking to step out of the box a little and wanting to dabble in the vivid colors. This short purple hair has a deep berry color that can complement a variety of skin tones and give you that little bit of edge.
This color is more of a high-maintenance color, and the first process is always the longest. You'll be pre-lightened, then overplayed with a variety of semi-permanent tones in order to achieve this color. You will need to come in every four weeks to lift your roots and reapply color and trim everything up.
Any hair type would be great for this color or cut as long as it's healthy. There's is also home maintenance. Use color safe shampoo and conditioner and don't wash your hair every day.
Orchid Highlights on Dark Hair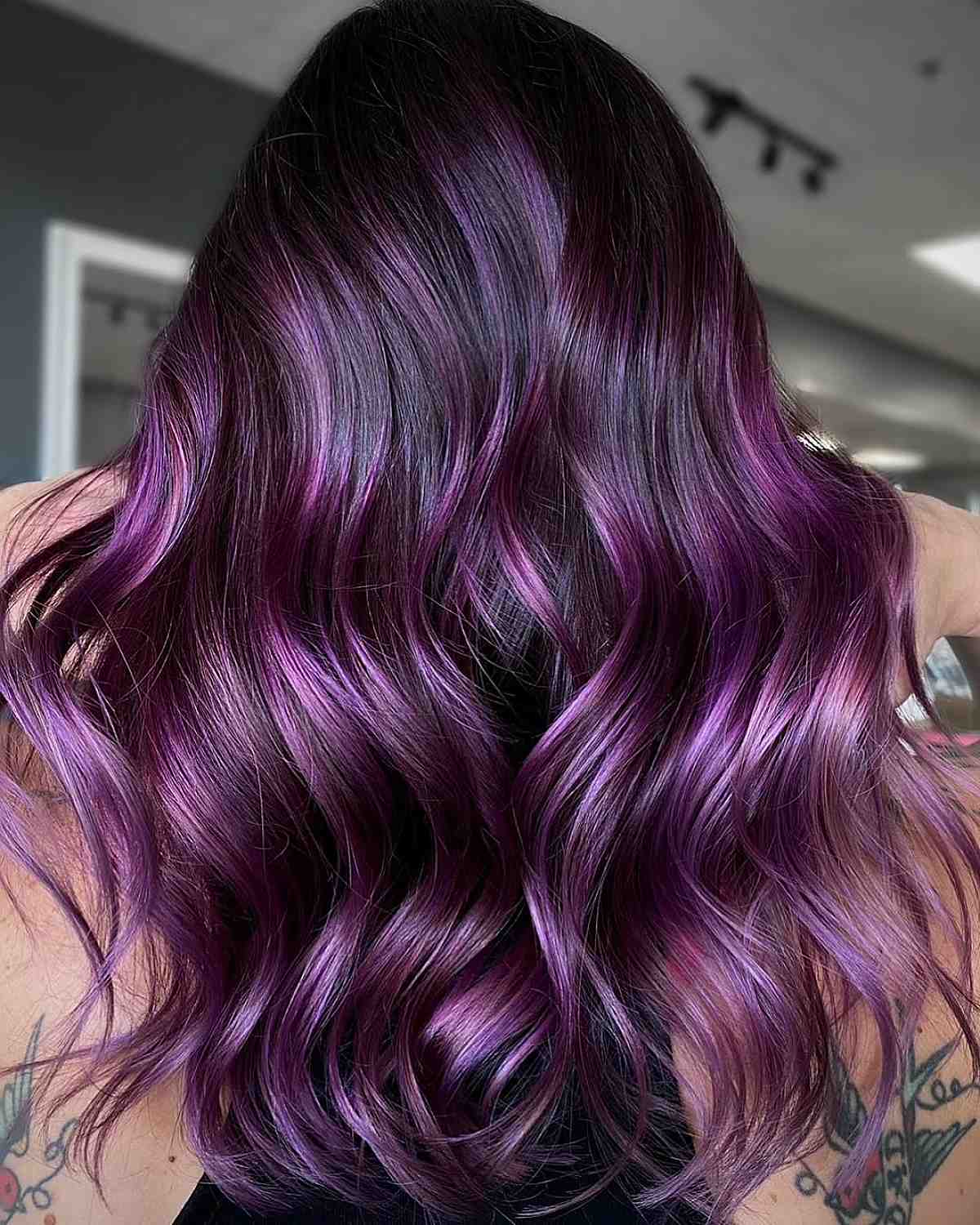 @hailtothehair
These orchid highlights on dark hair is an orchid balayage, in which two different purples were mixed together to achieve this color.
The loveliest thing about it is the accents of purples and pinks, especially if your hair has a darker root.
You will need to buy a specific shampoo/product to maintain these purple hair highlights. Ulta has great hair products such as Joice Purple Color Butter & Keracolor in Purple.
Neon Purple Hair Balayage

@hair_by_hood
If you're looking for purple hair dye ideas, try this galaxy on your crown! A lavender-violet transition that is both reminiscent of flowers in bloom and the outer space.
Fun Purple Highlights in Brown Hair

@hairdiva73
These purple highlights on brown hair produces a lavender rose color effect.
Purple hair ideas require a bit more TLC. Your hair should be washed no more than 1-2x per week with preferably cool water and professional color safe shampoos and conditioners.
Daily use of a leave-in conditioning spray is important, as well as styling products that have UV & heat protectants in them to help preserve hair health and hair color.
Royal Purple and Pink Hair Romance
/ @amberarchibeque
This pinkish-purple hair with purple roots makes a romantic style. It's cute, yet edgy. My best thing about this pink and purple hair is how seamless it comes together and how vibrant the colors are!
Use Olapex to help maintain the hair's integrity while lifting and Pulp Riot color to achieve this perfect blend. Dry shampoo will be lifesaver for this shade because the less you wash, the longer the vibrancy!
Black to Purple Melt
/ @isthatpat
This is a black and purple hair melt. It's a mixture of different shades of purple fading into softer ones to give it a dimensional and fun look.
Use Pulpriot hair color for this look. After the first appointment, see your stylist every three to four weeks to keep the color fresh and beautiful. Use a sulfate-free shampoo and conditioner and cold water when rinsing your hair, as it will help minimize color fade. This, paired with a heat protectant, will increase the longevity of the color.
Dark Red Purple Magenta Passion
/ @christinechavezhair
A dark red purple hair color like magenta is versatile for all skin tones, so it's a safe zone for women wanting to jump into a more fun vivid color.
Use a sulfate-free shampoo, preferably B3 from the Brazilian Bond Builder line. It smells amazing! Also, ask for a custom color conditioner to take home. This will help to maintain the color longer.
These tones can work for all hair types, textures, and skin tones. They can be customized for you. Adding in braids is a bonus. Use a deeper, more velvet shade on a darker skin tone, and a more lavender purple pastel tone if you have a fair skin tone.
It can be highlighted for a more subtle effect, or it can be bold and a solid all-over variation of purple. With a variety of purple hair options, you can find one to compliment your skin tone.
If you aren't into maintenance, any vivid color is probably not the way to go. Coming into the salon every four to six weeks is vital to maintaining a rich vibrant color, even with the color conditioner used at home.
Purple Amethyst Mermaid Waves
/ @colormediane
This is a classic layered bob, and the beautiful color is an amethyst mermaid look with vivid colors. The beachy waves illuminate the combination of the purple amethysts and sapphire blues of Joico Vivids that were applied to the hair.
Shampoo with the right shampoos weekly to keep your color fresh for quick maintenance in between salon visits. Try Matrix and Redken products!
The purple mermaid color is very fashionable, fun, edgy, and playful, yet easy on the eyes. However, be prepared for frequent salon visits at least every three to four weeks to freshen your vivid color to perfection.
Dusty Lilac Dream Hair
/ @dianadoodle
The purple tones in this dusty lilac hair color was created using Joico and Pulp Riot.
Use a custom color conditioner to help freshen up the color in between hair appointments. A color-safe shampoo and conditioner that are sulfate-free and a good dry shampoo are always your best friend!
This light purple color is for women who are ready for the high maintenance that it comes with. Use the right products, but regardless, just know it will fade over time. Be prepared to make a trip to see your stylist every four to six weeks.
Bright Violet Hair
/ @rach.does.hair
This bright violet hair is for women who want to try vivids without a huge commitment. You'll need to have your ends previously lightened first. Then you'll need to bring up your balayage in a very natural and beautifully blended way. This will allow the gorgeous pops of color to come out without the dull commitment of bleaching the hair into a blank canvas.
If you wanted, this color could just fade out gradually over time back to a natural balayage. Purple is the best color for that! It fades out to lighter and brighter, then eventually to beautiful pastels that the blonde will begin to peak through.
For colorists, use a half clay-based lightener, half regular, with Olaplex and Trionics Higher and Higher enzyme developer for the highest lift with the least damage. Do a teasing balayage in foils for a brighter, seamless blend. Then overlay the balayage with a mix of Pulp Riot and Joico direct dyes.
Use the at-home Olaplex #3 treatments. Only shampoo one to two times per week with color-safe or color-depositing shampoo and cold water. This purple balayage is an investment financially and time-wise and should be treated with great care to get it to last as long as possible. Use lots of conditioning treatments and only style with low heat.
Purple looks great on almost all women! You just have to make sure that you are cool with the time and money commitment, as well as cold shampoos and minimal heat styling. Purple hairstyles are not a good idea for women who wash their hair every day or who love to flat iron.
Multi-Toned Violet Ombrè Hair
/ @juliefelds
This is a multi-toned violet ombre.
Use Pulp Riot to create this hair color because Pulp Riot hair color maximizes how creative you can get with colors, and it's long-lasting. Always use a color-safe and sulfate-free shampoo and conditioner to effectively maintain the vibrancy and longevity of a purple ombre hair like this.
This ombre purple hair is perfect for women looking to try something fun. It is especially great for women who love to change up their look frequently from one fantasy color to another.
Purple Highlights
/ @saraluxesalon
Jazzing up your medium-length hair with purple highlights is a subtle yet edgy way to spice up your color. While everyone may not be able to have purple hair color, this is a fun way of getting that edge, yet still keeping it fresh and modern.
This is a great look for women wanting something different but may have restrictions due to work, etc. It's an easy and subtle way to add some eye-popping dimension to your hair. Throwing purple in with the other highlights and lowlights works well with most all skin tones because it acts as a beautiful accent piece.
Purple Amethyst Sunset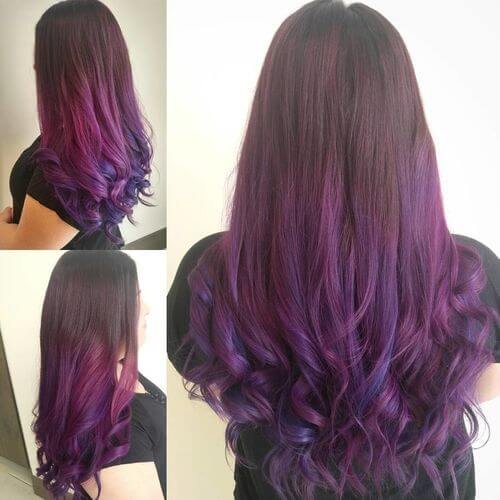 / @m.p.hairdesign
This purple hair color is that of an amethyst sunset. The best thing about this look is the way all of the colors melt and play off each other.
Use Joico Intensities or Pulp Riot semi permanent fashion colors. Both are great for longevity and make the hair shine!
To maintain fashion colors like this purple shade, use L'anza Color Guard to help fight color loss while washing, as well as their color preserving shampoo and conditioner.
Your daily hair routine should include these dos and don'ts.
1. Cold water rinse
2. Minimal washing for color longevity (rinse and condition only)
2. Low heat styling (if at all)
3. DRY SHAMPOO
Most fashion colors work best on medium to thick hair. Those hair types can withstand the process a lot better than fine hair. Fashion colors really are for all skin tones, it just depends on the combinations you're working with. The beauty of it all? When you dye your hair purple, the possibilities are endless!
Mauve Pinkish Purple Color
/ @kellyglohair
This mauve pinkish purple color was created using Joico Intensity colors blended into one another, taking orange segment sections and melting them into the pastels, not forgetting a little secret ingredient of Olaplex, of course.
Purple hair shades like this mauve and lavender dye is not for women who can't keep up with maintenance because pastels can fade and need a lot of TLC. It is important to use the correct aftercare products like sulfate-free shampoos to keep it colorful.
Deep Purple Color
/ @color_by_jason
This deep purple color is for the woman who wants all of the purples!
To create this deep violet tint, use Schwarzkopf Royal for the base, 4-29 and 0-99 w/20 volume. Paint the hair with Schwarzkopf Blondme 20 volume in an irregular pattern and process to a pale yellow. Then use diagonal back sections and apply Schwarzkopf 8-29 w/0-11, Pulp Riot jam and Joico Indigo with Cobalt.
Purple hair definitely complements cooler skin tones, but could really be worn by all women. Confidence is everything!
Brownish Purple
/ @mztheaz
This brownish-purple color features a combination purple and dark brown.
If you have a fair amount of fine hair, use products from the range of Eleven products. The I Want Body shampoo helps create volume, and the I Want Body conditioner is lightweight, so it won't weigh your hair down and it leaves it feeling amazing.
This look is for women who have a finer, straight hair texture and don't have a lot of time to maintain but want to have fun at the same time. This purple brown color isn't for pale-skinned women, only for women with a slightly dark to darker complexion.
Bright Plum on Dark Roots
/ @styledbyshaunmichael
This bright plum on dark roots works well with natural hair color. Your hair will fade beautifully into this vibrant waterfall of grape juice.
Try using Milkshake Silver Shine Shampoo. You don't need to just have platinum blonde hair to use that specific product. Obviously, using a color treated shampoo and conditioner always helps as well, along with using the Milkshake 12 Effects leave-in treatment.
Most hair types go well with a vibrant purple, however, finer-haired women or blondes tend to have a better effect of vibrancy. Really anyone could pull off this purple hair cut though! With long hair or short hair, there really is no going wrong with this grape juice hue.
Pastel Purple Tones
/ @cutz_up
The pastel purple hair has colors mixed with the metallics, and they look trendy, edgy, and fun! There's a harmony of the colors used (soft lilacs, icy purple, deep violets) to give the curls both softness and edginess.
To recreate this light purple hair color, use the Joico Intensity and Metallic line. The pigment payoff for the colors is beyond amazing! For maintenance of the vibrancy, it is recommended to use shampoos for color-treated hair. Follow up with a nourishing moisture conditioner to keep your curly hair soft. You can use your favorite soft hold spray to create a spiked pixie.
Galaxy Purple Hair

@cgannhair
Go for this galaxy purple hair if you're in need of color correction. First, bleach out all of the old color, then counteract the colors left in the hair to achieve these shades of purple hair.
Use B3 and Redken bleach. Then use the vivid line Pulp Riot.
This galaxy hair is great for women wanting to get away from the darker colors and wanting to try out vivids. The darker and lighter tones can look great on most skin types.
Smokey Eggplant Purple

@matthewjames.hair
This is smoky purple hair. The vibrant color is fun and exciting!
Use Pulp Riot to recreate the tone in this dark purple hair. This particular color is called Eggplant. The best way to maintain this look would be to use a sulfate-free, color-safe shampoo and conditioner by Kevin Murphy called Hydrate Me. The products smell amazing and leave your color lasting for weeks!
Jewel-Toned Purple
/ @ohsowavybaby
This look is an amethyst, jewel-toned purple! Don't you just love how the textured cut accentuates the different ribbons of color throughout the hair?
To achieve this hue, use Wella and Pulp Riot colors. To maintain fashion colors ask your stylist to mix some of your color in with your favorite conditioner or Olaplex. You can use this at home to deposit little bits of color every time you wash!
All fashion colors work better on women that already have a light brown hair color or lighter blonde natural base. In order to achieve fashion colors, the hair has to be stripped to a pale blonde prior to applying the color, so it is less damaging if you aren't trying to get here from a very dark starting point.
This purple, in particular, is on the deeper side, however, if you want a pale purple your hair doesn't have to be light first. That being said, this fashion color isn't recommended for women who don't like to put any work into their hair. It is going to require at-home maintenance and in-salon glosses periodically.
As for skin tone, according to the rules, a violet color will look best on cool-toned women, whereas a peachy color would look best on warm skin tones. However, you can't really go wrong with fashion colors since they're so obviously fake to begin with.
Multi-Tonal Amethyst Balayage
/ @soho_master_hair_stylists
This is a multi-tonal amethyst balayage. The best part about this dark purple balayage is the dimension of the vibrant tones and how it blends seamlessly with the roots.
Use Blondor and 30vol to pre-lighten your hair, then use Pulp Riot in Jam and Eggplant for the purple ribbons. Put R+Co One Prep Spray all over and R+Co High Dive on the ends. Then ask your colorist to make you a custom Evo Fabuloso Color Conditioner so you can maintain the purple at home!
This is a great color for women with naturally dark hair as it looks great with a darker contrast root. It would look great on most skin tones as the violet is not overly cool or warm. Because the hair has to be lightened quite a bit for vivid colors, the hair has to be healthy and preferably virgin before one of these colors can be done.
Soft Lilac
/ @shear_envytupelo
This color melt from a smoky velvet into a light dusty purple tone creates a soft approach to fashion colors!
Use a combination of Pulp Riot fashion colors to create this look, as well as Olaplex. These colors have an amazing consistency and are packed full of conditioners to ensure that the integrity of your hair is not compromised.
Use sulfate-free shampoos and conditioners to maintain a purple hue such as Sudzz Cashmere and Aquafix. Wash very infrequently in the coldest water you can bear!
Pulp Riot colors are interchangeable that you can custom create a shade for any type of complexion.
Unicorn White Purple
s / @cosmo_queenn & @_beautybynana10
This unicorn white purple is similar to a cotton candy swirl and unicorn dreams!
Use Pulp Riot for fashion colors because they are long-lasting colors with a creamy consistency. For maintenance, minimal shampooing along with quality sulfate-free shampoo and conditioning treatments, dry shampoo, and minimal hot tool use is a must. These colors are high-maintenance, but very fun and worth it when committed!
The lightening process to achieve this bright purple hair can be long and take multiple sessions depending on what kind of hair history each woman has, so good maintenance both before lightening and after is important, and that means spending time on your hair.
Short Boysenberry Nightfall
/ @doctorsquid18
This short boysenberry purple is an all-over purple color with dimension. Stick with all Pulp Riot colors. Formulate the base color a bit deeper and you'll create dimension. Base that with Velvet, then add in Nightfall and a few drops of Noir. Apply that like a new growth retouch and comb it through. For the end color, base it with Jam, Clear, and a few drops of Velvet!
For maintenance, follow the initial color service with a clear glaze to lock in the color. Try Schwarzkopf Igora vibrance 0-00 1:2 1.9%. Also, shampooing less frequently is a must! Vivid-colored women should use dry shampoo daily to keep the color fresh. Try Simply Dry by AG.
Light Pinkish Purple Color

@bleachedandblown
Light pinkish purple color is a popular trend that has stayed! Perfect for platinum blondes who want to add some color to their hair. Keep the longevity with a light purple toner, let fade and keep it temporarily.