32 Lowlights Ideas You Have to See Compared to Highlights
Lovely Lowlights

@hairbycassidymack
A combination of lovely lowlights, reverse balayage and shadow root adds the perfect amount of dimension to add texture to finer hair. Adding dimension can create the illusion of fuller, more textured hair.
Lowlights on Red and Blonde Hair

@floralfringe
Lowlights on red and blonde hair are a must-try. A color that looks great on a natural level 7. Alternating highlights and lowlights to give dimension. This can be done subtly or chunkier for different effects. Consider a sulfate-free, color-safe shampoo to insure the reds maintain their vibrancy.
Caramel Blonde with Lowlights for Women Over 60

@thestylists.he.art
Caramel blonde with lowlights is well-suited for women over 60 who aspire to have added depth and brightness. Warm blonde highlights focused around the face with deep brown lowlights underneath are a great color combination for women over 60. Paired with an edgy pixie cut, the hair will look youthful, full of contrast and dimension.
Cute Baby Lowlights

@locksbylaurenashleigh
Cute baby lowlights create a more natural blend of colors. The baby lowlights technique consists of a dye that is darker than the base color and applied in finer sections. Resulting in deeper tones and providing more dimension to your overall look.
Trendy Lowlights for Black Hair

@hair_by_dray
These are trendy lowlights are for women wanting their hair to look different but don't want their hair blonde. "We talk back and forth during our consultation about what color would be best for her. We came up with this darker color," explains hairstylist Andrea Rojas of Montebello, CA.
Rojas goes on to explain, "I colored her entire hair a dark brown and I balayage a couple of pieces for lowlights, so she can have some dimension."
Lowlights vs Highlights: Dimensional Brown and Blonde
@caroliiine_k
This look is very dimensional and has different coffee brown and blonde tones as the lowlights and highlights. What are lowlights vs highlights?
"Well, since lowlights are the darker pieces or sections of the hair and highlights are the brighter ones, they create a dimension that can add so much life to the hair texture and color," explains hairstylist Caroline Kan of San Jose, CA.
Kan's advice is to use professional products to keep the color from fading and dulling out. "This look is great for a woman who has a solid color and wants to add different tones and dimensions," she notes.
Kan adds, "this look is also ideal for women who are low-maintenance and want something natural but also want to add some color without coming back to touch up or tone too often."
Multi-Dimensional Deliciousness

@beauty.byjaz
Natural lowlights with a shadow root are the definition of multi-dimensional deliciousness. Bronde lowlights are super wearable and can be styled long, short, curly, straight, and on fine or thick hair!
Do Lowlights Match Any Hair Color: Sassy Pastel Pink
@sterosas1991
"I would describe this look as a fun and sassy pastel pink with lowlights. My favorite thing about this look is its Instagram-worthy dimension," says hairstylist Stephanie Romero of Dallas, TX.
When considering a pastel color, make sure you understand that vivids are semi-permanent, meaning they fade faster than a regular permanent color and the lighter the fashion color, the shorter the color will last.
"I always recommend my women leave with a toning color shampoo," adds Roero. "In this client's case, she left with Viral Ccolorwash in light pink. This will re-tone her hair at home so the pink can last longer."
Pink hair is so much fun. It definitely brings positive attention to you and is a great conversation starter!
Shadow Root into Vibrant Red
@_tieladoeshair
This is an edgy textured stacked haircut with lowlights and a shadow root into a vibrant red. It was created by licensed hairstylist Tiela Mcafe of Florida.
You definitely have to have a strong personality and be okay with standing out in a crowd when wearing this colored hair.
"You must also consider the upkeep," notes Mcafe. "Fashion colors are high-maintenance on their own due to fading, and needs a refresh every four to five weeks."
A color-safe and sulfate-free shampoo and conditioner are a must. Mcafe recommends using Redken Color Extend Magnetics.
Lowlights on Multi-Dimensional Pixie
@luisfernando_hair
This beautiful multi-dimensional pixie features lowlights and is great for women who aren't afraid of short hair. It was created by hairdresser and color expert Luis Fernando of Center Valley, PA.
"Pixie cuts are for women looking for something easy to work with and that doesn't take too much time to style," adds Fernando.
Chocolate Brown Lowlights
@morehairbymichaela
This is a full-head of creamy ash blonde highlights and dark chocolate brown lowlights. "I have used slices of color rather than weaves to create a contrast between the colors. This adds depth and thickness to the hair and creates a fashionable and striking look," explains salon owner and stylist Michaela Foreman of Telford, England.
"Sometimes dark and light colors together can look patchy, so make sure your layers are blended and feathered well to avoid spots and patches," she notes.
Foreman says this combination of lowlights and highlights is great for all types of hair. "Bear in mind that if your hair is very light to start with or very porous, the darker slices may fade quickly. Always use a good paraben and sulfate-free, color-saving shampoo."
The style may require straighteners and serum to smooth the hair into shape if you have naturally curly hair, but it can also be worn in a loose wave. This look is ideal for women who like to mix up their hairstyles!
Shiny Lowlights

@jsalon100
Try shiny lowlights to give flat hair multi-dimensional tones that make your hair appear fuller. Contrasting lowlights against your natural color add more depth and shine to the hair and is a super low-maintenance way to color your hair as regrowth is ever so subtle. Even adding a few perfectly placed lowlights enhances your natural color.
Fun & Flirty Lowlights
@styleby_jeny
I would describe this look as fun and flirty. "I love doing lowlights, balayage, and color melts because they look so subtle and natural," says stylist Jeneta Nesimi of Buford, GA.
"As far as color goes, having a dark base with lowlights versus highlights gives you longevity with your color," she notes. "You won't see any regrowth, and for women who are on the low-maintenance side, you can go 12-14 weeks with your color."
Messy Lowlights
@hairbyvieve
This messy lowlights style was created by cosmetologist Genevieve Huggins of Warren, AR. I'm thankful for the popular "messy" look we are all loving so much right now," she states.
"These beautiful lowlights will keep the color trendy and don't show new growth as quickly," adds Huggins.
Dimensional Fall Color with Lowlights
@haleyraihair
These lowlights are the perfect dimensional fall color." My favorite thing about it is the subtlety of the lowlights that accentuate the highlights, creating a beautifully blended contrast of lighter and darker tones without being overpowering," explains hair artist Haley Cox of Colorado Springs, CO.
Cox recommends using a professional color-safe shampoo and conditioner to maintain the longevity of the color.
"This look is extremely versatile for just about any lifestyle and hair type," she adds. "I recommend adding a lowlight (that can range in various shades, to accent any hair/skin tones) to accommodate someone that is looking for a change that will enhance the dimension and depth of the hair."
Blonde Balayage with Lowlights
@hairby_tiana
This hair color with lowlights was created by hairstylist Tiana Venegas of San Rafael, CA.
"It's a blonde balayage with the use of lowlights to allow the highlights to pop and create dimension, depth, and movement within the hair," she explains. "This look is versatile and great for women looking for a new look and naturally grow out."
"I always finish the style with a light hair oil and light finishing spray for hold that still gives movement. I also tell women to invest in a good shampoo and conditioner to keep their hair looking like they just walked out of the salon," notes Venegas.
Venegas recommends balayage hair colors like this to women looking to change up their regular highlighted hair.
Lowlights for Subtle Changes
@mishairhunter
"I would describe this dirty blonde color with lowlights hair as a very subtle change for an extremely blonde woman," says cosmetology student Michelle Smith of Florence, SC.
To create this look, Smith would typically recommend using demi-permanent color "so that it can be lifted out of the hair easily in case your client wants to go back to a more total blonde look. Also, demi-permanent color is typically an option that will not damage the hair!"
For maintenance, you will need to use a salon grade color care shampoo and conditioner. High-level blondes tend to lose lowlights fast, so don't throw your money away by not using a product to protect your investment!
Smith also believes this could be a good option for a blonde woman who may be thinning in some areas. "The dimension can make the hair appear fuller all over, and if they aren't naturally blonde, this service can give their hair a break from the harshness of a lightener or high-level permanent color," she adds.
Lowlights Balayage and Shadow Root
@aliciawhitehair
These lowlights are an easy way for a blonde to switch up their hair for fall. "The balayage and shadow root work well together to give a soft transition between a darker root and her blonde ends, all while keeping dimension throughout the hair. It's much more subtle than the typical ombré effect or traditional highlights/lowlights," explains colorist and salon owner Alicia Hunter of Halifax, NS.
Hunter always recommends using Redken Ph Bonder during the lightening process to maintain the integrity of their hair and keep it healthy and shiny. "I also recommend they follow up weekly with the Ph Bonder at-home treatment. I also love Redken's sulfate-free shampoo and conditioner, Color Extend Magnetics, to protect their color between visits," she adds.
This color can be great for women with fine hair to give more dimension. It can also be customized depending on skin tone and natural hair color.
Silver Undertones as Lowlights
@hairbykristimurdoch
No one would think that platinum and silver lowlights can look this ravishing but if done correctly can totally dominate the room. The lowlights here add not only rich color combinations but the movement that can't be achieved with any other shades.
The mixture of blonde and silver combine to form an almost ombre like effect but be warned, ladies rocking this stylish silver requires some maintenance or it will just become dull and make you look older than you are.
Gorgeous Lowlights for Gray Hair

@hairbyashleycarraway
Choose to flare up those stormy locks with gorgeous silver accentuates and lowlights. Give your gray hair soft, flowing curls and some face-framing fringes to help complete that youthful aura.
Lowlights for White Hair

@friseurthesing
Lowlights and depth on diamond blonde tresses aren't a bad idea. In fact, it's one ingredient to come up with a lovely effect like this one. Achieve this look by going for the ideal lowlights for that white hair of yours. More waves on your medium-length mane will bring out a classy volume, for sure.
Natural Dark Brown Lowlighting

@harsveisen
Lesser known but equally good, lowlights serve depth and dimension to brunette locks. Paired with soft curls and a layered cut, mocha lowlights can definitely highlight your apparently beautiful eye color and can make your complexion pop.
Brown Hair with Blonde Highlights and Lowlights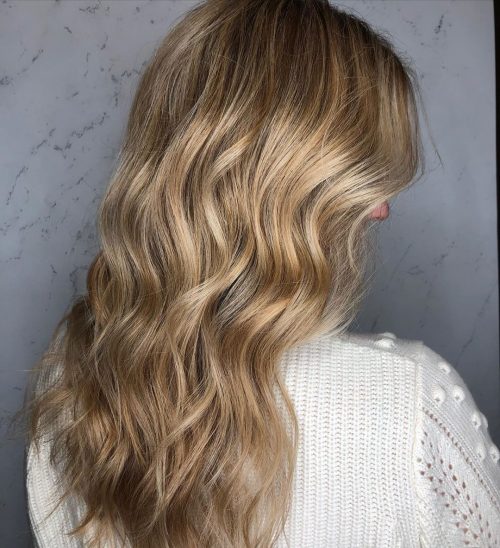 @savann_uhhh
This light brown hair with blonde highlights and lowlights is a must-try! Stunning waves appear pretty in this shade as they boost the volume and shine of a lengthy mane.
Chocolate Copper with Lowlights

@hairxbyxchristine
Featuring lowlights, here's a luscious shade of chocolate copper for your thin tresses. The balayage carries out a lovely color melt effect, which looks flattering on waves. It's the style that's perfect if your locks are a few inches past the shoulders.
Lowlights on Short Hair

@sagebrush_hair
Seeking a new way to give your neck-length hair the dreamy makeover it deserves? Try these baby highlights and lowlights on short hair because why not! The depth and a subtle dimension are visible, allowing your fine locks to have a textured edge.
Lowlights and Highlights for Black Hair

@emmalou.cosmetology
The salt-and-pepper kind of dimension is sure to blow your mind! These highlights and lowlights for black hair are a clever touch to blend in your grey naturally. Amp up its youthful aura by styling your mid-length tresses with voluminous waves.
Highlights and Lowlights for Blondes

@hiuksiabynoora
The perfect highlights and lowlights for blondes create a soft and more relaxed finish. Give your locks movement by styling beach waves on your mid-length cut.
Dark Brown Hair with Lowlights

@_hayshair_
This dark brown hair with lowlights screams depth and dimension! It's the kind of trend that works wonders with soft waves added to your long tresses.
Burgundy Lowlights for Older Women

@chrismaddox_hair
Burgundy lowlights for older women give a noticeable change without too much maintenance. This creation was made by Chris Maddox of Greenville, SC.
Achieve the shade with a cool red demi-permanent color. Stylist Maddox used a free-hand painting technique for this. "It eliminates any demarcation as it grows out and softens tonal differences," Maddox states.
Lowlights for a Strawberry Glow

@itskarolaruiz
Dimensional blonde doesn't always have to be so bright. Combine highlights and lowlights to achieve a strawberry glow such as this one. Layers on your long mane will form a slight volume for much detailed hair ends.
It was created by hairstylist Karola Ruiz of Isabela, PR.
"I love this hairstyle because it creates the perfect dimension, contrast, and light so that the hair looks perfect in warm tones," says Ruiz. "The best part is how we can create different sizes of highlights and lowlights to create almost any hairstyle. I love the alternation of different shades that goes very well with almost every skin tone and personality."
Since you are not completely blonde or completely dark, you keep a little of both to get out of the monotony. It's ideal for women who do not have much time to visit the beauty salon with frequency.
Lowlights for Brown Hair

@stylistaddiemae
After brightening up your dark locks, lowlights for brown hair will bring out a dimension. Style your long mane with soft waves, complementing the natural vibe given by a foilayage.
This blended blonde foilyage was created by hairstylist Adeline Van de Venter of Grand Rapids, MI. "My favorite thing is the contrast and how it blends so nicely," she notes.
Van de Venter says you need to come in every 8-10 weeks for a toner to refresh the look. "A foilyage is my go-to color for any woman who has a busy lifestyle and finds it hard to come in every 6 weeks for a foil touch up."
Blonde Hair with Lowlights

@hairbykir_
Blonde hair with lowlights allows dimension to be kept which allows for better growth maintenance. Lowlights are perfect for breaking up block colors for a more natural look.