22 Perfect Examples of Lavender Hair Colors To Try
Platinum Lavender Hair Color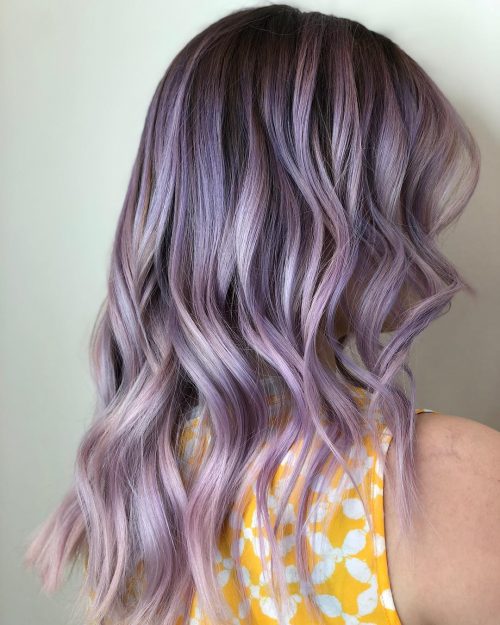 @daniellehoneyluxe
Did you just say magical? This stunning platinum lavender balayage is what you are talking about! Match it with a beach wavy hairstyle and every girl will be envious of your eye-candy locks. Style it with a braid and let them see its dimension. The contrast of the platinum and lavender hair colors to the dark roots is the key to this style.
Double-Dutch Lavender Braids

@locks_by_lacie
Double-dutch lavender braids will make quite the statement! Not only is the color gorgeous but the style pairs perfectly well. Using a shine spray and styling with braids really brings out the different tones of lavender.
Peach and Lavender Tones

@jhair_stylist
Peach and lavender tones are two-toned hair colors that you must try. Ask your stylist for all-over pastel peach hair with a bold lavender money piece. The combination of cool and warm tones is super trendy and looks amazing on all skin tones. Lavender and peach pastel hair colors are super shiny and luxe, leaving your hair looking and feeling amazing.
Blue Lavender Blend

@aliceinwondurland
A blue lavender blended ombre is a beautiful way to showcase a dimensional fashion color. Blues and lavenders create a dreamy, mermaid-like look that is perfect for any woman wanting to add some color to her life.
White Lavender Hair

@pimpmydoo
A white lavender hair is a must-try if you want a high-impact change. It is a beautiful color but it will take a high level of maintenance to keep it. The hair needs to be lightened underneath then the bright color is applied to the bleached blonde. Bleached hair tends to be porous so protein treatments should be given to keep your hair healthy. Bright colors are fairly high maintenance so expect to be at the salon every 4-6 weeks.
Magenta-Lavender Hue for Curly Hair

@honeyhairlab
A magenta-lavender hue for curly hair is saucy and makes every curl pop with bright purple tones. By alternating between different shades of lavender, magenta, and blue semi-permanent hair color, using a color blocking technique. Your stylist will ensure that every curl on your textured curly hair looks defined and hydrated.
Dark Rosy-Lavender Shade

@_ghostlystyle_
A dark rosy-lavender shade allows you to have a one-of-a-kind hair color with both pink and purple tones. These shimmering hues combine to make a gorgeous muted mauve shade. Rosy lavender hair color is completely customizable and unique to the formula your stylist will create for you, so have fun and be playful with your hair color.
Faded Lavender Ombre

@glorified_beauty
Faded lavender ombre hair color is a fun and colorful way to express your individuality. A purple ombre is ideal for clients who like to try new hair colors and be trendsetters. Ask your stylist to hand paint the ends of your hair with a pastel purple semi-permanent direct dye that will give you gorgeous two-toned hair.
Mermaid Hair-Inspired Lavender Waves

@pixiechickhair
Mermaid hair-inspired lavender waves bring the beach to you. Using a smokey violet gloss, your hairstylist can create a stunning shade of lavender that is soft yet vivid and vibrant in color. Use a flat iron to add beachy waves to your hair for an all-over mermaid-inspired lavender hair color statement.
Dusty Lavender with Dark Rose Gold Hues

@svlhair
Dusty lavender with hints of rose gold hues on darker roots makes a fun hair color trend for women who don't want the commitment. This particular color was created by salon owner and stylist Sara Larose of Southbridge, MA.
"This lavender rose color easily washes out as it has a few pastel hair strands with lighter tones that fade over 6-8 shampoos," notes Larose. "You need to have light hair to achieve lighter fashion colors. Talk to your stylist about longevity and what you can expect for the fade-out."
Metallic Silver Lavender

@maggiemh
If feeling a bit messy yet edgy, give this lavender hair dye a try! This silver lavender hue is low-key fab and it's the latest shade women love! Metallic purple hair is super trendy right now.
Pastel Lavender

@hairby.quirina
The pastel lavender hair color idea is a cross between shades of pink and bright lavender with purple. It makes a fun, fashionable hue that isn't too loud, so it still looks edgy and classy. This pastel lavender appears more luscious when paired with a straight, dense mane.
Black to Lavender Ombre

@salonsavvyspa_plantation
Black and lavender ombre is a seamless transition on this medium wavy lavender violet hair. This low-maintenance hair dye job is perfect for every day of spring!
Light Lilac-Lavender Shade

@hairbypilvi
Getting a light lilac-lavender shade is a colorful way for blonde hair to achieve an icy purple-ish hair color. The process takes a lot of time, so be patient! Especially, if starting off with a very dark base and transitioning to blonde. It will take more than one sitting to achieve a lighter tone, pale lavender. Do conditioning treatments, regular haircuts, and always use a heat protectant.
Lavender Highlights on Dark Brown Hair

@aprilpavia
"Lavender highlights on dark brown hair creates a lavender balayage. The purple highlights and lavender tones create a boldness of color and will fade beautifully," explains hairstylist April Johnson of Dallas TX.
"Any woman can sport vivid lavender hair color.," says Johnson. "For women considering this type of hair color, you must consider the maintenance. Purple tones out yellow so, like with red hair, this color will fade. However, colors like pink or red will require more attention. Lavender is a great choice for women who want a fun color that will wash out quickly."
Lavender-Blonde Balayage

@planejanesalon
With lavender and blonde balayage hair, different lighting will affect the color. Sometimes, it's more violet. Other times, it gives off a silvery hue. What's great about this lavender-blonde hair color is that it has honey blonde roots to create different dimensions. Plus, it looks so much better with waves and curls!
Short Lavender Bob

@hairsorceress_
This short lavender hair flatters women with fair skin tones. Its richness looks perfect on thick tresses, making them appear healthier than ever. Short lavender bob haircuts suit a sleek style, plus they offer a softer finish if perked up with waves.
Long Lavender Grey Hair

@hairby.quirina
Lavender grey is a mix of ash grey and lavender hues. Hair needs to be healthy because it needs to be bleached very light. For a few months, the shine of the lavender-colored dye will stay in the hair. It slowly fades into grey, so use a purple shampoo to balance out the tones.
Dark Lavender Tone

@lupayyy
This dark lavender tone is a vibrant electric purple, ideal for a warm skin tone. It was created by hairstylist and Guy Tang Educator Lupayy Trujillo of San Jacinto, CA.
"It's not your ordinary purple or lavender. Three colors were mixed to create this unique shade of purple," explains Trujillo. "Dark lavender hair is somewhat high-maintenance. Use a color safe shampoo and a hydrating conditioner like Guy Tang products."
Use cool water and the least amount of heat as possible. Use 325 degrees on your hot tools or lower. These are two of the best things you can do for your locks.
All women can rock this hair color! It's so fun and really makes you feel so powerful! This color is for a lady who is ok with going to the salon at least every two months.
Smokey Lavender Color

@daisydoeshair
Wear a smokey lavender color and let the hair have a healthier, richer finish. It may look super cool, but there's a catch in flaunting this hair color. This lavender shade isn't for women who want a low-maintenance option. Nor is it for women who don't wish to invest in take-home products.
Black and Lavender Balayage

@lanateam.hair
A black and lavender balayage on long, wavy hair? It's sure to make a unique and epic result! With this trend, no need to settle for just a natural hair color. The lavender purple-on-black  hair has a cool tone that flatters fair or pale skin complexions. Ask the colorist for a subtle color melt effect to pop out the vividness of the purple hue.
Pastel Purple-Lavender Hair Color

@mojkahair
An unlikely pastel lavender hair color but a must-try. Several visits to a professional salon could get you your perfect two-tone lavender and pastel purple hairstyle. Match it with stunning makeup and you're good to go!