24 Best Rose Gold Hair Color Ideas for Stylish Women
Unicorn Rose Gold

@samploskonka
This unicorn rose gold color brings together the best of both worlds: warm and cool tones.
"If you can't decide between two colors, such as lavender and peach, bring them together! Play around with color melts of opposing colors," says hairstylist Samantha Ploskonka of Tustin, CA.
If you're a unicorn blonde, you'll need bleach retouches. Or you'll require a full bleach and frequent color refreshes.
"Using the right cleansing and conditioning products helps to lock in color longer," explains Ploskonka. "Wash your hair less frequently because they fade fast. This will help to maintain your color brightness. Appreciate the fade! With each wash, colors and shift and lighten, so embrace it!"
Rose Gold Sunset

@silvertiger_hair_art
Opt for a rose gold sunset for a fun pink holographic hair hue. When applied to pre-lightened hair, it creates a beautiful gradient tone of blonde, pink, copper, and violet. Ask your stylist to customize you a blend of violets and coppers to compliment skin color.
Rose Gold Lowlights for Older Women

@whitsendz
Rose gold lowlights for older women are a soft and subtle way to try out some creative hair hues. To get this color, ask your colorist for some blonde highlights and rose gold pink lowlights.
Rose Gold Hair with Pink Highlights

@eileenhebin
Rose gold hair with pink highlights is a soft pink tone added to blonde highlights. This color is perfect for women who want a touch of fun color since pastel tones can fade away quickly. To get this color, ask your colorist for a pastel rose gold-tone with a shadow root.
Dark to Light Rose Gold with Dark Roots on Long Bob

@kelceyoverton
Combine your textured, medium-length hair with this super light pink and gold shade on dark roots, creating a beautiful rose gold color that makes those beautiful eyes pop!
The rose gold hair trend works ideally with light fair skin and dark eye colors.
Champagne Pink Rose Gold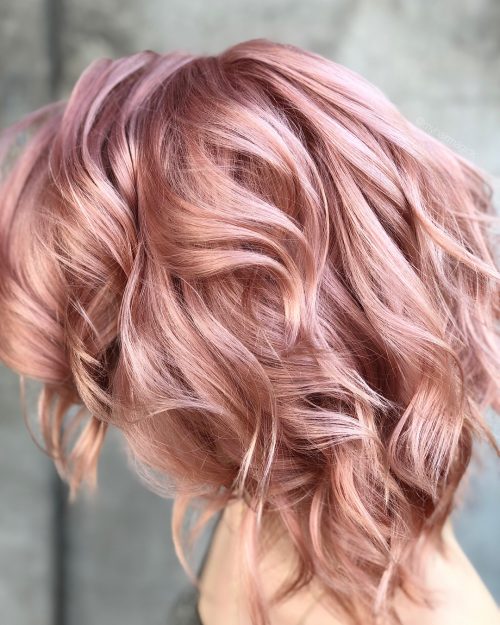 @myhairmagick
If you're a blonde looking for a bold change, this combo of pink and rose gold tones is a perfect choice!
Try this fantastic pink champagne rose gold hue that's a less dramatic and a softer version of the trendy hue. It's a color you won't want to DIY.
All-Over Rose Gold Wig

@mississtyleslux
"I love this wig because of the light rose gold tones, and it has a fullness that's so easy to style," says fashion stylist Missi of Kenya.
She explains, "the all-over rose gold tint in this hair is for a bold and fierce person. All face types can rock it."
Subtle Honey Blonde to Pink Rose Gold Ombre

@ethereal_tresses
The finish on this subtle rose gold ombre hair color is immaculate! The seamless balayage complements the tones on both of the honey blonde and pink hair colors.
I think it's safe to say that this warm brown hair with rose gold ends is a hit!
Light Rose Gold Hair Color

@theroguehairstylist
Here's a gorgeous light rose gold hair dye! The color works for ladies with a light or pale skin tone who are looking for a chic and flirty upgrade on their locks.
Dusty Rose Gold with Dark Roots

@desanchezspa_salon
A beautiful example of what this rosy shade can do for brunettes. Rose gold hair with dark roots like this look great on a thick density with voluminous waves.
Rose Gold Highlights on Dark Hair

@larisadoll
Hesitant to try on a new, bold hair look? Then having rose gold highlights is for you!
Not only is it a stunning hairstyle on its own, but wearing these ribbons of warm rose gold is also a great way to explore and see what suits you.
Pastel Pink Hair and Blonde Rose Gold Balayage

@rachelizabeth.hair
The prettiest light rose gold hair and blonde balayage on a medium-length shag cut!
This pastel pink hair with light rose gold highlights is an easier permanent hair color to keep.
Copper Rose Gold Highlights on Brown Hair

@maxgourgues
A beautifully colored rose gold tone on dark brown hair. The copper rose gold hue makes the tresses look luscious and healthy.
Rose Gold Hair with Platinum Highlights

@rianimal_
Rose gold hair with platinum highlights offers pastel tones with a more lived-in look. With its deeper roots, ladies can enjoy depth without taking away all of the lightness.
Hairstylist Rian Taylor of New Jersey created this chic color.
Taylor states, "I first used a corrective toner, then the color melt method to break up any harsh lines from the regrowth. I applied three separate colors and melted them to get dimension and create contrast."
Rose Gold Watermelon Pixie

@thehair_andthehound
This look is compiled of rich rose gold tones with slight hues of gold. It was created by color specialist Heidi Seiffert of Oshawa, ON.
"I love the deepness but shine by using Davine's Pure Pigments. This pink hair tone really brings brightness to the skin," she notes.
Seiffert's best advice is to know its maintenance. "Typically, a look like this is a double process which is a bleach out followed by a color. Use a Davines-recommended shampoo and conditioner with an added weekly treatment. Hair color like this is an investment as is taking care of it."
Classic Rose Gold Color

@tina_theroom
This classic rose gold hair color was created by hairstylist and salon owner Tina Thao Ta of Garden Grove, CA.
"The rose gold color is a flexible shade to work with as it is compatible with most complexions and skin tones," she notes. "The color is also age-appropriate while giving women a bit of edge and flair."
Metallic Rose Gold

@its_the_koral
The metallic rose gold and lilac colors, plus the flattering long-layered haircut, were created by cosmetologist Koral Joy Ragasa of Gainesville, FL.
"My favorite thing about this look was the experimentation of incorporating both warm tones (copper, gold, pink) and cool tones (lilac and pastels) – from that polished pinkish coppery base down to the sheen metallic lilac and champagne gold tresses," says Ragasa.
Rose gold shades and any other fantasy color are a heavy investment and certainly one of the most challenging colors to achieve. If you are willing to pay for the initial color service and touch-up appointments, Ragasa advises you to not use products from your local drug store. "This is a service that, in the long run, can cost several hundred dollars," she adds.
She continues, "the most important advice I can possibly give to women thinking about this color is you must be prepared to lose some length, and deep treatments are absolutely necessary."
Soft Pink Rose Gold
@alexandria.mercurihairstylist
This is a beautiful soft rose gold balayage with a shadow root.
"On her roots, I used a deep dusty lavender melted into a soft rose gold with some framing of the face to brighten her giving her a soft sun-kissed look," explains hairstylist Alexandria Mercuri of Quebec.
When working with any funky colors Mercuri always recommends a color-safe shampoo and conditioner. "I love working with color extend magnetics as that keeps the hair shiny and well hydrated," she adds.
When considering this look always remember you need to be okay with maintaining it. A toner every 5-6 weeks is necessary to keep its vibrancy. Treatments once a week at home or in a salon are a must to keep your hair in good health.
Platinum Rose Gold

@himnhair
Achieve this platinum rose gold hair color with a light dusted rose and platinum blonde hues. "It has enough rose gold while keeping it in the blonde family," says hairstylist Zaid Bakeer of Annandale, VA.
"Ideal for women with naturally light hair, hair must not be colored with dark box dye. Since these colors are dusted and pastel, they will not last long," explains Bakeer.
Depending on their wash routine, Bakeer says the color can last up to 3 weeks before turning blonde. Washing hair with rose-gold shampoo will help with longevity, too.
"Root touch-ups should be every 3-4 weeks unless they don't mind looking blonde. However, it's hard to bleach the roots if they wait longer," he adds.
Classic Faded Rose Gold
Mackenzie Crowell / Instagram
This faded rose gold hair color was created by hairstylist Mackenzie Crowell of Las Vegas, NV.
"To maintain the shade of pink hair and its rose gold hues, use cold water when washing to prevent the color from bleeding," says Crowell. "Ask your stylist to recommend a color-treated shampoo and use a moisturizing mask in place of a conditioner. Do NOT wash your hair every day. Otherwise, you'll be back in the salon a week later to get your color refreshed."
Light Rose Gold Highlights on Natural Blonde Hair

@hairbyohheyheather
"This is a slice of rose gold blonde! My favorite thing about this is how natural it looks, almost as if it grew out of her scalp that way," says stylist Heather Wilmoth of Charlotte, NC.
"I created this beautiful tone using a 9Ash and a 6Red Violet so that the color would stay completely cool and not brassy," explains Wilmoth. "My color line of choice is Paul Mitchell's Color XG because of its consistency."
This natural blonde with rose gold can be customized to any skin tone or hair type.
Chocolate Rose Gold Balayage Color Melt

@hairbyamberjoy
This red rose gold balayage color melt was created by salon owner and master stylist Amber Joy Rogan of Canada.
"The tones have a nice underlying pigment of peach and blush pink hair color, which gives it a nice warm finish," says Rogan.
Rogan recommends this chocolate rose gold for women with pale skin that want to add a little warmth around their face.
"Beware though if you have a strong pink undertone to your skin as it could make it worse," she notes. "Darker or tanned skin would also look lovely with this color. Again, only suitable for women without red or pink skin tones. "
Rose Gold and Brown Balayage

@hairbyhaileyj
"This smokey brown rose gold shade is so trendy right now," exclaims hairstylist Hailey Jodock of Everett, WA.
Jodock's favorite thing about it is, "you can have fun colored hair, but it's not crazy vivid and bright. You can get away with a more natural take on fashion-colored hair."
"My best tip for maintaining this is to wash your hair as little as possible and use cool water so that your color doesn't fade too quickly. Dry shampoo will become your best friend," she adds.
Soft Peach and Rosy Hair

@hairby.alyssa
"My favorite thing about this look and the rose gold trend, in general, is that it's versatile, soft, and feminine," says hairstylist Alyssa St. Martin of Mesa, AZ.
St. Martin personally thinks this rose gold hair color looks amazing on fair complexions and women who have a little bit more pink to their skin tone.
"As far as hair type, I would say women who are naturally a level 7 or lighter tend to lift easier, making this more achievable and effortless," she adds.