19 Examples That Prove White Blonde Hair Is In for 2023
White Blonde Hair With Ashy Tones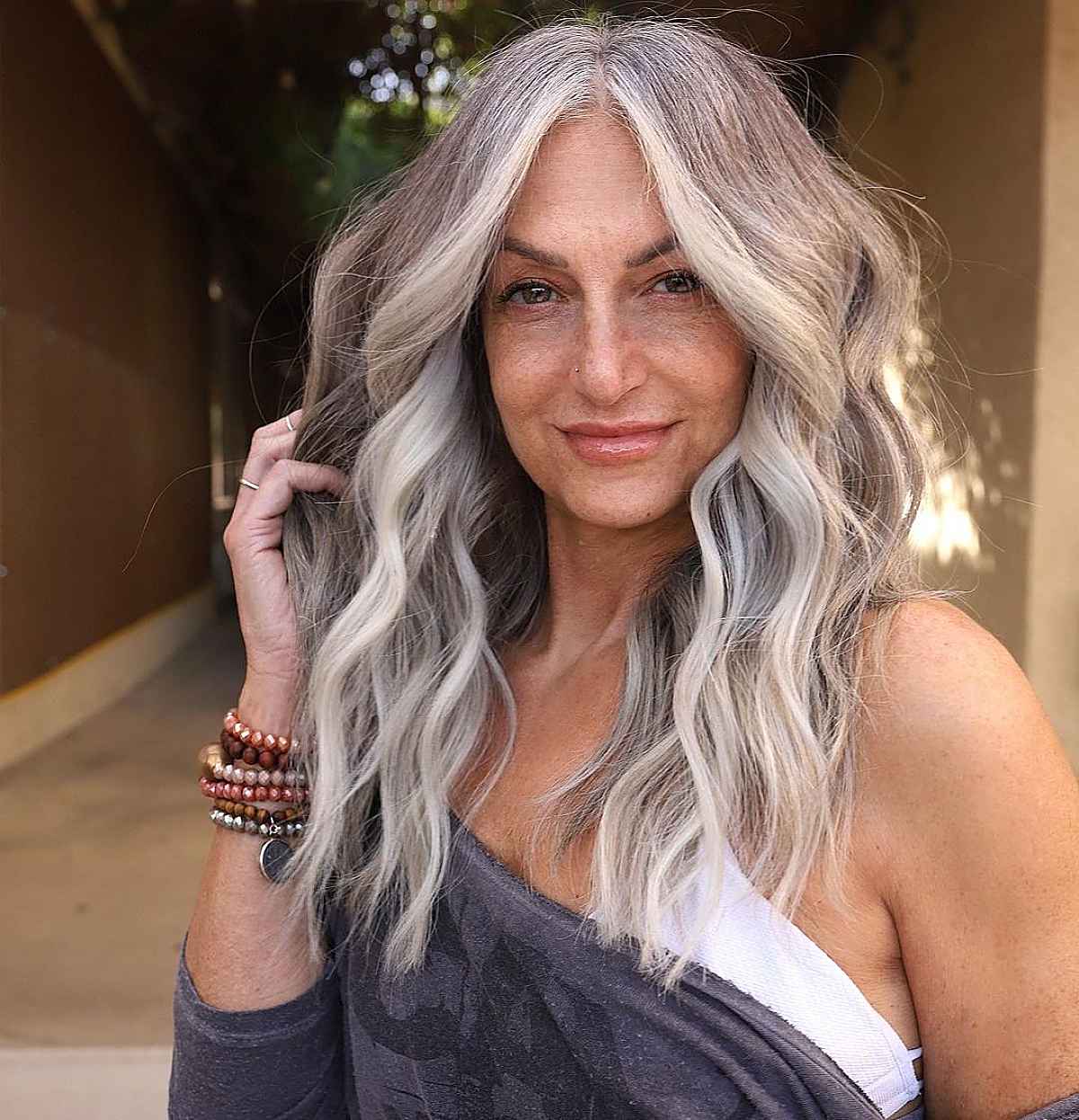 @maggiemh
Combine summer and winter with this eye-catchy melt of beach and platinum blonds! Such a shade of ashy blonde look beautiful on neutral to tan skin.
Ash White Blonde Shade

@hairbyashleylynds
Lighten up your look with this cool ash white hair shade on long wavy hair for an enchanting ice queen vibes! This white blonde shade flatters a fair or light skin tone.
White Ice on Choppy Haircut

@lana___x3
Live your life best as a blonde with this super edgy version of platinum! Textured ends and wavy layers add glam to the style!
Glimmering White Hair

@blondetheory_
Icy white blonde shades like this plus the soft waves add texture and movement to the hair and makes it so lovely.
Edgy Icy White Bob

@reneelalondehair
Get ready for winter with this divine snow blonde neck-length angled bob cut that suits any complexion. As long as you're up for the maintenance, you'll totally be glammed by this white-blonde bob!
Dark to White Blonde Ombre

@beautybyjodii
Don't wanna go full-on any shades of platinum blonde with your natural brunette hair? Wearing this white blonde ombre hair is the perfect way to get a feel of this super edgy and mouth-watering shade that makes your hair appear like it was dipped in the snow!
White Blonde Highlights on Blonde Hair

@meg.boikehair
Brighten up brassy blonde hair with white blonde highlights, and look stunning every day! Emphasize the white highlights even better by styling the locks with loose beach waves.
White Platinum Blonde

@queen.of.orange
A mesmerizing way to show off this marvelous white platinum blonde color is to go silky straight. This creamy blonde on long tresses makes a hairstyle that can make oval and round faces appear narrower.
Metallic White

@hairbyashleylynds
This icy-blonde color plus the soft waves add texture and movement to the hair.
Layered Bleach Blonde

@theparlorlv_kayla
This icy white blonde hair is the hue that every blonde dreams of!
Maintaining this icy look requires regular visits to the salon about every 2-4 weeks for a root touch-up and toner. So if you're constantly on the go and have a very busy lifestyle, this may not be realistically the best look for you. Also keep in mind that depending on your natural hair color this may not happen in one visit, and that's okay.
When first starting to achieve this look, it may take a couple of sessions. As the saying goes, "the best things come to those who wait." As far as at-home maintenance, purple/blue shampoo is your best friend!
You also want to make sure to regularly do a conditioning mask to keep that blonde shiny and healthy. Blonde is beautiful but it does take maintenance.
Streaked White Blonde on Brown Color

@karleebuggs_beauty
This look has a very dimensional highlight/lowlight, creating a dirty blonde hue. Use neutral chocolate tones and more icy blonde tones in very fine sections to create a strong contrast, while also blending nicely and not looking "stripey." This color looks great straight, wavy or curly, but these curls that were made by a 1-inch curling iron really show off all the ribbons of color.
Highlights or lowlights or even both will add the dimension that solid colors lack. Also by adding light and dark tones, the outgrowth is less harsh which is a win for someone who goes a while in between appointments!
Natural-Looking Baby White Blonde on Straight Hair

@beautybyrileykelly
This naturally-looking baby white blonde hair trend is a wearable lived-in look. Go for a rooty dimensional white blonde that complements your skin tone and haircut.
Getting to this level of blonde isn't always achievable in one session, and upkeep at-home styling products such as oil, heat protectant, and purple shampoo are crucial.
This hair idea is a stunning look but it isn't for everyone. Consider how much you're wanting to spend and the time you put in at home to make sure your hair is as good at home even after leaving the salon. Having a good consultation with your stylist is key when trying to achieve this color.
Trendy Short Hair with a White Blonde Hue

@ @k_one_artist_
The white-blonde hair color would also look great when worn with a long pixie cut. The color does the speaking, so super relaxed styling is essential for this.
Shampoo your hair with a clarifying shampoo to keep clean from air pollution, which can build on hair and is visible on blondes, and gives the brassy yellow tones!
Follow that with a toning treatment, which will nourish your hair with hydration but also has the violet tones to give it that extra clean blonde feel. Try Christophe Robin "baby blonde."
The ideal woman for this would have to be a girl with a natural base of a dark ash blonde. For the lightening process to be gentle on the hair, however, mix a Plex product in with the color.
White as Snow on Shoulder-Length Tresses

@paintslikeschmidt
This white blond hair is the Lamborghini of blondes. It's the most sought-after blonde of all time. I call it "Mother of Pearl," because of its luxurious tone. I love this color/tone so much because it's not too warm and not too cool and is perfect for anyone's skin tone.
It's a one-size-fits-all kind of color. A younger lady and an older woman can both rock it and look like a super-star!
This color is not cheap! If you think you're going to go this light and use cheap aftercare products or go to a non-professional colorist who is not experienced in blondes, be ready to shave your hair off and/or spend hundreds of dollars on products trying to fix it.
Do your research beforehand and don't be afraid to interview your colorist about their past experience and about your hair type, texture, pigment, and if it's even possible to achieve this color.
Dark Roots with White Blonde
@hairbytyckisalon
It's a low-maintenance approach to platinum white hair with dark roots. By having a dark or shadow at the root you're able to effortlessly grow out your hair without any harsh lines.
Go through a lengthy consultation to determine what style would be best for you. If you can make it into the salon every 6-8 weeks and want to be super blonde, you can go for highlights or on scalp bleach. If you can only come in every 3-6 months, try a shadow root or even a foilayage method, something with a more blended root area.
For products, get Olaplex #3 purple shampoo, Milkshake Silvershine shampoo, a moisturizing conditioner, and a deep conditioning mask, as blonde tends to be on the drier side.
White Blonde Before and After Makeover

@brittany.glam
Check out this incredible wheat blonde to white blonde hair makeover done by colorist Brittany. She used Schwarzkopf Professional hair dye to achieve this bright white hue.
Silver White Blonde
@erinm_hair
One thing to love about this silver blonde hair is its cool, ashy tones that brighten up every lady's face. The color is sure to bring out one's best facial feature. Just make sure to opt for a professional service to avoid having fried, damaged hair.
Rooted White Chocolate Blonde

@studioillume
Let's amp up your natural color with this white chocolate hue! The roots are kept dark, so brunette ladies can wear blonde that would require less maintenance.
White Grey Blonde

@skyxhair
This white grey blonde hair color is such a hair goal! If you're a natural blonde, this shade is ideal to give your locks a subtle dimension.
Brown and White Blonde Balayage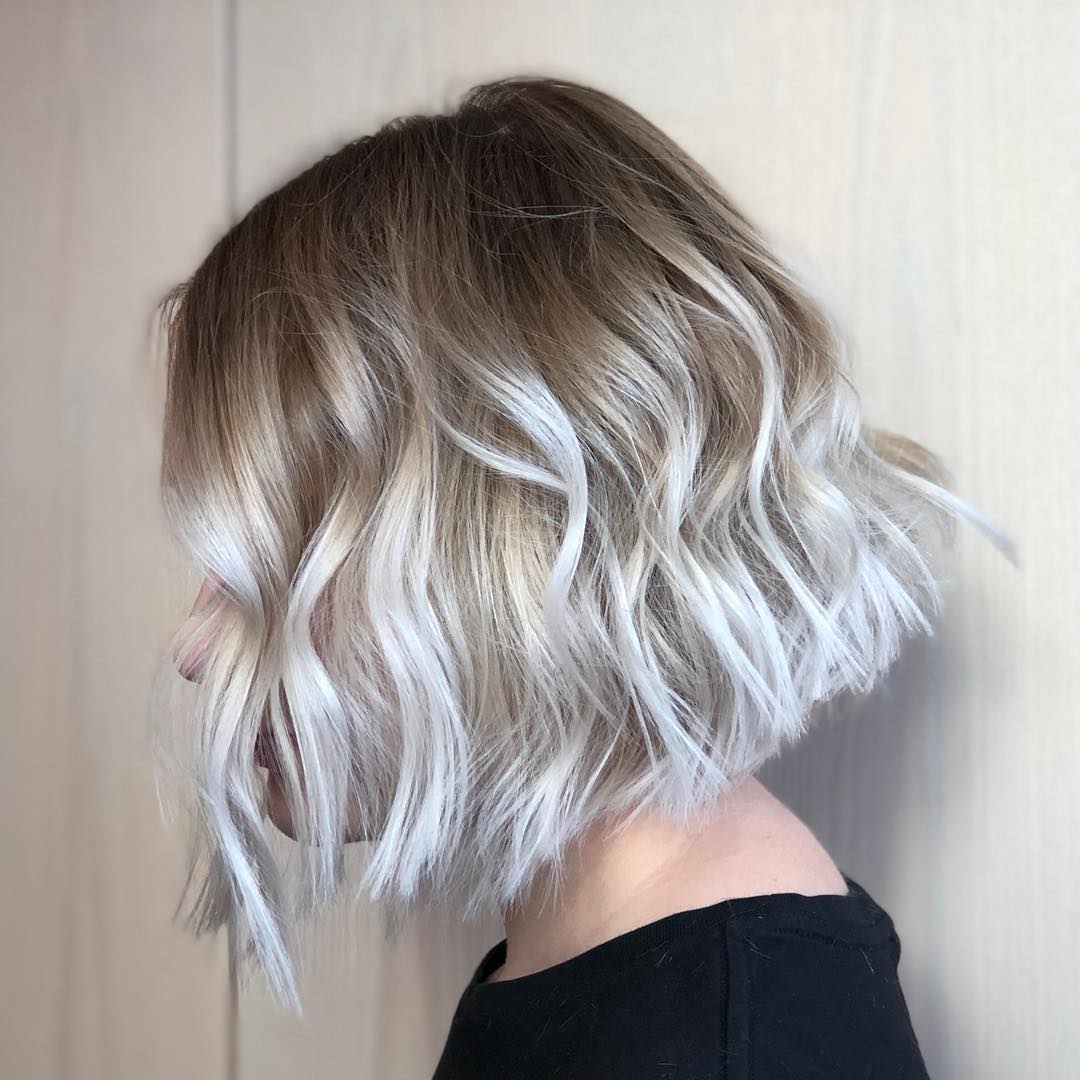 @hairbyraay
This brown and white blonde balayage creates a cute and trendy color melt effect, enhanced with beach waves. It's a low-maintenance blonde hue for ladies with natural brown hair.
White Buttery Blonde

@hairbyalexmupton
A white blonde hair color that's as buttery as this one makes the tresses look healthier and fuller. It's a bonus that this shade gives you that Barbie-like white blonde color, too!
White Blonde Bob for Older Women

@salonsstyles
A white blonde bob for older women is great way to embrace and stand out! White blonde is the perfect way to start letting your natural gray grow out. Fine to medium texture gives a bob so much bounce and body.
Pale White Bob

@hairbyglory_