24 Purple Highlights Trending in 2021 to Show Your Colorist
Electric Purple Highlights in Brown Hair

@colleengoodhair
If you're looking for purple hair ideas, opt for electrical purple highlights in brown hair. Ultraviolet highlights with soft waves for an eclectic girl like you! Get your Teen Titan Raven hair on and get ready to save the world with your purple strands and radiating beauty. Styles like this look perfect on long tresses.
Neon Purple Accents

@hair_till_dead
Add neon purple accents to violet hair and it will make your overall hair color pop! Nothing is boring about this multi-dimensional hair hue. You will see the gorgeous hues of purple whether you style the short purple hair straight and sleek or by adding some waves.
Purple Lowlights

@jezebelknocks
Adding purple lowlights to a gorgeous light blonde is the perfect hue to try if you want to upgrade your hairstyle. The good news for blondes is that the fade-out will be stunning. It will likely fade to a pastel purple and then back to blonde. Don't be afraid to have some fun with your blonde hair with purple highlights.
Dark Brown Hair with Purple Highlights on a Bob Cut

@katiefro
Brunettes can have fun with pops of purple, too! Who would have thought that dark lavender would go well with your brunette hair in a cute medium-length bob? Well, this dark brown hair with purple highlights proves you can!
Straight Gray Hair with Purple Highlights

@nikoschopshop
Consider purple highlights on grey hair. Icy lilac highlights enhanced by smokey gray color are the perfect ingredients for a mysterious, magical night out. Leaving the base color darker and not having to go full-on purple hair color is an option many women can enjoy.
Lavender Highlights

@beautyby_brittanyjean
Pastel purple or lavender purple highlights on brown hair appear bluish, which come out as luxurious and oh-so-irresistible! These light purple strands would look great on both straight and wavy, short hair.
Blonde Hair with Purple Highlights

@aliciawhitehair
The pink and purple color mix of royalty right at your fingertips, or might I say, ends! Glow up your look with a vast array of lavender purple highlights on blonde hair with darker purple tips.
Caramel Hair with Subtle Purple Highlights

@hair_emilymolloy
Gorgeous grape purple hair highlights bring dimension to light caramel hair. The faintness of this purple hair dye has a huge effect on the overall appeal of the style!
Purple Ombre Hair

@joyahairdesign
Flaunt a purple ombre hair color as it looks fun, bright, and it's an instant attention-grabber! If you like such a vivid shade, California-based stylist Joya Smith suggests this for you.
"I did a complete full highlight, then used a purple shampoo. The process was followed by a toner to get the blonde perfect," Smith notes. "Finally, I applied the purple dye in an ombre placement technique." Don't the ends look like a vibrant purple dip dye job, while the top is the lightest blonde and can almost be called white hair?
Plum Highlights

@linnshairshop
A splendidly bold purple plum color is an unexpected highlight even for light brown hair and  blonde hair! Good thing stylist RayAnne did marvelous work with this.
If you're thinking of getting streaks of plum, really consider the different shades available before deciding on both purple and plum highlights. Ask your stylist about other variations like muave highlights, light purple highlights, and even mermaid-colored highlights.
Violet Purple Peekaboo Highlights

@kjaykhair
Streaks of light purple peekaboo highlights on naturally dark hair are just what you need for a glorified hairstyle. It's such a good idea to lighten your natural hair color.
Stylist Kiersten took the wavy, blonde layers to the next level with this shade of violet and pop of color creating the perfect combo of purple higlights on dark brown hair.
Ultraviolet Purple Highlights

@lzhouseofhair
Get an out-of-this-world hair color using shades of blue and violet highlights. If you have wavy hair, the texture will give your natural color a stunning dimension.
Colorist Diana specifically combined these purple hues to create an extraterrestrial edge in an attainable way.
Blonde Hair with Purple Highlights Underneath

@aestheticsbybrooke
This is a dimensional purple-blonde hair color, and it is a good contrast of going purple ombre. It was created by hairstylist apprentice Brooke Carding of Stratford, ON.
"The best thing about this color is how the curls accentuate the highlights," says Carding. "Your eyes are instantly drawn to the fun, bright purple hair and it complements the style overall. It is a modern, trendy color that is subtle, but makes a statement!"
Thinking about the purplish lilac ombre hair? Carding says to go for purple and blonde highlights! "A temporary color that washes out and fades with each wash will help you test out a fashion color. By putting purple hair streaks of peekaboo highlights underneath, it's not a huge commitment. If you want the purple to last, use a shampoo and conditioner for color-treated hair, and when using hot tools, adjust them to a lower setting," she explains.
Any hair type can do these purple ombre highlights – some may require pre-lightening if you want the purple to be brighter. This color will suit any face shape, and if you want to accentuate your face shape, place the highlights around the face to frame it.
Purple highlights in blonde hair will bring out the fun, experimental side of your personality, and because it's just a peekabo, it is suitable for any lifestyle.
Blue and Purple Highlights

@reggei_rose
"This is indigo dreaming! Different blues and purples were used on balayaged hair to switch it up and give her something fun," says hairstylist Reggei Larson of Minneapolis, MN.
To style your blue and purple hair, Larson says having good heat protection is key. "Having good heat protection will not only shield your hair from the heat or the iron but also shield your color from fading if you're big into ironing," she explains.
Fantasy colors look great on all women, especially shades of purple. Don't go for hair color like this if you wash your hair very frequently and you are not willing to invest in good quality products. Colors like this can last anywhere from 1 month to 3 months and sometimes even longer with proper care. Don't go too light with this shade of purple because it will wash right out!
Black Hair with Purple Highlights

@beauty_bar_by_janelle
This black hair with purple highlights is very edgy/spunky, very modern, but not too loud! It was created by licensed cosmetologist Janelle Griego of South Valley, NM.
If you're thinking of opting for vibrant colors for the first time, Griego encourages you to try this hair trend. "Women always feel most comfortable with such highlights. It's easy to take out if not desired, but also fades out to be a very pretty blonde," she notes.
Any vibrant color like purple highlights on black hair is very high-maintenance without the correct products! Hair colors like this require effort from you at home, along with everything done for you in the salon. Griego always highly recommends the highly pigmented shampoo and conditioner (in this case purple).
Bright Magenta Highlights

@alluresalonsv
These magenta highlights on shoulder-length hair make a bold statement, exuding confidence, and playfulness at once. They were created by hairstylist Danielle Roniger of Afton, WY.
"We love the vibrancy of magenta, and it fits perfectly with this violet metallic color. You can wear this with straight and curly hair, but when curly it really makes the colors pop," notes Roniger.
Follow your stylist's instructions to keep your hair healthy and proper at-home hair care. In order to achieve these vivid colors, you need to be a platinum blonde. With platinum comes damage. If you are already blonde, this is easier to achieve than if you are previously brunette or a redhead.
Blonde with purple highlights can be achieved, and it will just take a few more appointments and a lot of tender, loving care. This type of color is an investment and the products to keep your hair healthy are your insurance on your investment.
Dark Purple Hair with Highlights

@karisa_moore
This dark purple hair with highlights is an amethyst purple color melt. Created by hairstylist Karisa Moore of Kew Gardens, NY, she says, "these dark purple highlights are great for women looking for a bright and bold shade. Because the hair was lightened first, vibrancy with this color really popped."
Results may vary depending on your hair, especially if you have virgin hair or previously dyed hair. Moore recommends you consult with your hairstylist to make sure lighter and darker purples are for you. Fashion colors tend to fade quickly but a quick toner every month and a half can fix that.
If you want something with less maintenance, Moore says to try purple balayage highlights that give much more of a gradient deep purple as opposed to one solid color which requires touch-ups every four weeks.
"Purple hair is a beautiful and rich color but does require some upkeep. The product also plays a major role in the longevity of your dark hair with purple highlights. Make sure to use sulfate-free shampoo and conditioner. Try Davines MINU shampoo and conditioner since it's designed for colored hair," she adds.
Red Hair with Purple Highlights

@sherrylynnshears
This red hair with purple highlights was custom formulated by stylist Sherry Flack of Troy, OH.
"It features a natural coppery auburn hair color with purple peekaboos that add some sparkle while staying true to the different levels of spicy copper tones," notes Flack. "Add curls if you want to melt the copper with purple waves."
If you're considering red copper and purple have a consultation first with your stylist. Fashion colors like this purple aren't expected to last long. Your colorist should lay out a game plan to help you maintain the health and vibrancy with home care.
Lilac Highlights on Long Fine Hair

@daisyhairaffair
"These accents could be described as lilac, pastel purple highlights. Pastel colors bring life to plain blonde hair. Also, if you have fine hair, give it a try," says master hair artist Daisy Englander of NYC.
To achieve this color, Englander explains, "start by highlighting hair with balayage and foil highlights to achieve a nice platinum blonde. If you want this color, you'd need to be very blonde/platinum first. Use a bond reinforcement to protect your hair throughout the lifting process. You want to go slow and steady with blondes as their hair tends to be more fragile. Use Manic Panic Professional to create the pastel shade."
Opt for these lilac highlights if you're open to trying a pastel purple. It's more of a vibrant/vivid shade like purple.
First things first! You need to be platinum blonde to get this type of color! Think of applying purple to a white piece of paper, you'll see its true pigment right? Now picture applying purple to a yellow or maybe an orange pieces of paper. you won't see the purple as much.
So, in theory, the lighter your hair is the more you'll see that color. If you want these light highlights and your hair is not light enough you might want to go with a darker purple shade instead until you work your way up to a lighter blonde.
Metallic Purple Highlights

@hairbywessamalicia
These metallic purple highlights are a natural twist on fantasy hair color. Add suble streaks of a violet metallic tone to your hair to enhancing what you already have.
Hairstylist Wessam Shafek of Arlington Heights, IL is the inspiration behind these metallic highlights.
"The main thing to achieve these tones of blonde and purple is to have natural light or pre-lightened hair," explains Shafek. "In order to have the pastel or metallic shade of violet, the hair has to be light enough for the soft violet shade hair to grab on. With these types of colors, a sulfate-free color sage shampoo and conditioner is a must to have the longevity of the color. Also, wash your hair in cool water."
As far as heat styling, Shafek says you have to keep the temperature low! The higher the heat the faster the color will fade out. High heat expands the color molecule!
Silver Hair + Purple Highlights

@beautybyyasuko
"This silver hair + purple highlights states that it's very wearable even in a professional environment with a pop of color," says hair artist Yasuko Suzuki of Sunnyvale, CA. "With the natural roots blending into both silver and purple, it allows different arrangements for various occasions for colorful hair."
Suzuki notes, "the dimension looks more accentuated on long hair, but if you don't have enough length, hair extensions will do."
Purple highlights will work on any woman who doesn't mind standing out! However, getting to this color does take a lot of maintenance to get used to.
"It's best to have healthy hair to lighten to a level 9-10," she explains. "After lightening to a pale blonde, add alternating colors of silver and purple. Since these cooler tones do not last long, keep the longevity of the colors by washing with color-safe hair products."
The best part of these colors is that each time you wash and the color gradually fades, it still maintains a very nice color into a beautiful ash blonde. As long as you're able to spend extra time and effort into maintaining the colors and integrity of the hair, it will work!
Cool Lavender Highlights

@carlieroeartistry
Lavender is a favorite hair trend that isn't going out of style anytime soon. This particular lavender shade was created by hair colorist Carlie Roe of Carlsbad, CA.
"This fantasy color is the number one requested unconventional hair color in salon chairs today," notes Roe. "If you are looking for lighter purple highlights, consider lavender. The inspiration for creating this custom lavender was amethyst."
Roe is adamant that products are something you'll want to invest in to keep this color alive. "Heat protectants are a must and color-safe shower products. Heat and non-color Sage ingredients are the number one cause of fading. Yes, that heat category includes water! Use cold water, always," she adds.
Dark Purple Highlights on Black Hair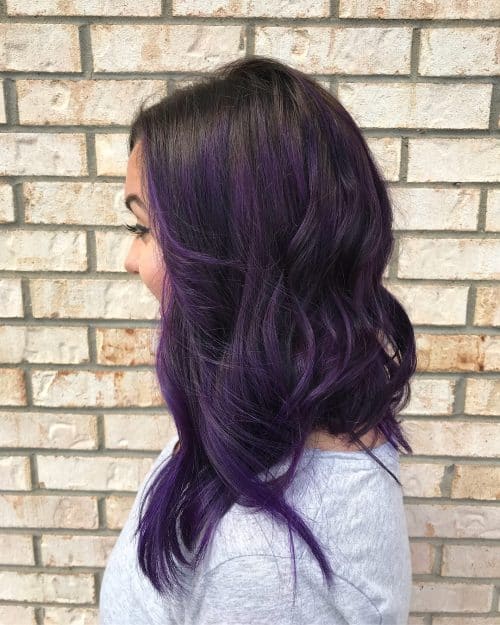 @hair_by_leahnicole
"These purple highlights on black hair were achieved with a balayage and shadow root. The hair cut is an angled lob (angled long bob). In the example photo, these fashion shades were done with violet by Pravana," says licensed cosmetologist Leah Streng of Pittsburgh, PA.
To achieve these results, Streng explains, "These purple streaks in brown hair were created by pre-lightening from 1 1/2 below the dark roots to the ends. Once washing and drying the hair we began our second process by applying a level 1 in semi-permanent by Baco. Then purple feathering and balayaging section by section with the violet! So a lot of women can achieve it without pre-lightening (bleaching, hydrogen peroxide, etc.). Also, once the hair is pre-lightened, the violet will tone and possibly turning the ends to a lovely lavender! The top or the base area is kept dark for a low-maintenance result."
Light Purple Highlights with Curled Ends

@zyngerhair
These light purple highlights are ideal for women that have always been interested in trying out a fashion color but haven't been ready to commit to the upkeep of traditional full head color. They were created by stylist Caylin Zynger of Calgary, AB.
"The soft purple babylights create an ideal surface to add any type of dimension you can think of, especially with purple.," she notes. "This color is the most ideal color to try when you're looking to go bold because you can choose to let it fade out to an icy blonde or change your mind all over again. Purple tones are a low-risk way for blondes to experiment, without giving up their platinum goals."
Go for it! Purple is a very soft color for almost any woman to try. Once you start with fashion colors, it opens a whole new world of hair possibilities.
Zynger goes onto explain, "the best thing about having these babylights is maintenance. Fashion colors are notoriously hard to maintain, however with this hair color, the fade-out ends up being a really enjoyable and fun process! If you let it go for a few weeks you get a lovely ash blonde, and if you're in love with the purple, use Evo Fabuloso Custom conditioner to maintain it."