15 Best Ash Blonde Hair Colors of 2023
Ashy Highlights on Dark Brown Hair

@oscar.orellana.hair
This one's a totally dimensional beachy-textured ash blonde hair shade on ash brown hair that looks stunning when hit by the light. These ashy highlights are gorgeous on light-skinned ladies!
Medium Ash Blonde Hue

@myhair_shenanigans
We love this shoulder-length blunt cut wavy hair painted with dirty blonde and ashy brown hue and dark roots. With an ash blonde hair dye, it's important to keep your hair's integrity by conditioning well after every session and at home. No gold tones here.
Brown and Ash Blonde Highlights

@j.beauteartistry
A little on the beige-y side – these dimensional ash blonde highlights with wavy layered hair with soft babylights is absolutely pleasing to the eye!
Light Ash Blonde Hair

@gracedoeshair
Sleek and super edgy – this solid light ash blonde shade is doing a marvelous job on this straight mid-length cut with a bit of side bangs. It's the perfection option that suites cool and fair complexions and can bring out the pink undertones in your skin.
Two-Tone Ash Blonde

@designsbyjen753
It's a trendy hair look for your freshly cut, soft, and wavy locks. This lighter version of an ash blonde balayage with hints of caramel, when hit by the sunlight, underlines your waves and draws attention.
Silver Ash Blonde with Dark Roots

@milahair.frankfurt
Going with a dark brunette shadow roots makes it appear like there's a sexy subtle ash blonde ombre happening with this medium-length slightly bent straight hair. Those ashy babylights also help transition the colors smoothly. Short hairstyles like a pixie cut can provide a lot more texture and dimension than something like this.
Sun-Kissed Ash Blonde

@maddie_kirk_hair
Q&A with style creator, Maddie Kirk
Hairstylist @ The Hot Seat in El Cajon, CA
How would you describe this look?
This ash colored hair one of my all-time favorite looks with dark brown hair color. It gives you a consistent ashy blonde and natural tone from the darker roots to end, yet there are dimensions and texture. It is a medium length with texture layers which is great to style quickly with a few waves or can also be pulled back into a sophisticated pony. You really can't go wrong.
Any advice for someone considering it?
This ash hair color is great for someone who already has an ashy base color to their natural hair with pops of honey blonde, and it's the best of both worlds. You get blonde with a smudged root, lived-in look, so for those who aren't wanting the major upkeep of hair highlights, this is perfect! It's just very soft all around almost making it seem as though it's just your natural color! Also, the cut has tons of versatility so it's really great for anyone. Whether you have 30 seconds or 30 minutes to style your hair, it can look great either way!
Dark Ash Blonde

@hairbysalah
Q&A with style creator, Salah Masry
Colorist @ Hair Creators in Dubai, UAE
---
How would you describe this look?
The seamless transition from a dark ash blonde hue to light makes it expansive and modern. As well as the cool shades and harmonious tones on her gorgeous long hair.
Any advice for someone considering it?
Check the condition of the hair if it can take the process before doing it. Avoid hot styling tools to maintain the color, and make sure that it suits the skin color.
Smokey Ash Blonde

@hairbybrittanybrianne
Q&A with style creator, Brittany Brianne
Stylist @ Mysekai Hair in Vancouver, BC
---
How would you describe this look?
The greatest thing about this blonde gray hair is the seamless blend into a silvery tone, which was very hard to achieve. This is also my favorite way to do waves since it makes the hair have so much volume and body without the curls being too tight!
Any advice for someone considering it?
To be honest, an ash color like this requires a lot of maintenance. The tone washes out fairly quick if not taken proper care. Someone having this look must use a strong purple shampoo, and should only be showering once every three days or less. That way the tone will last longer, also using color safe shampoo and conditioner will give the tone more longevity.
For someone who is very adamant about keeping the silver hair and ash-blonde locks, you would want to go to the salon and get a tone once or twice between balayage touchup. Otherwise, it fades to a beautiful smokey blonde balayage.
Ash Blonde Balayage

@theredheaddoesmyhair
Q&A with style creator, Ayah Grant
Senior Stylist @ Xtophers's Salon in Vancouver, BC
---
How would you describe this look?
My ashy blonde hair color creation! The guest had a year old grown out balayage that I had also done. She wanted a really blended look that had very low upkeep. She asked that the tone be very cool, ash blonde with lowlights. It's important to keep the strength and health of the hair when going so light so it's a great look that doesn't put too much wear and tear on your strands. I love creating blondes and this guest was super happy with the outcome. It's the best feeling when you see the gratitude on your guest's face!
Any advice for someone considering it?
I paired a couple of different techniques together to get the blend and brightness of the blonde so that the cool tone of the ash wouldn't darken it up too much. I did a pattern of backcombed, medium weaves, super fine baby lights to the scalp and hand painted ends. I toned with Aveda Demi+ light ash and Aveda Men's Grey blending in 7a. The cut is a blunt one length to maintain strength at the perimeter and just a few softer, face-framing pieces at the front. Blondes might have more fun but creating them is the best!
Ash Blonde Ombre

@illdyeforyou
Q&A with style creator, Robyn Sweeney
Color Specialist / Bridal Hair Specialist @ The Cove at LightHouse Salon Suites in Westlake Village,CA
---
How would you describe this look?
This ash blonde ombre hair color trend catches your eye! It has such a dramatic and edgy look to it yet the shadow tone in the root area is what keeps it less maintenance than the old school bleach and tone. This client could go 3 months before needing a touch-up!
The greatest thing about this haircut is its versatility. It can go from sophisticated and chic to young and playful in seconds. From a sleek, I mean business style, to a fun, break open the rosé, top knot. The options are endless!
Any advice for someone considering it?
This ash ombre is great for anyone feeling like a change. We all get in that rut where we look in the mirror and feel so boring! This color brings life back to your look. I feel that almost anyone could do it because of the natural root color that remains. Just keep in mind, the darker your hair is the more time, money, and aftercare will be needed.
To keep the ashy tones in between appointments you may want to pop into the salon once or twice for a toner. This haircut could be great on any face shape. The length is at a good point where it can balance a long face or thin out a full face. It only depends on a center or side part to change its look and adjust to different face shapes. This look would definitely catch my attention!
Ash Blonde Babylights

@megannnrene
Q&A with style creator, Megan Porter
Hairstylist @ Studio 23 in Granger, IN
---
How would you describe this look?
This an ash beige blonde created by using a combination of balayage and babylights to achieve dimension and brightness! When it comes to color services, I specialize in blondes, especially ash.
The greatest part would be creating a customized toner to suit my client's skin tone along with making sure their cut/style complements their face shape. Afterward, I like to add a soft, beachy wave to enhance texture and body.
Any advice for someone considering it?
My client is a natural level 8 and she is in my chair to refresh every 12-16 weeks since she is a natural blonde. Achieving this level of lightness isn't impossible but it's definitely a long process and could be a challenge for darker levels. Multiple sessions may help maintain the integrity of the hair and break up the cost if your client in on a budget.
Aftercare and maintenance are key, especially for cooler blondes this like ash hair. I always recommend a good shampoo specific to my clients' needs and a toning shampoo to brighten up the tone in between appointments.
Grey and Ash Blonde Tones

@jamae_w.hair
Q&A with style creator, Jamae Wiederhold
Level 2 Hair Stylist @ Elle Marie Hair Studio in Woodinville, WA
---
How would you describe this look?
I call this a silver foilage because I combined the two techniques, foils and balayage to achieve the lightness needed to create a silver color. Which is definitely one of the more popular hair trends. First off, I want to point out that this blonde hair color took 6+ months in the making and I was starting at level 6-7 hair. It is important not to push the hair beyond its strengths when achieving this color, as to get to silver you, have to take all the pigment out of the hair which will leave it vulnerable and needing treatments and frequent maintenance.
This cut is a medium length with long, textured layers. We curled into a "beach wave" look to complement the textured cut. For the photo, I added a loose braid to complete an undone, beachy look!
Any advice for someone considering it?
Although this ash blonde hairstyles are highly sought after, it comes with a lot of time, money, and maintenance. 99% of silvers are not created in one appointment (if you are told it's possible in one appointment, seek a different stylist as your hair will be compromised). Slowly but surely is the model for a silver or platinum color! Your appointments could take 3-5 hrs depending on your hair and could cost upwards of 200-500$ plus the take-home products to keep your hair in great shape. I would recommend to my client getting this color to take home a violet shampoo, healing or repairing conditioner, a leave-in conditioner, and a heat protectant if styling daily with heat.
As a stylist, I always explain hair care and maintenance and price before starting the service. It's important to educate our guests, they look to us to give them the right hair for them and even though it might be something they initially wanted, in the end, it might not be for them.
Platinum Ash Blonde

@kyndastudioll
Q&A with style creator, Kynda Busz
Redken Artist / Owner @ Studio ll Hair Designers and Day Spa in Aberdeen, WA
---
How would you describe this look?
What I love about this technique is the softness it gives to a harsh grow outline. I applied Redken's Shades eq to zone 1 and blurred down to different parts of zone 2 and 3 to give a soft blended look. Shampooing it after it processed I used Redken's Color Extend Blondage shampoo pulling ash platinum blonde color down and through the rest of the hair to tone out all the brassy color.
Any advice for someone considering it?
Listen to your stylist for home care regime and turn heated appliances down. I recommend only Redken and Pureology. This platinum blonde hair is for any hair type and color can be formulated and placed just for your specialized look.
Ashy Champagne Blonde Bob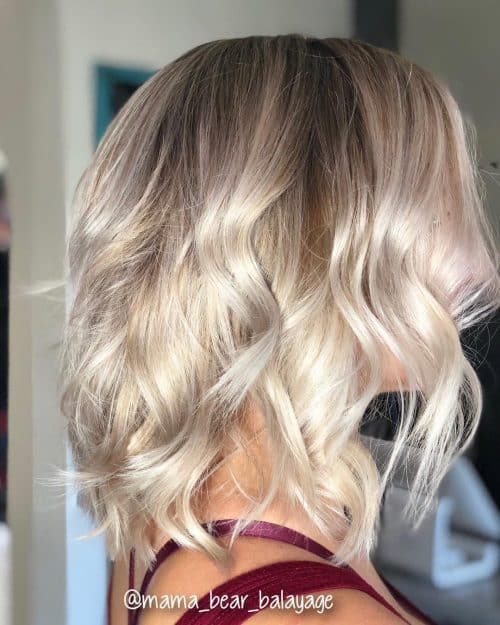 @mama_bear_balayage
Q&A with style creator, Whitney Carroll
Hairstylist @ Em Salon and Spa in Salem, OR
---
How would you describe this look?
It's an iridescent pearl ash blonde babylights with a smudged root and style-textured beach waves. The thing I love most about this bob haircut and color is the silver pearl toner we used for this amazing hair color trend.
Any advice for someone considering it?
Purple shampoo is a must to keep the color from getting too yellow as well as a heat protectant. Also, use a dry texture spray for styling to get the beachy wave curls. My favorite is Kenra.
If you have dark hair this ash blonde hairstyle will be an intense process taking multiple sessions and can get quite spendy. Maintenance can become quite intense as well. The grow-out is nice. However, you need a toner refresh every 4-6 weeks to keep the ashy tone in the hair. The darker your hair is naturally the more maintenance and the harder it will be. Lifestyle really depends on how often you are willing to spend on maintaining your hair and how much your willing to invest.