22 Prettiest Ways to Get Rose Gold Highlights for Every Hair Color
Rose Gold Highlights on Dark Brunette Hair

@hairbyflorakim
Dark rose gold highlights on dark brunette hair look great with beach waves. Always opt for a balayage if you want a hair color that seems natural with an illusion of a dimension.
Sunset Rose Gold Ombre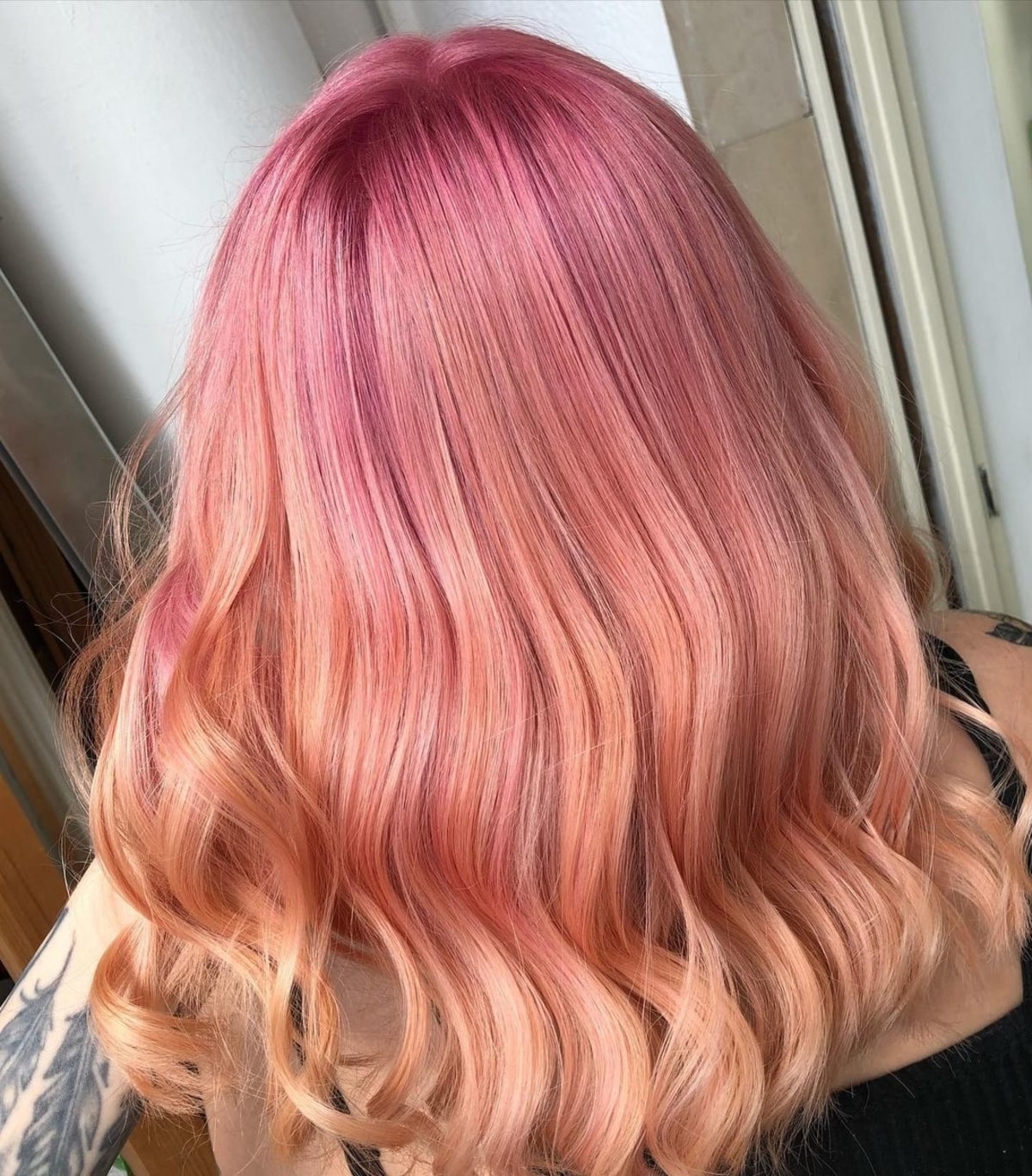 @ineswildcolors
Rock a sunset rose gold ombre if you dare to be different. The base is highlighted by rose gold and melted to perfection into a stunning peach gradient. This hue offers you sunset on your tresses.
Metallic Rose Gold and Pink Hair Highlights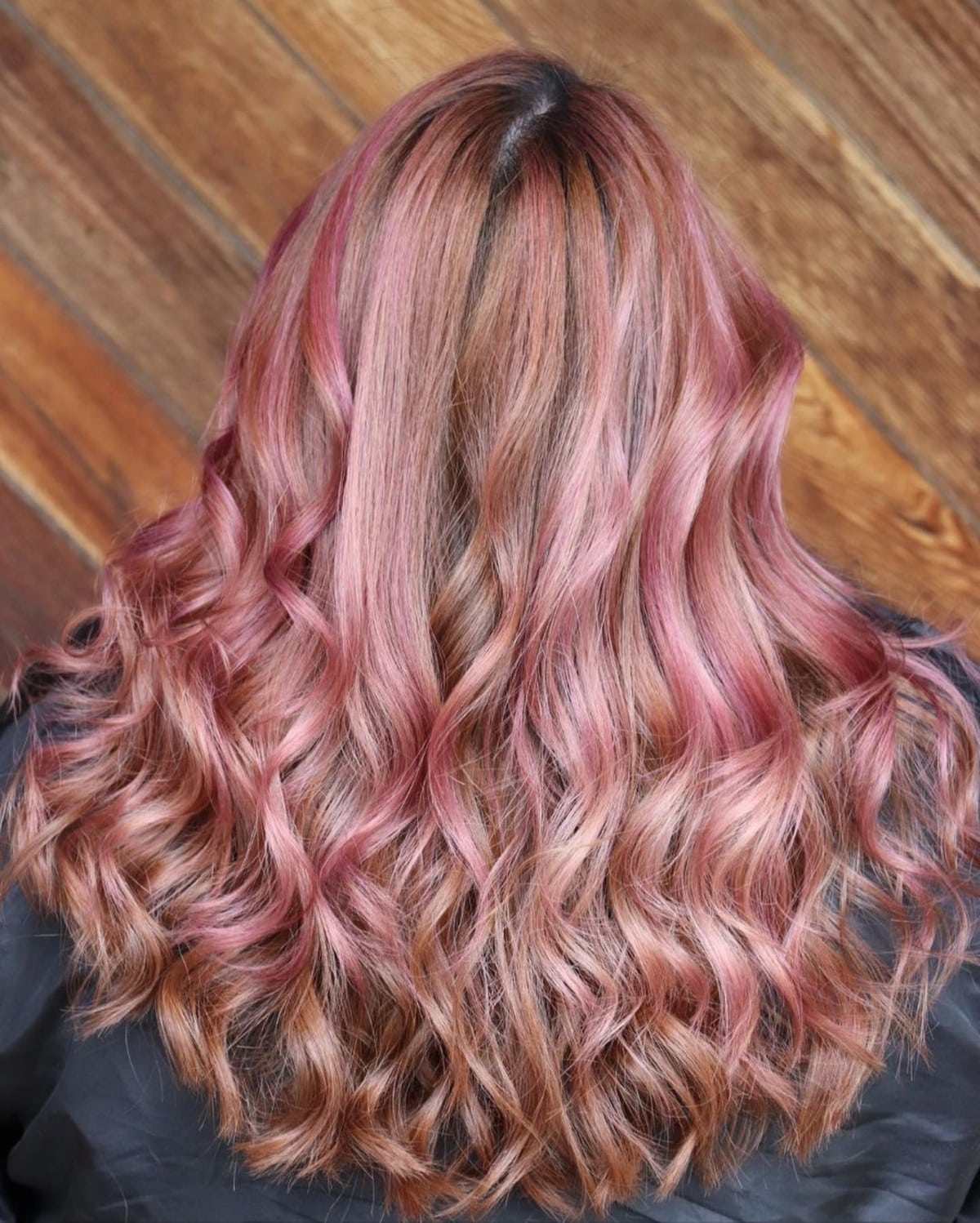 Instagran @venustosalon_la
Rock a metallic rose gold and pink hair highlights if you're looking for a fun new look! Highlights in rose gold add dimension to a warm golden base color. Finish your look by styling your hair with curls to show off the different hues.
Rose Gold Accents for Curly Hair

@curlyhairvancouver
Try rose gold accents for curly hair if you want your hair to pop! Opting for rose gold highlights on a warm brown base will add a beautiful blush glow. Let your curls dry naturally to showcase the added dimension and bounce.
Rose Gold Highlights with Peachy Undertones

@hairby_edwine_professional
Consider rose gold highlights with peachy undertones if you want a warmer glow to your hair color! The different hues of red, pink, and copper will come together perfectly. Your new hair color will allow you to glow brightly from the rest.
Rose Gold Strawberry Blonde Hair Highlights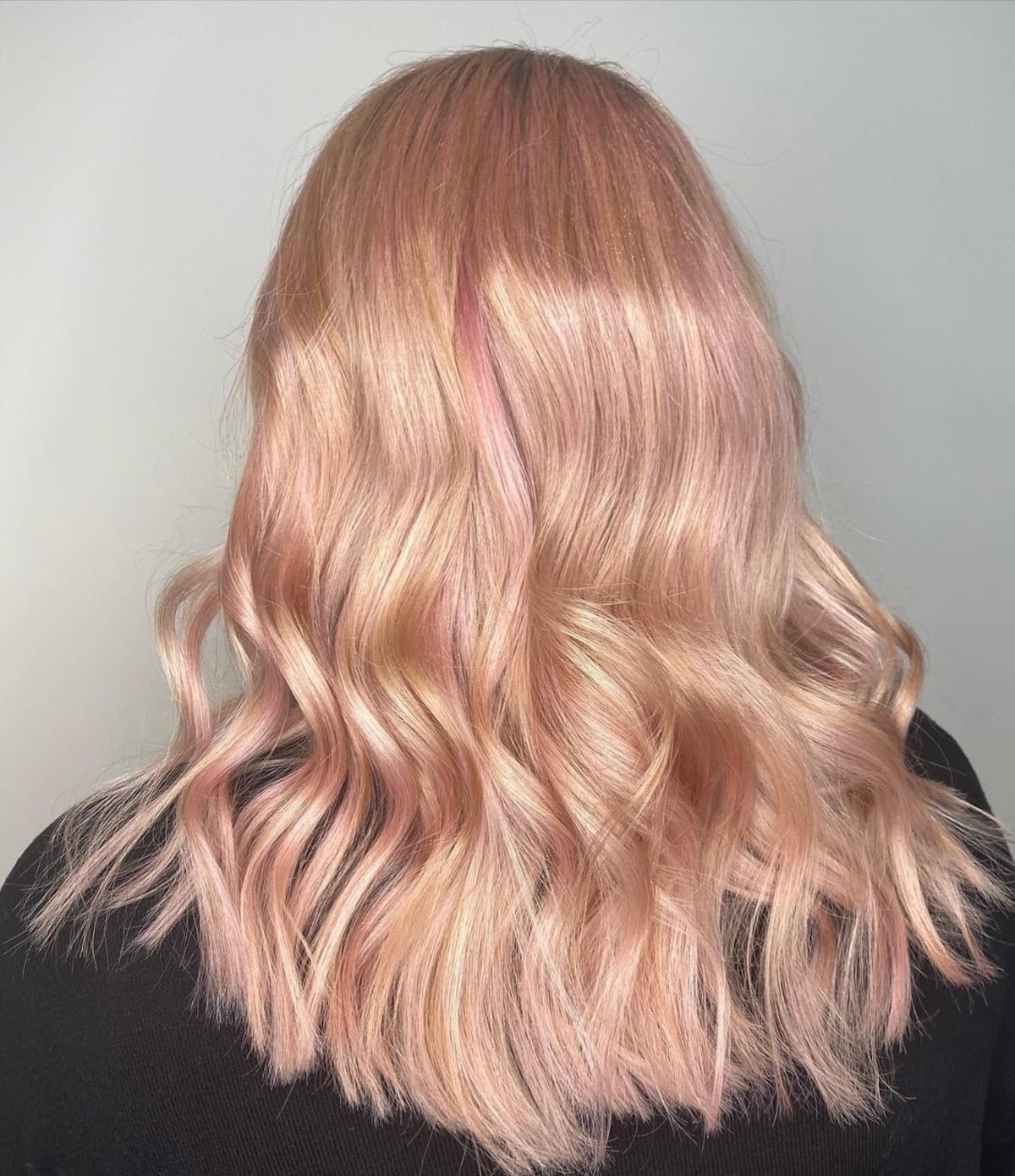 @rachel_hairstylist1
Try rose gold strawberry blond hair highlights if you're feeling bored with your blonde locks! Rose gold hair is trending right now! The rose gold highlights look amazing with a peachy base blonde. Style it with waves to show off the different tones.
Pastel Rose Gold Highlights

@hellomandii
Consider pastel rose gold highlights on your next hair appointment! The base color is a beautiful golden blonde, and the highlights are rose gold. The warm blonde and rose gold hues are a perfect color combination to flare up some dimensions into your tresses.
Rose Gold Money Pieces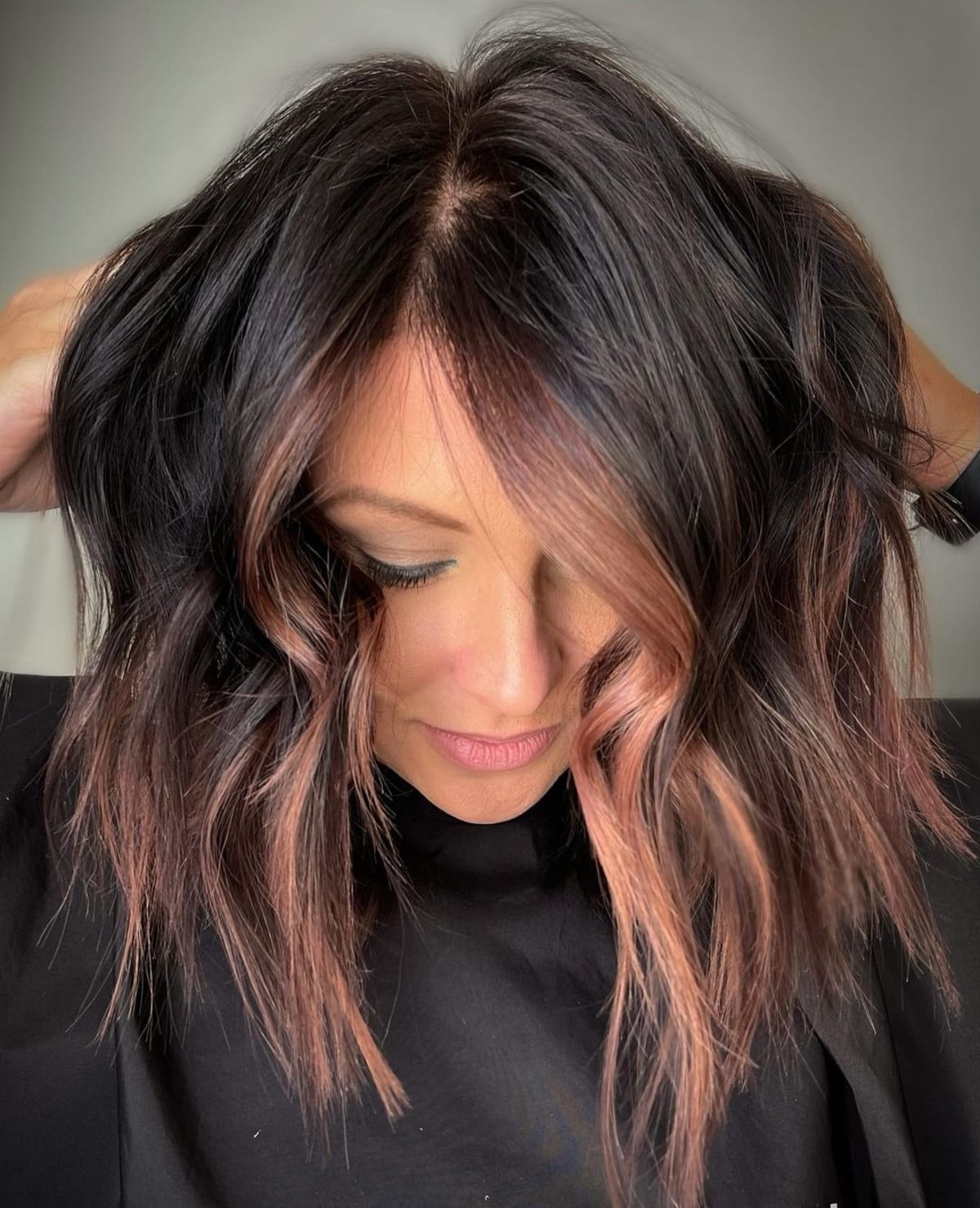 @capellibymegs
Try rose gold money pieces if you're looking for a polished, bold change. The rose gold color with your brown base will be the perfect color combination that can be enjoyed at any time of year. The warmth of the hair hues is suitable for women with warmer skin complexions.
Subtle Rose Gold Highlights

@destryhair.ohio
These are the best subtle rose gold highlights for medium wavy locks. The entire look shows off a color melt, which helps you naturally grow out your hair. When considering a new haircut, opt for a mid-length one with jagged ends to uplift its movement.
Rose Gold Highlights on Black Hair

@thehairtist
Add shine to your black hair with rose gold highlights for a chic and low-maintenance style! These pale rose gold highlights on black hair look subtle and seamless as if they're your natural locks, too. Boost its relaxed and soft finish by creating waves at the end of your strands.
Rose Gold Highlights on Brown Hair

@srah_michelle
These gorgeous rose gold highlights on brown hair are for ladies who love trendy things. The foilayage does a great job of creating dimension. This rose gold hair idea has a shade that's ideal for your long tresses when matched with loose waves.
Rose Gold Balayage Highlights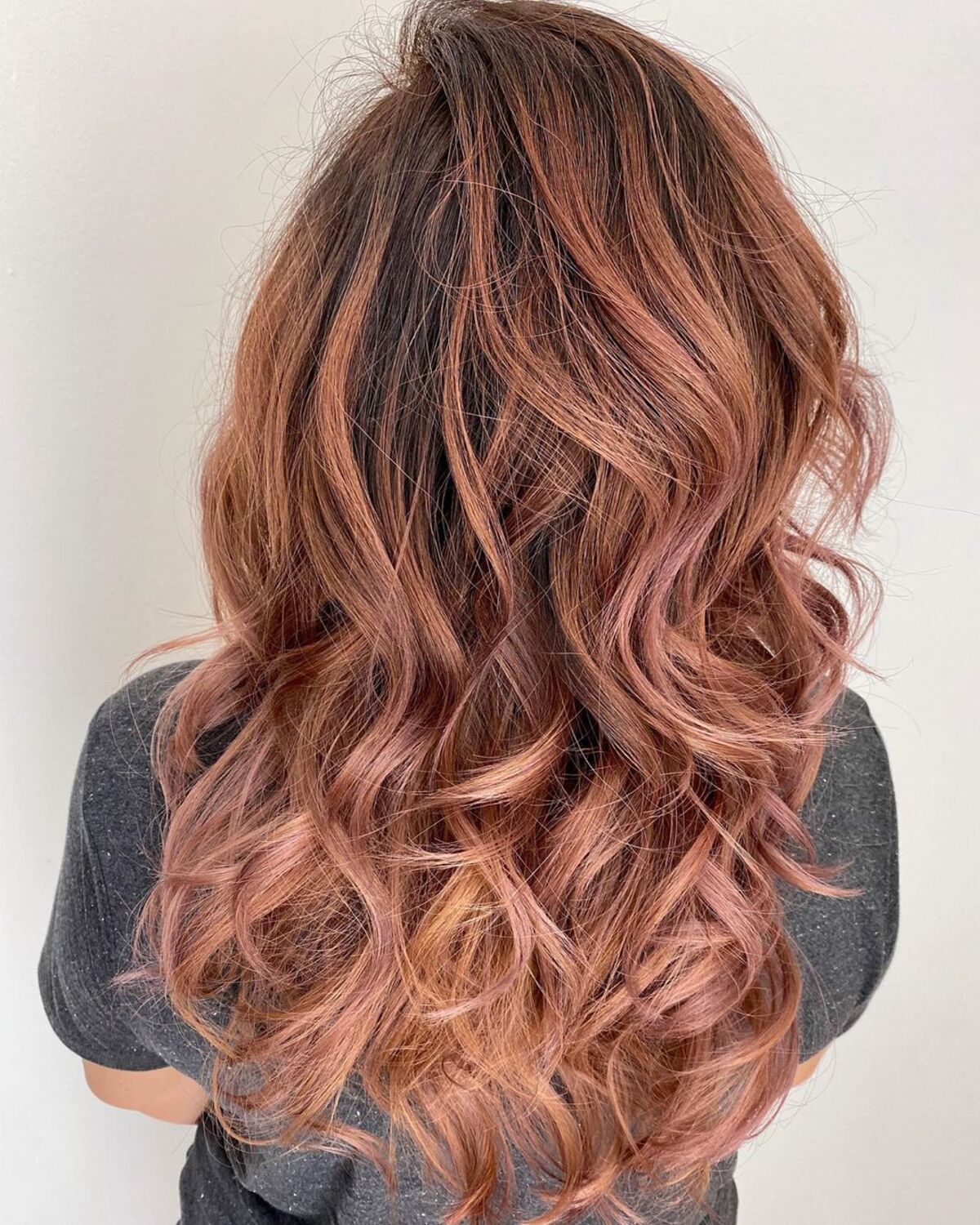 @cult__hair
Opt for this low-maintenance rose gold hair color if you're interested in rose gold balayage highlights. If you have thick and long hair, feel free to style it with voluminous waves to bring out more movement and life.
Rose Gold Highlights on Dark Hair

@balay.mama
These rose gold highlights on dark hair are two shades that create stunning contrast. For styling, let your locks grow long and jazz them up with beach waves.
Rose Gold Highlights on Blonde Hair

@hair_bling_by_sivan
Rose gold highlights on blonde hair create a chic, vibrant dimension that looks great on a mid-length chop with natural root volume. Choose between a shade of platinum or champagne blonde color to achieve that hint of a pink shade.
Rose Gold Peekaboo Highlights

@ashley_taylor.hair
Experiment with a rose gold color and peekaboo highlights to add to your icy blonde hair. When it comes to choosing the haircut, opt for a length that doesn't go beyond shoulders for easy styling.
Perfect Copper Rose Gold Highlights for Brunettes

@winzerhairsalon_palmsprings
No doubt, these are the perfect copper rose gold highlights for brunettes with a mid-length chop! Its blazing effect creates a one-of-a-kind dimension. This balayage looks great with soft waves and the waves add movement to smooth tresses. When styling, use a shine spray to boost the color's glossiness.
Rose Gold Highlights on Dark Brown Hair

@hairwithkristina
Pops of rose gold highlights on dark brown hair are sure to add to your natural beauty. Jazz it up with voluminous waves to emphasize the color even more. This is a style that works best on thick tresses, grazing the shoulders.
Rose Gold Highlights and Lowlights

@schalansilva
These rose gold highlights and lowlights are great for ladies who have dark roots. With the foilayage method, the result appears dimensional and brings out a flirty vibe. Add waves, focusing at the ends of your long tresses, for a softer finish. With this bright rose gold hair dye, make sure to wash your mane with purple shampoo to prevent fading of the pigment.
Rose Gold Highlights on Light Brown Long Hair

@hairbackstageonair
Flaunt a chic long hairstyle when you wear light rose gold highlights on light brown hair. This balayage offers an illusion of dimension on a dark root for a low-maintenance finish. Style the lower half of your locks with waves to achieve a textured and voluminous edge.
Rose Gold Highlights on Dark Blonde Straight Hair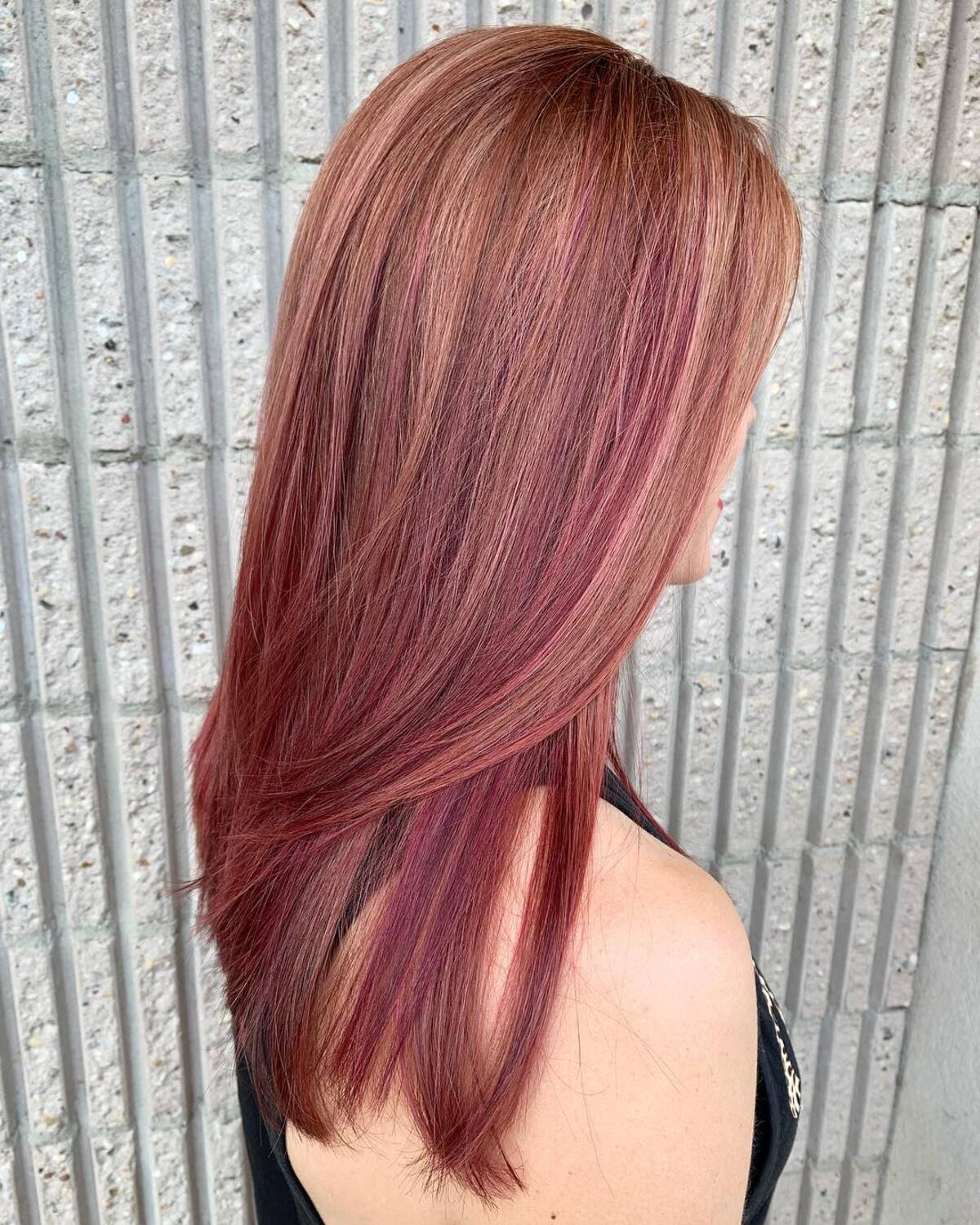 @queenvaderhair
Add rose gold highlights to dark blonde hair for a dimensional effect. With this sensational look, all you need is a mid-length chop for your straight hair, and you're good.
Caramel Blonde and Rose Gold Highlights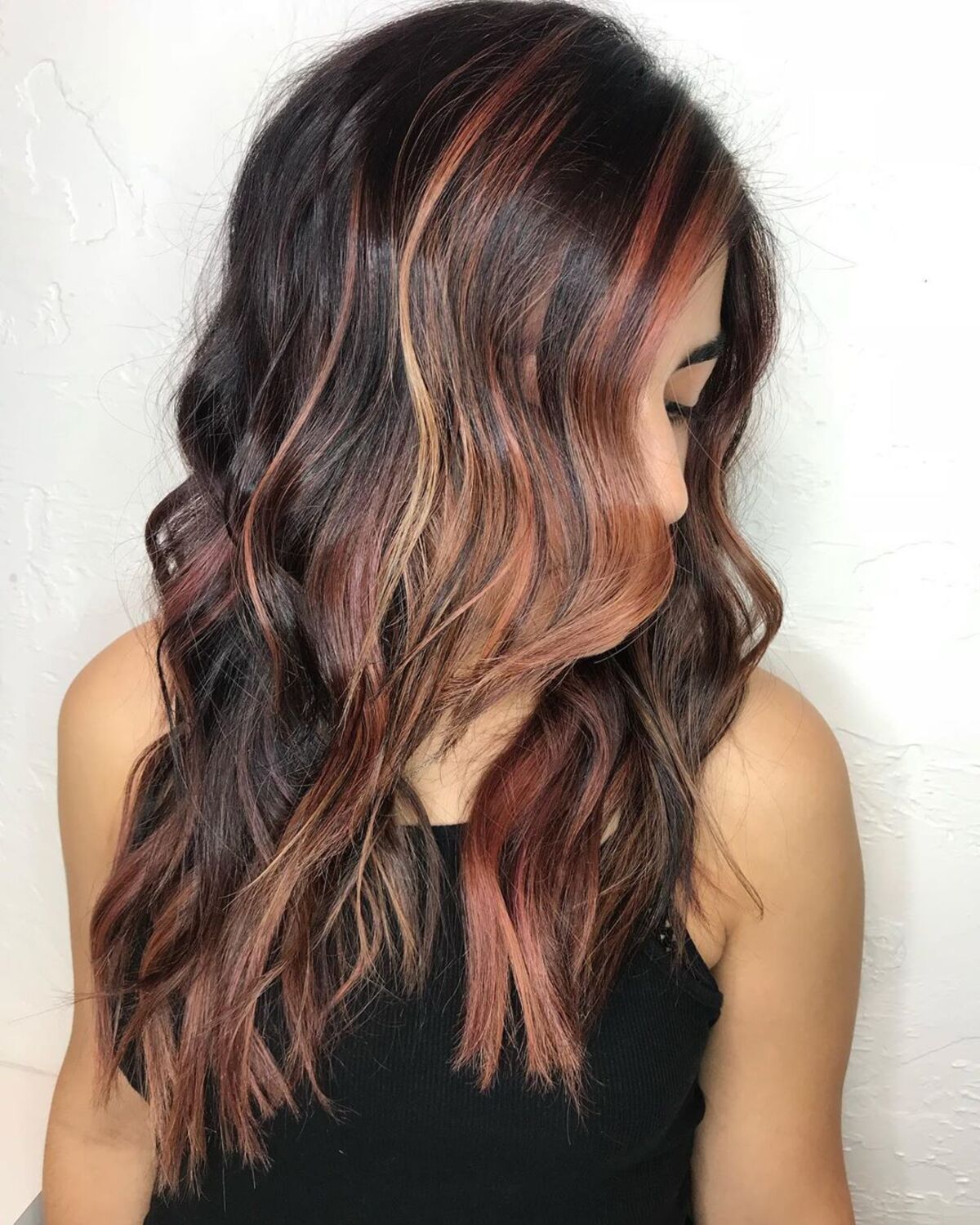 @samanthapaintshair
Add fire to your dark tresses by opting for these caramel blonde and rose gold hair highlights. The overall look appears both stylish and edgy. If you need to add a little tweak to your long layered haircut, this is the answer.
Rose Gold Shade on Brown Short Hair

@malibunblondes
These rose gold highlights on brown short hair are full of dimensional vibes! This look is even much more mesmerizing with voluminous curls. If you opt for a shorter cut, feel free to consider a pixie instead. The result would be awesome!