26 Low-Maintenance Medium-Length Haircuts for Busy Women
Extra Long Low-Maintenance Pixie Cut

@jeanclaudeelmoughayar
Rocking this extra-long low-maintenance pixie cut is amazing if you have smaller features and want something a bit more edgy and fun. It also adds some fullness on top to balance out a smaller, thinner face.
Choosing this haircut is a bit more of a commitment, however, as you will need to see your hairstylist every 4 weeks for maintenance. Spray in some She-bang-a-bang by Evo for a messy and textured style.
Low-Maintenance Blunt Cut for Women Over 50

@angelicaguirao
A low-maintenance blunt cut for women over 50 is perfect for medium-textured hair. Adding a long fringe to a medium-length style adds some interest and is incredibly easy to maintain as this style grows out beautifully. Before blow-drying, add some Moisture and Shine Cream by Amika for a gorgeous and bouncy blowout.
Related: See more various hairstyles for women over 50.
Mid-Length Chop with an Undercut for Thicker Hair

@dinaghoulina
The mid-length chop with an undercut for thicker hair is a cool and edgy hairstyle. Like most medium-length styles, it's quite versatile even though a good bit of hair on the side, from the temple, and an inch up to the back of the ear is shaved. A great option if the hair is very thick and you want it a bit lighter. Why not add some colorful pieces throughout like purple?
Flowing Long Layers for Collarbone-Length Hair

@romeufelipe
Flowing long layers for collarbone-length hair is perfect for medium to thick hair textures and is incredibly low maintenance for all you active lifestyle types. No need for hot tools if you're a low-maintenance girl, simply blow-dry in a bit of Amika's Moisture and Shine cream with a bit of Hair Resort Spray by Kevin Murphy and you will have envy-inducing beachy waves.
Long Angled Bob for Older Women with Glasses

@hairby.shelbyrae
Choosing a long angled bob for older women with glasses is perfect if you want to add some drama to your life. When you're wearing glasses, you want a beautiful face-framing haircut to add visual appeal, which is why this is a perfect haircut for older women with fine hair. The soft layers around the face are never in the way of your frames and add just enough punch to give fine hair some added fullness.
Mid-Length Curtain Bangs for Oval Faces

@hirohair
Rocking some mid-length curtain bangs for oval faces will get you noticed and will make your eyes pop. Curtain bangs pair well with an amazing textured haircut as it's the perfect beachy undone style.
They are not low-maintenance, however, as they grow out quickly. But, if you visit your stylist between haircuts for a quick trim, you'll be good to go. To achieve this beachy style, simply add some I Want Body Texture Spray by ELEVEN Australia to dry hair and scrunch it in.
Related: See more medium-length hairstyles with bangs.
Low-Maintenance Cut with a Deep Side Part

@salongnyans
Choosing a low-maintenance cut with a deep side part is especially flattering on those with a round face. The long but soft layers add dimension to a round face, accenting those cheekbones beautifully. This low-maintenance cut is great for you gals on the go as you will only be needing to visit your stylist every 8 weeks to keep those ends in beautiful shape.
Very Long Inverted Bob Cut

@suedub
A very long inverted bob cut hits all the right notes if you're looking to amp up your style. The inverted bob adds the illusion of fullness to fine-textured hair and is also super low-maintenance as it grows out beautifully and can be worn either curly or straight. Simply add some Shine Drops from Evo before you go to give those locks some sparkle and shine.
Asymmetrical Long Bob for Older Women

@ashlalee
An asymmetrical long bob for older women is anything but boring if you are ready to step outside your box. Medium-length hairstyles are universally flattering and show that you've got style and a bit of sass. For some added flair, amp up those locks with some curls and finish the style with some Bedroom Hair by Kevin Murphy.
Shoulder-Length Chop for Curly Hair

@mouseybrowne
A shoulder-length chop for curly hair is a bold, look-at-me style. If you are tired of your long and limp locks, opt for a medium-length haircut to feature your gorgeous curls. A boxy, square-shaped haircut like this features a gorgeous fringe to make those eyes pop. To achieve this style, add some Total Recoil by Evo and twist damp hair around your finger to shape. Blow-dry your hair with a diffuser and you will be sure to keep those frizzies at bay.
Collarbone-Length Tousled Waves

@victorvictor.coiffure
Collarbone-length tousled waves are perfect if you're looking to create that effortless and beachy style. Consider this medium-length haircut if you have finer hair and want to create some volume.
The cut is low maintenance. As it grows out seamlessly, a visit to your stylist every 8 weeks is all that's necessary to keep it looking fresh and fabulous. After you've curled your hair with a 1" barrel curling iron, spray in some Un.Done by Amika to create that matte and beachy texture.
Mid-Length Shag with Long Curtain Bangs

@kristenshawhair
A mid-length shag with long curtain bangs is a low-maintenance haircut that suits most face shapes. The haircut can be created with scissors for a sharper finish or a razor, giving extra texture and body to the hair.
Depending on the hair type, you can either spray some sea salt or sugar spray and scrunch or use straighteners to slightly wave or spray texturing spray and mess it up with your hands to create a lived-in finish.
Layered Low-Maintenance Shaggy Haircut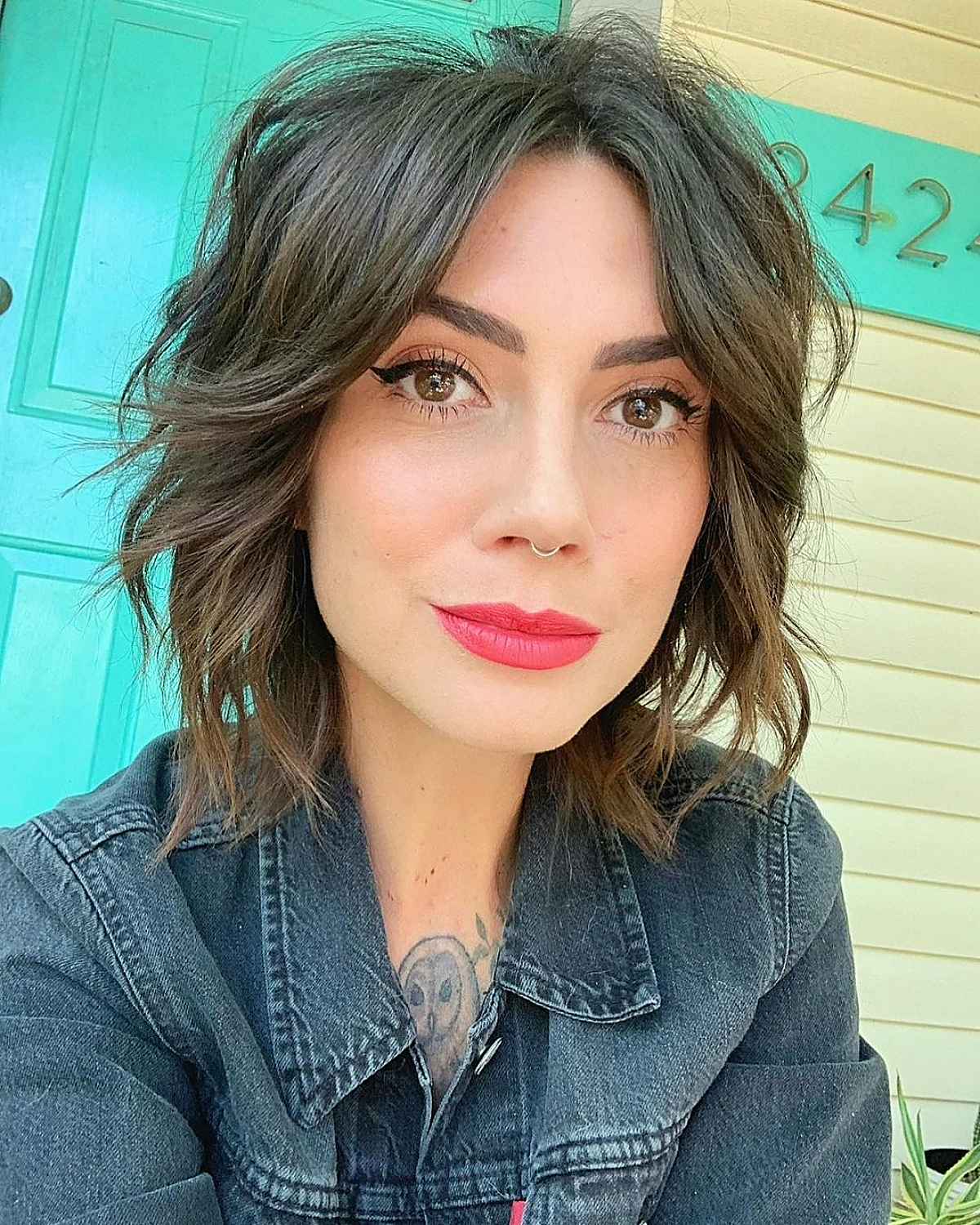 @classiclois_hairstylist
The layered low-maintenance shaggy haircut is one of the most preferred and trendy cuts amongst all the low-maintenance hairstyles lately. This cut is in demand because of the little to no styling requirement and the beautiful way it grows out. The layered shaggy haircut is perfect for women with fine, medium, and thick hair density.
Edgy Lob with Bangs

@id_studio_
An edgy lob with bangs is a medium-length hairstyle that's classy and only requires low upkeep. The soft fringe is versatile and can be worn full, to the side, parted in the middle, or pinned back. Style the lob smooth with a bit of an inward flick while adding a few drops of Olaplex's bonding oil n7 for some extra shine.
Razored Medium-Length Cut for Thick Hair

@feverfewhair
The razored medium-length cut for thick hair is a great timesaving hairstyle. It's perfect for women with thick hair that prefer low-maintenance haircuts. The length pulls and weighs the hair down and choppy razored layers that take significant bulk out, making thick hair more manageable. Ask your stylist to use a feather razor to create layers with extra lightness.
Tousled Beach Waves

@roberiofonttes
Tousled beach waves are an easy way to complement low-maintenance cuts. The waves can be done with straighteners, thongs, or wands. Try using the brand GHD, which has various styling tools.
Make sure you twist away from the face on both sides, not necessarily keeping the same direction at the back. Before using a hot tool, apply some heat protectant. Let the wave cool and add some hair spray, then brush out with a wide comb or shake and create a messy, lived-in finish with your hands.
Low-Maintenance Long Bob for Women Over 60

@nellcarmo
The low-maintenance long bob for women over 60 is a classic hairstyle that never goes out of fashion. The front section reaches the collarbone, and the back lays on the neck. The layers at the back could be stacked, which will give extra volume if your hair is fine or will take the weight off if your hair is thick. Style smooth with a round brush and flick the ends inwards. Don't forget to spray with a soft hair spray.
Shoulder-Length Shag for Women Over 40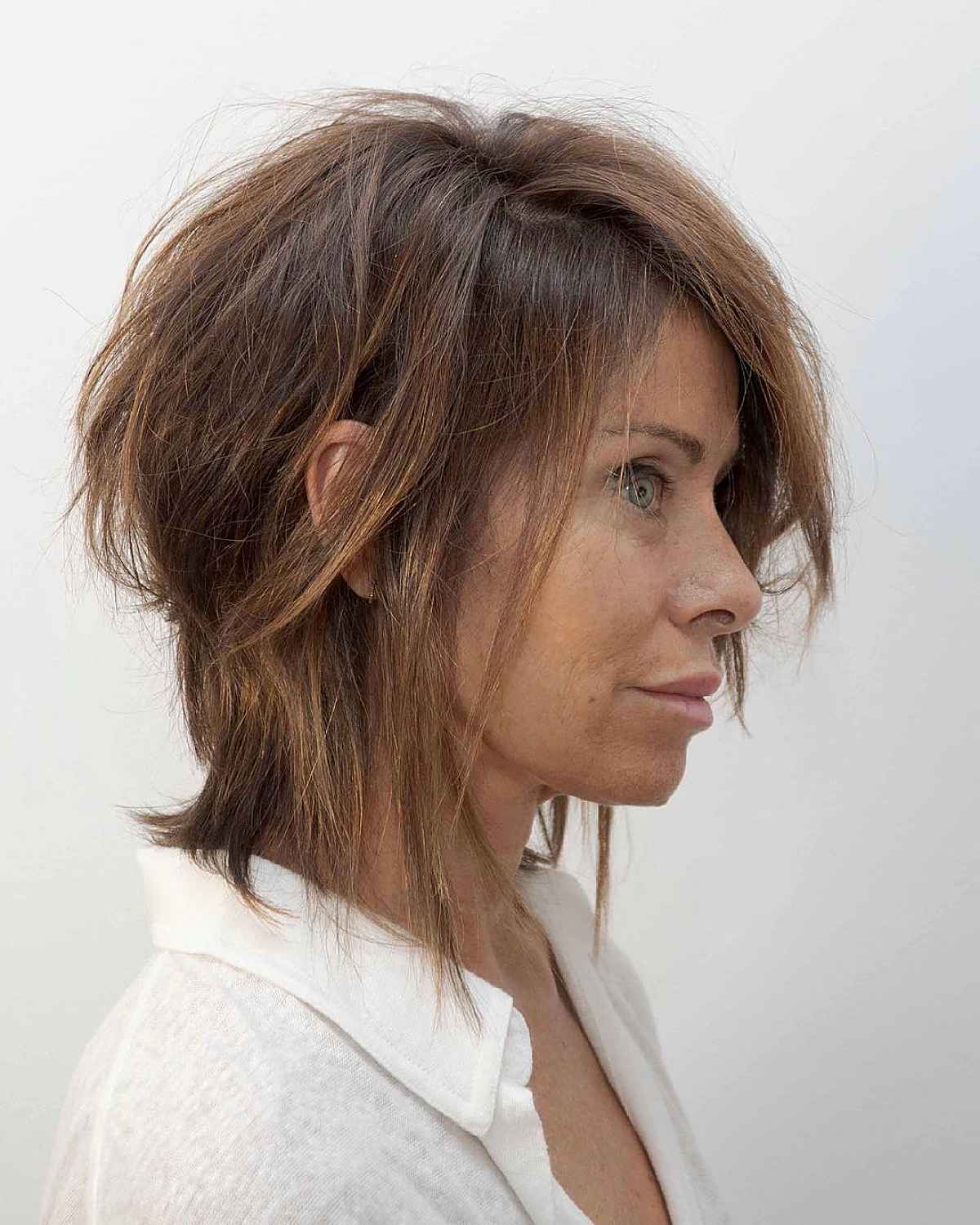 @__jonas_rojo_
The shoulder-length shag for women over 40 is a popular medium-length cut. It suits most face shapes, hair densities, and textures except for the type 4 hair texture. Ask your hairstylist to cut the shag with a razor if you like more texture and body.
If the hair is on the soft side, you can put some Nioxin's Instant fullness Dry Shampoo even if the hair is freshly washed, or Savage Panache powder spray by L'Oréal to achieve an outrageous texture.
Shoulder-Length Layered Cut for Round Faces

@quoyfish
A shoulder-length layered cut for round faces is flattering when the layers are cut in a way that gives extra height instead of volume on the sides. Add a full long fringe for more height which elongates round face shapes.
Style with a slight flick or wave but don't add too much volume on the sides of the haircut since that will create a more rounded shape.
Face-Framing Money Piece on Mid-Length Hair

@styledby_katie
The face-framing money piece on mid-length hair is a total hit. Discuss with your colorist how high the money piece should start and how soft or bold you want it to be. When the base is dark, level 5 and below, it's better to avoid starting too close to the scalp because that can make the money piece look disconnected and stripy. Waving the money piece away from the face will expose the blonde color even more. Don't forget to use hairspray and let the waves cool down before brushing it out.
Shoulder-Length Haircut for Women Over 30

@rafaelbertolucci1
A shoulder-length haircut for women over 30 is considered a low-maintenance, medium-length cut that suits all face shapes, most hair densities, and most hair textures. The length of this cut depends on your preference. Ask your hairstylist for soft frames around the face. Style this cut with a big round brush for added volume.
Low-Maintenance Ponytail for Shoulder-Length Hair

@mthairteam
The low-maintenance ponytail for shoulder-length hair is a quick classic up-do, making it one of the most preferable hair-ups in all the low-maintenance styles. Discuss with your stylist how high and where exactly is the most flattering position for the ponytail, depending on your face shape and jawline.
The easiest and most efficient method for creating the ponytail is using elastics with hooks on each end. The ponytail can be waved with thongs then sprayed with texturizing spray or powder, and brushed out for added volume and body.
Low-Maintenance Medium-Length Hairstyle

@rodrigocintra
A low-maintenance medium-length hairstyle is a one-length haircut that reaches the collarbone or slightly below it. It's a low-maintenance hairstyle that suits all face shapes and is stylish and versatile.
If you don't have a particular partition, ask your stylist to put the partition in the middle. This way, it will always look good no matter which side you flick your hair. Consider adding some caramel pieces throughout the hair for added dimension.
Low-Maintenance Shaggy Long Bob

@shelby.loos
The low-maintenance shaggy long bob is ideal for women with thin to medium hair density. If more texture is desired, a feather razor can be used to cut in the layers, taking diagonal front sections, starting from the fringe going backward.
Consider adding a blonde balayage. It complements the shaggy lob, especially on the beach, under the heat of the sun. Finish off the style by using a shine spray like Kevin.Murphy's Shimmer.shine acts as a repairing shine mist.
Mid-Length Middle Part for Wavy Hair

@danae_edwardsandco
The cute mid-length middle part for wavy hair is a popular low-maintenance style. The ends can be point-cut, and the layers sliced in to create texture and remove weight. The shorter layers frame the face.
Style this cut by curling with thongs using the twist and pull method, which creates a flat, soft wave. Don't forget to use a heat protectant like GHD's Bodyguard heat protect spray.
Easy Shoulder-Length Long Bob

@__.__saskia
An easy shoulder-length long bob is a great option for women who prefer not to spend much time styling their hair. It's one of the most desired hairstyles amongst medium-length haircuts because of its simplicity. This cut never goes out of style. Dry using a hairdryer on low hear, or let it air-dry to keep the natural texture of the hair.