21 Best Brown to Blonde Hair Color Ideas and Tips
Brunette to Platinum Blonde

@bellaviebykaitlyn
For first-time hair color changers, this cool brown roots to platinum blonde hue is for you! Broaden your horizon by broadening your hair color spectrum with an end-to-end brunette to blonde explosion.
Brown to Blonde Dip Dye

@hairbypaigeyp
A brown to blonde dip dye has a dramatic pop of color. Using a bright ashy blonde with cooler tones compliments tones in natural brown and cancels out any unwanted brassy tones.
Brown to Blonde Balayage

@colorbymarina
A brown to blonde balayage is a beautiful color for women with naturally dark hair. This color, also known as "Bronde", looks great on people with warm and olive skin tones. The balayage technique is perfect for anyone who needs a low-maintenance hair coloring schedule.
Brown to Blonde Ombre

@carra_balayage
Try a brown to blonde ombre if you're craving some bright blonde but you don't want to visit the salon for root retouches often. The darker base color makes the ends pop. You'll want to pick up some purple shampoo to tone down any brassiness that shows after the toner fades off.
Blonde Highlights on Brown Hair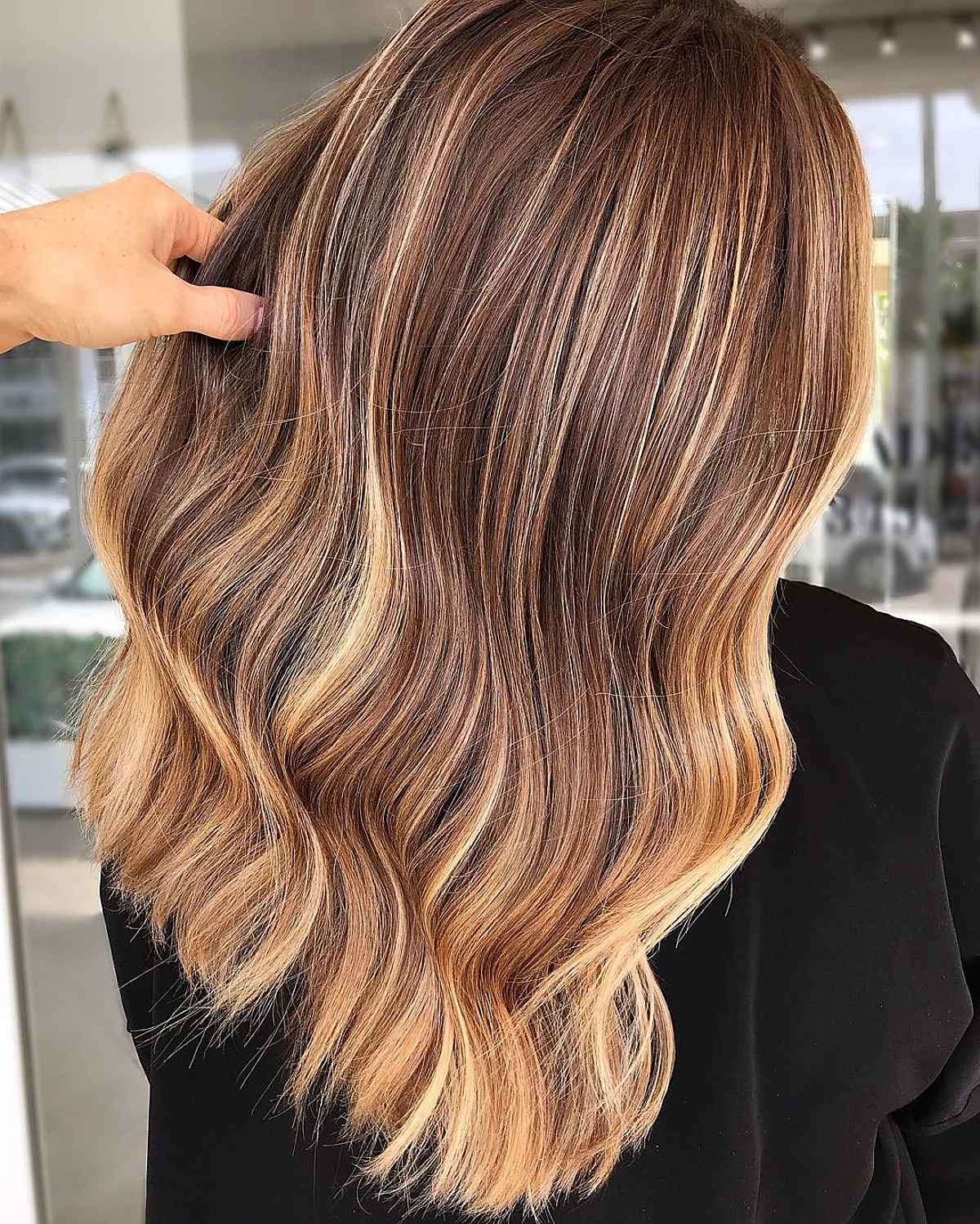 @suetyrrellstylist
Try blonde highlights on brown hair if you're looking to add a sun-kissed glow to your locks. Ask your stylist for a root shadow to blend the highlights and give you a lower maintenance color routine.
Dark Brown to Strawberry Blonde Color Melt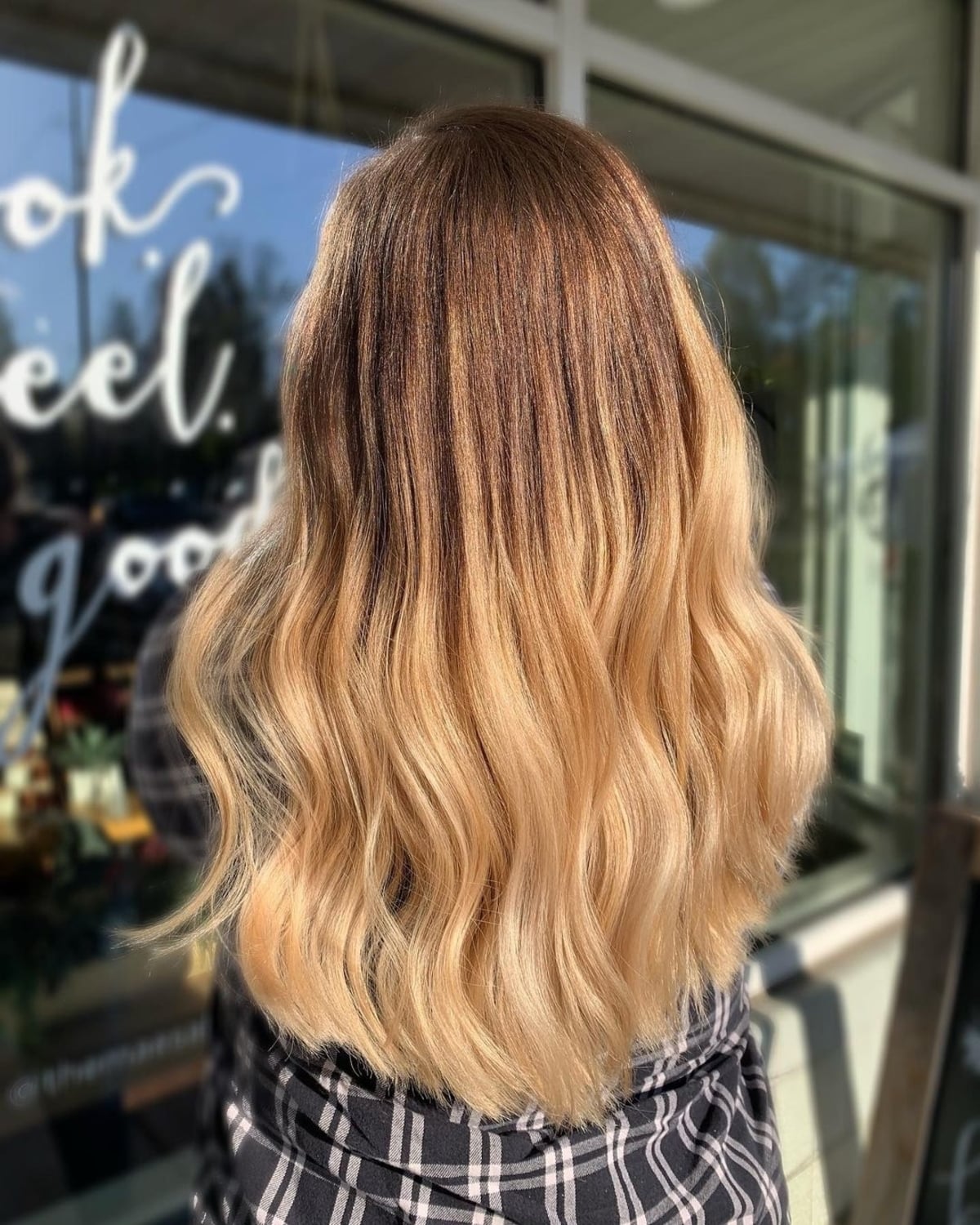 @hairbrainedhaley
A dark brown to strawberry blonde color melt is a great way to transition a woman into a more blonde look without completely taking away her brunette locks. A strawberry blonde tone is a perfect tone when taking a brunette lighter as it still contains some natural warm hues. A color melt is extremely low-maintenance and can be refreshed as little as needed.
Rose Gold Blonde on Brown Hair

@stylesbykeziah
Rose gold blonde on brown hair is a great way to spice up your balayage and add a fun hue to it. Pastel pink tones combined with warm golden blonde highlights create a youthful feel to the overall appearance. A rose gold toner that your stylist will apply after your balayage service will leave your hair feeling shiny, refreshed, and rosy.
Brown to Ash Blonde

@rozcorpuzhair
This is a gorgeous brown to ash blonde hair color that is only for high-fashion ladies. Low-maintenance and yet gorgeous—who else wants this?
The Classic Dark Brown to Blonde Ombre for Tan Skin Tone

@hairbykatieb_
This is a stunning example of dark brown to blonde ombre hair color for long, straight hair. The warm blonde highlights can flatter tan skin tones, too.
Balayage Brown to Blonde for Medium-Length Hair

@chantelledidit
This is a sexy balayage brown and blonde on medium-length hair. Chop some layers towards the ends then carefully sweep on varying tones of brown and blonde.
Brown to Light Blonde Hair Transformation

@trenaahair
A brilliant balayage comes in a brown to light blonde hair color transition. Such a brunette-to-blonde transformation looks soft and subtle—just like spilled cream on coffee!
Blonde Hair to Dark Brown

@hhouseofhair
This reverse ombre, from blonde to brown, has been done very tastefully. The beautiful blonde to dark brown hair seems to compete for the dominant color hair, which also creates a curtain of two-toned majesty.
Light Brown to Blonde Ombre on Long Hair

@alex.jacobshair
Long-haired gals are the perfect canvasses on various types of color techniques—like this bronde ombre!
This stylish and perfect shade of light brown to blonde was given justice by the gradual turn of dark to light colors with complementing curly locks.
Red-Brown to Blonde

@sally_halohair
This is a fabulous red-brown to blondish hair color. The flawless seeping in of contrasting mahogany colors creates a depth like no other. This color idea proves that going from brown to blonde hair doesn't always need a high upkeep.
Chocolate Brown to Honey Blonde

@e.d.w.designs
This is the prettiest chocolate brown to honey blonde hair color anyone can pull off.
Blonde to Brown Ombre on Short Hair

@chaotic_color
Big curls enhance the brown to blonde ombre look while also adding texture and form to the jaw-line cut. The unevenness of the color technique and the cut makes this all the more stylish.
This beach inverted bob was created by hairstylist and colorist Erin Wilson of Chesapeake, VA.
She explains, "for her color, we had done a partial foil, utilizing her natural color as a low light for this dimensional blonde."
Ash Brown to Blonde

@hair.by.hallie
This is a cool ash brown to blonde ombre, which is a must-try if you're tired of your old black hair. Furthermore, the medium waves really make this one multi-dimensional.
"I'm obsessed with the gentle depth in the crown and the cool blonde tone of this baby lighted ombré hair," says hairstylist Hallie Wutzke of Corona, CA.
For the girl who wants to spend more time flipping her hair than wrapping it in a bun, Wutzke says this color begs to be shown off with a beachy wave.
She adds, "if you are wanting a dramatic change but aren't interested in a monthly subscription to the salon chair, this is the perfect low-maintenance look that will last you months between lightening touch-ups and harsh lines!"
Brown to Blonde on Curly Hair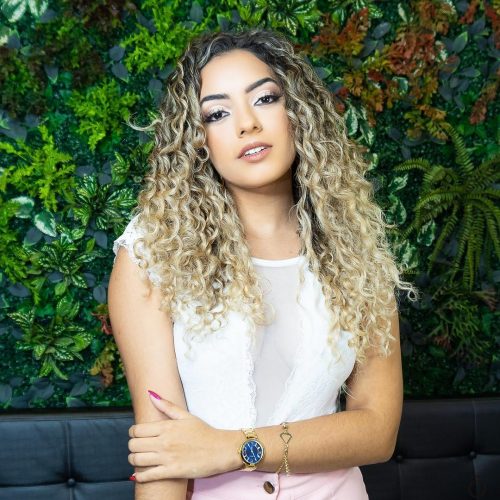 @leticiaoliveirashc
"The word that describes this fantastic brown to blonde on curly hair is the sun," says stylist Leticia Oliveira of Brazil.
She explains, "for this visual, I used a mixture of hot and cold beige tones, giving naturalness, creating hair movement, and matching the skin tone of the model."
When it comes to maintenance, Oliveira wants you to consider how much you are engaged in hair care.
"This look requires a regular routine of treatment that is quite wet (I suggest avocado seed oil or grapeseed oil with a few drops of jojoba oil) and a powerful mask reconstruction and nutrition, alternately. As the technique keeps the root smooth, it also allows retouching with up to 8 months, benefiting the health of the strands," she notes.
Brown to Dark Blonde Color Melt

@glamorousbykris
This eye-catching brown to dark blonde hair color is called a balayage highlight. It was created by hairstylist and colorist Kristina Dimovski of Ontario, CA. "The colors are warm caramel and cinnamon brown," she describes.
"Without saying, this brown to blonde shade is for women looking for a low-maintenance but still dramatic look," she adds. "Also, this is suited for all face shapes and all personalities."
Golden Brown to Platinum Blonde

@hairbybrittanyshott
This unique golden brown to platinum blonde is a melted balayage. It was handcrafted this way because of hairstylist Brittany Shott of Fredericksburg, VA.
"There is organic hand painting and also a range of different colors and tones," she explains.
She adds, "this color is also perfect for all women. It has a range of so many tones and is great for young girls or busy moms. The grow-out is seamless, meaning you wouldn't have to come in that often."
Natural Brown Roots to Beige Blonde

@hairby_juliap
This super cute natural brown roots to beige blonde balayage ombre was created by stylist and salon owner Julia Popenco of Vancouver, WA.
Popenco believes that no matter how light/dark blonde is, it has to be ashy or any other tone but orange. She says, "if you have a beautiful dark skin tone, keep it no lighter than a level 8. Anything lighter than that will be too obvious that it was colored and won't look natural."
"Also, I would recommend this shade of brown to blonde color to women who are going for a more natural look. Choose to straighten your hair if it's natural and wavy," she adds.