26 Hottest Black Hair with Highlights Trending in 2021
Black Hair with Platinum Highlights

@tommyamazinghair
Wearing black hair with platinum highlights is a chic way to flaunt a dimensional color. It requires minimal maintenance if tresses have a natural dark hue. These added streaks create instant texture that's sure to be eye-catching. Accentuate the platinum highlights on black hair on a daily basis by styling the tresses with waves.
Black Hair with Blonde Ombre Highlights

@texasbalayage
Black hair with blonde ombre highlights creates depth and lightness in all the right places. An ombre technique is great for women with dark hair because it gives a gradient blend from dark to light that is low maintenance. Blonde ombre highlights on dark hair give brunettes high contrast blonde highlights while leaving dimension and depth.
Honey Blonde Highlights on Black Hair

@thaoandhair
Honey blonde highlights on black hair are great for dark brunettes needing some sunshine in their hair. Warm, golden, honey tones are an achievable hair color goal for naturally dark-haired women. Balayage and babylights are techniques your stylist can use to help you achieve the maximum lift and brightness when working towards lightening black hair.
Short Black Hair with Highlights

@summerevansstudio
Short black hair with highlights is saucy and full of movement. Soft, warm-toned highlights give a beautiful blend on dark brown or black hair. Try out a lob haircut with layers, this adds texture and makes toffee-colored highlights stand out.
Subtle Highlights for Dark Mane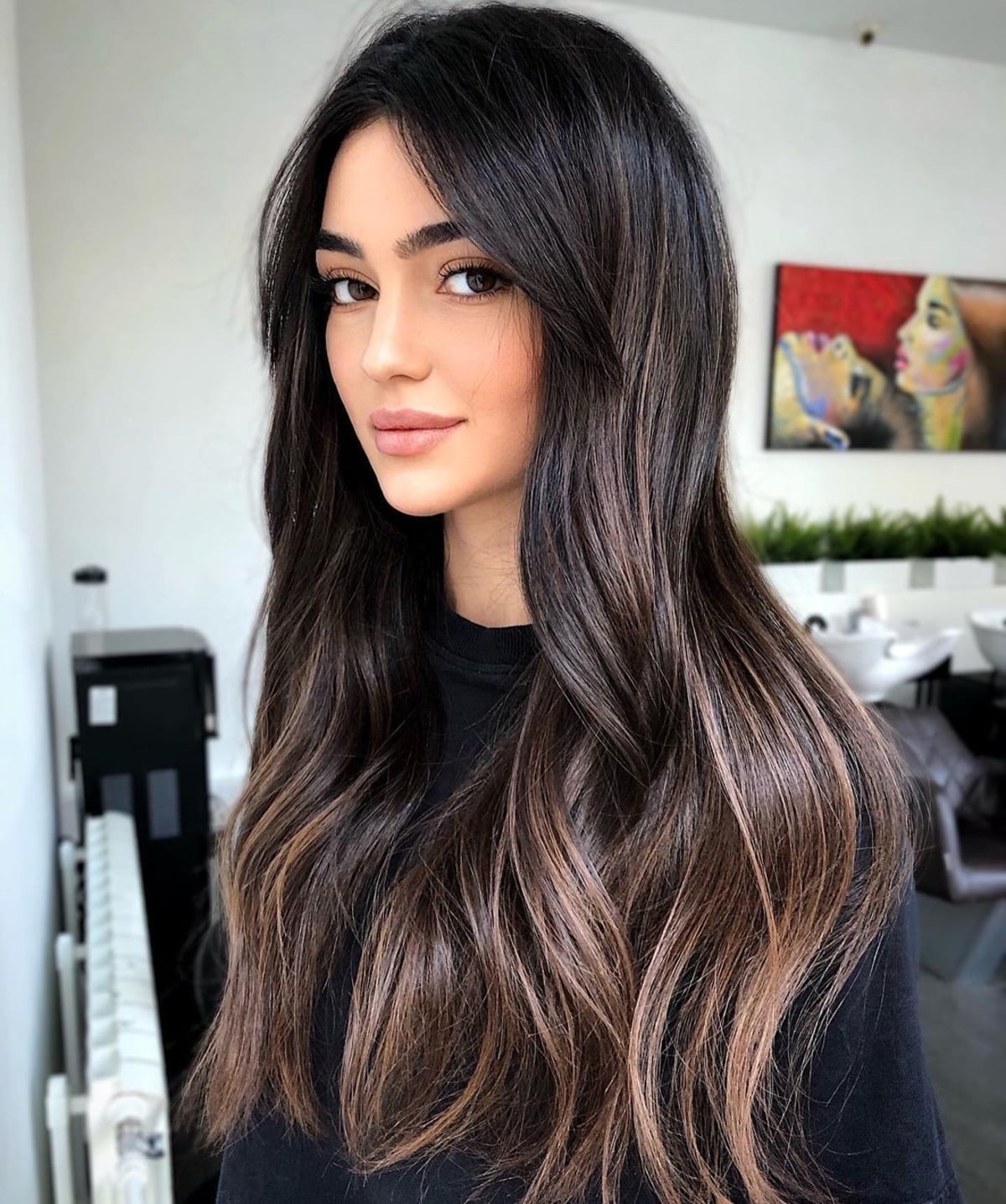 @igorkhonin
Subtle highlights for dark mane include the use of warm brown tones. Chestnut brown hues look stunning on black hair and give a subtle tone on tone coloration. Soft, rich, brown highlights are realistic and achievable for women with naturally black hair and are relatively low maintenance.
Natural Highlights on Black Tresses

@romeufelipe
Perfect natural highlights on black tresses are warm blonde tones. For a soft, sun-kissed look on naturally deep dark hair, opt for sandy golden hues over cool-toned highlights for a natural, realistic finish. Ask your stylist for golden, dark blonde highlights to frame your face along with hand-painted balayage, that will leave dimension in your hair and allow the honey tinted highlights to contrast beautifully with your dark hair.
Black Hair with Chestnut Highlights

@theconcept_salons
Black hair with chestnut highlights is the perfect way to add dimension to darker hair. Adding in a lighter shade creates dimension and beautiful contrast while keeping a woman still in the brunette family.
Balayage Highlights for Black Hair

@andrewthedenton
Balayage highlights on black hair create an exquisite hair trend! Who would have thought that dark tresses can still have dimension? Thanks to natural highlights. Adding these subtle highlights carry out a soft dimension that's suitable with subtle waves.
Black Hair with Blonde Highlights

@romeufelipe
A shade of sun-kissed blonde highlights on black hair is trendy and always looks staggering. The dimension it makes adds warmth and shine to dark tresses. To keep brightness around the face, feel free to ask for a money piece.
Black Hair with Red Highlights

@hair.by.taz
Black hair with red highlights is a must-try for a different alternative to the regular blonde highlights. For darker-haired women, toning the highlights to a red tone is more achievable than ashy blonde highlights. When dark hair is lightened, it has to pull through all of those warm colors, making a warmer tone an ideal option to maintain the hair's integrity.
Silver Highlights on Black Hair

@get_nellafyd
Splashes of silver highlights on black hair create a deeper ashy tone and a smokey dimension. These highlighted strands on black hair can make a fun and dramatic change. Jazz the hair up with texture and waves to accentuate the silvery streaks.
Ash Blonde Highlights on Black Hair

@colorbysandraaa
A few ash blonde highlights on black hair carry out a smokey effect. Such a shade flatters cool and pink skin tones. Products with UV protection ensures black hair with blonde highlights lasts longer.
Dark Hair with Sandy Brown Highlights

@hairbysaiphetkhosa
Beach waves on dark brunette hair are perfectly complemented with warmer highlights. The sandy brown highlights on black hair show off the hair's movement and texture.
Darker Hair with Grey Highlights

@hairxrae
Grey highlights on black hair give a cool, smokey effect to the hair color. There's no need to go through a full-color transition just to add radiance to dark locks. Hints of grey look more natural and dreamy, plus they can be matched with other hues such as blue.
"Black hair with grey highlights is a balayage with a dark root stretch and a grey toner. The accents give the tresses a lighter shade without going blonde," says hairstylist Rachel Spindle of Herndon, VA.
"Balayage is a low-maintenance coloring option," she adds. "The use of demi-permanent color for the root stretch and toner is ideal for girls who aren't ready to commit. It will slowly fade over time leaving the lightened balayage pieces to be toned again. Either with the same color or something different."
Black Hair with Pink Highlights

@teasedandtaylored
Black hair with pink highlights suits a loud and fun personality. Pink adds a flirty but fiery touch to dark tresses. Stylists recommend washing the hair with cold water, so its vibrancy stays for a while. But if it fades, use the opportunity to try another color as it won't need lightening. Pretty convenient, right?
Dark Hair with Rose Gold Highlights

@paintedhair4ev
Dark hair with rose gold highlights is feminine and a little flirty. These highlights for black hair are great for adding dimension to a darker brunette. Add curls to the ends and they'll appear stunning with any length of hair, too!
If you're planning to add highlights to your black tresses, don't think that blonde is the only shade to go for. Streaks of rose gold are fun to wear, too.
Black Hair with Brown Highlights

@kaseybertucci
This black hair with brown highlights balayage is rich and dimensional while still looking natural. "The highlights complement a darker skin tone and natural hair color," says stylist Kasey Bertucci of Newton, MA.
"This is low-maintenance light black hair for a woman who only colors 2-3 times a year," adds Bertucci. "Balayage is perfect for the on-the-go girl, and the grow-out is super soft and leaves no harsh lines or roots to be touched up."
If you highlight black hair, Bertucci says to use professional shampoo and conditioner for color longevity. "Overtime highlights can turn brassy, so incorporating a purple or blue-toned shampoo into your routine will keep your highlights fresh and true to tone."
Golden Highlights on Black Hair

@silvestrihair
Golden highlights on black hair are, no doubt, very sophisticated and versatile. Styling is a huge thing when it comes to high-contrast black hair with blonde highlights. Wear them with beachy waves plus texture, and hair would be perfect for a casual date. But if with glamorous and flawless curls, the result makes the hair ready for a formal event.
"The golden highlights with black hair create a hair color with a multi-dimensional golden blonde balayage. The blend of golden blonde tones with ribbons of chocolate brown accentuates the highs and lows of the hair," explains balayage and color specialist Michael Silverstri of Toronto, ON.
"Keep the dark roots so that when you look back you will always see some of the natural hair," he notes. "In addition to this, keeping your dark root will allow your hair to grow out softer and more blended."
If you're considering this color, proper home care is necessary to keep hair shiny and healthy.
Once your naturally dark hair is lightened, the reality is that it comes along with a new haircare regime.
"For blonde women with medium-length or long hair, use purple shampoo every 3-4 washes to maintain brass-free hair. Start using sulfate and paraben-free shampoo to maintain your color as well. Plus, they will help keep your hair healthy and strong," he adds.
White Blonde Highlights on Black Hair

@jess_society201
White-blonde highlights on black hair can accentuate wavy styles. If wearing a layered chop, those blonde streaks can emphasize the layers. Aside from its beauty and dimension, women with thin locks will love this black blonde hair trend. These soft highlights are what make fine, natural dark tresses seem thicker and fuller.
These white-blonde highlights on black hair are a silvery/ashy balayage and were created by hairstylist Jess Bolella of Mahwah, NJ.
To maintain this color, Bolella says to get a deep purple shampoo and a shower filter. "These will help to cancel out any unwanted tones from the minerals in the water."
"This is a must for any woman looking to maintain an ashy tone," she advises. "Get a deep conditioning treatment done at least once a week to maintain the health of the hair. Get professional shampoo and conditioner, and professional styling products, too."
One last thing Bolella wants you to consider is that this color can not be achieved if box dye, henna, or any drug store color has been used. "Have a consultation with a hairdresser. Ask to have a test strand done to see if your hair is capable of lifting light enough without being compromised. Your hairdresser knows best! Trust their judgment, plus they know your hair better than you!"
Black Hair with Purple Highlights

@nicolemarie_doeshair
Perk up black hair with purple highlights and let other ladies drool over it! The touch of purple at the ends brings out a ravishing color melt. Looking sassy and classy, this hair trend is best to pair with casual and chic outfits.
Balayage Black Hair with Auburn Highlights

@aestheticartist_angelina
This lived-in balayage auburn highlights on black hair was created by stylist Angelina Navarro of Clearwater, FL.
"The loveliest thing about it is how the rich browns complement the natural hair color. The waves help to showcase the dimensional colors and allow for an aesthetically pleasing appearance," says Navarro.
This balayage of dark hair with auburn highlights is for women who want a low-maintenance color, only having to maintain it a few times a year versus every 6-8 weeks with traditional highlights. The waves are a simple way to dress up the hair.
Copper Highlights on Black Hair

@hairbyamandarewri
This copper foilayage with a textured bob cut for black short hair was cut and colored by hairstylist Amanda Wright of San Diego, CA.
"It's cute when trying to grow out a very short cut such as a pixie," says Wright. "The best thing about it is the pops of color being able to not have to get it touched up every 6-8 weeks. Short black hair with highlights like this is a must-try!"
"These copper highlights on black hair were achievable on black box died hair, knowing that blonde highlights were most likely not going to happen on the first visit while keeping the integrity of the hair. It's also a look that's low-maintenance just like any balayage while already creating that rooted look," she explains.
Black Hair with Blue Highlights

@tkalie.hair
Flaunt black hair with blue highlights and get a unique dimensional color! The combo of black and blue shades makes the mane look richer while adding a different kind of radiance to it. To really accentuate the highlights, styling hair with waves creates magic.
Black Hair with Caramel Highlights

@suetyrrellstylist
Glow up with these caramel highlights on black hair that bring out a rich, sultry brightness. The hair color's warm tone complement neutral and golden skin complexions. With soft waves and curls, the stunning dimension is emphasized even better.
This black hair with caramel highlights makes a low-maintenance dimensional hair color. "It has high contrast created by the bright highlighted ribbons. The depth is kept at the root so you can get 4-5 months of color without having to get it redone," explains salon owner and hairstylist Sue Ryrrell of the Cayman Islands.
"This dyed blackish hair with caramel highlights was achieved during the first appointment," she notes. "However, for most women, it can take multiple appointments and can be expensive. It's important to talk with your colorist to see if this is the right caramel color for your hair type."
Dark Burgundy Highlights on Very Dark Hair

@ashlovebeauty
Wear dark burgundy highlights on black hair and own an edgy style! One of the best highlights for black hair is a reddish hue, creating that eye-catching result. The finish is so strong, it offers additional flair to long, wavy hair. Keeping it moisturized while avoiding oils maintains its most vibrant state.
Black Bob with Chunky Pink Highlights

@colormecocola