42 Stunning Blonde Highlights of 2023 – Platinum, Ash, Dirty, Honey, Dark
Dirty Blonde Hair With Highlights

@hairstylist.madison
Dirty blonde hair with highlights is sexy on women of all ages. Dark roots create a color melt effect. The cool blonde highlights appear great under the sunlight. Plus, this balayage looks amazing with beach waves on a long-length cut.
Strawberry Blonde Highlights for Women Over 60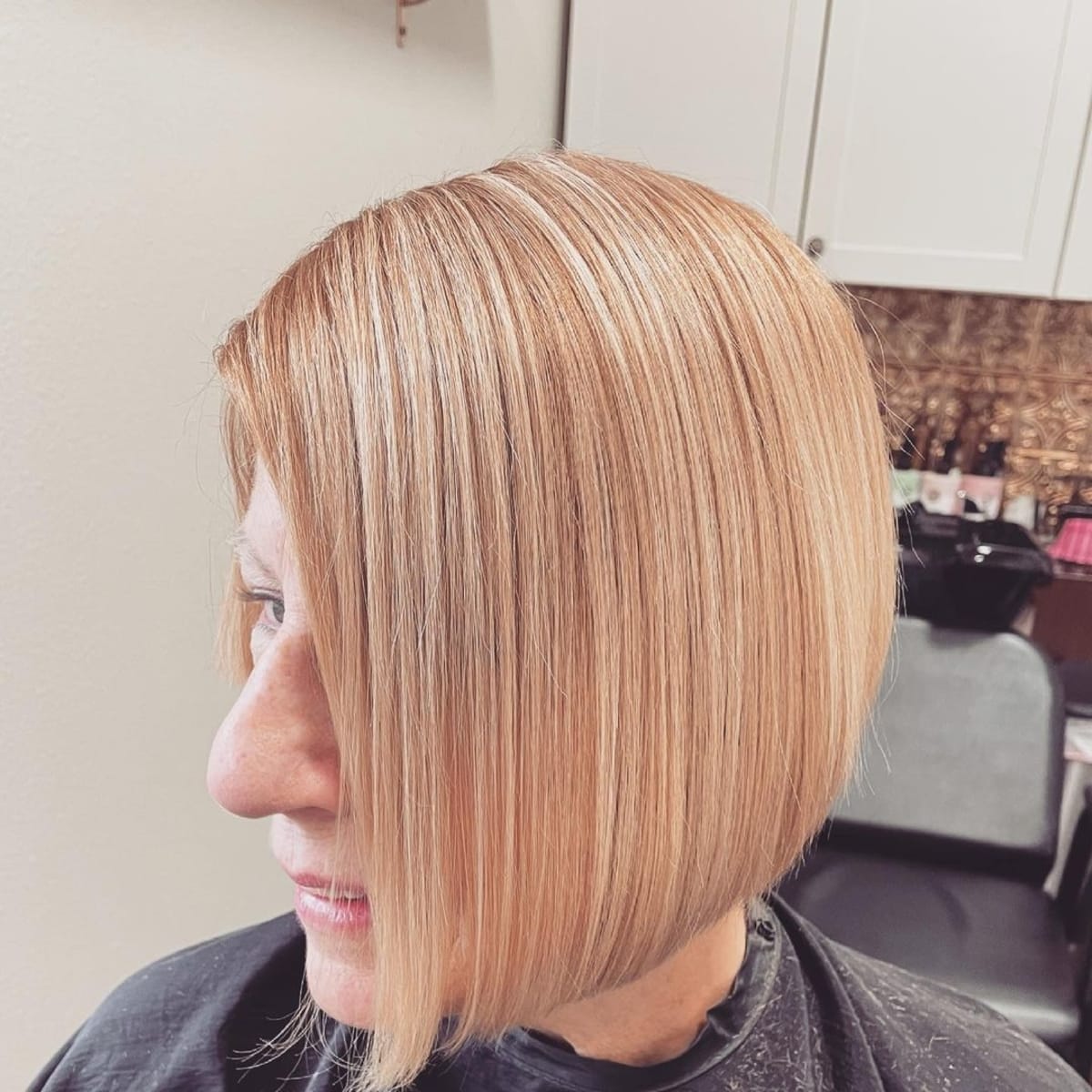 @rvasabrina
Strawberry blonde highlights for women over 60 have lighter coppery lowlight tones and blend well with women with gray hair and fair complexions. It's a very easy, fresh and low-maintenance transition for women over sixty.
Grey and Blonde Highlights for Women Over 70

@annekewesterbos
Grey and blonde highlights for women over 70 add dimension and fullness to greying hair. Highlights diffuse the grey so you won't have full-on coverage, which grows out softly and is low maintenance for an impactful color. The contrast of the two tones adds depth back to the hair making it look thicker.
Brown Hair With Blonde Balayage

@haleyvalentinehair
Brown hair with blonde balayage is a great hair color that adds gloss to your long tresses. Revamp your brown hair by rocking this brown hair with blonde highlights. The balayage appears smooth, which goes very well with beach curls.
Brunette Hair With Blonde Highlights

@hairbykatlin
Brunette hair with blonde highlights can bring out the brightness in lengthy, dark tresses! Try this brunette hair with highlights for a natural-looking balayage finish. The shades and movement from the waves blend so well, forming a smooth dimensional effect.
Dark Hair With Blonde Highlights

@prissyhippiebeautyshop
Dark hair with blonde highlights results in a kind of dimension you need to upgrade your style! The depth of the blonde highlights is visible to emphasize the accentuating color. Waves also create movement, making your mid-length hair more dramatic.
Light Brown Hair With Blonde Highlights

@giulianuno
Light brown hair with blonde highlights and lowlights is an astonishing color to try. Dark-rooted light brown with blonde highlights offers face-framing pieces for extra glam. Added waves and a chop where the length goes above the chest make an ideal combo for your new go-to style.
Red Hair With Blonde Highlights

@szrhandzhair
Red hair with blonde highlights featured in the medium-length shaggy layered cut adds dimension. This auburn hair with blonde streaks isn't only for natural redheads, but these can be the perfect highlights for brunettes, too!
Honey Blonde Highlights

@niseynailedit
Honey blonde highlights look vivid as if the sun shines through the mane. Go for this creamy honey blonde balayage when you have long, straight tresses. For added depth, add waves!
Ash-Blonde Highlights

@hairbymai7
Ash-blonde highlights can spice up dark tresses, giving them a hot smokey effect. Pair these soft blonde ends with a mid-length chop to go well with some waves.
Long Black Hair With Blonde Highlights

@debvargashair
Long black hair with blonde highlights can take your natural beauty to the next level! The added radiant streaks give prominence to your best facial features. Style your bronde hair with waves for a natural-looking glow.
Blonde Highlights on Dark Brown Hair

@disordered.hair
Blonde highlights on dark brown hair are one of those trends you must try once in your life! Blonde locks add elegance to your angelic face while jazzing up your long mane and flattering your skin tone.
Blonde and Brown Highlights

@mallonyfarias
Blonde and brown highlights will cover your mid-length, dark locks with warmth. This shade of blonde guarantees a dimension, especially if styled with voluminous waves.
Bronde Blonde Streaks

@nataliedmakeuphair
Bronde blonde streaks through balayage never fail to bring out a sun-kissed finish. They carry out the radiance and can ginger up dark tresses. Blonde highlights are perfect for a long hairstyle with beach waves.
Short Brown Hair With Blonde Highlights

@organiccheveux
Short brown hair with blonde highlights looks great on short A-line bob hairstyles. It will keep your hair light, with lots of movement and that signature sun-kissed color.
Cool Platinum White Highlights for Older Women

@hairbyjanetbiggers
Cool platinum white highlights for older women bring out natural silver-grey strands. This hair color is low-maintenance and was created by stylist Janet Biggers of Missouri.
Biggers achieved these tones by highlighting the hair and doing a silvery gloss. "The gloss helps to maintain shine and give more of the silver tones opposite to grey. It also helps with the texture of the grey hair, softening it and making it more manageable," she notes.
Modern Chunky Blonde Highlights for Women over 50

@hairbyjanetbiggers
Modern chunky blonde highlights for women over 50 add depth and contrast to hair. "These help fine tresses to appear thicker," says stylist Janet Biggers of Missouri.
According to Biggers, "a bob haircut with highlights is perfect for women over 50." It looks great in a sleek style, but Biggers suggests that beach waves can give the hair more body, bounce, and texture.
Outstanding Dark Blonde Highlights

@stacyjohairandmakeup
are classic, chic, and sassy. These were created by senior hairstylist Stacy Principe of Bristol, RI. "This style is perfect for women with thick hair. Plus, the color adds enough dimension whether you wear it straight or styled," says Principe.
Blonde babylights and balayage are the best highlighting combo color. It's easy to style and low-maintenance. For the color, Principe says to see your colorist every 3 months for a toner to freshen up the color between haircuts.
"Women who have well water tend to have a hard time with the color lasting. If that's you, go in sooner for fresh color services," she adds.
Natural Rooty Blonde Highlights

@ricky_saldivar
This hairstyle features natural rooty blonde highlights. It was created by stylist and colorist Ricky Saldivar of Santa Cruz, CA. "Keep your natural color up top for a low-maintenance grow-out. This leads to blending into the light tips," explains Saldivar.
Ask your stylist for face-framing blonde highlights and beachy waves curled away. He notes, "the curls make the whole style come together. A little effort styling your hair can make your hairdo go from ehh to boom, baby!"
Gradient Caramel Blonde Highlights

@hairbynk
Gradient caramel blonde highlights is a higher gradient balayage. "It's more of a neutral to cooler tone. It's less of a subtle sun-kissed look, but rather more solid and rich," explains hairstylist Nicole of Vancouver, BC.
The hair with caramel highlights requires a toner at the salon every 8-12 weeks. The balayage will also need to up higher as the hair grows longer, usually in a timeframe of 12-16 weeks.
Nicole believes the ideal woman for this specific tone would have a fairer skin tone to an olive/tan with a cool undertone. "Balayage could work for every skin tone. But a deeper shade of blonde or mocha caramel colors are flattering on warmer undertones."
Naturally Beautiful Blonde Highlights

@chrisjones_hair
Naturally beautiful blonde highlights are known as "fantasy hair" in the hair world. These were created by hairdresser Chris Jones of Woodlands, TX.
"In this photo, most of the blonde is balayage while only a few highlights go all the way to the root," explains Jones. "This allows you to go up to three months or more between color services. This hair grows out with a minimal amount of roots."
Relaxed & Natural Highlights for Blonde Hair

@shhmacie
"Relaxed and natural highlights for blonde hair bring out brightness around the ends. Subtle blonde highlights and a diffused root shadow make it natural and beautiful," explains hairstylist Casie Milmoe of Montclair, NJ.
Milmoe recommends this style for women with any skin tone! "Any lady can pull this color off. Wavy to straight hair texture is ideal. It's a fairly easy color and style to maintain and is great for the women with busy lifestyles."
Soft Blonde Highlights

@rubyhairdesignmildura
Soft blonde highlights are a fresh style. And these were created by salon owner and senior stylist Jaki Dimasi of Australia. "The foils are extremely fine and back to back to create a seamless color that doesn't look "liney." Plus, it avoids a harsh regrowth when growing out."
"Foiling with L'Oréal Smartbond will be needed approximately every six to eight weeks. Color maintenance at home would be using the L'Oréal Silver Shampoo when necessary," notes Dimasi.
Use a good quality shampoo like L'Oréal Nutrifer Shampoo and Conditioner. "These hair products will help maintain the color and hair's integrity. Treating weekly with the Smartbond at-home treatment would also be a must as a follow up to the in salon service," she adds.
If you do all the right things at home, your hair will keep in top condition. In turn, you will get more out of your blonde hair color!
Opalescent Golden Blonde

@petercolorshair
This opalescent golden blonde is iridescent! "This opalescent blonde shows an array of shimmer. When light shines against it, you see the array of colors. Watch colors bounce from beautiful golden tones to cooler pearl tones. Highlights for blonde hair look beautiful against a darker base," explains hair colorist Peter Salinas of Yuma, AZ.
"This hair is great for women with medium to fine hair textures and cooler skin tones. Golden tones with cooler accents help cooler skin tones look more youthful," he adds.
Warm Blonde Hair With Highlights

@katieelombardi
Warm blonde hair with highlights is a bright vanilla blonde. This hair color was created by beauty artist Katie Lombardi of San Diego, CA.
"It's dimensional up top where natural color can show through, then melt into solid ends. This gives the color a shadow-root feel. Doesn't it almost look like a natural color? It's a great option for women who want an easier grow out while still keeping a lot of brightness through the ends," explains Lombardi.
"This is perfect for women who've previously been a solid blonde," she notes. "So if you used bleach and tone, consider this color to transition to a more natural-looking color. There will be less maintenance while growing out this light shade."
This is also a good color for women who want to keep brighter locks, but want to keep some depth around their face to avoid. It can be customized in level and tone for any skin tone. This can flatter neutral or fair skin. For a shade as bright as this, try on hair that's naturally light brown or lighter.
Blonde Highlights On Blonde Hair

@ashley_does_hair
Blonde highlights on blonde hair can be customized to your skin tone. "Ask your colorist for a ton of back to back foils while doing the highlights. This will make for a bright blonde without the streaky feel," says master hairstylist Ashley Trainer of Canada.
Trainer says blonde women should try Olaplex. "It's like insurance for your hair. It stops the breakage and helps your color last longer."
Most women look good with some shade of highlights whether they are blonde or brunette. If you have a cooler skin tone ask for warmer shades of blonde like golden/caramel blonde tones. If you have a warmer skin tone, ask for violet tones, platinum blonde hair, beige blonde or dusty blonde hair.
Trainer also says you can get a few highlights around your face for a pop of brightness. "Or combine it with balayage to get an impactful, low-maintenance blonde. You can also go for full head of highlights for that platinum blonde color."
Beach Blonde Highlights

@kp_hairperfectionstylist
Beach blonde highlights are a beach-inspired hairstyle any woman can wear. These were created by hairstylist Kandice Peay of Richmond, VA. The soft, natural contrast between the base color and highlighted pieces are effortless.
To maintain this color, Peay says to see your colorist for a color touch-up every eight weeks.
"This beach blonde hair is for women with natural level 7 hair that is looking for a quick brightening fix," she notes. "It's easy to maintain and transitional through the seasons. The buttery tones look good on everyone!"
Blonde Highlights on Brown Hair with Dark Roots

@meganreillyhairnyc
Blonde highlights on brown hair with dark roots are a rooty blonde. "This bright shade of hair is for women who want a low-maintenance shade. The light blonde highlights are ultra seamless with minimal contrast, and very subtle," says hairstylist and colorist Megan Reilly of NYC.
"This hair color is golden and warm, making it perfect for medium, olive, and tan skin tones," she adds.
Blonde Highlights With Short Hair

@katgilberthair
Blonde highlights with short hair give that rooty blonde color. These were created by hairstylist Kat Gilbert of Brentwood, TN. "It's perfect because it keeps the hair brighter on the ends, but leaves the root soft."
Gilbert explains, "it's lower maintenance than traditional highlights. You still get the "dark" hair broken up with tons of dimension, but you don't see a line of new growth coming out in a few weeks. Ask your stylist for balayage in between foils to give your strands even more of a bright pop!"
A balance of protein and moisture are key to keeping color-treated hair healthy and soft.
"This color is great because it can be customized by adjusting how many foils your stylist puts in," she adds. "For a lot of women, a balance of light and dark is most flattering, and this color shade allows both. Plus, it adds a great pop of lighter color. Even brighter blondes can transition into this."
How the highlights/balayage are glossed (toned) in the process is what allows it to work for any skin tone. You can adjust it warmer with golden blonde highlights or cooler with an ashy blonde tone.
Icy Platinum Blonde Highlights

@veronicawisrock
Icy platinum blonde highlights are a full highlight toned to an icy blonde hue. "It will always be a classic go-to color for blondes, not to mention it's classy and chic for any occasion," says hairstylist Veronica Wisrock of Huntington Beach, CA.
"Use Redken lightener and Redken shades EQ to tone," notes Wisrock. "To maintain this silver-blonde color, rotate between Kinactif products. Use the silver shampoo once or twice a week for maintaining the cool tone. Then use Nutri shampoo for the rest of the week for moisturizing."
This hue is for lighter to medium complexions. Plus, it gives you a huge advantage if you have lighter-medium natural hair to start with.
Wisrock says this shade takes a little more maintenance than some other colors. "The norm is to come get your roots touched up and an all over toner to maintain the icy blonde highlights every six weeks. For women who can't come in that often, ask for balayage highlights, which can be toned to the same color."
Sun-Kissed Blonde Highlights

@hairbykana
These sun-kissed blonde highlights are a color melt balayage and were created by stylist and colorist Kana Ishii of Beverly Hills, CA. "This actually makes the color look sun-kissed and can suit both straight and curly hair," she notes.
Use purple conditioner and purple shampoo to help take the brass out. Purple shampoo sometimes contains sulfates which actually takes the color out.
"Balayage highlights can last up to five months," says Ishii. "This is because the grow out is less obvious with balayage. Using foils while balayaging is called "foilyage". The foil helps to speed up the process and can lift the hair lighter."
Red and Blonde Highlights

@hairdesignbyellie
Red and blonde highlights creates a rosy tone that's soft, almost pink-red." It spices up the color so it's not one color," explains hairstylist and barber Ellie Tognozzi of Santa Rosa, CA.
"A red and blonde color is best for women who don't have a lot of pink tones to their skin," said Tognozzi. "Having such tones would bring those tones out and make them more dominant."
Modern Beach Blonde Highlights

@anastasiageorgas
These modern beach blonde highlights combine bright, beach-inspired, and light golden highlights. They were created by hair colorist Anastasia Georgas of NYC.
Georgas says, "Don't try lightening your hair at home! Natural-looking highlights are all about the little details. It's easy to lose control and end up with an uneven brassy color."
"At-home color changes can look like a failed attempt at bleaching out your hair. Avoid the mess (and the tiger stripes!) and see a trusted professional," she adds.
Your at-home care is key to having beautifully highlighted hair between salon visits. A beachy balayage and highlights style can be customized to fit every skin tone. If you're warmer, you want to keep some gold in the highlights. For cooler tones, keep the highlights more on the white blonde or ashy side.
Curly Brown Hair With Blonde Highlights

@hairbyelian
Curly brown hair with blonde highlights creates balayage blonde highlights within the hairstyle. These were created by hairstylist Elian Cribari of Orange, CA.
"It's a way to give women light pieces running all through the hair without being so uniform like foils can do," says Cribari. "It's also good for women who don't like to see that harsh re-growth line. This way grows out much softer. The dimensions throughout the head using highlights give it tons of depth."
Balayage is great for women that can't make it to the salon regularly for whatever reason. Balayage has a softer grow out than traditional highlights.
Dark Brown Hair With Blonde Highlights

@beautyfied_by_josie
"Dark brown hair with blonde highlights features an off-the-scalp highlight. It's a soft, dimensional highlight with flattering dimension and a great transitional growout," says hairstylist Josie Enriquez of Orange County, CA.
To maintain longevity, Enriquez says to use a color-safe or sulfate-free shampoo and conditioner. "This technique requires low upkeep, which would benefit every woman's busy lifestyle. To ensure the best blend from the base color to highlight, base the level of tone on your natural base color."
Blonde Highlights in Brown Hair

@lulu_hairstylist
"Blonde highlights in brown hair give that lived-in style, but is still bright all over," says hairstylist Luisa Candela of Tampa, FL.
"Ask for a full highlight and slight shadow root on your first visit," she notes. "Then schedule an appointment for 10 weeks later for toning, not highlighting. This color works for women looking for a low-maintenance hair color, but still want to feel pretty with a brighter hair color!"
To maintain this sandy blonde color, Candela says not to wash your hair every day. "This will cause the toner to fade out faster. Use a color-protecting and sulfate-free products to save the tones."
You can be any type of blonde. A cool blonde, a neutral blonde or a warmer blonde can always be created in the toning process. If you wash your hair every day, your stylist might want to tone it a bit ashier so that it can last you longer.
Blonde Highlights on Dark Blonde Hair

@brighteyeshair
Blonde highlights on dark blonde hair is a classic blended blonde and ash brown. This color was created by hairstylist Rachel Wilson of Australia. "Babylight foils were used on the woman in this photo. It's beautiful because it has a glam feel without being over the top bottle blonde," explains Wilson.
To maintain a soft tone, Wilson recommends you use Olaplex treatment #3. "Use Hello Blondie shampoo and conditioner by Matrix, as well," she adds.
This color and style are so versatile. It suits a wide range of skin tones and it's great for summer or winter, whether you're bronzed or a little paler. It is definitely important to use salon-quality products for maintenance and protection.
Blonde Highlights on Light Brown Hair

@hairbyladymichelle
Blonde highlights on light brown hair give that golden toned ombre. "It looks amazing on women with medium brown hair because it's so natural. There will be minimal obvious regrowth," says hairstylist Michelle Van Der Sandt of South Africa.
"Multi-tonal shades of light brown and golden blonde blend in with natural hair color. This color exists of four different shades ranging from a level 7 to a level 11," she explains.
Van Der Sandt says to use neutral tint levels with no added reds or ash. "The natural medium brown hair color itself creates the golden undertones."
Such a color tends to go brassy on chemically damaged hair, so it's important to keep your hair hydrated. This will ensure the color lasts longer, looks healthier, and feels moisturized.
Baby Light Blonde Highlights

@hairbycassandramarie
Achieve baby light blonde highlights with lightener and a babylights application. "Focusing on highlights on your front hairline will bring out the brightness of your face," explains hair designer Cassie Bartosch of Rochester, NY.
"This is great for girls that wear their hair up a lot. Doing so, blends the grow out lines away. Keeping the babylight application true and fine lowers the maintenance as well," she notes.
Bartosch goes on to say, "use a protein because this color almost always lacks protein. A good leave-on protein conditioner is Neuma Neusmooth leave-on. Or try a spray like Onesta Protein Probiotic Spray to keep your hair as strong as possible."
This shade is great on women with naturally lighter hair or if starting to grey and want to blend it away. Greys usually start in that front hairline, so it's nice to keep that brighter and blend it away. It is also a good color for women who want to brighten up their complexion.
Blonde Highlights and Lowlights

@hairmeroar
Blonde highlights and lowlights create a neutral tone. "A combination of babylights, hair painting and a tone adjustment is all you need," claims hairstylist Jamie Pressman of Orange, CT.
"The spacing of foils allows for a lot of depth at your root," she notes. "This results in a lowlights color to your mid-shaft where the blonde really pops."
Pressman goes on to state, "ask your colorist to use 20v if your ends were previously lightened. After it's process and shampooed, use Jbeverlyhills 11.00/11.22 equal parts with 2T developer. This helps bring those babylights to life and cut out any yellow."
For home care, get Jbeverlyhills Blonde Shampoo, which is purple to keep any brass away. Also consider buying a masque conditioner to keep your ends healthy and soft.
Balayage Blonde Highlights on Dark Hair

@sarahkay_hairstylist
Balayage blonde highlights on dark hair. Yes, please! "Especially when it creates a contrast between the dark and light beige balayage. Without lightening all the hair, a balayage is a great alternative to give texture and style," says stylist Sarah Kirouac of Canada.
"Use Paul Mitchell Awapuhi Keratin Shampoo to help keep the integrity of your hair," she explains. "Then alternate with AG Sterling Silver shampoo. This will help you keep your highlights a nice beige color."
Transitional Medium Blonde Highlights

@hair_by_jessz
These transitional medium blonde highlights are perfect! They were created by hairstylist Jessica Zering of Southwick, MA.
"There are many girls who want to change their color often. This color is created by a full head of babylights, balayage in between, and a glaze over the top," notes Zering.
Zering explains, "the babylights (fine highlighted pieces) break up the dark color. The balayage (painted on highlights) brightens the ends. By adding a glaze/toner all over, it creates a cohesive golden tone to match the previous color."
"If you want to go for brown, to red, and then back to blonde, take the transition process slow," she adds.
This color is also great for the brunette that wants to brighten things up for the summer. This color can be tailored to any darkness/lightness and tone. It works with platinum highlights, honey blonde, copper, etc.