21 Stunning Examples of Brown and Blonde Hair for 2021
Light Brown and Blonde Hair Highlights

@loirosdemilionarias
Almond hair with a touch of blonde hue is up for all the clamor these days. This brown-blonde hair is pretty easy to get and maintain, might I say.
If you have a brown base or black hair and want to level up your locks' dimension, this is the one to opt for!
Brown Hair with Caramel Highlights

@caroline_theartist
Brown hair with caramel highlights is natural-looking and perfect for adding an extra layer of dimension. Caramel highlights are very versatile and can be modified to suit your complexion the best.
Dark Brown with Beach Blonde Balayage

@demetriuspombosalo
A dark brown with beach blonde balayage is a stunning low-maintenance color. Add a money piece of blonde in the front to make the color stand out even more. Styling your hair with waves shows the dimension of this gorgeous color.
Brown with a Partial Balayage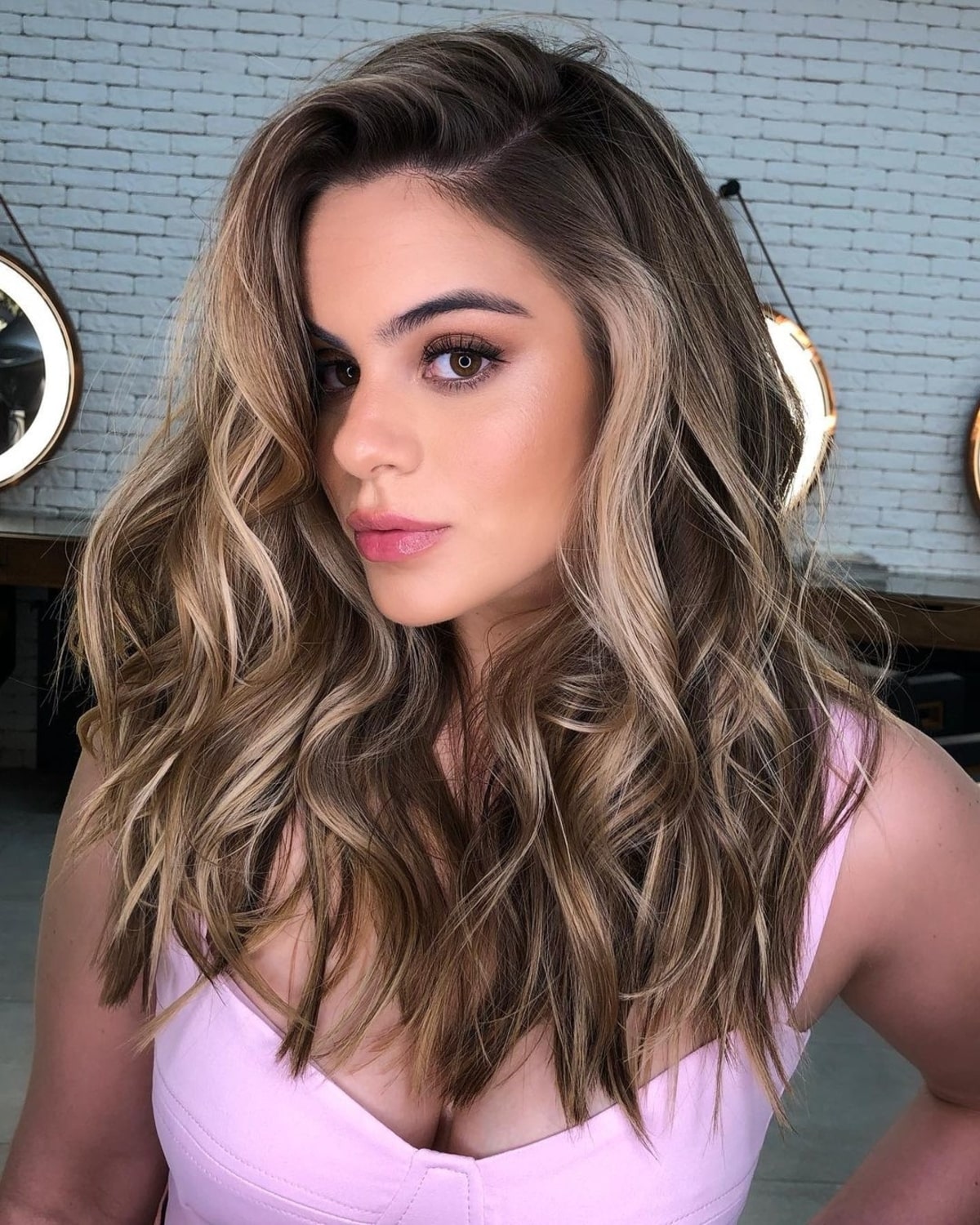 @romeufelipe
Brown with a partial balayage is perfect if you want to brighten up your brown hair but want to keep a lot of dimensions. The blonde makes the brown look deep and rich. The waves can add texture and volume to the overall appearance.
Short Brown Pixie with Highlights

@mila_kryshchykhina
A short brown pixie with highlights can add texture and fullness to your hair! This color combination along with tousled waves is the whole package. Finish the style off with some texture spray to lock in the style.
Chunky Blonde Highlights on a Brown Base

@annenhiuspiste
Chunky brown highlights on a brown base is making a comeback! The bold highlights bring out the richness of the brown. This color would be great for all skin complexions because of the warm and cool tones.
Medium Brown Hair with Highlights

@hairbybuller
A bronde caramel smoothie coming right up! The mid-tones on this wavy hair are sweet and delightful. Spice up your medium brown hair with highlights and maybe some lowlights.
Golden Blonde Ombre on Long Hair

@enzoandcocosustainablesalon
Just like pouring cream on coffee, the delightful transition in this golden brown and blonde ombre hair is a surprising yet ideal one.
It looks cute with waves, adding extra glamour to the locks. Since it has two tones with the brown on top, blonde on bottom, it works on either a tan or light skin tone.
Brown Hair Color with Blonde Highlights

@hairmezzmerizer
This sun-kissed, lived-in brown hair with blonde highlights was created by salon owner and stylist Melissa Mezzanotte. "My favorite thing about this color is it looks effortless like the girl just spent a week in the sun. It's a balance between blonde and brown, and the styling has a beachy feel to it," says Mezzanotte.
She adds, "this coloring is for women who enjoy low-maintenance hair color. Since the highlights don't start at the root, they grow out more forgiving and the coloring doesn't have to be maintained very often. It is a very versatile hair color that can be worn by almost all ages and skin tones. Styling products include a curling iron/wand and some hair spray/texture spray."
Ash Blonde Highlights On Dark Brown Hair

@fallonfitzpatrick
"I did hand-painted ash blonde balayage on dark brown hair with three-quarters of the head (all the hair above the occipital bone) and then did baby light foils on the top, crown, and sides in order to have the thicker pieces peak through the bottom," explains master stylist Fallon Fitzpatrick of NYC.
"Go to someone who is highly trained in balayage techniques," says Fitzpatrick. "When the pieces are painted boldly but are still blended it looks incredible. You want to make sure your hair is healthy first before highlighting it and willing to use professional hair products at home."
If your hair is super curly, you can also receive this color treatment, but the outcome will look different as curly hair doesn't lie as smoothly.
Fitzpatrick says this color is not high maintenance. "Women can go as long as 4-8 months before this shade needs to get touched up – as long as there are no greys that need to be covered."
Platinum Blonde Balayage

@meganomorgan
A cool platinum hue makes a fresh, bright, and modern take on a blonde balayage. "Balayage highlights allow you to have a dimensional color while growing out your natural hair without the 4-6 week upkeep," says stylist Megan Morgan of Avon, OH.
When getting blonde and brown hair like this, Morgan says to be realistic about what your hair will do without damaging it.
"Trust your hairstylist," she notes. "If a client is able to achieve this level of lightness, we advise taking care of it with conditioning treatments and heat protectant sprays at home. We also advise you to not wash every day, as that can dry your hair out. Replenish the moisture with a hydrating shampoo and conditioner, too."
Dark Brown and Blonde Hair Highlights

@hairlover603
This bronde hue is warm and rich and was created by hairstylist Crystal Imperato of Houston, TX.
"This is great for women with dark hair looking to add a little sparkle and dimension to accent their natural color," says Imperato. "It's a very low-maintenance look for the busy woman who doesn't have much spare time to come to the salon."
Ash Brown and Ash Blonde Highlights

@hairbycalsea
The tones in this medium-length hair contrast between the lowlight and highlights and brown and blonde hair colors. They were created by hairstylist Calsea Gowan-Sand of Canada.
"It's not too dark or too light and you can feel like both a blonde and/or a brunette," says Gowan-Sand. "This look can be worn straight and curled and looks great of mid-lengths (bobs) and longer."
While no color is zero maintenance, a color like this can give women a little more time between appointments whether you're a natural blonde or natural brunette.
She adds, "the key to maintaining a color like this is purple shampoo! My favorite is Milkshake Purple shampoo to keep the tones ashy."
Brown and Golden Blonde Balayage with Beach Waves

@saxonhairatx
This summer sun-kissed hair is a textured beachy bronde that was created by stylist Rachel Saxon of Austin, TX. "I really like the contrast of the darker pieces of natural interspersed with the golden highlights of those beige and caramel blonde pieces," she describes.
"One thing to consider is that it requires multiple techniques to achieve," says Saxon. "I used a combination of balayage in foil and in the open air in order to achieve different levels of lightness."
Overall it's still rather low-maintenance because balayage only really needs to be touched up every 12-20 weeks. You can also add golden brown highlights to brown hair as well for a good balance.
Shade of Blonde Hair Tips

@khairstylist
The brown-blonde gradient in this mid-length hair is a highly dimensional and low-maintenance spin on the modern blonde. It was created by hairstylist Kayla Hodges of North Wales, PA.
"My favorite thing about it is that while the warm hues in the color keep it looking natural and 'off-the-beach,' the strategically placed balayage brightened the face and grows out softly between maintenance appointments," she notes.
She continues, "this brown and blonde hair color simulates the natural tones present in hair, so it keeps the upkeep at a minimum. Balayage is a hair color trend for a reason. It mimics our natural reflection and brightening of the sun in the summertime."
Reverse Blonde to Brown Ombre with Highlights and Lowlights

@hairbydani_o
This blonde to brown ombre is great for women with light hair who still want the two-toned look. It was created by hairstylist Danielle Osborne of Fulton, NY.
"Darkening the ends gave her a new look without the harshness and the maintenance of changing her roots," she explains. "I did add highlights and lowlights for some dimension throughout."
This look would be good for the low-maintenance women and women who already have an ombre. Plus, the blonde highlights and lowlights will help to blend any solid root as it grows in.
"It's a nice option for women who have long hair as the dark color is not as damaging on the ends of the hair as a blonde lightener would be," says Osborne. "It's a great style for fine hair as all the color gives more dimension for a fuller appearance."
Blonde and Brown Hair Lowlights on a Lob

@glowhairsalonandspa
"I love blondes but the only thing that is hard is the upkeep. If you're blonde, and you need something a bit more low-maintenance, you might want to opt for these lowlights on a lob," says salon owner and master stylist Dennise Allende of San Antonio, TX.
"I suggested doing a color melt on her roots while adding the lowlights for depth, which in turn makes the blonde stand out more," she notes. "As far as the cut, she is in the process of growing out a bob, so I trimmed it and gave her a side-swept bang to give it more style."
Chocolate Brown Hair with Dark Blonde Highlights and Lighter Front Pieces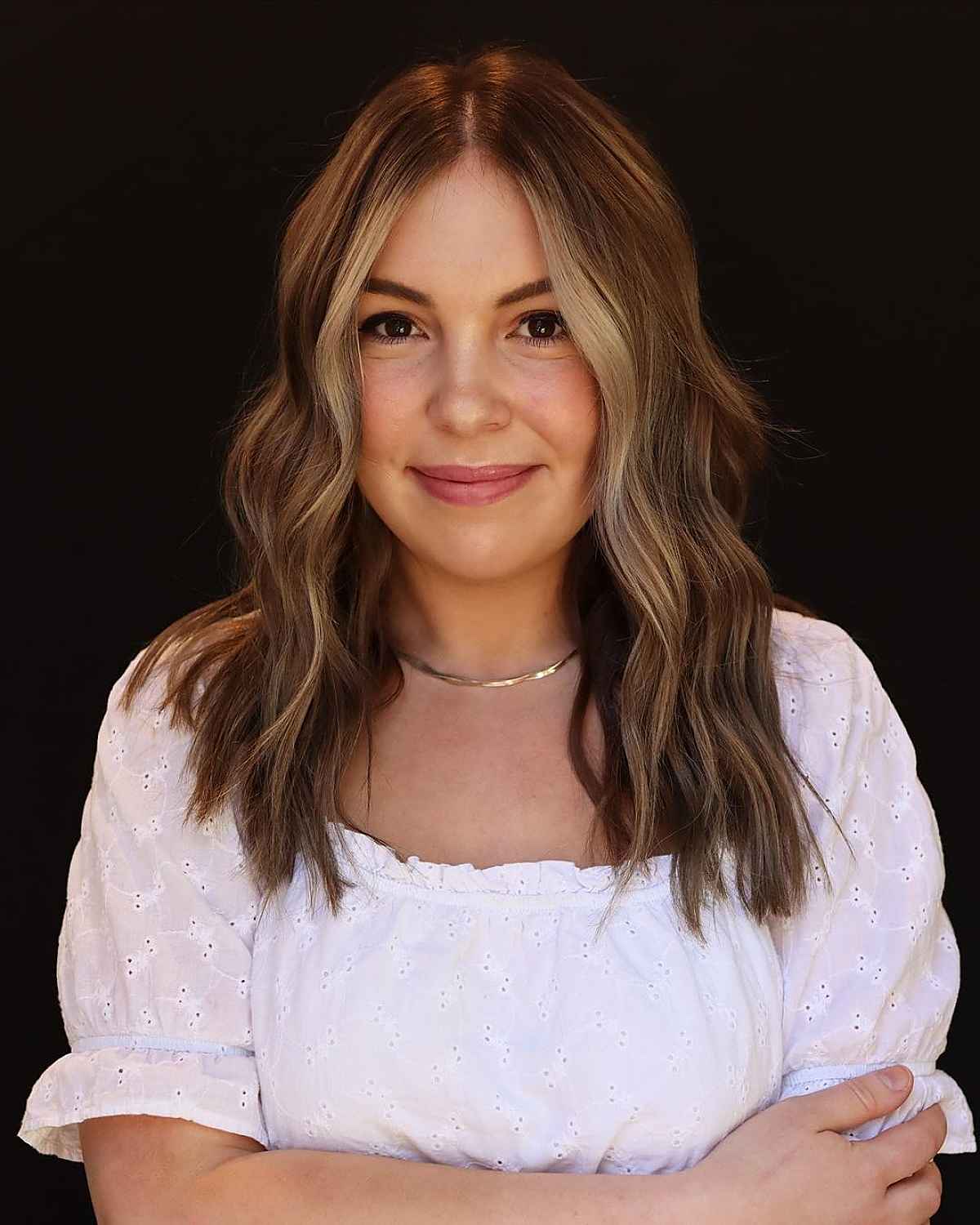 @beauty.by.boucher
This chocolate brown hair with blonde streaks on a lob cut is perfect for brunettes who want to go lighter.
Want milk chocolate or dark chocolate? Either way, the sweet goodness of the dark blonde and rich brown colors harmonize for this transcendental look.
Keep the front pieces lighter, and you'll surely fall in love with this hair idea!
Light Brown Hair with Blonde Highlights

@hayleighmarrshair
I see caramel, mocha, and chocolate tones in this light brown hair. All the goodness of a sweet treat in a very delectable light brown hairstyle!
Caramel blonde highlights on brown hair are perfect transition pieces.
A Pretty Honey Balayage Brown for Natural Brunette Hair

@hairstylist.madison
That smooth ombre from dark brown to a blonder hue is just wow! The combination of the warm blonde and light brown hues create a luscious honey color that goes well with voluminous waves and curls.
Icy Mocha Brown Hair

@bassamrachid
The icy mocha brown hair has a lighter tone that doesn't require high maintenance. Hairdresser Bassam Rachid of Dubai achieved this stunning mocha shade with two techniques.
"I freehand-painted the lightening powder on the whole length of the hair. For the roots and the area around the face, I used babylights. These blend the dark tones with the lighter ends and for less obvious regrowth effect," says Rachid.