28 Top Blonde Ombre Hair Color Ideas
Platinum Blonde to Golden Brown Ombre

@kelsforbeauty
This amazing dark to light blonde ombre on long sexy waves is an absolute stunner! This looks even more amazing on long ombre haircuts with all the dimensions. No need to worry about your tresses growing out with this brown base, as this look's a totally low-upkeep one!
Flawless Brown to Blonde Ombre

@unfade_royren
This pretty brown to blonde ombre is perfect for natural brunettes for a low maintenance advantage. Hair color trends like this makes it ideal for a woman who doesn't like the commitment of regular salon visits.
Dark Blonde to Light Blonde

@oladementeva
The dark blonde to light blonde color melt creates a masterpiece full of class. This entire hair idea turns out to be one of the ideal ombre inspirations for blonde hair. With its stylish result, the lady who wears it will look beautiful without trying.
Blonde to White Blonde Ombre Hair

@zoewiepert
Q&A with style creator, Zoe Wiepert
Hair Colorist / Educator @ Bumble and bumble. in New York, NY
How would you describe this?
This white blonde to light blonde ombre was dyed into an icy vanilla blonde. Find a colorist specializes in natural hair blondes. Don't think there's only a couple blonde tones like golden blonde or an ash blonde hair color. There are so many tones in between – baby blonde, vanilla, creamy, wheaty, beige, sunny, caramel, butterscotch, apricot, pinky, rosy, etc.
What's your best advice?
Take into consideration skin tone, eye color, eyebrow color, and how you wear makeup. If you have pinky or golden undertones in your skin, having a hair color that's too gold will make the pink stand out more. The gold in the skin will blend with the hair, and it will be too much all over one color.
If you go ashy, it would make your skin look shallow or you would appear to look older. With that being said, if you have pinky/golden undertones, you would be best with a more baby blonde or beige blonde or do what is happening this picture – beige on the top that slowly transitions to a baby icy blonde.
It is possible to make Asian hair this light and have a soft transition as well but that will take time, and patience is also important when going from dark to light. Picture the hair shaft as a tree ring when going from dark to light. As it gets lighter and lighter, the cuticle of the hair gets thinner, but with the right products, you can strengthen the hair.
Black to Dirty Blonde Ombre Hairstyle

@crystaldquach
Q&A with style creator, Crystal Quach
Hairstylist @ Essence Salon in San Diego, CA
How would you describe this?
The best thing about this dirty blonde ombre is all the dimension that seamlessly blends. It's a lived-in natural tone blonde that melts from the natural roots. Ask your colorist to cut your hair first, then paint in bright pieces that pop.
What's your best advice?
Use the Framesi color lover purple shampoo once a week to make sure it doesn't get too brassy. The Amika Kure shampoo & conditioner is for daily use because it is sulfate-free and full of moisture.
It's a very low maintenance color (you usually go into the salon every 3-4 months).
Ash Blonde Ombre on Brown Hair

@hairbyrachelmae
Q&A with style creator, Rachel Menchken
Designer @ Hair To Dye For in Easton, PA
How would you describe this?
This is a dimensional ash blonde ombre balayage. The panels of hair were painted using a clay lightener. The tonality and how all the colors blend seamlessly into one another creates beautiful ombre colors.
What's your best advice?
Making ombre hair blonde is so universal and can be done on all different colors and types of hair. However, if you're looking to go this light from darker hair, it can take multiple sessions.
Brown and blonde ombre is very low maintenance, so it is good for women who have a busy lifestyle and aren't looking to come in every 6 weeks for touch-ups. Because the hair is lightened, try using a good moisturizing sulfate-free shampoo and heat protecting spray when using hot tools.
Natural Black to Blonde Ombre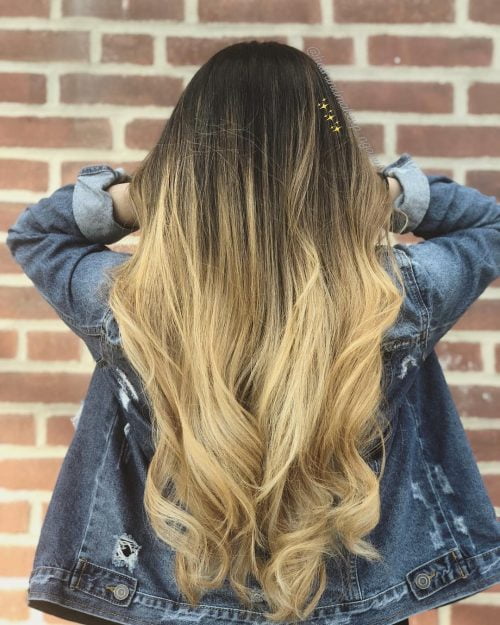 @hairandmakeup_ngabui
Q&A with style creator, Nga Bui
Hairstylist / Makeup Artist @ Creations Unisex Salon in Philadelphia, PA
How would you describe this?
Natrual black to blonde ombre is amazing! In this photo, the hair was bleached balayage on the black hair then toner was used with 9n + 9v + 9t (Redken shades).
What's your best advice?
Use purple shampoo every time you wash your ombre hair. It will take the yellow out and make your hair blonder. If your hair is curly and thick, get a keratin treatment regularly to make your blonde ombre hair smoother and shinier. Also, use a deep conditioner.
Blonde Balayage Ombre

@styledbycarolyn
This blonde balayage ombre is a melted ombre. To achieve this blonde, ask your colorist to blend your natural hair into a bright blonde ends. This will create a soft transition. If your hair is level 5 naturally, you shouldn't need to tone your ends. This may create a warm honey blonde ombre.
To enhance your natural hair color with low maintenance brightness, use purple shampoo. This will brighten up your blonde ombre. Purple shampoo will also keep you from frequenting the salon to be touched up again.
Bleached Blonde to Dark Brown Ombre

@deryndaniels
Q&A with style creator, Deryn Daniels
Senior Stylist @ Chrome Salon in Evergreen, CO
How would you describe this?
This is a medium to dark reverse balayage. Two different colors were used; one only a few shades darker than the natural color and the final color at the very ends at least 5 shades darker than the natural level.
The coolest thing about this ombre hair is how the blonde blends into the dark color. That's always the key with any balayage, blend blend blend!
What's your best advice?
This ombre is for any natural blonde, who doesn't want to fully color their hair. This is a great way to try something new and express yourself through hair color and not fully commit to coloring. It's still an easy fix, just trim the color off.
Women with thinner blonde hair could try this and find that this look adds dimension to their hair and can even make it appear thicker.
Dark Brown to Dark Blonde on Natural Curly Hair

@kelleyscanvas
These cute luscious subtle blonde ombre curls start naturally as a deep dark color and ends with a warm blond ombre that adds dimension and definition to her style.
Creamy Blonde to Red Ombre

@shauna_salon27eleven
You can have sweet pops of color if you don't want to go all the way with this bold shade. This combination of this blonde and red ombre color is truly stunning with the brightness and contrast it creates especially on lengthy waves.
Top-notch Beige Blonde to Blue

@jenna.withthegoodhair
This dreamy ocean blue is definitely tough to wear, but if you have blonde hair, you can easily own it. To add more drama into this beachy mix, wave your hair at the bottom for a cool finish.
Sun-Kissed Blonde to Purple Ombre Hair

@lexiepaintshair
Time to do something different and fun! This sun-kissed blonde to purple ombre will give you a flattering look, jazzing up your long locks. Finish it off with natural, loose waves to show off the different tones and its gorgeous dimension.
Trendsetting Blonde Ombre to Silver

@angie_likes_color
A super charming hairstyle to wear is this metallic blonde to silver ombre color melt that combines modern and classical at the same time! It's perfect to show off with lengthy locks and a fair to medium skin tone.
Light Ashy Blonde Ombre to Violet on Short Hair

@carltonhairmontclair
This delicious ash blonde to lavender ombre is a totally adorable way to amp up a simple straight medium length hair. Leave your roots with you natural shade so you won't have to worry about the grow-out phase.
Natural Dark Roots to Titanium Blonde Ombre Hair

Instagram @caroline.anythingbutbasicCombine beachy vibes with an icy white blonde hair color to get a stunning contrast for your long wavy mane. This perfect blend of warm and cool tones will suit any skin tone beautifully.
Honey Blonde to Chestnut Brown Ombre Hairstyle

@azza_salon
If you're curious about owning a naturally deep dark brunette hair but don't want to let go of your beloved warm locks, this combination is a must-try for you! This trendy honey blonde to chestnut brown ombre on those wavy ends add dimension and definition to the style.
Red to Blonde on Long Ombre Hair

@buxomblossom
That envy-inducing warmth going down smoothly through those thick luscious waves defines a perfect gradient. Going from deep burgundy red hair to a pale blonde ends, this ombre complements any skin color with pink or warm undertones. For an every more eye-catching look put it up into a ponytail during your workouts or casual outings.
Light Brown to Blonde Ombre Hairstyle

@elinarawet
This features a color blend that proves the meaning of ombre hair with its soft yet sensational transitions from brunette to fair shades. You can best show-off these light brown to blonde ombre looks with a medium to long hair that's styled wavy for more dimension and volume.
Blonde to Black

@cassiethatgirl_
Get that blonde to black ombre hair and be a head-turner every time! A long haircut is what makes the contrasting tones look more dramatic. Keeping the vibrancy of the blonde hue lies in the right usage of a purple shampoo.
Champagne Blonde to Warm Caramel

@hair_by_courtneywinter
Champagne blonde to warm caramel hair color is perfect to freshen up dark tresses. Being blonde when naturally dark doesn't always mean a high-maintenance transformation. Try this gorgeous ombre! It has a blonder and brighter color melt that keeps the roots dark, so the maintenance won't be too demanding.
Strawberry Blonde to Red Ombre

@_amber_pro
Q&A with style creator, Amber Dziekan
Hairstylist / Makeup Artist @ Excuria Salon and Spa in Williamsville, NY
How would you describe this?
This strawberry blonde to red ombre is perfect for that lady looking for something fun and different but doesn't want the maintenance.
The greatest thing about this ombre is how seamless it looks and how fun it is.
What's your best advice?
If your hair is naturally straight it may look a little different than if your hair is curled or textured. This ombre is easily achieved without damaging the hair if you have virgin hair.
Reverse Blonde to Brunette Ombre

@reneeowens_hair
Not a typical blonde ombre on brown hair, for sure! Start a trend with a reverse blonde to brunette color melt like this. It features a shadow root to avoid a harsh line as you grow out your long, wavy hair. Never let your blonde hue turn into a brassy one, so use the best purple shampoo.
Blonde to Brown Ombre with Waves

@kolorsbykayla
Q&A with style creator, Kayla McConnell
Hairstylist / Student @ Phagans' Cosmetology Colleges in Corvallis, OR
How would you describe this?
This is a reverse blonde ombré highlight that's going from light to dark. This hair features a seamless blend with color melting down.
What's your best advice?
If you're wanting a low maintenance hairstyle then this is the one for you. Keeping your natural hair at the roots and coloring the mid to ends keep a low maintenance shade while still making a statement.
Dark Blonde to Caramel Brown

@loukahairdesign
Dark blonde to caramel brown ombre stirs up a flawless melting effect. As long as the color stays lustrous, it makes enchanting wash-and-go hair. This is also perfect if you can't decide whether to go brighter or darker. You'll get the best of both worlds!
Brown to Icy Blonde

@beauty_bydaisy_
Here's a brown to icy blonde reverse ombre for a unique, soft transition of tones! The graduation of colors suits a long voluminous, wavy hairstyle. That faded effect is a straight-up fire!