28 Blazing Hot Red Ombre Hair Color Ideas
Copper Red Ombre Hair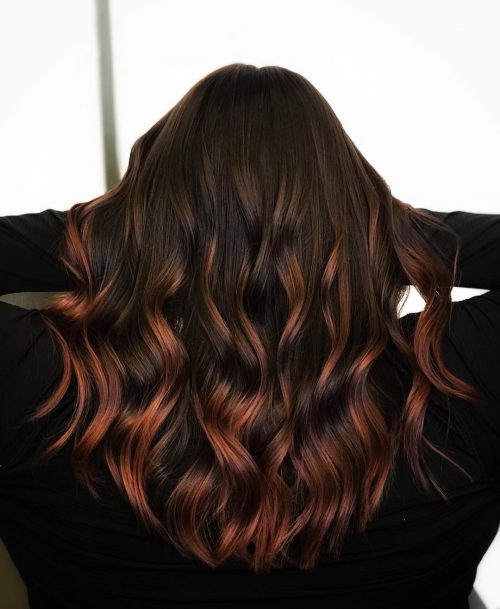 @bell_thestylist
Be ready to create some fall-inspired colors any time of the year! Notice how the bright pieces contour the texture and waves for a really gorgeous movement.
Fire Red Ombre Hair

@rachel1988xo
A new hair craze that will get you feeling hot – this crimson to orange blend will surely brighten you up and give your mane its needed warmth and depth.
Strawberry Red Ombre

@aliceaddamshairart
This features a chocolate-dipped berry color melt that appears super flattering even on a short one-length straight bob. This dye job will leave you with no worries even if your hair grows out!
Dark Red Ombre

@hairstylistjutta
This dark cherry cola color melt allows you to grow your black mane without literally needing to do any maintenance! Aside from that, it would look as lovely and dimensional on any length and hairstyle you'll create.
Violet Red Ombre

@peachypjayyshair
If you're the type of gal who likes just a little commitment, this dark wine hair is totally for you. It's sexy and deep, and will surely give your tresses a sense of dimension.
Cherry Red Ombre

@nikkiscandalous
Get the pop you're craving for! This sweet and deep ruby mane accentuates the softness of your hair especially when styled with waves and curls.
Red Auburn Ombre

@myhairstylistnancy
Autumn is in the air with this rich dark to light golden blend! Keep your mane in its prime by styling it with texture and curls, bringing out a two-toned radiance in every strand.
Red Purple Ombre

@shear_artistry_by_katie
A vivid red purple ombre never fails to liven up natural dark hair. As long as you give it the right maintenance, this outstanding hairstyle is sure to serve you best!
Rose Gold Ombre

@kimstylesme
This is an unparalleled beauty served best with a royal pink hue. Flowing locks styled in messy curls show off these colors, a look that stays elegant day to night.
Dark to Light Burgundy Ombre

@beautyby_brittanyjean
Drown into that bitter-sweet wine color and give your hair the ultimate fade makeover! Trendsetting and wearable, this red-violet ombre can be worn with any cut and type of hair.
Brown to Red Ombre with Short Hair

@styling_edge
Q&A with style creator, Vita Zelenskiy
Cosmetologist @ Blades Design Group in Spokane, WA
How would you describe this?
This brown to red ombre features an auburn/burgundy ombre finished with an edgy A-line cut. You can wear it with natural hair texture, you can wear it curly, you can wear crimped, or even sleek straight. There's no wrong way to style this haircut.
With the burgundy reds being balayaged instead of put as an allover color, you won't see a hard line as the hair starts growing out. It grows out softly and blended, extending the life of your color and making it easy maintenance. It's such a rich and shiny color! Full of depth and dimension, it captures the eye with its cool tones and its vibrancy!
What's your best advice?
As far as color goes, this ombre is an easy maintenance color because it grows out softly. Keep in mind that reds do tend to fade with time, so using a color-protecting shampoo and conditioner is highly advised.
Also, if you are a person who likes to change up your hair color quite often or there's a possibility that you'd like to go back to being blonde your next visit, maybe this hair color isn't for you. Because stripping red out of hair can be a process that may take more than one visit.
Reddish Brown Ombre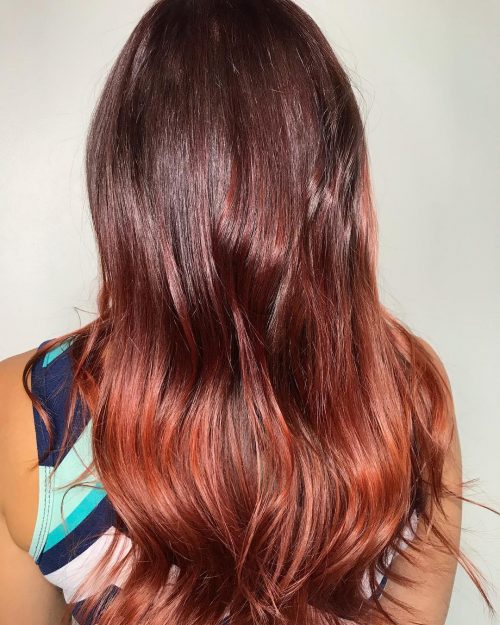 @kaylatheunicorn
Q&A with style creator, Kayla Maylene
Independent Hairstylist @ House of Color in Colorado Springs, CO
---
How would you describe this?
This is a reddish brown ombre. The model in the picture had previously had her natural medium brown into a rose gold blonde ombre. There's a richness about it, and it's a fairly low maintenance color with the red being on the more natural side.
What's your best advice?
When choosing a red shade it is super important, like with any color, that you find the right shade to complement your skin tone. If you have slightly olive complexion, don't choose a red that is too bright. It needs to be more muted with a hint of violet to complement the green and yellow undertones in your skin.
Sometimes reds can be even higher maintenance than blonde! It's important that you choose the right products to go with your new ombre hair coloring. Both Joico and Watercolors make vibrant red and copper shampoos to help keep your red looking fresh at home.
Red Ombre on Black Hair

@hbstudio502
Q&A with style creator, Jeniffer Garcia
Hairstylist @ Hidden Beauty Studio in Richmond, TX
---
How would you describe this?
This style is more of an ombre that is very nice and melted from dark to red with no harsh lines. This style is less maintenance and makes the hair very healthy.
What's your best advice?
This red ombre hair color is for every woman. Color can always be fixed. Use something color-safe. For maintenance, the water has to be cool because if you do hot water, the color will fade easily.
Dark Brown to Raspberry Red Ombre Hair

@heiravl
Q&A with style creator, Emily Rexford
Founder @ Heir Studio in Asheville, NC
---
How would you describe this?
This ombre red hair is ideal for women who can come in every 6-8 weeks to refresh and who invests in their hair color with salon products. The magenta ends are flattering for most skin tones and fade beautifully.
Use Schwarzkopf vibrancy to lessen the line of demarcation when the natural color starts to grow out and ease in lifting down the line and pearlescence to ensure longevity. Use a 1.25″ barrel iron to style and finished with Pureology's soft finish hairspray to give shine and light hold.
What's your best advice?
Just about all women can rock this brown to red ombre! You just want to make sure you can keep it up.
Red to Brown Ombre

@carinadaiseyhair
Q&A with style creator, Carina Daisey
Hair Designer @ The Salon at Ulta in Paso Robles, CA
---
How would you describe this?
This red to brown ombre resembles a fiery fall sunset! With this color, you can have fun playing with red and orange hues. Don't shy away from anything warm, even if you're stuck to the cooler side of the color wheel. Try it at least once!
What's your best advice?
This would be a great color combination to experiment with if you naturally fall on the red spectrum but always wanted to add something fun and new to it! Of course, it can also be for women who are interested in changing up their hair or just wanting to add some spice to their style.
Dark Brown to Red Ombre

@allykfrank
Q&A with style creator, Ally Frank
Advanced Cosmetologist / Color Specialist in Cincinnati, OH
---
How would you describe this?
This dark red ombre hair is an exciting twist to the classic ombre. This color was created using a custom combo of Redken Color Fusion and Shades EQ Cream lines. The technique used was the classic ombre technique, with a bit of a twist. This color has created dimensions throughout this beautiful red ombre.
What's your best advice?
First and foremost if you decide that this is the look for you, talk with your stylist about hair care. Shampoo/conditioner and styling products, as well as heat protectants, are a must when coloring ombre hair red. Without them, you cannot guarantee the longevity of this color service.
Next would be maintaining the actual color service itself. If you want to keep this color maintained, pre-book your appointments 4-5 weeks out to ensure that this color stays vibrant through the ends and that your regrowth is taken care of.
Red Orange Ombre

@amandarourkehair
Q&A with style creator, Amanda Rourke
Stylist @ RO Style Indie Hair Lounge in Tampa, FL
---
How would you describe this?
This hair color is a beautiful red ombre that's filled with a saturation of color.
What's your best advice?
This red ombre style is for women looking for that wow factor. This should be maintained every 6 weeks and maintained at home with color-safe shampoo, conditioner, and weekly treatments.
Light Brown to Red Ombre

@shear_passion
Q&A with style creator, Brittany Cooley
Stylist / Colorist @ Cliché in Inwood, WV
---
How would you describe this?
This light brown to red ombre color is carelessly blowing in the wind.
What's your best advice?
Red color on the ends is semi-permanent and requires a lot of maintenance. Whe using Pulp Riot, get a color safe shampoo and conditioner and wash in cool water. You also don't want to wash your hair every day.
Try Pulp Riot's dry shampoo between washing to also help extend the life of your color. You must always use a heat protectant and low heat when styling your hair, preferably 300 degrees and below.
This kind of color draws a lot of attention. So if you don't like the attention don't opt for this color. It's also not great for women with thinner hair. Ombres or color melts work best on thicker hair. This color is also not good for women who tend to swim a lot because the color will strip out of the hair very fast with the chemicals found in a pool.
Merlot Wine Red Ombre

@bangedhairbytracie
Q&A with style creator, Tracie Mallett
Licensed Hairstylist / Suite Renter @ Rubes Barbershop and Salon Suites in Menomonee Falls, WI
---
How would you describe this?
This red ombre hairstyle is fun but safe. It features deep natural brown roots that softly blend into a deeper red, then into that fun pop of red on the ends.
This red ombre offers a lot to women who want some fun color but aren't quite ready to dive all the way into a bright bold color!
What's your best advice?
There are many things to take into consideration when choosing a color within the color family you are looking for. Aside from your skin tone and eye color, to ensure the color will complement you overall, also consider your personality and profession, as some reds may be outside of some employer's image policies.
Whenever doing reds, you should understand the upkeep and care that go along with it. You may or may not need to adjust your hair care routine to accommodate your new color. Bright reds are beautiful but without the proper care, they may fade or dull faster than a more natural tone. Professional shampoo/conditioner and styling products are a must.
Black to Ruby Red Ombre

@hairbynoellelucy
Q&A with style creator, Noelle Lucy
Master Stylist @ Salon 860 West in Orange County, CA
---
How would you describe this?
This ombre is like a "Red Velvet Melt". It definitely has that rich creamy violet/red depth to it.
What's your best advice?
Honestly, your stylist needs to remind you that any shade of red is going to require maintenance. Luckily for the model in the photo, her natural color wasn't too far off from the Joico cocktail whipped up (5XR & 5RM).
Black to Red Ombre

@porcelain_blonde
Q&A with style creator, Hayley Crankshaw
Senior Hairstylist @ Pierre Alexandre in Manchester, UK
---
How would you describe this?
This black red ombre hair is a fierce and strong, yet classy color.
It's pretty high maintenance but totally worth it. Your stylist should assess the hair while coloring it and tailor the aftercare products to not just your color, but hair type/texture and porosity! Try Olaplex! It doesn't just help with keeping the hair in top-notch condition, but it also helps to lock in the red to prevent fading!
What's your best advice?
Using the balayage/ombre technique allows the hair to grow out without those nasty roots!
A lightener or bleach isn't needed every time, so it's maintaining the condition in each visit. It's usually just a toner (demi/semi-permanent color) that is applied to the hair every month or so to deposit the red back into the hair.
Reds are usually more popular in trend around Autumn/Winter, but in reality, that doesn't matter, as you can rock this red and black ombre hair all year long!
Red to Silver Ombre

@hairartistliz
Q&A with style creator, Liz Diriagoly
Stylist @ Barber Black Sheep in Lincoln, Lincolnshire
---
How would you describe this?
This is a fashion color ombre with permanent red on top and silver at the bottom and features a multitude of upkeep options this style provides.
Feel free to switch it up every now and then but always stick to your red roots. Having light blonde ends which were toned silver gives you the opportunity to have a different color on the bottom half of your hair every time you touch up your roots. This red ombre is a strong statement color.
What's your best advice?
High contrast colors with a stronger color on top require few washes, ice cold washes, and professional color shampoo for the color to stay where it belongs. Unless you're willing to freeze your head and invest in some good shampoo and conditioner (the best for colored hair are Olaplex No.4 and No.5 or Joico Color Therapy Shampoo and Conditioner) and use dry shampoo for days on end, this look won't be much good for you.
However, if you're determined to do so, high contrast ombres like these are so much fun and very expressive, and they can be combined with almost any cut and be adjusted for any color combination.
With this specific color, it will take some time to place the ombre higher up when it's growing out as the red is a permanent color and will require more than just one removal step for it to lift to a platinum blonde again.
Subtle Red Ombre

@natfoxhair
Q&A with style creator, Natalie Fox
Hairstylist / Hair Extension Artist @ Moda Forte Boutique & Salon in Scottsdale, AZ
---
How would you describe this?
This is a blended red ombre or color melt on an asymmetrical bob. The coolest thing about this red hair ombre is that it's edgy but also very classy and can be worn at any age.
What's your best advice?
This color is great for women with naturally dark hair because it will still blend as the color grows out, since it starts dark and gradually becomes lighter toward the end.
It's a little edgy but not too much so that it could still translate to a professional setting. It is very important to protect the integrity of hair in order to keep the red looking fresh so use a moisturizing and color-safe shampoo and conditioner as well as a heat protectant and serum when styling.
Light Red Ombre

@saxonhairatx
Q&A with style creator, Rachel Saxon
Hairstylist @ VAIN Salon in Austin, TX
---
How would you describe this?
Don't you love how vibrant the red turned out and the way the ombre blends naturally to ensure an easy grow-out process?
What's your best advice?
Reds are the fastest colors to fade, so if you want to ensure the vibrancy of the hair you need to make sure that you use salon quality shampoo ( try Kevin Murphy because it's sulfate free), and not to wash your hair in hot water. Another thing to consider is coming in every 6-8 weeks for a toner refresh to really keep the ombre looking as good for as long as possible.
Bright Red Ombre

@ciarasikes
Q&A with style creator, Ciara Sikes
Stylist @ Craft Salon in Royal Oak, MI
---
How would you describe this?
This black and red ombre hair color is a candy apple red. For this type of look, ask your stylist to do a wet balayage for a smooth transition line.
What's your best advice?
Bright red ombres are a high maintenance color. Go home with the right home-care and a take-home pot of color to touch up in between appointments.
Candy Red Ombre

@hairbykatierose
Q&A with style creator, Katie Rose
Hairstylist @ 3rd St Salon in Waterville, OH
---
How would you describe this?
This is a fun way to spice up red hair – definitely something unique about it. The loveliest about it is the transition of the red into copper. Reds and coppers go together like shampoo and conditioner!
What's your best advice?
It is a mix of high maintenance and low maintenance. High because of the bright red and low because the ombre portion would only have to be red once or twice a year. Keep that in mind if you only want to get your hair done a few times.
Red and Blonde Ombre

@jaykayhairdesign
Q&A with style creator, Jenn Keller
Hairstylist @ Blush Salon in St. Peters, MO
---
How would you describe this?
This features a vibrant copper red ombre hair color. The greatest thing about this red to blonde ombre is the transition between colors and how intense the reds are.
What's your best advice?
Invest in a good shampoo and conditioner. It's important to have something that will preserve the vibrancy of the reds, while also nourishing the ends since they've been so lightened. Try Color Keeper from Formula 18. Red ombre's require regular salon visits to maintain the color so be sure that will work for your schedule and budget.
Vibrant Red Ombre

@serahdoeshairahh
Fiery red locks in two tones seem to be such a marvel to look at!
Pink and Red Ombre

@hannahroed
A purplish-red take on scarlet hair. The pastel pink ends really made this look a bit more fruity.