32 Best Dark Red Hair Color Ideas
#1: Red Chestnut Highlights on Brown, Natural Hair
Credit: Britny Bassett
Red chestnut highlights on brown natural hair can ginger up a lady's everyday style! The hints of reddish tone bring out instant shine to dark locks. Get this hair color done by requesting a balayage to achieve a natural-looking red mane!
#2:Dark Reddish Strawberry Blonde Hair

@beauteeandthebrush
Dark reddish strawberry blonde hair is a warm color that complements pale skin. "It's trendy, and any woman of any age can rock it," says stylist Tori Skrot of Pennsylvania.
"We used Lanza to color the roots and pop lowlights in slices and weaves," Skrot states. Skrot also points out that this color is high maintenance.
#3: Dark Auburn Highlights
Credit: Judy Salcido
Auburn highlights are a stunning addition to dark red hair. The payoff brings out a dimensional and glossy mane. This dark auburn hair features the best tones on warmer skin complexions.
According to hairstylist Judy Salcido, "these auburn highlights are a transition from black box color to a fall auburn color blend."
"Coloring your hair red as dark as this one is perfect if you are trying to slowly go lighter, or if you want a subtle hair color change. Dark red hair with highlights , especially with an auburn tone, is also a low-maintenance color," notes Salcido.
#4: Dark Purple-Red Hair
Credit: Jacob
Here's a dark purple-red hair color that you must go for. The combo of red hair, dark roots are refreshing to the eyes. When adding purple-red waves to a long haircut, the payoff is so shiny!
#5: Shoulder-Length Dark Red Hair with Copper Highlights
Credit: Nicole Janes
Upgrade your dark red hair with copper highlights for a pinch of drama and a variety of tones. These hues create a chic dimension to suit your shoulder-length cut.
This copper hair color is perfect if you are trying to slowly go lighter, or if you want a subtle hair color change. "These auburn highlights are also a low-maintenance color," says hairstylist Nicole Janes.
Janes best advice? "The dark red color needs to be touched up every 5-6 weeks to keep vibrancy and cover-up the regrowth. Use a red wash no sooner than every other day to help keep the vibrancy."
#6: Red Hair with Dark Roots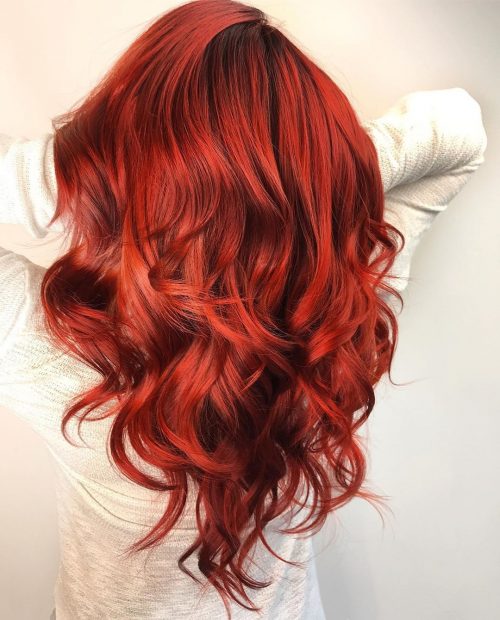 Credit: Presley Poe
This red hair with dark roots creates a vibrant color without leaving you a harsh grow-out line. If you have long, v-cut hair, you're gonna love this shade of red! Style your red locks with voluminous waves, and see the movement intensify the color.
#7: Dark Ginger Hair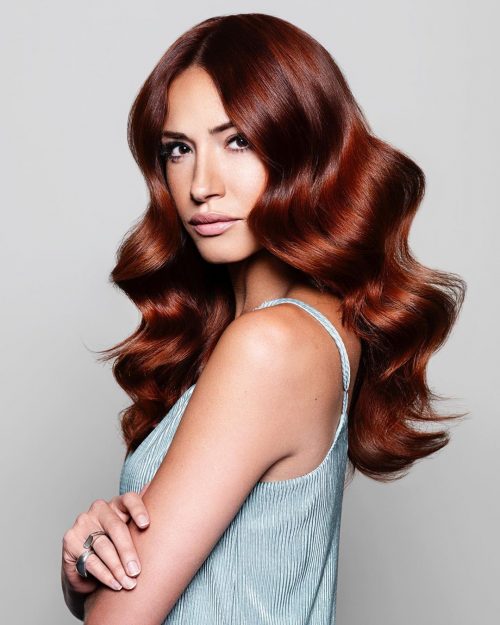 Credit: Cass Iskovic
Isn't this dark ginger hair astonishing? With your lengthy dark red locks, a combo of middle-part style and old Hollywood waves is your best option.
#8: Dark Red Highlights on Dark Hair
Credit: Billie Johmua
Traces of dark red highlights on dark hair will never do you wrong. The reddish tone pops even brighter when styled with loose curls.
#9: Black and Red Hair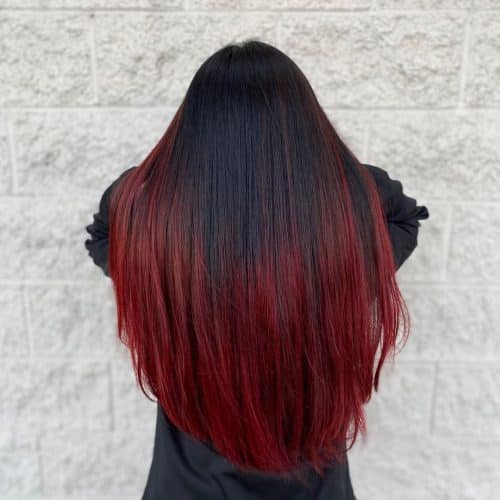 Credit: Megan Alcala
This black and red hair color makes an ombre color that matches a sleek or voluminous style. Customize your tresses with black red hair color, and give them a fiery touch.
#10: Dark Plum Red Hair
Credit: Brooklyn Stevens
A dash of plum red shade will keep the depth of your natural black mane. This dark plum red hair is a total match for a straight, medium-length chop.
#11: Dark Cherry Red Hair
Credit: Queidi Diaz
What's not to love about this dark cherry red hair? The dark red is stylish and captivating, offering a flirty-looking finish. If you have a long haircut with blunt ends, style the mid-lengths with subtle waves for a soft movement.
#12: Dark Brown Hair with Red Highlights
Studio Four One Seven
Ginger up your short dark brown hair with red highlights for such a chic dimension. These dark red curls accentuate even more when matched with a shoulder-length bob that keeps the curls' fullness. Spritz a dry texture spray as a finishing touch to show off the movement better.
#13: Rich Dark Red
Franco Hernandez
A shade of rich dark red can enhance your natural red hair color, assuming you're one of the natural redheads. It offers a darker tone that shines the best with long and wavy tresses.
#14: Short Dark Red-Purple Hair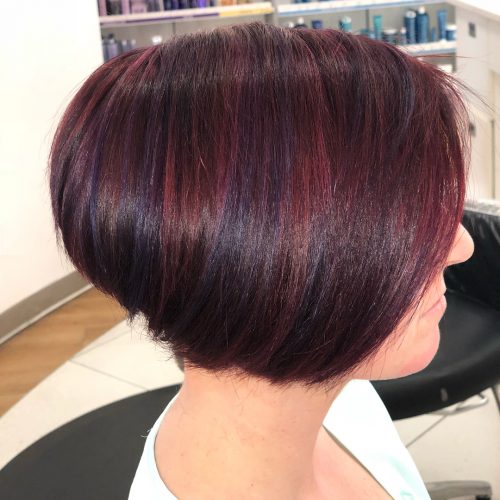 Credit: Lina
This dark red-purple is a super-easy way to spice your hair up when you're craving something fun! Pair with a perfectly shaped haircut and you'll be turning heads around!
#15: Dark Fire Engine Red
Credit: Mara Giannavola
This dark fire engine red color is fire! This super hot and bright fiery red hair will make you stand out from the crowd! No matter your skin color, you can rock this one out as long as you're committed to maintaining it!
#16: Dark Red-Brown Hair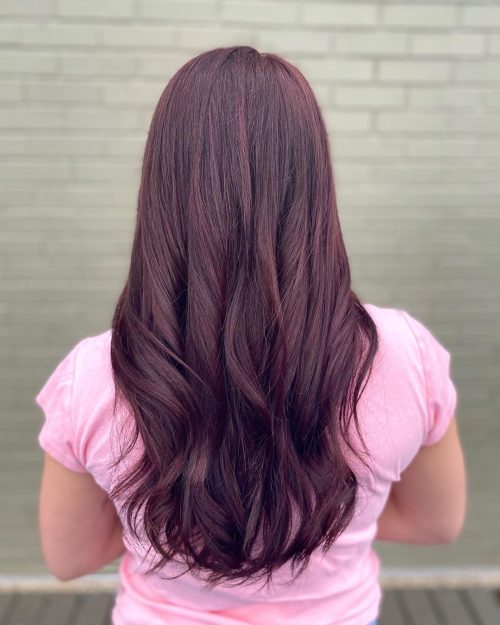 Credit: Jaden Johnson
This dark red-brown hair is swoon-worthy! Want effortless-looking fire on your locks? This is the reddish color you've gotta try. It may look subtle at night, but it's shinier and prettier under the sun. This is also how you can color your hair while still keeping its fullness.
#17: Bold Red Hair with Blonde Highlights
Credit: A J Salon
Bold red hair with blonde highlights is impressive! There's nothing wrong with having retro chunky streaks of gold on your auburn red and blonde mane. This funky style is great for woen who want to add some brightness to their hair.
#18: Red Wine for Wavy Dark Hair
Credit: Miranda Lagerstedt
Red wine for wavy dark hair is the easiest dark shade to get for natural brunettes. Ask your colorist for a dark red wine hair color to match your mid-length mane. Since your base color is already dark, applying a rich red takes your colorist less time and less money.
Red wine hues can give you a sophisticated, yet sweet vibe! Perfect for short to medium length hair for easier maintenance.
#19: Dark Copper Red Hair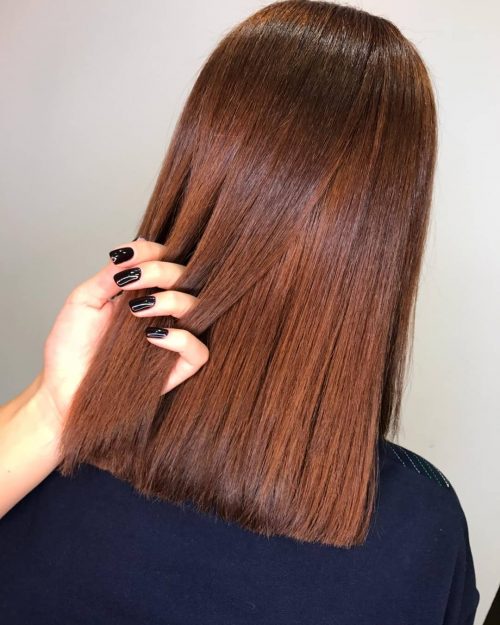 Credit: Debs at Hobs Salon
Dark copper red hair is one of the most flattering shades that matches almost every skin tone.
Of course, you still can have the benefits of warm red tones to go with a darker shade. This vibrant and bold hairstyle is so smooth on straight hair.
#20: Medium to Dark Red Ombre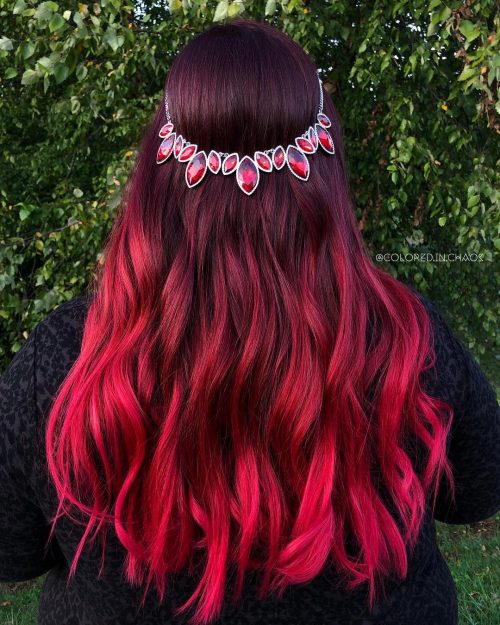 Credit: Morgan Abernathy
This medium to dark red ombre "screams fire and passion," says hair colorist Morgan Abernathy.
"This color is strategically pigmented to bring out the deepest luscious red," she adds.
Wondering how she achieved this color? Abernathy said she used Pulp Riot color melting a 5-66 with -66 booster melted into a level 8 balayage. Then on top of the balayage, a fireball was used to overlay and bring out the inner fire goddess.
"The loveliest thing about this dark red ombre is how fierce it is. This is versatile and looks amazing!" she remarks.
This ombre dark red goes with a true red and a deeper red. It looks amazing on all different skin types, just consider the upkeep.
Abernathy says this color is work and maintenance. "A creative color like this ombre is also work and maintenance. However, proper at-home care can have you looking amazing and vibrant for a long time."
#21: Dark Cherry Red Hair Color
Credit: Luna Jae
This dark cherry red hair color is a color mix that looks like a vampire black cherry red.
Hair colorist Luna, says "It's a black color melted root, which glides into bright, seductive red. It's a great fall look for those wanting to spice up their appearance!"
Not all skin colors can pull this off. "A warmer (or neutral) skin tone and color melt is a great option if you're anxious about wearing a vivid color. This red is perfect for brunettes who've never colored their hair," Luna explains.
As with any hair color, get a good deep conditioner. Luna recommends K-Pak from Joico.
#22: Natural Dark Red Hair Color
Credit: Emily Chadwick
This natural dark red hair color is bold, yet beautiful. It's sure to accentuate green eyes.
According to hairdresser Emily Chadwick, you should "ask your colorist to enhance your natural red color with bright copper and gold tones" to get this hue.
Chadwick's best advice? "Use professional, color-safe shampoo and conditioner to keep the color long-lasting. For shine, use Verb Ghost Oil."
#23: Maroon Red Hair
Credit: Haley Banks
Maroon red hair is best described as red berries and wine!
According to hair colorist Haley Banks, to get this maroon red hair, always start with your natural color. Ask your colorist for a very soft lavender, then add vivid colors later.
Banks advises women considering a maroon color like this just remember it's a change of color and lifestyle. "If you're a woman who likes to shampoo every day, this might not be the color for you," she adds.
When it comes to products? Banks says "using professional products at home is a must. These colors won't last very long with products that are not made to support them. Dry shampoo is your new best friend with maintaining a wearable style. Also, when considering a hair color like this one, keep in mind this requires high maintenance."
#24: Dark Ruby Red Hair Color
Credit: Ayla Schaap
It takes a dark ruby red hair color to transform yourself into one modish redhead. The ruby-red shade appears fuller on straight locks that graze the shoulders.
Hairstylist Ayla Schapp describes this as a dimensional mulberry A-line bob with a slight wave.
Wondering what to ask your colorist for in order to get this hue? Schapp says "there are 3 different color formulations used to achieve this dimension. A level 5 violet mixed with 1/3 natural level 5 was used at the roots to prevent a hot root. From the root, melt mid-end formula (level 5 violet). It's important to leave a veil section at the crown. Use only formulas 1 and 2 to gain depth within the color. The highlight underneath only reveals itself when there is movement."
"If you are considering this dark red color, wash your hair in cold/lukewarm water. Also use a color-safe professional brand shampoo, such as Kevin Murphy," she adds.
#25: Deep Red Violet Hair
Credit: Kelly Daoust
Pull off this deep red violet hair, and get ready to rock and roll! The tones blend together seamlessly, especially with waves. An oil or serum is sure to bring out a shine in your locks.
#26: Dark Red Brown Hair for Older Women

@elhamnikooe_haircut
A dimensional dark red-brown hair coloring can often make older women look younger. Bringing out a youthful glow is best done by infusing the same warmth and softness into your locks.
#27: Plum Red for Curly Hair
Credit: Griffin Rangel
This is a plum red for curly hair ombre. Don't you love how vibrant the color came out?
Long Beach, CA hair colorist Griffin Rangel says, "this is for women looking for something new and fun. It's something that isn't too crazy but will get people to notice your hair."
#28: Sangria Balayage Dark Red Color
Credit: Lisa Lorenzo
This sangria balayage dark red color screams vibrancy.
According to hairdresser Lisa Lorenzo of Staten Island, NY, this red color looks different in the light and it's a color that's shiny and rich.
Lorenzo's best advice? "This dark red hair dye is high-maintenance. Use the right shampoo and product to conserve the color. This style/color combo can be recreated in any type of hair."
#29: Dark Red with Highlights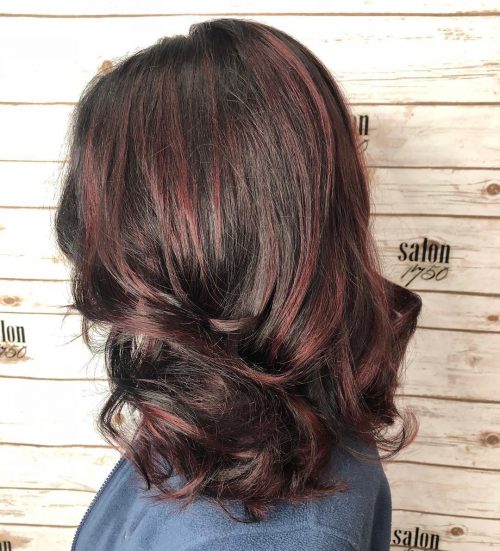 Credit: Devon Crawley
Dark red with highlights and black roots offer contrast and shine.
"With multidimensional colors, you lose vibrancy and get a more blended color," according to colorist Devon Crawley of Columbus IN. "Doesn't the depth of the dark brown versus red look amazing? The red pops and gives a visible definition from the roots to the ends. Plus, it's so shiny!" Crawley exclaims.
"Red hair colors lose vibrancy as they fade," says Crawley. "However, if you have your natural base, everything blends out nicely. This allows you to go long lengths between sessions."
#30: Deep Auburn Red Hair Color
Credit: Michelle Austin
This deep auburn red hair color looks a lot like dark mahogany.
Hairstylist Michelle Austin of Denver, CO says "this hair color is balanced with a warm red hue and warmer highlights over a cooler base. Doesn't it remind you of spices like cinnamon, clove, and saffron?"
Austin says that if you've been a long time brunette, deep reds and auburns are a beautiful way to enrich your hue.
"A soft cast of copper or burgundy hair color can easily be maintained with regular salon treatments. Glossing treatments add incredible shine. At home use color depositing shampoos and conditioners like Celeb Luxury," she adds.
#31: Deep Mahogany Red Hair + Dark Roots
Credit: Jennifer Lopez
Deep mahogany red is a popular dark red hair color. It's a gorgeous color that is most commonly done via the balayage technique.
Stylist Jennifer Lopez of Brea, CA created this gorgeous hair color. "If you need red hair ideas, this color is an inspiration for fall. Let's call it cinnamon spice, nothing says fall hair like this red transformation," she notes.
Lopez advises asking your colorist for a mixture of mahogany and chocolate, both by Rusk.
"Darkened roots with a dark ash brown melting into the color are beautiful," she says. "Don't wonder if your skin tone or hair shade is perfect for this color. However, your colorist may need to lighten your hair just a little to pull this color off. Just go for it!"
#32: Burgundy Red Hair
Credit: Vanessa Gutirrez
This is a rich burgundy red hair color paired with a trendy angled bob. Burgundy is a mysterious shade for women wanting darker. This is vibrant, stylish, and trendy!
According to Vanessa Gutierrez, a hair and make up artist from Boerne, TX, "to achieve this red, slowly transition from a dark brown/damaged brassy blonde. Doing so will give you a beautiful cool toned blonde, that can be transitioned to this gorgeous color."
Any woman can rock this short hair. "It's all about confidence (and your love for reds/warm tones and dedication to maintenance)," says Gutierrez.
She states "this red color is a lot of maintenance because reds are stubborn and like to fade fast."
Her best advice for getting this deep burgundy color?
"Wash your hair no more than 3 times a week, using cold water and sulfate-free shampoo and conditioner. Then, use a dry shampoo for those in between wash days. This will help to seal your hair cuticle and the color within it."
When it comes to products, Gutierrez recommends Redken color hair products. "This will preserve your color until your next appointment without too much fading. Go in every 4 weeks for a root touch-up and a glaze to refresh your ends."