30 Stunning Light Brown Hair with Blonde Highlights to Try
Blonde Medium Bob Hairstyle + Brown Balayage
@zoeestyles
Breathe life to a medium bob with a light brown balayage and blonde ends. That pairing is exceptional! A style like this requires little to no effort depending on the hair's natural texture. If tresses are fine and straight, adding soft waves for movement is necessary.
This is the perfect low-maintenance honey, brown balayage. It was created by balayage specialist Zoe Ribley of Woodstock, GA.
"The honey and golden tones complement her natural hair color very well," says Ribley. "This cut is a short blunt bob, and styled with effortless beach waves to give off the perfect vibe!"
Balayage is perfect for women wanting a low-maintenance hairstyle! Women usually come back to see their stylist anywhere from 3 months to a year. When wanting the blunt short cut, be prepared to style your hair more often. Short hair can tend to become more maintenance depending on the hair type you have.
Light Brown Highlights on Blonde Hair
@tayloredlocks
Light brown highlights on blonde hair are the best way to create a perfectly blended bronde hue while also adding tons of dimension to the tresses. Consider adding in lowlights if you want more contrast with your hair color, or just overall want a slightly darker look. Lowlights will also showcase the lighter parts of your hair to make the hue pop even more.
Light Brown Pixie with Subtle Highlights for Older Women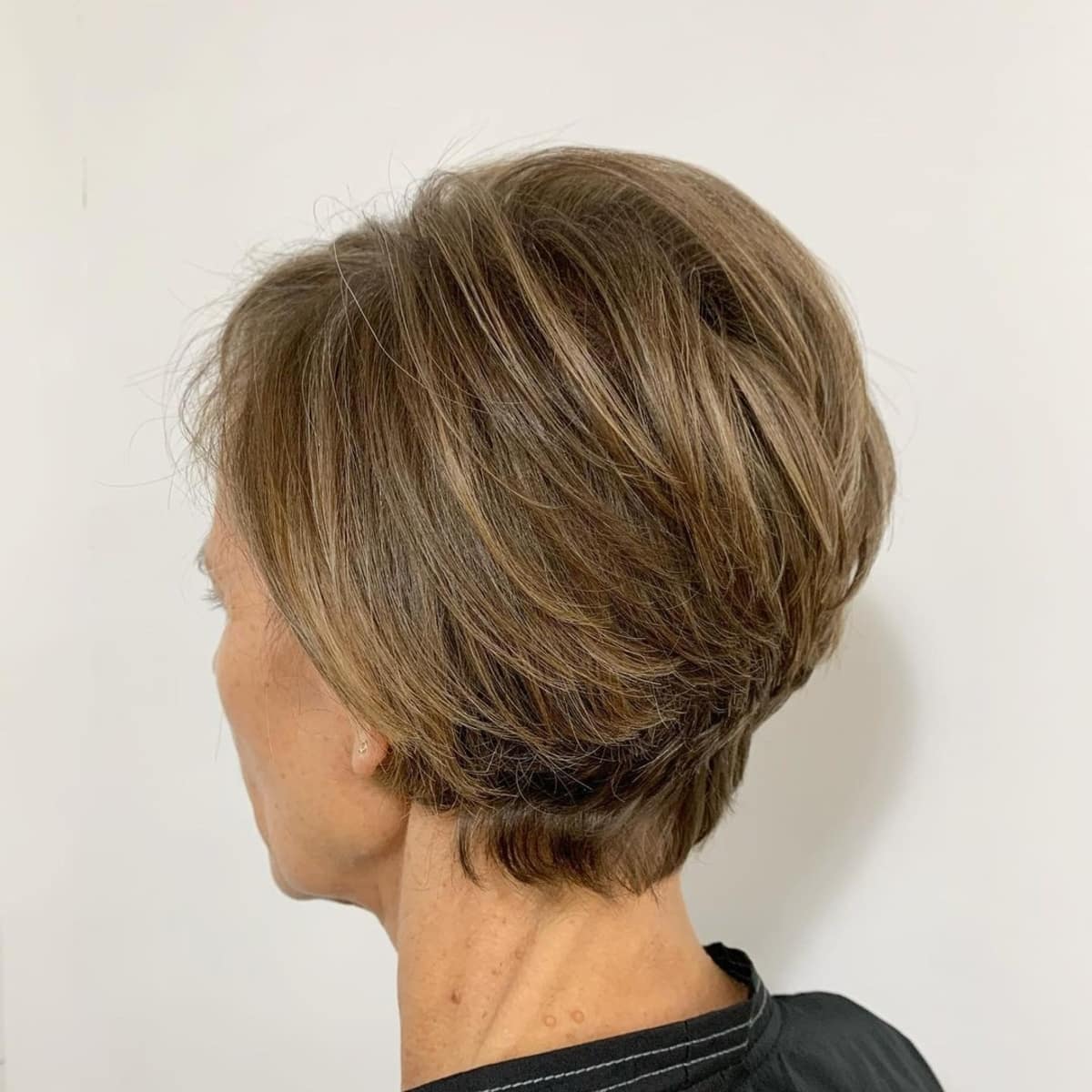 @orriginalhairstudio
Light brown pixie with subtle highlights for older women is a great hairstyle that adds soft dimension and texture. To get this look, ask your hairdresser for a soft pixie and light brown baby lights.
Medium Brown Hair with Lighter Blonde Streaks
@jessc.northwillowbeautybar
A medium brown hair with lighter blonde streaks can create a beautiful seamless blend of colors. Color placement like this is good for medium to long hair lengths to show off the vibrancy of the hair color. For maintenance, you're looking at visiting the salon every 3 months. Adding some lightness around the ends with a gloss every 7 weeks would do wonders to your hair.
Thin Blonde Balayage Highlights for Mocha Hair
@bassamrachid
These thin blonde balayage highlights on mocha brown base hair brings out a chic dimension. The result is eye-catching and looks elegant with voluminous waves. This mocha brown balayage makes a low-maintenance hair color that everyone will love.
Long Brown Hair with Beige Highlights
@beautybyaudreyyy
Go for long brown hair with beige highlights for some depth and dimension. This hair trend is ideal for toning down an old blonde hue. Streaks of beige are more prominent if styled with voluminous waves.
Light Brown Hair Color with Face-Framing Blonde Balayage Highlights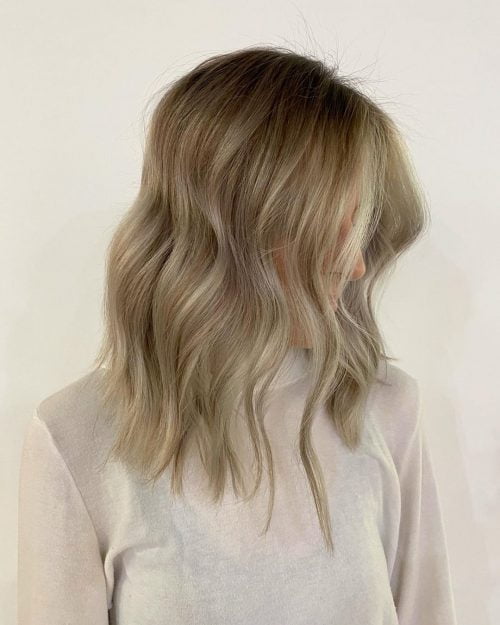 @whitney_pierce_hair
Light brown hair color with blonde balayage highlights are perfect for fine locks. Fine hair types suit the softness of the hue. This trend offers face-framing blonde highlights to add brightness around the face and make a blue eye color pop. The seamless, flawless-looking finish is achievable with proper lowlight placements.
Creamy Blonde Hair
@sheque.hair
Creamy blonde hair suits gorgeous women with lighter and warm skin tones. The hue appears even richer if the hair is thick and styled with soft waves. For this shade, it's better to use less heat when styling to keep its healthy-looking edge.
Blonde Ombre Highlights for Light Brown Hair
@brushedtoblonde
These blonde ombre highlights for light brown hair are beautiful and cute, and really suit ladies with a light skin tone. The hair color idea is sure to add a wow factor to a lady's entire appearance. It works best on a longer haircut, too. The darker shade from the roots to the crown area makes the blonde hue at the ends pop even brighter.
Bronde Highlights for Women with Light Brown Hair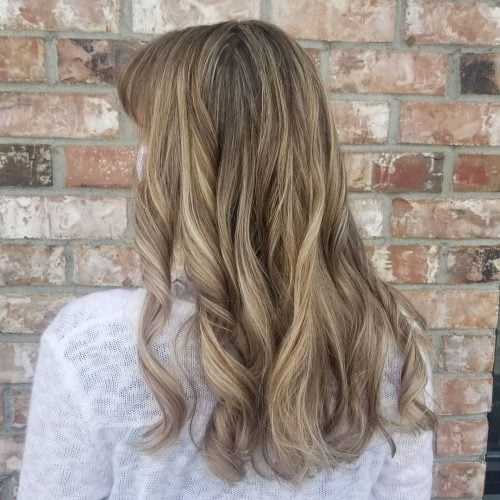 @melissa.glamor
These are the perfect bronde highlights for women with light brown hair! Fused colors creates neutral tones that work best on neutral skin complexions, too. To achieve versatility, keep the hair longer to look great with either a wavy or a sleek style.
Toffee Brown Hair
@rebeccashairstudio
This medium-length toffee brown hair features a soft highlight that blends the natural tone with a soft beige blonde. It was created by hairstylist Dena of Carrickfergus, ANT.
"Toffee brown hair color ideas will last 2-3 months with a good after-care routine," says Dena. "Use sulfate-free shampoo and conditioner at home. The natural tone of the toffee brown is sure to bring out your complexion and enhance your beauty."
Light Brown Lob with Cool-Toned Blonde Ends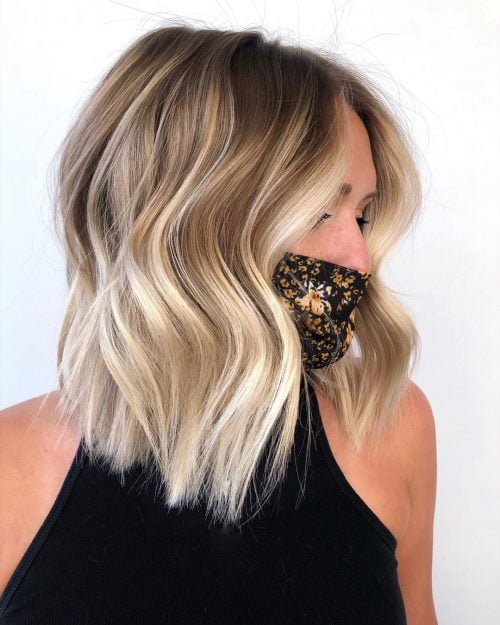 @un.rooted
Here's a light brown lob with cool-toned blonde ends. The warmth of the dark roots makes the color of the ends pop even brighter. This long bob looks sensational and can give a haircut a fresher, more modern payoff.
Bright Blonde Hair Highlights on Dark Brown Hair
@alchemy_by_allison
These bright blonde hair highlights give a natural-looking shine to dark brown hair. With waves on a layered cut, a magnificent dimension comes out. Blonde highlights emit a cooler tone that goes well with the warm brunette tone.
Golden Blonde Hair with Golden Highlights
@caleighsstyles
This golden blonde hair flatters women with olive or warm skin complexions! The color offers a richer tone that goes well with a thick density, making the locks appear healthy. To keep the golden highlights' gloss, use a purple shampoo and conditioner, but don't overdo them.
Blonde Highlights on Light Brunette Hair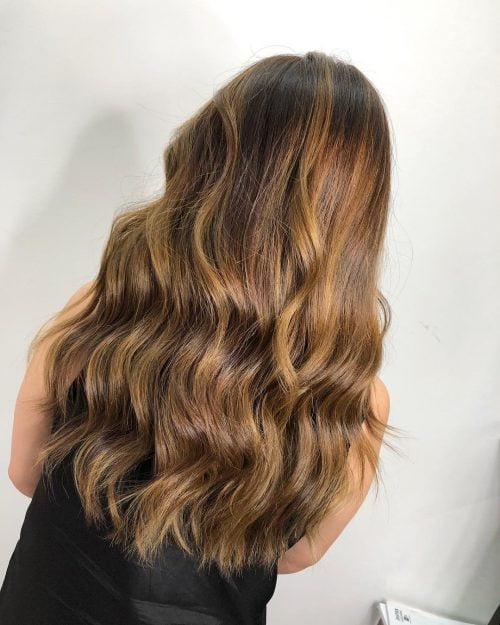 @katherineseakx99
These blonde highlights on light brunette hair are not the usual striking blonde color yet the variation suits this brunette color amazingly!
Caramel Highlights on Light Caramel Brown Hair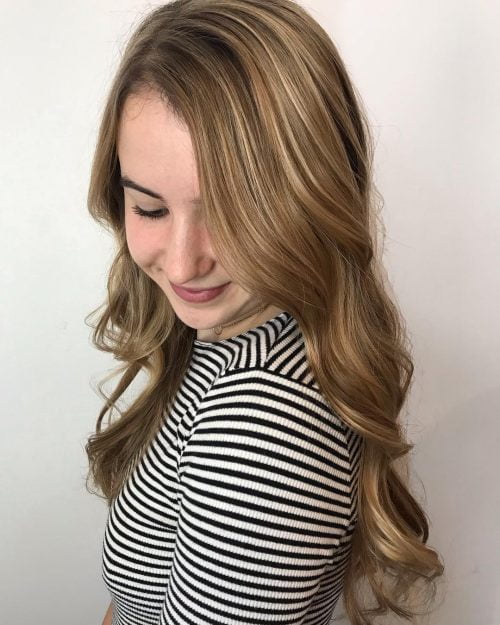 @rileyhopp
This light brunette hair with blonde highlights is stunning! The soft waves make this look even more special. What's great about this brown hair with caramel highlights is the modern-looking dimension it provides.
Light Honey Brown Hair with Blonde Highlights
@elevationhair
These light honey brown hair with blonde highlights are a pure hair transformation anyone can certainly pull off.
Gorgeous Ash Blonde Highlights on Light Brown Hair
@syltoriahair
This is what (hair) dreams are made of! Twisted streaks pulled at the back make for the perfect partner for this light brown hair with blonde highlights.
Light Chestnut Brown Base with Platinum Blonde Highlights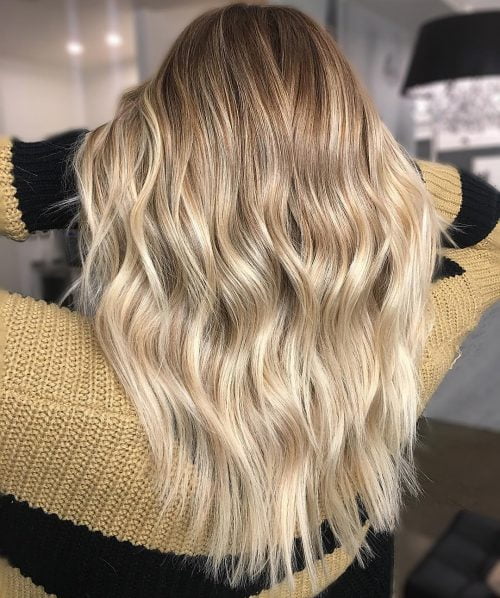 @chameleoncreations92
Christmas came early with this light chestnut brown hair dye job! Winter platinum highlights made this all better.
Light Ash Brown Hair with Soft Blonde Highlights
@hillshairartistry
A new trend is in town! Light ash brown hair with blonde highlights seems to be stealing the spotlight. Effortlessly good-looking, highlights, waves, and all.
Caramel & Blonde Highlights on Lighter Brown Hair with Dark Roots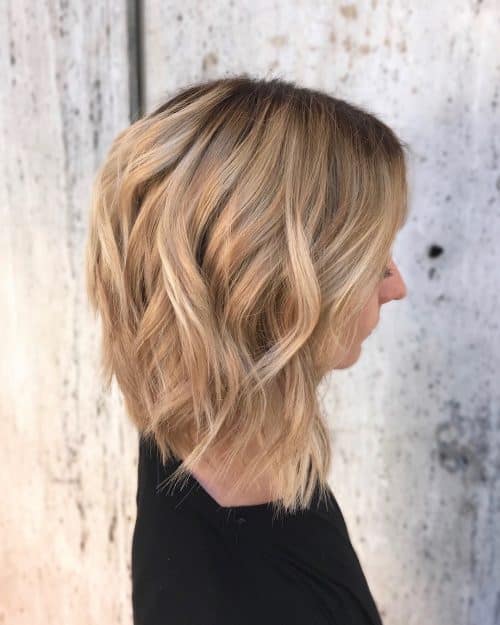 @hairbymacyyy
Caramel blonde highlights on light brown shoulder-length hair are definitely a head-turner. What adds the bow on top of this caramel light brown hair with blonde highlights is the waves that enhance the dimension.
Brown Hairstyle with Blonde Highlights and Lowlights
@nikkipierce.hair
This brown hairstyle with blonde highlights and lowlights is a dimensional blonde. It was created by hairstylist Nikki Pierce of Athens, GR.
Pierce explains, "you get the brightness of a blonde, but the lowlights add enough darkness for depth. Plus, the lowlights give the illusion of volume within the brown hair coloring."
This brown and blonde color is low-maintenance. Meet with your stylist every 6-8 weeks to freshen up the highlights and lowlights. Use a purple toning shampoo between salon visits to keep your blonde looking bright.
"Rotate in a color-safe shampoo when you aren't using the purple shampoo," she adds. "This will keep your toner and lowlights from fading. Shampoo & conditioner are the most important products to protect your hair color. Think of it as insurance for your hair."
Light Auburn Brown Hair with Blonde Highlights for Long Hair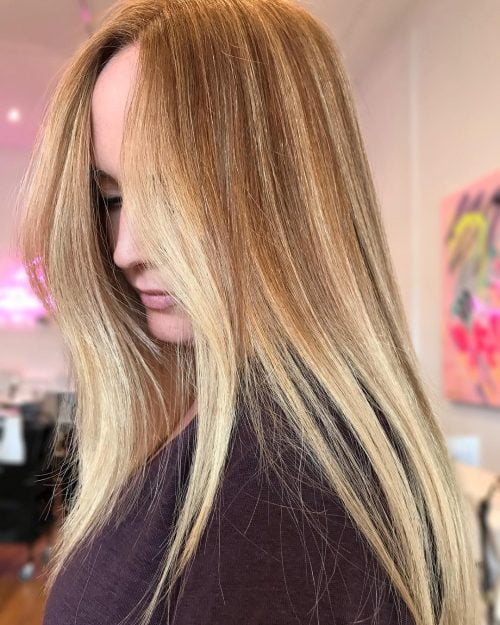 Interview @los_pastel
These are blonde highlights on light brown, auburn hair, creating a dimensional balayage. They were created by stylist and salon owner Grace Clayton of Western Australia.
"I worked with the client's natural warmth, and I love how it blends from a softer highlight near the root to a brighter, thicker piece of blonde through the ends," says Clayton. "Also creating a heavier face frame, but keeping it natural near the root, means low-maintenance!"
Curly Light Brown with Dark Blonde Highlights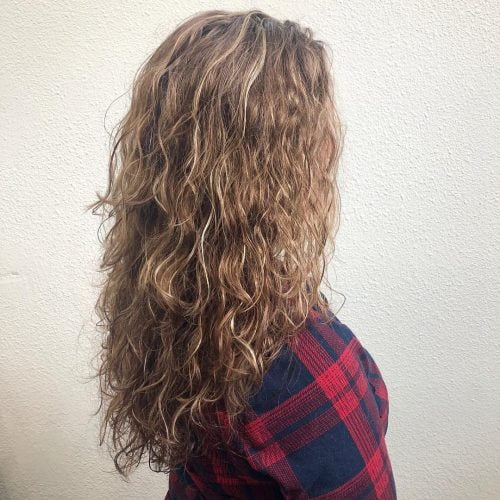 @stylist_kim_costa
This is a dark blonde with dimensional highlights on long naturally curly hair that was created by hairstylist Kim Costa of Bend, OR.
"This guest has an amazing head of thick, naturally curly hair that has begun to turn grey," explains Costa. "She isn't ready for the commitment of permanent color and had some old grown out color that has faded and turned brassy."
She continues, "we gave her gentle and subtle highlights to blend the lightness of the ends with the top. We then gave her a semi-permanent color gloss to blend the grey coming in, and finally added on a couple of toners to get her hair to a more neutral and less warm/brassy color!"
Honey Blonde Highlights on Light Golden Brown Hair
@gracefulbalayage
This dimensional honey blonde balayage radiates summer with a warm glow that will brighten up your look. This color was created by hairstylist Grace Hinz of Riverside, IL.
"The best part is the fact that she looks super bright overall but still has a lot of dimensions spread throughout," explains Hinz. "She isn't just solid blonde but has a more sun-kissed and natural look."
She goes on to explain, "more often than not I give golden blondes to women who are about 50% gray and want to blend the silver into their natural base color. The warmer tones give a more youthful glow to the hair. Honey blonde highlights are also lower-maintenance compared to super ashy blondes. This is good for women who don't want to come in often to re-tone their hair or for women with well water and other harsh mineral-filled shower water."
Natural Light Brown with Blonde Highlights with Lowlights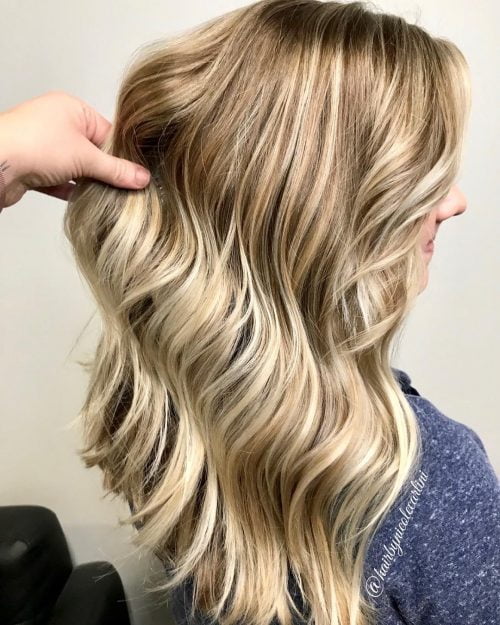 @hairbynicolecarlini
This soft blonde balayage was created by hairstylist Nicole Carlini of Oxford, MI.
"We added highlights using Schwarzkopf Blondme in a traditional foil technique. I sectioned the hair off her part line with diagonal foils back," Carlini explains. "She is naturally about a level 7, thick straight hair texture, so we left her base for added dimension. She had previously lightened ends so adding the foils made for a softer look and more of a balayage rather than an ombré. I then toned with Redken Shades EQ."
This light brown hair with highlights is a pretty low-maintenance style. Because the natural color was left at the base, the grow-out will be easier.
Light Brown with Chunky Light Blonde Highlights
@hairbykatieb_
For this light brown hair with chunky blonde highlights, hairstylist Katie Broyles of Canton, GA did a freehand balayage highlighting technique.
"Women interested in these light blonde highlights on brown locks should decide if they're comfortable with having some natural root showing or wanting more of classic highlight to the scalp," says Broyles.
Light Red-Brown Hair with Subtle Blonde Highlights
@hair_by_jessica_shippee
This light red-brown hair with blonde is a lived-in color created by hairstylist Jessica Shippee of Greenfield, MA.
"I love the fact when doing a balayage highlight you can go months and the color still looks amazing without the regrowth lines of a traditional foil highlight," says Shippee.
For women looking for low-maintenance colors, Shippee always suggests playing off their natural color. "Keep your root color the same or close to it and add pops of brightness around the face or ends. "
Strawberry Blonde Highlights on Sandy Brown Hair
@allaboutsalon
Splashes of strawberry blonde highlights on sandy brown locks create a chic dimension. This gives hair inspiration to any woman with a natural brown shade. The blended colors of strawberry blonde and sandy brown give a flirty vibe that suits a wavy hairstyle.
Balayage Blonde Highlights on Light Chocolate Brown Hair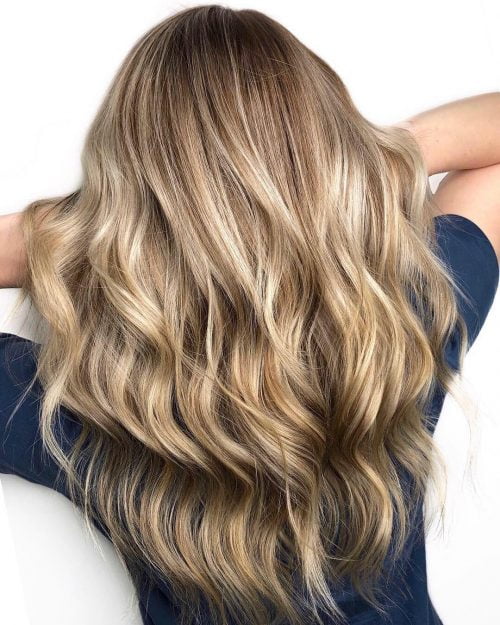 @hairbychanningcole
This rich dimensional lived-in balayage blonde highlights on light brown hair was created by hairstylist Channing Bergey of Fort Worth, TX.
"My favorite thing about this look is the richness of the lows against the bright blonde pieces," says Bergey. "If you don't want dark hair anymore, this is a great hair color to choose."
Bergey says this color is ideal for women with light chocolate brown hair, medium brown hair, or a dark chocolate brown base. "It's super low-maintenance. It's also best for women who like to curl their hair because it really makes the dimensions pop."