37 Hottest Ombré Hair Color Ideas of 2021
Dark Brown to Caramel Ombre Hair
A simple yet striking color melt to try if you wanna join the golden ombré hype, dark auburn brown plus caramel absolutely offers a vibrant contrast that needs serious maintenance.
Dark Auburn to Bright Plum Ombre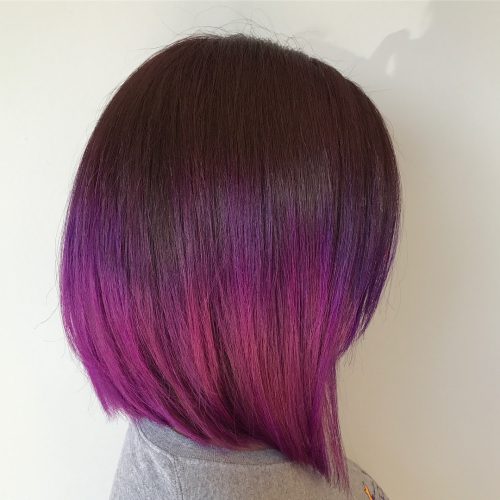 @chaunah_speichert
Nothing is braver than an auburn to plum ombré on straight hair where a smooth transition is key for pulling off this in-demand glamorous style.
Black to Silver Ombre Hair Color

@jadeslaterhair_
Black hair is optimal for every skin type, and if matched with a silver ombre? The result is going to be a stunning work of art that you must go for! If you're longing for variation, an ombré is a sexy and fashion-forward solution to satisfy your desire.
Melted Dusty Lavender to Rose Gold

@guy_tang
Here's a trendy pastel ombré dye job with a relaxed wave look. The combination of dusty lavender and rose gold hues makes such a gem!
Unicorn Rainbow in Ombre Style

@caitlinfordhair
This long sleek hair has ombre pastel colors of blue, yellow, green, pink and purple. Stylist Catlin is well known for her unique & colorful hair color technique.
Espresso to Brown Mocha Ombre

@the.blonde.chronicles
A tousled ombré hair dye that brings out her natural colors!
Dark Blue to Purple Hair

@katchbeautylounge
A perfect example of this year's more trendy ombré styles. Dark blue and purple hues on dark roots really go well together.
Multi-Tonal Dark to Blonde Ombre

@shae_stylist
These oh-so-dreamy waves with a dimensional ombre are what every girl wants right now! You'll absolutely get everyone's eyes with these flawlessly transitioned buttery blonde ombré on natural dark hair.
Dark Brown to Golden Brown Hair Extensions

@apyelentstrands
If you're considering ombré hair extensions, this curly golden brown look is perfect. The dark brown roots make this hair color low-maintenance.
Waved Ash Brown to Ashy Blonde Ombre Ends

@vasiliychinihin
A long and tousled style with an ashy blonde ombré ends? Why not! Feel free to style the hair with waves to boost the color's dimension and texture.
Medium-Length Brown to Caramel

@texasbalayage
A mid-length brown to caramel ombre is so in style nowadays! It's easy to achieve and will require lower maintenance for ladies with darker roots.
Dark to Icy White Balayage Ombre

@marian_scissors
This dark to icy white balayage ombre was created by stylist Marian Nissan of Arizona. "She only needs to come in every 10-12 weeks," says Nissan.
When asked for her advice, Nissan comments that the current state your hair is in is extremely important to consider before getting an icy blonde ombre like this. The lightness was achieved over sessions, so patience is key.
Working with your natural color will always go with your skin type. "Unless you're willing to change everything around it like makeup, eyebrows, and all the products you use, then I don't recommend going more than 2 shades lighter or darker than your natural on the roots! I always recommend a take-home deep treatment for women when they lighten their hair—yes, even oily hair needs moisture on the ends," Nissan explains.
Dark to Auburn Copper Color Melt

@jasondahlstromhairstylist
This color is a chocolate auburn color melting into a rich copper ombre using Wella. It's a creation made by colorist Jason Dahlstrom from Illinois.
According to Dahlstrom, copper works for most skin tones ethnicities, and face shapes. There's a huge copper craze going on right now and everyone is having a lot of fun with it!
Dark to Light Mint Green Ombre Hair

@caroline.anythingbutbasic
Here's a medium style minty ombré by color specialist Caroline Guiney by Encino, CA.
When asked for any advice, Guiney says that medium skin types with warm undertones look best with jewel tones, particularly this Emerald look. Know that green has the most longevity out of all the fashion colors.
"Most importantly, seek out a professional that's very familiar with these colors to avoid unwanted results," Guiney advises.
Burgundy Red to Red Wine Reverse Ombre

@jlucywoods
A reverse ombré dyeing process that goes from a lighter burgundy to a darker red wine hue! This is created by color specialist Lucy Woods of Villa Rica, GA.
According to Woods, any lady who's considering a color scheme that doesn't fall into the "natural hair" category should be educated on the upkeep. For example, how often she'll need her roots done or a color gloss to freshen up the overall look. "I use All-Nutrient Keratint color-glosses. They are organic demi glosses that seem to never lose their vibrancy," Woods adds.
She also recommends Colorphlex home care products because they not only protect the color, but they strengthen and add bonds to the hair each time they shampoo and condition. They get a dose of the vegetable-derived protein in the Colorphlex ColorStrong Complex, improving the condition, texture, and shine.
Ash Grey to Platinum Ombre

@hair_by_vetty
This ash grey to platinum ombre is a favorite among iced-blonde looks. "It's a cooler-toned blonde and very ashy! It's made of RuskAsh (.11) and just a little bit of Rusk Beige," says style creator Yvette Contreras of California.
The dimension looks stunning. The shadowed roots and contrast give those ashy/gray tones more depth and make the highlights more pronounced.
Along with the beauty of this kind of cool-toned ombre, comes the maintenance to keep it. Contreras suggests, "Olaplex is a must. We want to keep the integrity of the hair at all times! You're looking at a standing appointment for every 6-8 weeks to touch up the roots."
Lived-In Brunette to Blonde Hair Ombre

@johnnyramirez1
These long tresses have a gorgeous natural darker to lighter look, where it's brown at the roots with light blonde ombré tips. Add loose beachy waves to emphasize the ombre effect very well.
Dark Roots to Silver Locks

@theladyofhair
Here's a dark roots to silver ombre created by Virginia-based stylist Chelsea Redman.
"When you think about ombré, it's hard to imagine using silver in the mix, but when done pristinely, can produce such a refined shade. The colors selected definitely define how the look will come out and this one counters natural brown with an almost ashy, shiny silver," Redman describes.
Black to Cherry Red Ombre

@cnkirby52
This is a black cherry ombré. "I love how the rich, black melts into vibrant red tones," states the look creator from Michigan, Christa Kirby.
Redken was used to achieve this look. When doing reds, Kirby loves using two different tones to show the dimension between cool and warm reds.
If you love dark hair with some jazz, this would be the look for you! Long hair is the biggest canvas for a beautiful ombré, but with some altering, short haircuts would be gorgeous with this color combo as well.
To maintain red hair, Kirby recommends love Pureology's product line called Reviving Red. It will keep your reds red!
Multi-Dimensional Dark to Light Brown Ombre
This is a multi-dimensional soft brown ombré hair designed by California-based hairstylist Francesca Kane. What's great about it is the soft gradual lightening of the overall look.
"Colorwise, I recommend a medium natural brown by Paul Mitchell XG for roots and mid-shaft, Lightener by Paul Mitchell and a Paul Mitchell Shines for toner. I used Paul Mitchell Super Skinny Serum cocktailed with their Neon Line Sugar Cream while wet," Kane explains.
Kane's additional tip is to stay within three-level shades from the base color. "To maintain, I would say to use a color-safe/treated shampoo and conditioner and to come in every so often for a refresh toner for shine and fading," she adds.
Black to Blue Ombre Hair With Bangs
@hairbykristinamarie / Instagram
This is a mid-length blue ombré, which is a masterpiece by stylist Kristina Dunn of San Diego. "My favorite thing about this look is that you still get the depth of the natural coloring at the roots, but that super fun pop on the ends," Dunn states.
Before blowdrying, Dunn recommends using Kevin Murphy's Staying.Alive. It's a leave-in spray that protects and smooths the hair. After drying, use Design.Me's product called Puff.Me for volume and to give texture to the waves.
Dark to Light Chocolate Brunette Hair
Danielle Badger / Instagram
This is a natural, sexy, carefree chocolate brunette ombré, made by hair designer Danielle Badger of Los Angeles. "I love this look because it is so easy to achieve. When you wear it sleek and straight it's sassy and sophisticated. If you curl it, it becomes beach-like with more of a seductive look," the stylist states.
Badger only uses a product line called Surface. It's a high-performance, salon-exclusive haircare and skincare line that respects personal health and the earth.
The great part about a balayage ombré appearance is that it's a natural look. It's all about a sun-kissed style that gives it the natural beach look. Many different tones can work with this technique, from a natural look to more of an experimental and edgy fashion.
Intense Black to Pink Ombre
Yvette Contreras / Instagram
This is an intense pink hair color in an ombre style created by California-based stylist Yvette Contreras. "I wanted a layout that gave the illusion that the hair was fuller. The best part of the look is the contrast of the natural base up against the pink," she notes.
To achieve the black to pink ombre, Contreras lightened the hair with Blondor powdered lightener with 30 vol. developer and added drops of My Amazing Repair And Shine. For the pink, Rusk Pink with Demi developer is used plus some drops of My Amazing Repair and Shine again.
To keep this look vibrant, Contreras says to use cooler water when washing and professional hair care products! "The touch-ups would be every three to five weeks," she adds.
Fire Red to Burnt Orange Ombre
Leila Vance / Instagram
This is a "fiery ombré" with the vibrant bright red color plus amber-orange hues, which is a masterpiece created by stylist Leila Vance of Canada.
The product used to obtain the color were a mix of Schwarzkopf colors, and for the styling, Unite hair products. "More specifically, I used a combination of Unite's Laser Straight Elixir, Smoothing Cream, and Argon Oil. After styling with a large barrel wand, I finished it off with flossing spray and hairspray," Vance points out.
For recreating that reddish amber ombre, Vance states, "I started by lightening the mids to ends then melted three shades of red, starting with a deep dark red at the root and melting down into the brightest lighter red, then going in and adding the gold into the bottoms."
Soft Dark to Auburn Copper
Kelly Nord / InstagramStyle by Kelly Nord
This is a soft red copper ombré with loose curls and a shoulder-length cut. Stylist from Minnesota, Kelly Nord created this look.
"My favorite thing about this style is that it's perfect for someone wanting spice things up a bit, but still remain subtle. It's a great way to add warm tones and a fun style to their look," states Nord.
This color was created using the Lanza Healing Color line. Nord recommends the Lanza Healing Color Care System to maintain the color. The system includes shampoo, conditioner, Color Guard, and Color Illuminator.
Fair or lighter skin tones look best in a lighter red color such as this copper red.
Chestnut to Red Color Melt
Tara Nichole / Instagram
This is a red ombré or a red color melt by Tara Nichole, a colorist from Rancho Cucamonga, CA.
"I am a Redken certified colorist, so of course I would recommend the Color Fusion line. I used 3rv and 4rr at the top, melting in 6rv and 6rr with R hi fusion for an extra kick," Nichole explains.
She adds, "definitely make sure you have enough of your formula mixed so you won't have to re-mix and risk the outcome being consistent. I also added Redken's PH Bonder to ensure the longevity of the look."
Walnut Brown to Dark Blonde for Long Hair
Victoria Ashton / Instagram
This is a classic design of a brown to blonde ombre. It was created by hair artist Victoria Ashton of California.
Ashton loves to use Redken 25 Benefits for protection and Pillow Proof to help speed up blowdrying on thick and longer-length hair. She also uses Olivia Garden hair brushes because they give such a nice smooth finish.
Ombré looks good on most hair types, but the process will differ for each kind. According to Ashton, "This overall haircut/design fits all face shapes and is fitting for women who like low-maintenance color care and can't make it to regular haircut appointments often."
Black to Light Brown Tips

@lovesofhair
This is a beautiful sombré look, which is basically a more subtle version of an ombré.
"I used Schwarzkopf lightener/olaplex. Then I used a back combing technique with babylights around her face," says the style creator, Lacey Valdez from Ogden, UT.
With your natural color at your roots, it allows you to play around with the colors on your ends. This is a long-lasting color and only needs to be maintained if a darker root or lighter/darker end is desired.
Natural Dark to Light Ash Brown Waves

@rw_hair
These ombre waves are a very natural blend with highlights around the face line to mimic what the sun would naturally enhance. Look creator Rachel Willis of Australia adds, "I love this look because straight or curly, it's still very blended, but not too harsh or bright."
Maintenance for this look is very simple. You need to come into the salon for a toner and face line foils every four weeks. Then every 12 weeks, ask the stylist to pull all the balayage up. As long as this look is maintained at home, not much re-lightening will need to happen.
For maintenance at home, Willis recommends Fanola No Yellow Shampoo, Olaplex #3, and a soft blowdrying lotion-like Redken Satinwear.
Black to Lavender Purple Ombre

@junexcrystal
Raven-colored hair ombre gives off a mystic vibe! Combine the long hair length and the beach waves for a magical effect.
Melted Dark to Ash Blonde Ombre Hair

@juana_scissorhands
This is a melted blend ombré style created by stylist Juana Reyna of Laz Vegas. She recommends the following products to keep up with this gorgeous transformation:
*Repair Shampoo and Conditioner by Moroccan Oil Products – Now that the hair is lightened, it's very important to repair the hair and mend the ends with moisture and reconstructive keratin to prevent any breakage.
*Fanola No Yellow Shampoo – Use weekly. This will maintain the bright blonde hair and keep it brass-free.
*Moroccan Oil – This magnificent oil is a treatment all on its own. Reyna strongly recommends using it as a heat protectant, as well as, a daily leave-in. It won't leave hair oily or heavy. It dries nice and soft and additional products can be used after applying the oil.
Caramel Brown to Champagne Blonde for Straight Hair
@mishjoliehair
This is a champagne caramel ombré with lighter pieces that are all hand-painted. Look creator Mish Jolie says, "She likes her upkeep minimal, so it's painted to keep her natural hue at the roots."
The Connecticut-based stylist, Jolie, recommends a smoothing styling cream like Aveda's Smooth Infusion Nourishing Styling Cream. The Aveda Light Elements Smoothing Fluid can be added to the ends to give it shine and even more control.
Darker tones can pull it off because it's not too light and still has a lot of depth to it. Lighter tones will only be complimented due to the warm hues. This style is best on naturally straight to wavy hair.
Green and Teal Mermaid Ombre Hair

@makeupbyfrances
Emerald and azure ombre colors will make most women feel like they are living in the lost city of Atlantis!
Dark to Purple Pink Ombre Hair
Andrea Albanese / Instagram
Wanna switch your hair color to this dark to purple pink ombre? Here are a few tips from Washington-based stylist Andrea Albanese, who created this look.
Ombré is very versatile. As long as you use a semi-permanent color on the previously lightened ends, it'll fade back to the pre-lightened blonde and leave you with a blank canvas.
Albanese used a Hot Tools 1 1/2-inch barrel curling iron to curl everything. "I do the curls in different directions. Since she has long, thick hair that doesn't always want to hold a curl, I let the curls cool down and set before using a bit of styling oil to gently finger brush through them to soften the look," she points out.
A lot of different skin tones can get away with the color, especially if you have your natural color at the top. You just want to be careful of going too vibrant with the pink if you have a lot of pink undertones in your skin. Albanese suggests trying a more muted rose gold hair color if you have pink undertones in your skin.
Dark to Pastel Purple Ombre Hair

@lexiesciortino
This luscious ombre, which is grape-colored locks that turn to an ashy color towards the ends. Loosely curl the ends to make the dynamic color transition better.
Light to Honey Blonde on Short Hair
Alexandra Lishchinskaya / Instagram
This is a very fresh, stylish, natural light honey sombré look on a bob cut. "I adore the highlights and how they reflect light," says look creator Alexandra Lishchinskaya from Ukraine.
The stylist used Davines Mask hair Bleaching Powder for the babylights, highlights, color gradient, and blonde. "I like to tone the hair with Davines A New Color, Mask With Vibrachrom and Finest Pigments," Lishchinskaya adds.
For blondes, the best product is the silver conditioner Davines' Alchemic. Also with this type of blonde coloring, the hair should be toned once a month, as per Lishchinskaya.
Natural Dark Roots to Chocolate Brown Ombre Hair

@maria_mccann_hair
Get dark roots with an ombre by opting for a rich tinge of a deep luscious brown color from the mid-lengths to ends. This makes the hair look super shiny and full!