20 Hottest Fringe Bangs for 2023
Lovely Tousled Fringe Bangs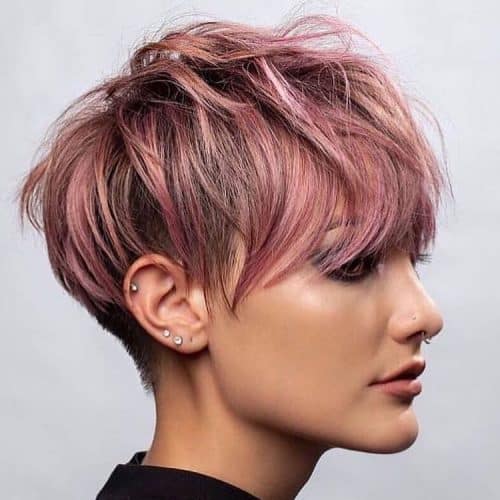 @erinjeanpowers
This haircut with fringe bangs is a soft and effortless style. It was created by hairdresser Erin Powers of Tucson, AZ. "It uses an undercut to eliminate weight and keeps the fringe haircut longer and sweepy. The combination of short and long will leave you feeling sexy and unique," explains Powers.
Women considering a tousled fringe should be prepared for some light styling to cover up the forehead. "A quick blow dry and some texturing paste for lift and separation. The cut requires a light trim every 6 weeks to keep it fresh," she adds.
Medium-Length Shag with Waves and Bangs
@jessicafooskas
These fringe bangs are effortless and undone. Stylist Jessica Fooskas of Brooklyn, NY created this cut.
Fooskas believes hairstyles for bangs are versatile and easy to style. "Blow dry it smooth for a more polished style, or let it air dry for a more lived-in vibe," she states.
"Try ARROJO Wave Mist and ARROJO Dry Shampoo to give these bangs the perfect amount of texture without looking too messy," says Fooskas. "Wave Mist is perfect for spraying in and letting the hair air dry to enhance natural texture, or it's great to blow dry with, to give the perfect amount of grit to the natural hair."
Lastly, she says to finish with the dry shampoo as a dry texture spray. "It also absorbs oil! It's also totally clear so it won't show up on the dark roots."
Eye-catching fringe bangs are ideal for women looking for more volume and shape around their face. Bangs that don't add more work to the styling process are great!
Perfect Face-Framing Fringe
@hayleyjoanh
The perfect face-framing fringe bangs can accentuate eyes and cheekbones. The length where they graze the eyelash is pretty ideal. Not too short, yet not too long. And as the eyebrow-obscuring bangs grow out, they'll be easy to pin or tuck behind the ears. It's also the kind of bangs that give any haircut a serious feminine vibe.
Rounded Fringe Bangs
@rosiebriscoehair
Perfectly crafted rounded fringe bangs are a trend that will never go out of style. The bangs have a crescent shape, which curves your features, and won't get in the way of your eyes. It then gradually falls around the brow to graze the cheekbones, which is perfect for facial enhancement.
French Fringe Bangs
@linethmm
French fringe bangs are for women who want to change things up and bring attention to their eyes. It's cute and makes a short haircut younger-looking. If the hair has a wavy texture, don't forget to iron the ends of the bangs to compliment the hair's chic finish.
Rounded Bob with Wispy Fringe Bangs
@shimon_sand
A super cute rounded bob with wispy fringe bangs is going to compliment your eye area. Fringe cut bangs work great with bob as it blends around the face into the length. Haircuts for fringe bangs work best for women who want to add width to their face, as the fringe gives it a square face shape. If you want to elongate your face, go for a longer fringe that hits below the cheekbone and stay away from baby bangs.
Long Shag with Curtain Fringe Bangs
@onaiaziz
Pair a long shag with curtain fringe bangs to maximize its '70 vibe! This kind of fringe bangs style is easy to maintain, which offers effortless styling! If the curtain bangs edges are curled a bit, they create a subtle movement that complements the shag. Overall, this hairstyle is ideal for ladies with thick, straight hair and not so much for women with fine hair.
Modern Edgy Shag with Light Fringe
@rachelwstylist
Try this modern edgy shag with light fringe for a more lived-in style this season. This haircut can also make you younger-looking with a full fringe. For prep and style, use the Good Behavior 4n1 prep spray when the hair is damp. Then, finish off the full bangs and hair with a IGK Beach Club Texture Spray.
Heavy Fringe Bangs
@hair_georgedivision
Hairstyles with heavy fringe bangs complements oval face shapes the most. It's the fringe that gives hair a flattering upgrade. If you have bangs you're growing out, ask for more fringe to fill in the recession areas and make a flow to the sides. It will leave the door open to go heavier on the fringe down the road.
Textured Blunt Fringe Bangs
@bel_pipsqueekinsaigon
Textured blunt fringe bangs add softness to most haircuts and hair lengths. Fringe hairstyles are flattering on an oval, round, diamond, or triangular-shaped face. Use a styling cream or a little hairspray with a flexible hold to keep frizz down and hold the textured bangs' shape.
Big Bold Fringe Bangs
@_lulupie_
"These big bold fringe bangs are a take on the Japanese Hime haircut," says hairstylist Lucia Ara of New Mexico. "Women are able to grow their hair long while still having something edgy in the front. Worn up or down, long hair tucked behind the ear really shows off the front fringe. Or leave them loose for a textured style."
"These bangs are for many different types of women," says Ara. "Try something different, explore new things your hair type can do. This fringe style is for women wanting to keep length, but want something different than the norm."
Large Side-Swept Fringe
@willowbendlady
This is a pixie cut with fringe bangs – always shorter on the sides and back with the front left longer. It was created by hairstylist Marie Kelly Decayette of Orlando, FL. "It's a short, chic playful style for a woman with confidence. Plus, there's softness of the shorter sides," says Decayette.
Her best advice is to get a tuckable length just behind the ear if need be.
"Get shampoo and conditioner such as Oribe's gold lust, Oribe's straight away (wavy hair and control), and Oribe's flash form (for volume and texture). For styling, try Babyliss pro blowdryer with Ibiza medium or large boar bristle brush to smooth it out," she adds.
Maintaining the shape is important. Hair grows faster than you think. Generally 4 to 6 weeks between haircuts.
Blunt Bob with Fringe
@nikitenko_elen_
Balance a blunt bob with fringe bangs to soften strong facial features. A fringe bangs haircut can hide an array of concerns on the upper face. The bob is also the best cut with a fringe that adds an element of interest to your style. Keep in mind that fringes can require an extra five minutes in the morning to control that bedhead bangs look.
Cute Fringe Bangs for Short Hair
@alissathesauce
Cute fringe bangs for short hair is perfect in framing round or oval face shapes. But if you have a square jawline, the best fringe to soften and balance the facial features is the long, layered one. Hair with bangs brings out softness and a younger-looking detail to the hairstyle. Have a good leave-in, heat protectant, and a hold texture spray to give the fringe an all-around cut texture.
Long Hair with Long Fringe Bangs
@fringetheory
Long hair with long fringe bangs is modern, feminine, and versatile. The long fringe work well on women with longer faces and larger foreheads. Cutting a fringe can be tricky as it's easy to go short and blunt! The key is starting a bit longer and slowly working your way up to the desired length.
Short Textured Fringe Bangs
@hairbyerinc
These short textured fringe bangs are ideal for fine to medium hair texture. Using a texturizer gives them a soft piece-y effect that suits a long, wavy, and textured cut. This cute short fringe offers more shape and fullness around the face.
This modern, textured shag with baby/micro-textured fringe was created by stylist Erin Cheney of Huntington Beach, CA.
"Focus on the layering and fringe around the face and throughout the crown of the head. Doing so will debulk an extremely thick head of hair and create a cute, weightless style," says Cheney.
Cheney also says to make sure your stylist educates you on the different styling methods. "Make sure you know what tools, products, and tips are needed to properly style your hair at home," she adds.
Jaw-Length Blunt Fringe Bangs
@stefab17
This jaw-length blunt bangs haircut is a total head-turner! It's a box bob matched with a short fringe. A mixture of point cutting and a little razor cutting is needed to achieve the edgy texture in the fringe area. The classic finish of this short hairstyle with micro bangs is guaranteed to complement a very dark black shade of hair.
Beautiful Side-Swept Fringe Bangs
@ciarandohertyhair
These beautiful side-swept fringe bangs look classy on luscious, chocolate brown tresses. Incorporate fringe bangs and flawless waves to long hair to get that classic beauty. The haircut and fringe that caresses the brow is sure to give the face a flattering angle.
Light Wispy Fringe Bangs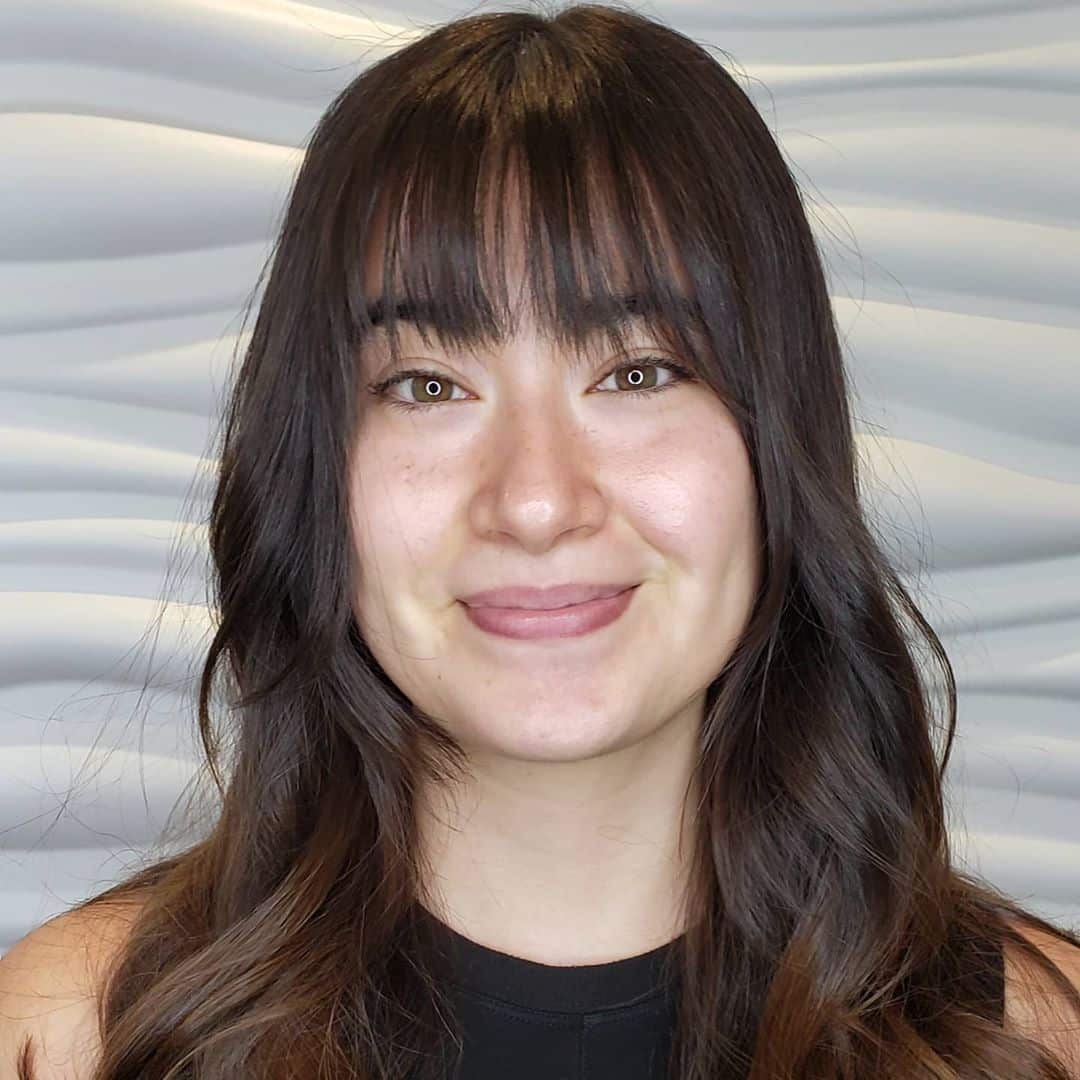 @stylist_frances_gomez_
A few light wispy fringe bangs add softness to a chop. Because of its thin appearance, it's pretty low maintenance. Taking care of the wispy bangs is way easier if it's not too big or thick. The fringe also gives a great style to any hairstyle, so give it a try!
Choppy Fringe Bangs
@shanecraighair
Adding choppy fringe bangs brings out extra details to the entire hairstyle. They make the chop looking fresher than it is. Choppy bangs also upgrades the tresses without going through a drastic change.