27 Foxy '60s Hairstyles That You Can Wear
Baby Beehive 60's Half Up Hairstyle
@by_valerix
Emulate this vintage '60s style with a modern twist for a very chic everyday look – a sweet half-up half-down hairstyle fronted by a neat side bang.
60s-Inspired Afro Hair for Women
@curlytwirlygirl_
60's-inspired Afro hair for women never goes out of style and is a beautiful option for coily textures. Layer the hair all around to create the perfect shape. Protect those curls with a cleanser like Hairstory and their balm to add moisture and definition.
60s Top Bun Hairstyle
@catweeks84
Opt for a 60s top bun hairstyle if you have long hair and you'll make your up-styling more manageable. Popping long hair up can feel like the masses of hair are on top of your head. However, separating the buns into smaller sections and wrapping the hair to make cute bun designs can simplify your updo and make it more stable.
The 1960's Sleek Pixie Cut
@madeleineschoen
The 1960's sleek pixie cut is all about geometry and can be adapted to work with most hair densities. Thicker hair would opt for more of an undercut to remove weight. The finer hair would have a little more structure around the sides to build weight. Ask your stylist to create the bangs, which are best suited to your face shape and hairline.
Jackie Kennedy's Vintage Bouffant Bob
@kate_erkiert
The iconic Jackie Kennedy's vintage bouffant bob creates width for finer hair and a longer face shape. While the style is not overly volumized, the soft curls sit elegantly at the bottom of the length. The curls then create a flipped-out effect.
Vintage Volume for Long Hair
@abram0vamasha
Vintage volume for long hair is a glamorous way to add instant bounce and fullness to your locks. The brushed-out curls sit on top of one another, which results in a magnificent amount of volume and life to your long hair. Achieve the style by using a few Velcro rollers along the top of the head. Once they have set, pull out, spritz some hairspray, and flip your parting to the side for full-on height.
Brigitte Bardot Ponytail from the 60's
@beautyby3hairsalon
Deviate your style from the usual tied up hair and opt for this super voluminous tail to make your black tresses appear dense and interesting, like Brigitte Bardot.
Classic Pin Curls for Vintage Girls
@beautybymissruby
These luscious waves and pin curls have been in style since the 18th century and will forever be a classic symbol of elegance and grace! Use your best hairspray for lasting goodness and finish with a floral piece for added feminine touch.
Way Out Bouffant 60s Hair
@carlosferraz_
Bring back the golden days when a way-out bouffant and half-up styles are the hottest thing! Get an idea from this half up 60s trend to flaunt your mid-length, dark tresses with uniqueness. Styling it with texture, waves and face-framing pieces will be a gorgeous final touch.
Hippie Chic 1960's Hairstyle
@annawrecksit
If you're looking for hairstyles of the 60s, this center part straight layered hair with curled ends is absolutely a must-try! It also has an elongating effect that's perfect for short and round faces.
Long Shag Hair From the 60's Era
@edoswhitefox
Relive the decade of love with this long layered shag in a semi-sleek style. Use your favorite sea salt spray for added texture which is a must for any long hair 60's hairstyle.
Bob with '60s Hair Headband
@i.paint.hair
This bob with 60's hair headband says class, yet it's also fun and sassy! It was created by hairstylist Chantel Cody of Parksville, BC. "It has all feel from the '60s with a modern twist that could easily be pulled off on the daily. The best thing about it? It's a faux bob, so almost any length can achieve it," explains Cody.
If you were considering giving the faux bob a go she says you'll need a few things: 1″ curling iron, Bobby pins, cute accessories (headband, head scarf, vintage or inspired clips, fascinator etc.), and hairspray.
"If your hair is insanely thick, it'll be tricky to have it stay up in place. Instead, try to braid the hair underneath and hide it away, curl the top and pin to the braid, using it as an anchor. Fine hair ladies? It's a little easier, as you can get away with curling your hair and pinning it up in place. A little backcombing underneath too doesn't hurt," she explains.
Pro tip! Instead of curling your hair down, turn your iron around and curl your hair up! So everything is flipping and curling upwards.
The retro faux bob is a great sixties style for an evening out with your gal pals, a hot date, a fun style for a wedding, or even a trip to the grocery store. Dress it up or down, you decide!
The Bowl Cut for Short 60's Hair
@gerrardreillyhair
This 1960 hair is another take on Vidal Sassoon' '60s Grace Coddington famous haircut. The short hair features strong lines with a soft texture and was created by stylist Gerrard Reilly of the UK.
"If you want a strong 60s hairstyle like this, it's best worn on thicker, smoother hair, as it sits better on this hair type," says Reilly. "Although, if a woman has curlier hair or even finer hair, it could also work. But, be aware more styling will be required."
Groovy Middle Part for 60's Women
@stacethehairwitch
This 60's haircut gives off a cool mod girl vibe and a carefree style. It was created by style apprentice Stacy Oviedo of New York, NY. "The middle part very chic and casual, taking cues from Brigitte Bardot and Jane Birkin's softer, effortless long hair," says Oviedo.
To recreate hairstyles from the 60s, Oviedo says to start with some smoothing product and begin blow-drying your hair with your fingers, overdirecting the angle of your hair upwards for some volume (especially in the crown area of your head!). This can be messy, as you're going for a tousled style.
"After it's dry, run a wave wand or thicker barreled curling iron through your hair, focusing on the front areas. Run your fingers through the curls before they completely cool, so that they loosen up into pretty waves," she explains.
For an extra '60s vibe, section the hair out on your crown, and softly tease the section farthest from your face for added volume and drape the top section over the volumized one.
Flipped Bob with Swept Bangs 1960's Hair
@bombshellbarbi
This is an iconic 60's inspired flipped bob that was created by hairstylist and owner Barbi Barrett Costanza of Chandler, AZ. "This big hair can be worn all the way from casual to formal, simply by changing the accessories. Back in the 60's headscarfs were very popular," she states.
Barrett Costanza says the amount of time required to achieve this shoulder length 60s haircut would depend on the hair type. "It's very important to have a great cut. If you have very fine and thin hair, use a root lift product before drying with a round brush to achieve a maximum lift. Then use a dry shampoo before back-combing the crown and finish off this Hollywood flipped bob style with a firm hold spray," she adds.
60s-Inspired Mod Side Part
 @theresa_padin
We love hippie hairstyles and the conservative looks combined. This '60s-inspired "mod" (coined from modernist) 60s hair always gives the excitement of how it feels to relive history without looking overly done. It was created by hair and makeup artist Theresa Padin of the Philippines.
"When it comes to 60s hairstyles, hairstyle and outfit are two sides of the coin. So when you want this 60s hair style, always, always consider the clothes you're wearing. Never go too far from how people of the '60s sported the decade," says Padin.
For side part and long 1960s hairstyles like this, Padin believes teasing always comes in handy. "The good thing is that innovation these days has made it easier with the "hair rats" or clip-in volumizers now easily available. But of course, headbands will go a long way!"
Flipped Out Long Bob Hair from the 1960's Flip Hairstyle
 @looks_by_nicolemarie
This is voluminous, '60s hair style was handcrafted by blowout bar specialist Nicole Marie of Metuchen, NJ.
"The best part about this 1960's hairstyle is the height because the bigger the hair the better," she says. "Medium 60's hairstyles like this one are for women with fine to medium hair."
Using a round brush to blow out the hair will help to achieve lift at the root, as well as smoothing the hair into the flip at the ends. "With a little help from a texture spray, you can tease the top to get a little extra height in your short hair, and finish it with some hairspray. Pair this 60s flip style with a blonde hair color for an ultimate vintage result," she adds.
60's Beehive Updo for Vintage Women
 @lovelocksbridalhair
"If you're looking for 60s hair styles, a beehive is perfect," says hairstylist Chloe Duncan of the UK. "This bee hive hair style has elegance and sophistication, but is also quite fun with its '60s updo hairstyles throwback."
Duncan says to expect lots of backcombing and hairspray when creatings 60s hairstyles on long hair. "Lots of hairspray! A classic beehive is great for all hair types and lengths and is a great go-to sixties hairstyle if you want something effortless that still looks done," she adds.
1960's Inspired Blunt Chin-Length Bob
 @erin_thecolourbar
If you love simple pin-up styling and '60s styles, this is a great combination of the two. This particular style and cut were created by stylist Erin Backman of Sacramento, CA. "There was a classic approach to it, going back to Vidal Sassoon techniques, to achieve flipped-under styles on a timeless bob."
'60s-inspired hairstyles like this blunt bob are ideal for a woman who is committed to styling their hair on a regular basis.
For styling, Backman says to use either a round brush or flat brush to encourage the style to fall of the bob and correctly. "Use a product with hold (like a mousse or gel) for the blow dry," she adds.
Polished Curtain Bangs Shag 60's Haircut
 @hairbyashleynicoleg
This modern '60s-inspired hairstyle was created by senior stylist Ashley Nicole of Brooklyn, NY. "It features parted bangs and face-framing layers. Haircuts like this is amazing for women who want low maintenance from day to day, but can also have it styled and polished when need be."
This haircut, which is like a modern version of the classic 60s long hair worn by Raquel Welch and Jane Fonda, looks amazing with natural hair texture and minimal styling. However, if you're not ready for layers and movement, don't consider this 60's hairstyle.
"Curtain bangs are great for women who want a new style without having to fully commit to a fringe. They are very versatile and can be worn side-swept or down the middle. They are also very easy to grow out if you don't love them," she states.
To style 60s inspired hairstyles like this, Ashley says to use a round brush blow out with Dallas thickening spray by R+Co to add texture. "Stay away from products that can weigh the hair down since you want max volume with a lot of movement."
After the blowout, she says use BadLands dry shampoo by R+Co at the root to give a grittier texture and volume. "Then tease the crown of your head to give it a little '60s bump. The dry shampoo helps the hair from going limp throughout the day. Finish with Outer Space flexible hairspray by R+Co," she adds.
Glam Chignon 1960's Inspired Hairstyle
 @hairbycharmainex
This is the chignon of the '60s era. It was created by freelance hairdresser Charmaine Shanahan of England.
"It features big volume, shape, and smoothness. The height in the top and chignon bun is very "in" at the moment, but also has a retro vibe. Everything comes back around with hair fashion, plus it's very glamorous! 1960's hairstyles like this offer a hint of vintage," explains Shanahan.
If you're considering trying 1960 hairstyles for thick hair, Shanahan says you will need hair past the shoulders that is preferably one length and thick. "The hair will need to be smoothed out first before putting up, and hair padding is required to achieve full sixties hairstyles," she adds.
Elegant '60s Updo
 @evavykopalova
This is an elegant 60s updo and we're loving it today! It was handcrafted by hairdresser and stylist Eva Vykopalova of Slusovice, CZ. "Vintage updo hairstyles like this one shout dominance. It stands up, but it still looks elegant. The fringe to the side makes the whole updo softer," says Vykopalova.
It's best to wash your hair the day before for better texture and easier manipulation.
"Use Tecni Art Crepage de Chignon by LOréal Professionnel before backcombing the crown area. Then pin a hair padding on the crown and cover it with backcombed hair. Use the hairspray Infinium by LOréal Professionnel. The nape section was rolled and secured with bobby pins and again fixed with hairspray," she explains.
Retro 1960's French Twist
 @ashleyluvsbeauty
Q&A with style creator, Ashley Smith
Stylist & Make-up Artist @ Ashley Smith Beauty in Denver, CO
How would you describe this?
This hairstyle is inspired by the TV show Mad Men and the swinging 1960s era. "It's a modern take on a classic French twist that can be one of the stunning hairstyles for women over 60 with fine hair," says stylist Ashley Smith of Denver, CO.
Smith recommends French lacing or backcombing both sides before rolling the French twist. "Use L'oreal Professionnel's Infinium 3 Tecniart Hairspray to build flexible hold and Extreme Laquer to finish the style."
"This type of French twist works best with medium to long hair on any hair texture. 60s hairstyles like this French twist works well with all face shapes, depending on how you style the front. A French twist is a great option for an upstyle because it can be personalized to you. It can be dressed up, classic, or even edgy," she adds.
'60s Hair Headband
I'll start with Reagan's hair headband mentioned above. It's part of her "In a Hairry" series and only requires five minutes of your time, a teasing comb, and a few bobby pins. Just part your hair as desired, braid two sections of hair on either side, cross over the top of your head, and pin. Tease the crown to achieve that classic '60s bump and walk out the door looking every part of a stone fox.
Hairdresser on Fire – In A Hairry – The Date from Joe Varca on Vimeo.
Baby Beehive Headscarf for a 60s Style
Wearing a towering beehive reminiscent of Marge Simpson will surely earn you the wrong kind of attention, but more subtle versions of sporting headscarves are definitely appropriate for everyday sidewalks. Flare.com's beauty guru Hannah Johnson shows you how to re-create the "baby beehive" hairstyle that was seen on the Louis Vuitton Spring 2013 runway. Paired with soft and tonal makeup, this feminine style is wonderful for a date night, soiree or evening with the girls. View the video tutorial below.
Classic 60s Pin Curls for Vintage Girls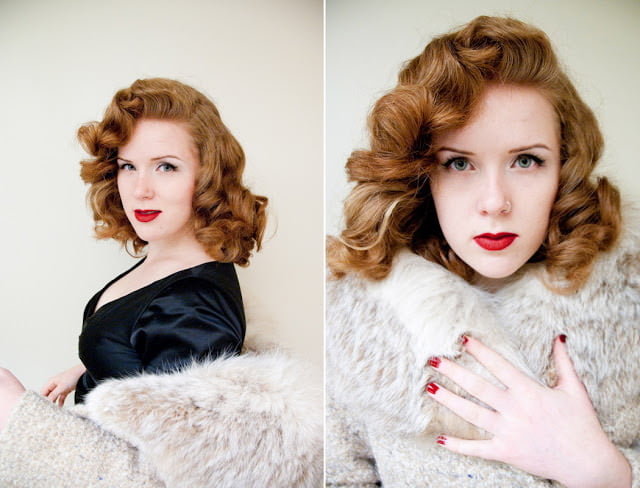 Melissa from A Ruby Red takes the authentic route by following a pin curl pattern straight from a retro magazine tutorial. Pin curls — which were still all the rage in the early to mid '60s — are created by wrapping damp hair into loops and pinning tightly against the scalp. After your hair dries (many women waited overnight, but you can expedite the process by blow drying), remove the pins and brush out. Follow YouTube User PinupDollAshleyMarie's tutorial or try the pattern pictured here.
How to Create a 60s Bardot Ponytail
A good tease made or break any 1960s hairdo and this retro ponytail inspired by Brigitte Bardot makes no exception. Hair expert Chris Lospalluto teaches you how to create the ideal tease on Caroline Knapp (of Sweet Caroline in the City). After teasing, he gathers into a low ponytail, which accentuates the big volume created at the crown. All you need for this 'do is hairspray, a teasing comb and an elastic.