The 20 Most Flattering Hairstyles for Oval Faces
Modern Mid-Length Bob
@hugoalves_h
This modern mid-length bob suits most face shapes, especially oval and round face shapes. What's best about this long bob is its versatility. This side-parted lob looks elegant with waves and looks classic if straight. Maximize its beauty by exploring hair color, such as a shade of blonde.
Curly Shag with Bangs
@salsalhair
The modern-day curly shag with bangs enhances movement and shape in your curls that sit perfectly against an oval face. The layered bangs add volume to your curly hair and draw attention to back to the face.
Edgy and Sleek Pompadour for Women with Oval Faces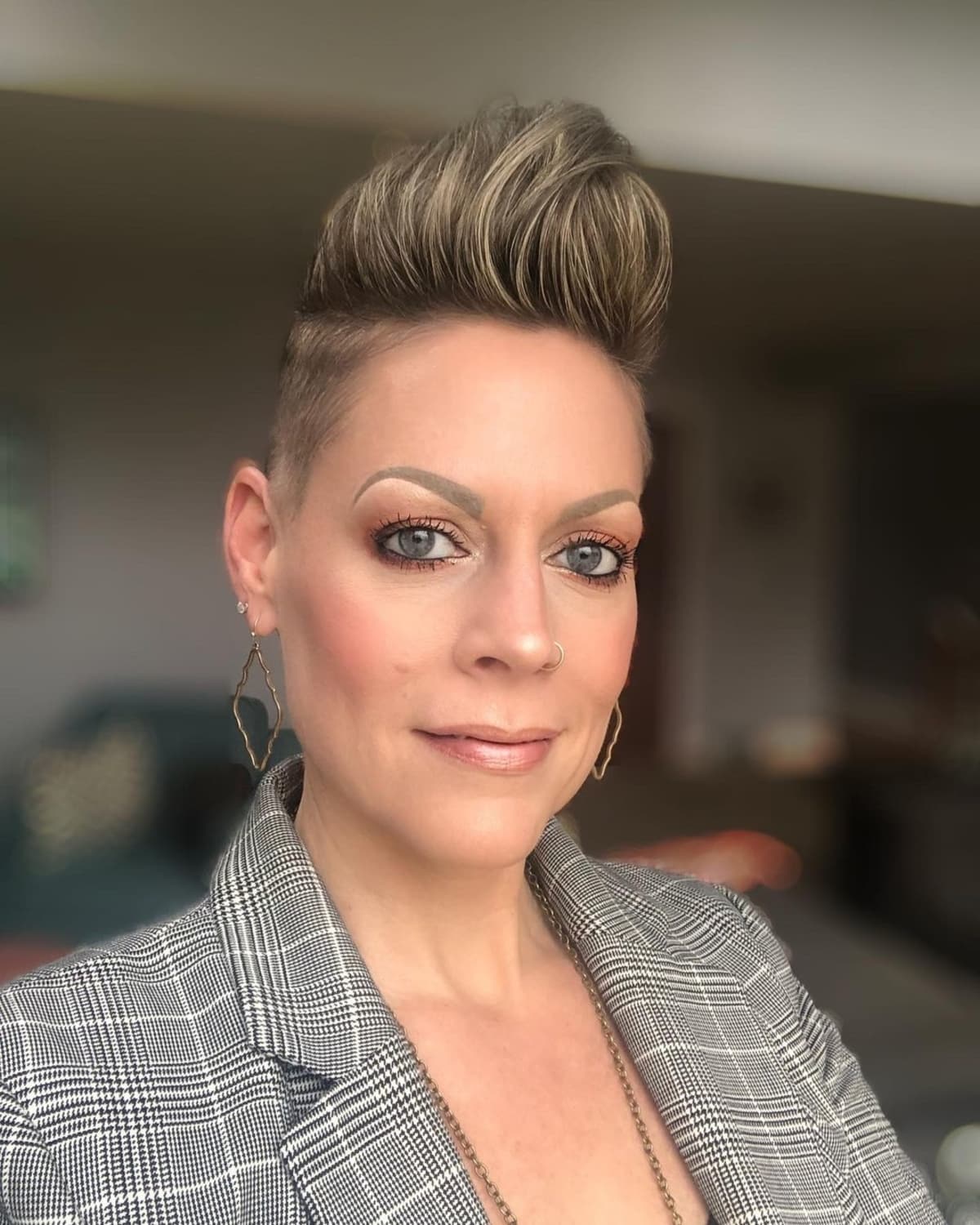 @lynnmpalmer
An edgy and sleek pompadour for women with oval faces is a strong look and will need to be shaped up every 3-4 weeks. Keep in mind, products such as gel and hairspray will be needed to defy gravity in the pompadour.
Layered Bob with Loose Waves
@timpascoe_hair
With a minimalist haircut that has a straight base, the layered bob with loose waves combines its characteristic short length, cut at the chin, with the straight and geometric shape of the visual blunt.
Textured Pixie in a Tousled 'Do
@nikitenko_elen_
The textured pixie cut in a tousled 'do is super stylish, modern, and practical. It is the type of cut for those who are not afraid to dare and, contrary to what it looks like, it's very versatile: you can have smaller, larger, or frayed fringe.
Textured Bob for an Oval-Shaped Face
@kaansayar1
A textured bob or a lob is a great look for women with an oval-shaped face. The layers will help give extra body and the waves will help balance the shape. Style with a large barrel curling iron for soft waves.
Layered Short Haircut for Chin-Length Hair
@vitosatalino_official
A layered short haircut for chin-length hair is a great cut, that compliments any lifestyle. A side-part makes it more dramatic and gives you the option of letting it hang over your oval face.
Medium-Length Cut with Side-Swept Bangs
@annettewilkinsondesigns
Complement your face shape with a sexy long fringe that can accentuate cheekbones. Add a sweet and soft strawberry hair color, and it will suit your everyday needs, like on this medium-length cut with side-swept bangs.
Sleek Ponytail for an Oval Face
@lukepluckrose
Less is more! This sleek ponytail may not be too complicated, but it sure does make a ravishing impression. The flawlessness of this long and sleek hairstyle will help you glow in a formal event. Being one of the styles that suit your oval or oblong face shapes is a plus, too! It works better in your natural long and dark tresses.
Straight Hair with Blunt Bangs
@emkaycollective
This edgy modern bob with blunt bangs, cut using clippers and shears, was created by stylist Mikhaila Anderson of Saskatoon, SK.
If you're a stylist, Anderson advises, "with the client's head tilted forward, make your blunt cuts with a clipper, section by section starting from the bottom the same length all around. This will create the hard edge you're looking for. Do the same thing with these heavy bangs at the desired length. Be sure to tilt the head in the opposite direction in order to cross-check your work and ensure there are zero tags. Next soft the blunt edge slightly by lifting the hair 90° from the head with a comb and deep notching into the edge. Repeat until the desired effect is achieved. Do not do this step for the bangs."
If you're considering this haircut, Anderson says, "be sure you're ready for upkeep and maintenance. Styling is a must, whether you decide to flat iron, or create a soft wave in the exterior. I always recommend a product for heat protection, and either a gloss spray or texture spray depending on the final look you're after. Definitely not the look for someone who wants to wash and go, as the bangs need attention each day."
Long Bob (Lob) with a Deep SidePart and Soft Curls
@mainpointsalon
A long bob (lob) with a deep side part and soft curls is a sexy look. The curls can be achieved with an iron and might take a little more of your time to style if you have straight hair. Subtle layers in this cut create soft movement for oval faces with thick or thin hair.
Long Layer Cut with Curtain Bangs
@alexandrmaslovsky
A long layered cut with curtain bangs is perfect for enhancing long hair because the layers can be made in different ways and without removing the length of the locks. It's an excellent haircut for oval faces.
Long Hair with Layers on Oval Face Shape
 @hairbydezzides
This long, straight hair features long layers which keeps the hair nice and full. It was created by hairstylist Desiree Rendon of Fullerton, CA. "My favorite part of this oval face hairstyle is how silky, sleek, smooth, and shiny it is. However, you can add soft waves to style it like Jessica Alba's hair."
The products Rendon recommends to recreate this look are Morrocan Oil, Pureology leave-in conditioner, and Pureology blowdry cream.
Layered Pixie Bob Haircut for Wavy Locks
 @andreabhair
The bowl haircut for oval face shapes and wavy hair is a very traditional cut that has recreated itself and time again. This particular cut was done by hairstylist Andrea Bramchtein of Austin, TX.
"My favorite thing about this cut is the versatility in the way you can style it. It's a fun way for a girl to have short hair that isn't a regular pixie cut," says Bramchtein.
"I first recommend assessing your hair type," she explains. "You may have thick hair, but it may also be fine, so you need to know what products work with what. In general, you do want to use a product that has a medium hold and will give you the flexibility to move the hair around."
Bramchtein says she personally loves mixing hair creams or oils such as Milk by Revere and Sumo Clay by Bumble and bumble. "Gauge the amount you use according to your hair type," she states.
Shoulder-Length Bob with Middle Part
 @vero_benwell
This platinum blonde colored bob hairstyle on an oval face is very trendy this year. Achieve this classy shoulder-length style by having a long blunt bob with blunt ends. It flatters oval-shaped faces, so you should avoid it if your shape is long or square.
The Perfect Pixie Cut for Women with Oval Faces
@judeviola
Oval face haircuts look amazing on a pixie cut. It's a style everybody would like to try but few dare to attempt. What's great is that it suits oval faces, even on the first try!
A Super Short Cut
@shorthair.losangeles
Featuring a super short cut for every chic and edgy lady in town! Almost every hairstyle goes well with a long, oval face, even this chopped hair. It's the short cut that indicates boldness, which matches a strong personality. You'll love how low-maintenance it is and the way it looks in a classic black shade.
Medium-Length Hair with SideSwept Bangs
@meg.hair.atx
Choose this medium-length hair with side-swept bangs for an easy-to-style hair trend. Give locks a few choppy layers for a softer movement. The fringe does the job right in bringing out a sexy-looking finish. A medium hairstyle with side bangs complements both a round and an oval face shape the best.
Shoulder-Length Shag with Waves for Oval Face Shape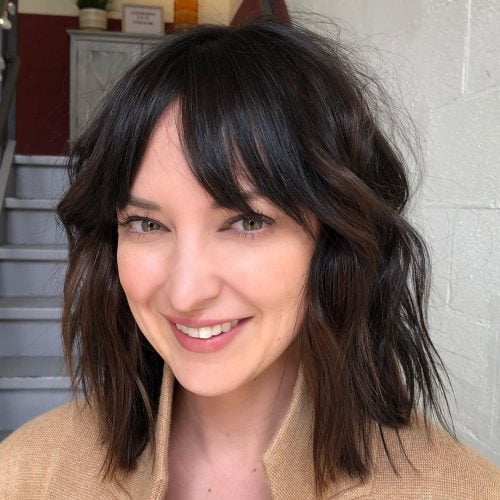 @accomando
A shoulder-length shag cut with waves goes well on oval faces when paired with a soft curtain fringe. Keep the length around the collarbones to give this tousled 'do a fuller-looking result. If you have limp or fine hair, but also wavy, ask for this modern shag with waves. Invisible layers will create volume and it's easy to style for on-the-go ladies.
Asymmetrical Bob with Face-Framing Layers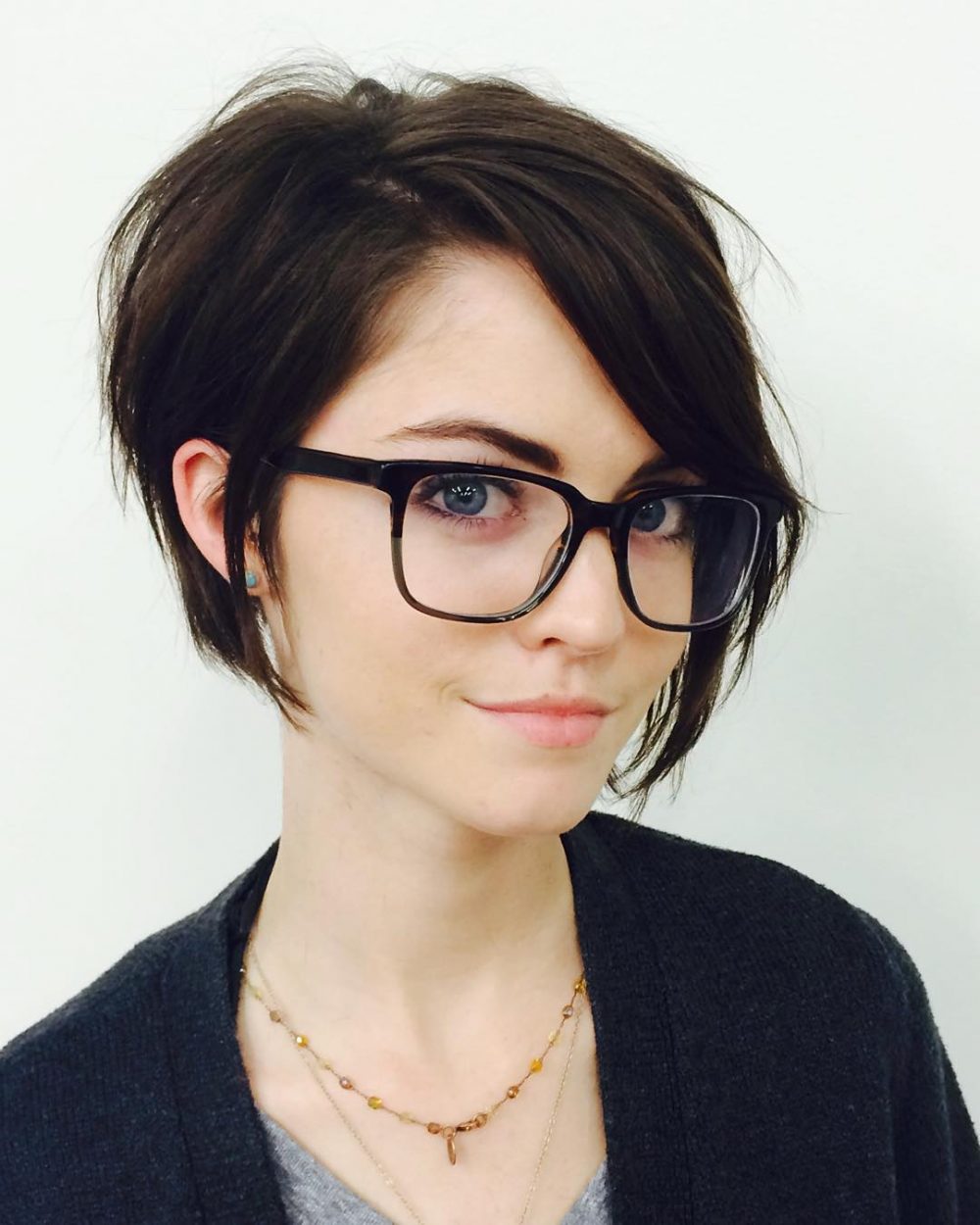 @hair.roullete
An asymmetrical bob with face-framing layers looks ultra-chic and edgy! It's an optimum angled cut for oval faces, for sure! The unevenness of the hair is what frames and accentuates the jawline.