19 Sleekest Sew-In Bob Hairstyles for Naturally Black Hair
Layered Body Wave Bob Hairstyles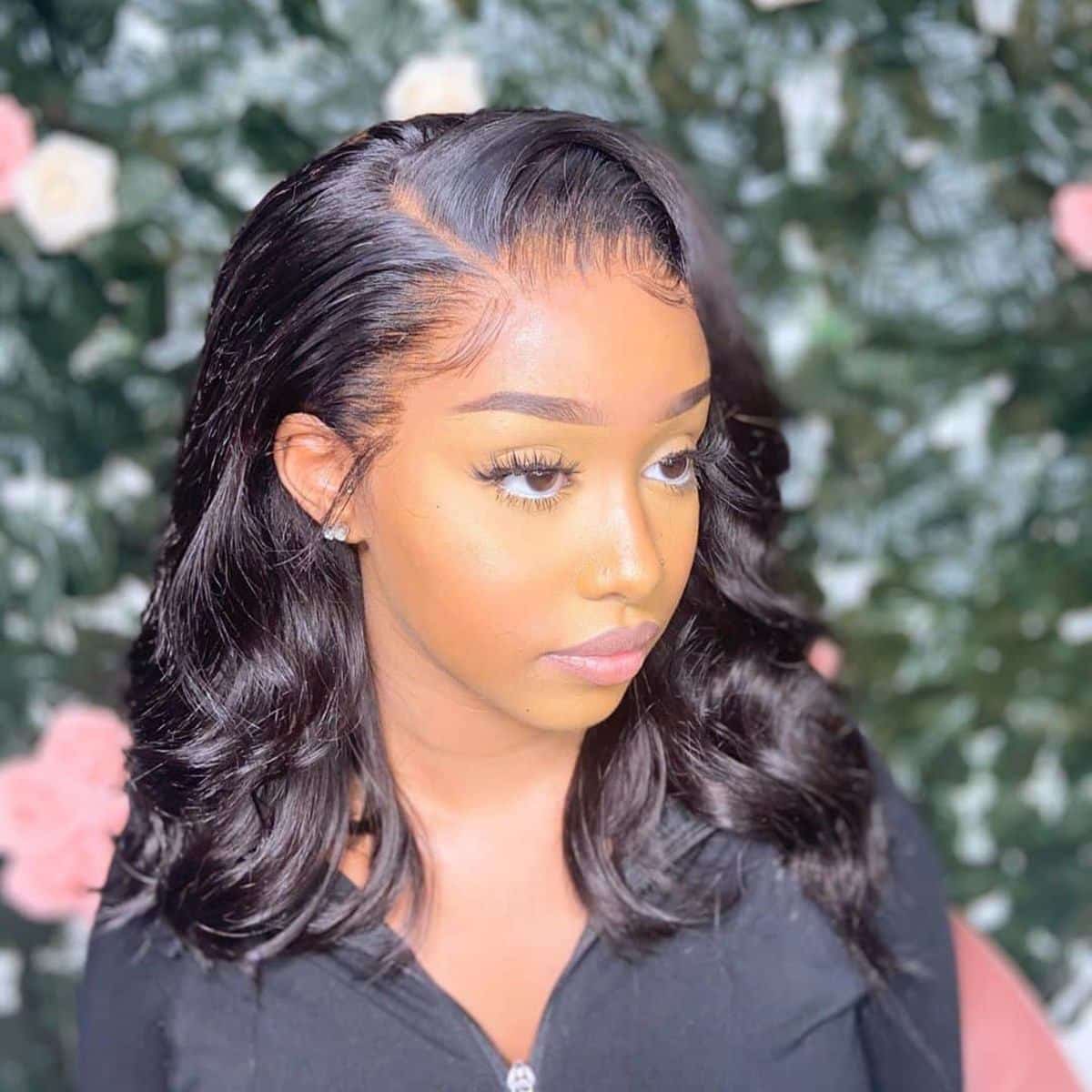 @beautyloungehb
Offering volume and movement, here's a layered body wave hairstyle that will complete your glam look. Ask for a mid-length cut if you want your hair to feel a bit longer without compromising its fullness.
Deep Wave Bob Hairstyles for Black Women
@the_rose_affect
Show off defined, voluminous curls with a stunning deep wave for black women! This black sew-in bob, grazing the shoulders, offers a fuller-looking finish. For extra shine and moisture, use a control gel – it won't weigh down your curls.
Bob Hairstyles with Closure
@looksbyarmani
Protect your African-American hair by wearing a shoulder-grazing sew-in Bob Hairstyles with closure and avoid compromising the integrity of your natural tresses! Feel free to part it in the middle, then add classy waves for extra movement.
Wavy Sew-In Bob Hairstyles
@hairartbydominique
Here's a lovely wavy sew-in short bob that features a combo of a golden brown shade and streaks of burgundy. When styling, finish it off with a dry texture spray to work on your desired shape.
Bright Red Sew-In Bob Hairstyles
@rawhairco
Divine hair like this red bob should be your next #hairspiration. A vivid shade of candy red will take your neck-length, blunt cut to a whole new level.
Long and Sleek Sew-In
@christajstyles
Long hair with a sleek finish is always stunning, and African-American women couldn't agree more. Straight locks work well on a side-parted asymmetrical cut.
No Leave Out
@revkev223
A frontal weave with no leave-out is a natural-looking hairstyle. Neither too short nor too long, this sew-in cut around the neck is perfect.
Wet and Wavy
@iamdaniellerolle
Go for a side-part, wet and wavy sew-in bob if you want sleek hair on one side. It's so flat you can tuck it behind your ear. This offers defined curls, as well, leaving your sew-in hairstyle with shape.
Lace Closure Sew-In with Leave Out
@hairbyktaylor
If you want a part of your natural kinks on display as you wear a protective hairstyle, just be sure your tresses' shade matches your lace closure sew-in. For an easy-to-style and easy-to-maintain haircut, turn it into a neck-length, asymmetrical bob.
Sew-In Bob with Heavy Bangs
@hair_by_telisha
Considering a black bob with heavy bangs? A straight sew-in weave bob is sure to satisfy your needs. This shoulder-length haircut has thinner and softer ends that balance its dark hue.
Full Sew-In
@iluvlucystylez_
A full sew-in weave, cut into a chin-length bob, needs a sharp a-line chop.
Short Sew-In Bob Hairstyles
@allycevirginhair
Try an asymmetrical, wavy bob that works best with a weave sew-in. The short sew-in bob cut looks sexy with voluminous waves.
Blunt Sew-In Bob
@crownedbyks
Cut and style your sew-in weave into this sleek, shoulder-length blunt bob. Its bright ginger hair color shines best under the sun.
Asymmetrical Weave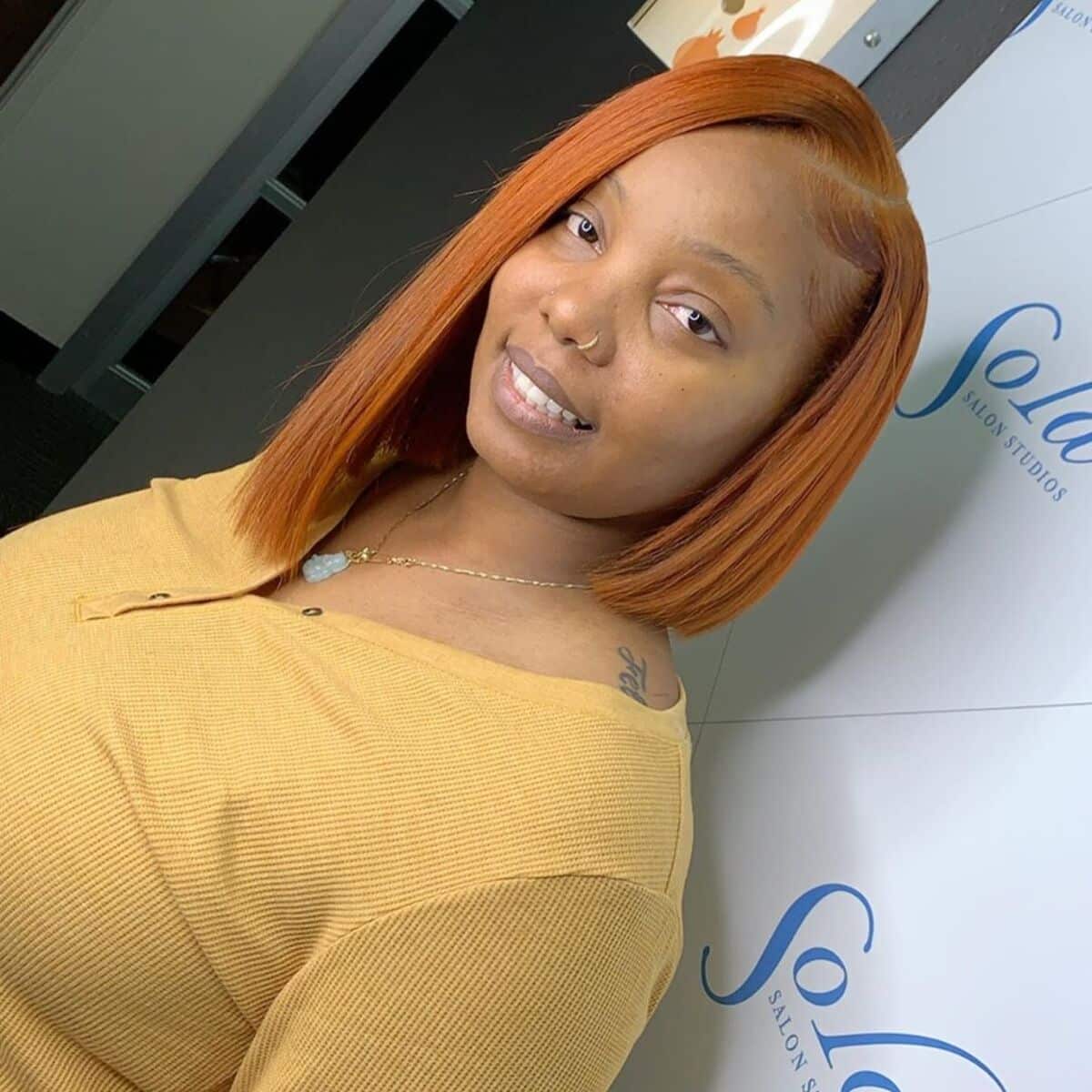 @she2_nice
Opt for a fresh shoulder-length lob with a ginger spice hue. This straight, asymmetrical weave is sleek and sexy.
Neck-Length Deep Side Part
@jessmarie___
When it comes to black weave sew-in hairstyles, consider a deep side part to complement a gorgeous neck-length bob. Straighten your black sew-in weave to pull off an edgy style.
Side-Part Bob
@tajia_sworld
A side-part bob is an effortless sew-in hairstyle. Recreate this look with a sew-in hair weave for added length and volume.
Cute Curls Sew-In
@bombshellstudiosct
Amp up a traditional shoulder-grazing bob haircut with these cute curls. A voluminous and bouncy water wave mane flatters a round face.
? See more bob hairstyles for black women.
Middle-Part Bob
@looksbyarmani
Short hair and sleek sew-ins appear straight and dense. This is a neck-length, middle-part bob that looks stylish and feels natural.
Blonde Ombre Sew-In Hairstyles
@ladybutterflyhair
A blonde ombre, is a great way to lighten your black girl hairstyles. Opt for it on a layered, asymmetrical, neck-length bob cut like this one by master cosmetologist Lady Butterfly of Georgia.
This is a razor-cut bob using a straight razor and guard. It can be achieved with a bond-in (glue) service or a sew-in (needle and thread) service. It's low maintenance and easy to manage.
She explains, "If you decide to leave out your natural hair within the style, it rises the maintenance level to medium. Use a heat protectant when trying to maintain the blending of the hair with extensions. I would not recommend flat ironing the natural hair every day when trying to achieve a freshly curled or freshly straightened look. This will cause damage and breakage. Instead, try wrapping the hair at night to help with the natural heat from the head to keep your hair straighter longer."
After 2 weeks, Lady Butterfly recommends a maintenance service to have the closure shampooed and reinstalled to look like a fresh new style, without having to pay for a full service all over again.