16 Swing Bob Haircuts Making a Come Back
Swing Bob for Women Over 50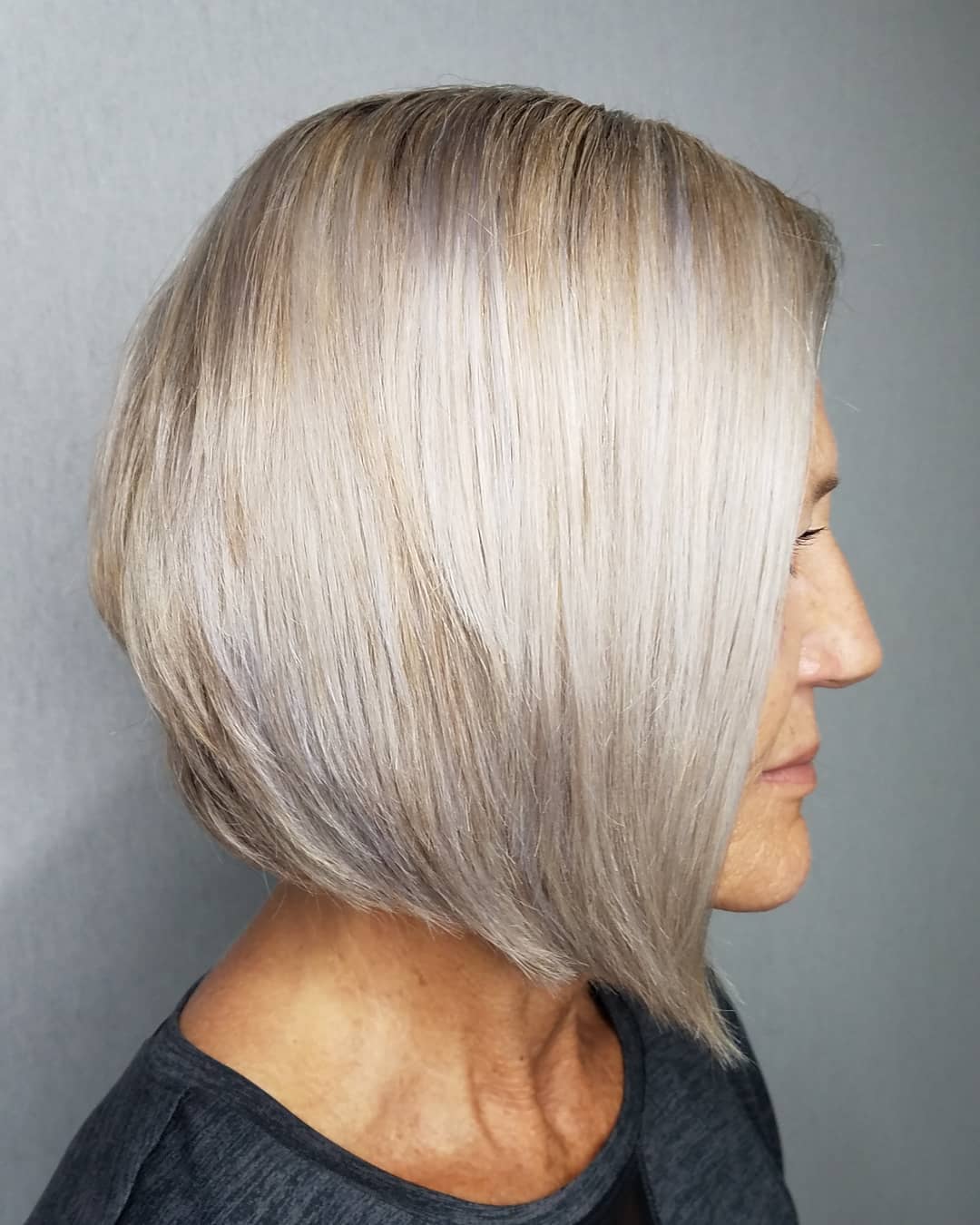 @hairymary64_aquage
This swing bob is perfect for ladies in their 50s who are still in the work place and looking for a modern cut.
High Short-Stacked Swing Bob with Side Bangs
@mila_kryshchykhina
Getting a high short stacked swing bob with side bangs is the greatest choice when your fine hair needs a shape. Color your dark tresses with hints of warm, light brown highlights for an elegance that no one can beat.
A Short Swing Bob
@emily.ingraham.salon
A short swing bob is also ideal for your fine or thin tresses. Layers form volume and shape.
Swing Bob for Fine Hair
@hairbychelseaestes
Everyone deserves the bob of their dreams so here's a swing bob for fine hair! Channel your inner sweet French girl, and opt for this neck-length cut to amp up your brown locks.
Swing Inverted Blonde Bob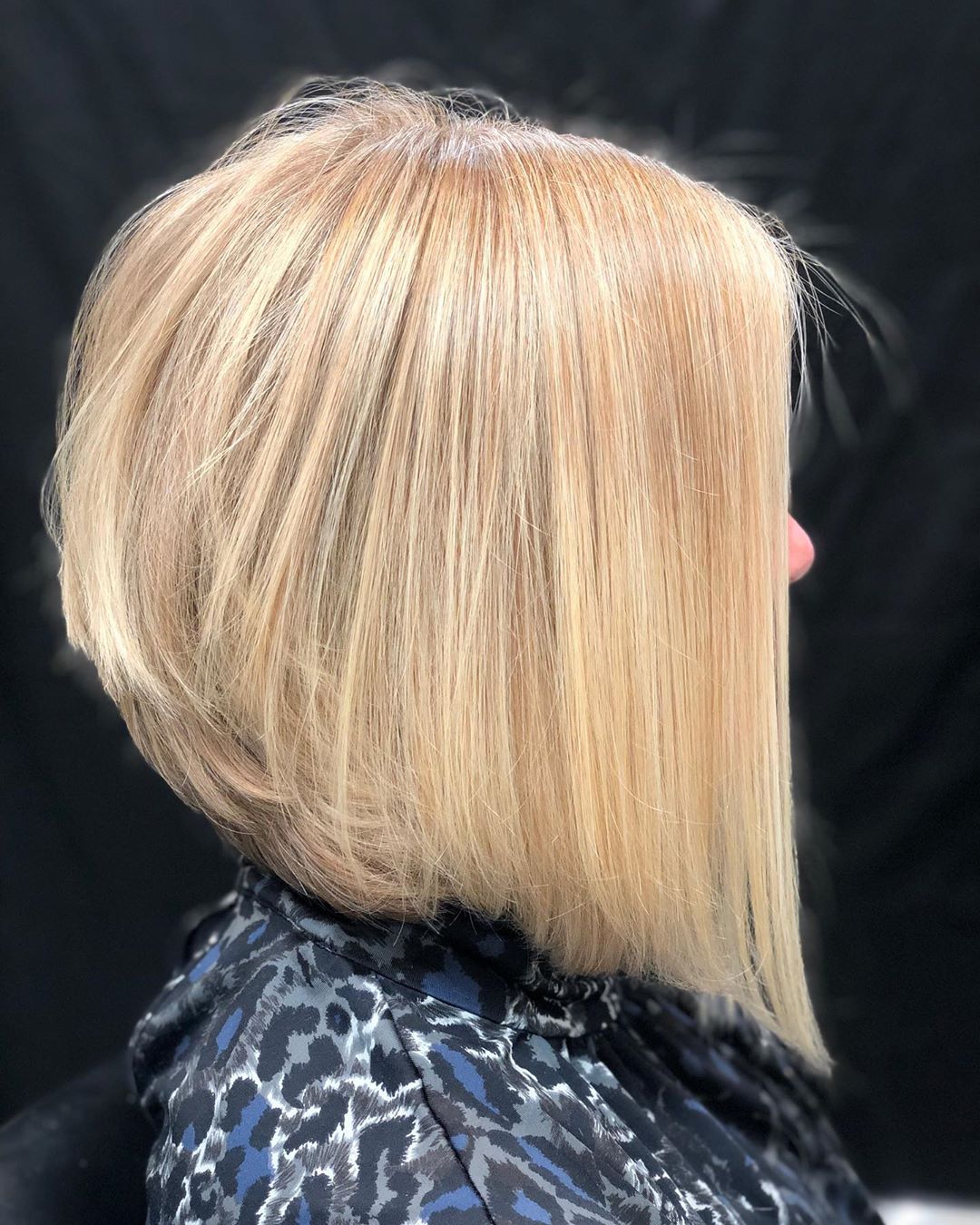 @belleza_bikini
This swing inverted blonde bob will carry out your natural glow. Add texture to the back of your tresses to unveil the layers.
Swing Bob for Curly Hair
@flaviasantoscachos
Featuring the perfect swing bob for curly hair! Pull off a short haircut with a bouncy finish so you can flaunt your textured black locks.
Q&A with style creator, Flávia Santos
Hair Stylist @ Hair by Flavia in São Carlos, BR
How would you describe this?
This swing bob haircut is a great option for those who want a modern look. The layers enhance the curls, making the hair fall lighter, distributing the volume. The asymmetrical front enhances the shape of the face in a more delicate way.
What's your best advice?
This is easy to style. In addition, it gives a fresh and light look, leaving the curls more defined. To style this hair, you will need a leave-in for curly hair. Those with vegetable oils and butter in the composition are the best.
Distribute the leave-in evenly over the entire length of the hair. A valuable tip: apply the product on water-soaked hair, as this will give more lightness and definition. After the hair has dried, loosen the curls and the volume by shaking the root with your fingertips.
Medium Length Swing Bob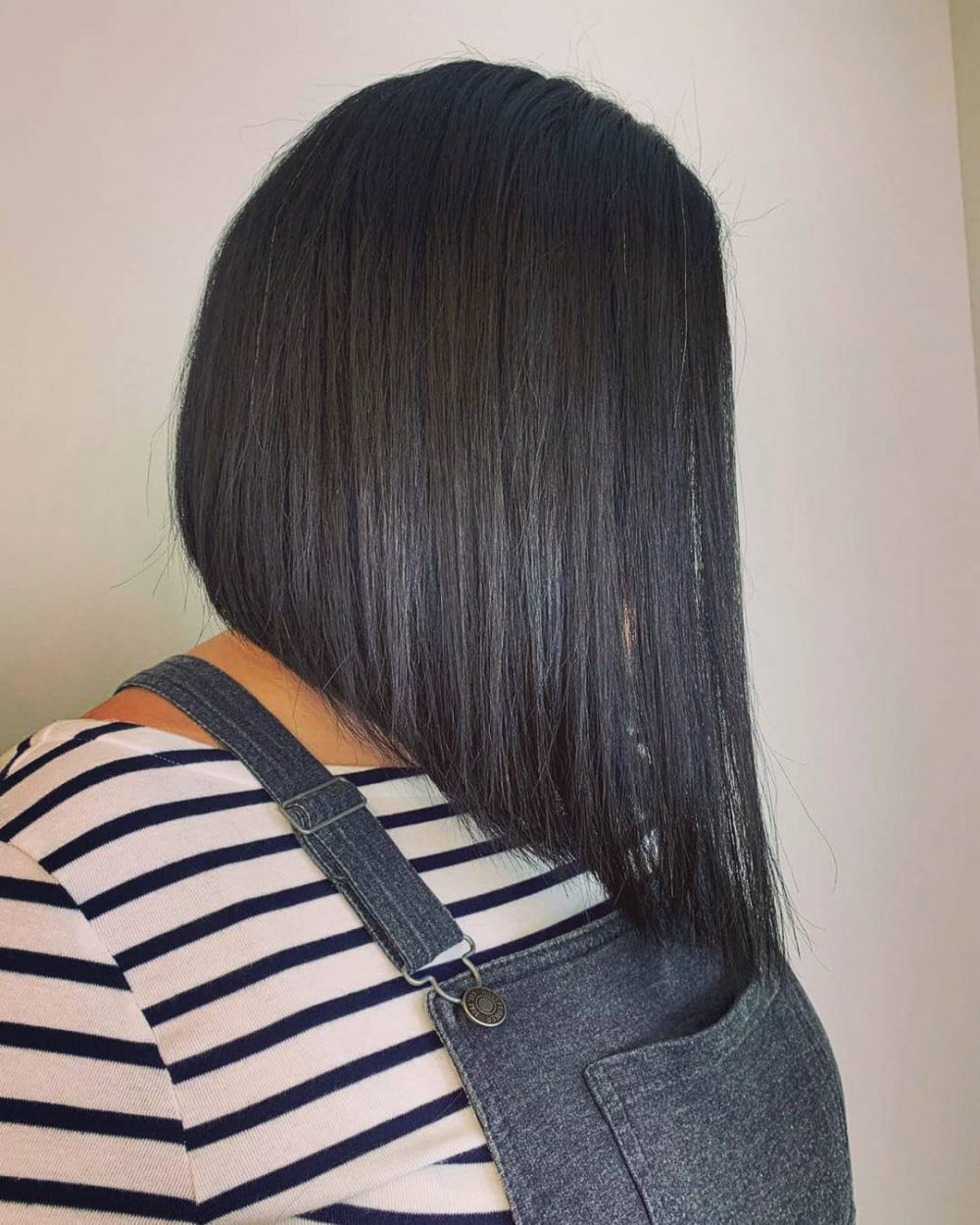 @chelseahairguru
The thing about a bob haircut is it boosts the stylishness of a black mane. This medium-length swing bob is a gem that you can wear and enjoy under the sun.
Q&A with style creator, Chelsea Rose
Hair Stylist @ Sola Salon Studios in Rockville, MD
---
How would you describe this?
This cut is an A-line beveled bob. It's sleek and classic, yet the strong slope of the angle adds a bit of edginess and creates a lot of movement. This cut can be tailored for any hair density or head shape. Try Wella's new Volume spray or LabelM's Blowdry spray, as they give volume and have heat protection. If you're not looking for a lift, use moisture leave-in from Pulp Riot or a wet brush. To finish, always have Tigi's headrush handy for shine. Another great thing about any bob is its versatility. Try using a curling wand or just wash and wear with a texture spray.
What's your best advice?
To maintain this shape, you will need a trim about every 6 weeks. A precision bob will always grow out with ease. It can also be squared off as it grows, or it could mean that you're ready for a change.
Swing Bob with Side Swept Bangs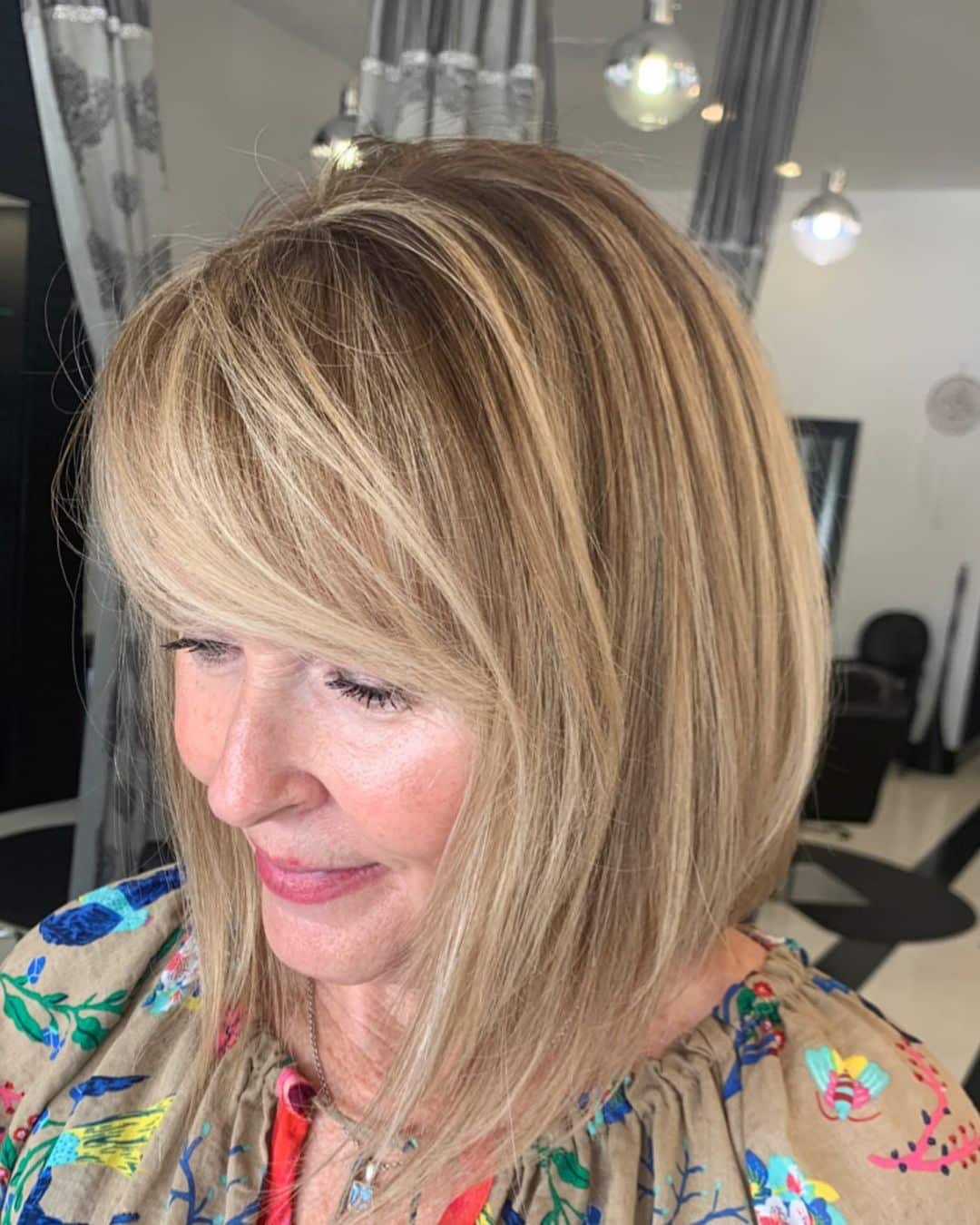 @dolcesalonaustin
This swing bob with side-swept bangs can be your on-the-go hairstyle. Two words to describe this neck-length cut and style — sleek and sexy! The A-line cut is on point, and does wonders to show off your straight, highlighted blonde locks with flair.
Quick Weave Swing Bob with Side Bangs
@stylistmarkita_
This quick weave swing bob is beautiful in all manners! The razor's sharpness creates layers that seem delicate in its black hue. The side bangs complete the entire look with more glam.
Q&A with style creator, Markita Smith
Hair Stylist @ Hair by Markita in Jacksonville, FL
---
How would you describe this?
This quick weave swing bob is classy. This style brings the "grown woman" out of you!
What's your best advice?
You will have to know how to keep this style up because this bob hairstyle is for a woman who is sophisticated, classy, and mature. Relaxed hair for this style is preferred because it gives it a natural vibe. Use a 1 1/4 inch curling iron or flat iron to re-curl this cut, and a light holding spray to keep the layers in place.
Layered Swing Bob with Bangs for Over 60
@elle_styless_
This is a modern swing bob with bangs for women over 60. Add texture for a tousled and dynamic look that will also boost volume.
Asymmetrical Swing Bob
@hairpaintbymelissa
This asymmetrical swing bob features low textured and tapered layers and horseshoe line. It's creator, styles Melissa Smith of Appomattox, VA recommends you maintain your front length on the part side, as this gives you moment and more styling freedom.
Melissa says this swing bob style is ideal for women with thick and straight hair and great for women who are undecided on committing to a shorter bob.
The Dramatic Swing Bob
@emmaleighartistry
Q&A with style creator, Emma Leigh
Salon Owner / Hair Stylist @ Emma Leigh Artistry in Burleson, TX
---
How would you describe this?
This is a dramatic swing bob. It's very cute for a new mom who doesn't want to give up her length but wants something easy and lower maintenance.
What's your best advice?
Learn how to do a good blowout at home, no matter what kind of texture you have. That's going to be your key foundation in maintaining this chic, polished swing bob cut. Start with 70% dry hair, add a good heat protectant like Kenra Blow dry spray, then section, section, section! It will make blow drying much easier.
You can also use a good volume mousse or root boost for some added lift for finer-textured hair (Drybar has great volume products). Then, finish with a good lightweight serum (Moroccan oil or Brazilian blowout dry oil), or a texture spray for a more tousled hairstyle. Try Fatboy Hair, tousle, and go! It makes 2nd-day hair look fabulous!
African American Swing Bob
@rosneyd_
This swing bob for black hair starts short in the back and get longer near the front are cut with lots of precision. Parting the black locks will show how flawless this turns out on you.
The Sew-In Swing Bob
@deenadeanbrand
Keep away your styling tools for now as you can be equally gorgeous by wearing the sew-in swing bob with bangs. The asymmetrical cut and choppy layers add an extra pop of zest to this side-parted hairstyle.
Long Swing Bob with Bangs
@hairdesignbysonya
It's timeless, rocking, and clearly, a hairstyle that no one can say no to! Go for the classic black hair color to exhibit the shine and smoothness of your mane. This long swing bob with bangs will be perfect to match your unfailing beauty.
A Wig Swing Bob
@mibellahair
A wig swing bob? Totally, yes! Its natural-looking finish is as pretty as a picture. This black, straight, and medium-length hairstyle fits all the classy women on earth.